A big thank you to Niagara Falls Tourism for hosting our stay so we could provide this detailed account of our experience.
If you've been following along with our trip to Toronto and Niagara Falls, then you know that our first stop was across the border to attend my NEXUS/Global Entry appointment in Niagara Falls, NY. Here's that trip report.
GOOD TO KNOW: Here's the secret site where users can find Global Entry, Nexus and Sentri appointments.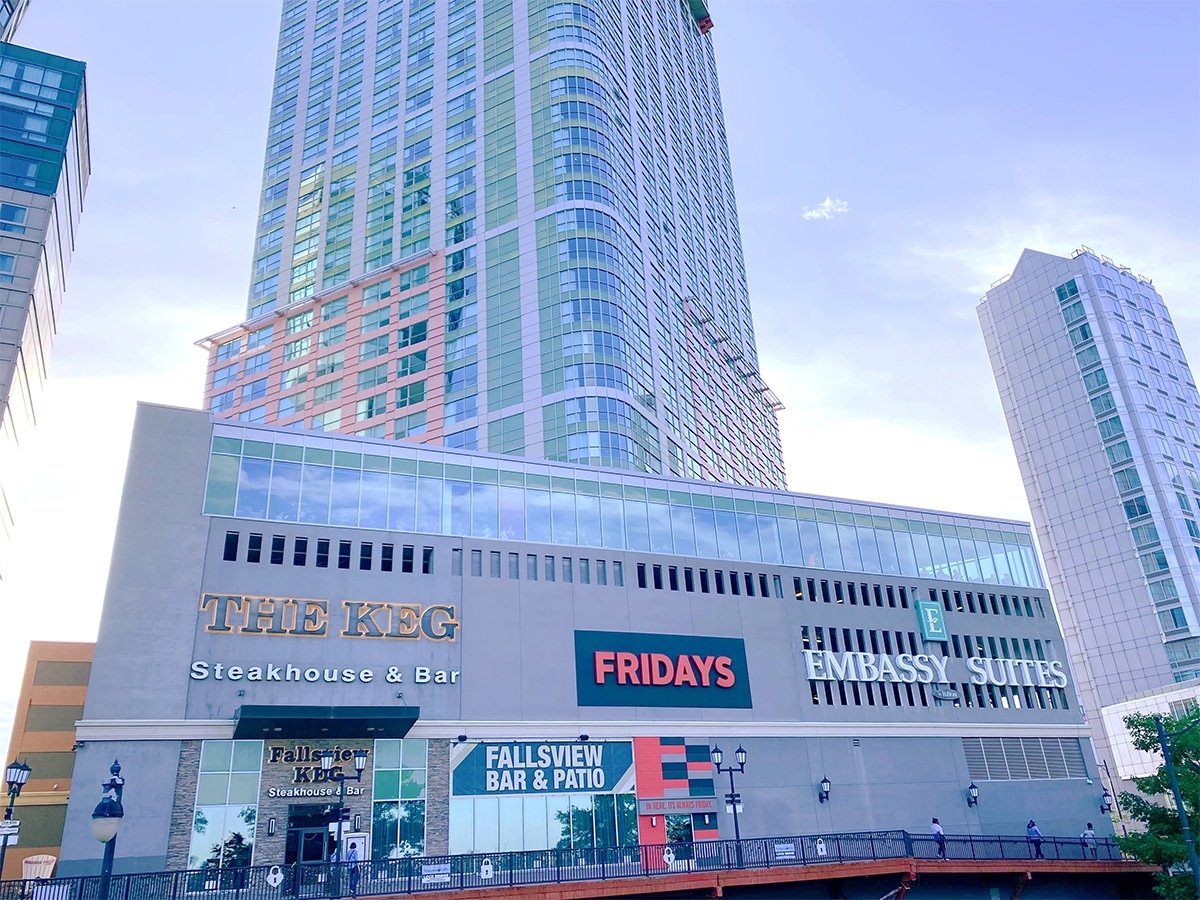 Embassy Suites Niagara Falls
Once the appointment was over, we drove back across the border to Niagara Falls, Ontario and checked into the Embassy Suites Niagara Falls. You can read our full hotel review here. 

Falls Incline Railway
First, we dropped our bags off in our room and took a few minutes to admire the absolutely epic views from our room. I mean … what a view! Then, we went out to explore.

The hotel is about 100 yards from the brink of Niagara Falls and guests can either walk to them in approximately ten minutes or use the Falls Incline Railway located directly behind the hotel, which brings guests right to the Canadian Horseshoe Falls for $3 each way or $7 for a day pass. Kids 5 and under are free. It's the quickest way to go, takes just a couple of minutes and is super fun for the kids.
Table Rock House
The tourism office recommended we eat dinner at Table Rock House Restaurant and they were right (obvously) – a great choice with seriously good food and even better views. The service was solid and it bears repeating: the food and views of the Horseshoe Falls were outstanding. Sitting there admiring the falls and people watching was theatre in itself.
The bread baskets was the best I've ever had (and I've sampled a lot of bread baskets in a lot of places!)  and our entrees, salad with beets, and chicken with mashed potatoes were so, so good. I'm not one to gush about food but this meal left an impression. Seriously fresh and delicious. I'm longing to go back for more just writing about it.
According to Niagara Falls Tourism: "Feast ON, a program by the Ontario Culinary Tourism Alliance, certifies restaurants that are champions of Ontario food and drink. By dining at this restaurant, you help to support the many growers, producers and craftspeople that make up the province's strong food and agricultural sectors."

DID YOU KNOW? There's a statue between the restaurant and the falls of Nik Wallenda who walked on a wire over Niagara Falls in 2012. Here's the video.
Waves Indoor Water Park
The next day, we were supposed to have breakfast at the Flying Saucer Restaurant Covid cases were soaring at the time and unfortunately, they did not have outdoor dining so we passed. But we did drive by it on our way to Waves Indoor Water Park.

I don't think anyone driving by would ever know there's a 25,000 square foot, indoor waterpark inside the Americana Resort & Spa. It seemed a bit cheesy at first but it really grew on me and you have to appreciate it for what it is. Most importantly, it was loads of fun for the kids. They loved all the water slide that range from just a few feet to three stories hight and the wave pool. There's also an quaplay centre with a giant tipping bucket! It's really for kids of all ages, including big kids like me.

What's great about it is that not a lot of tourists know about it, so it wasn't crowded at all. They have plenty of lifeguards and life preservers and a retractable roof and windows so you get fresh air. There's also a snack bar with fries, nachos, pizza, drinks, ice cream and slushy treats that's connected to an old-fashioned arcade. Our kids loved all of it.

Clifton Hill
Later in the day, we went to Clifton Hill, which I had never heard of but if you've been to Niagara Falls on the Canadian side, then I'm sure you have. It's like a mini Orlando and Vegas for kids, all in one. Our kids are a little too young for some of it but it's a haven for tweens and teens. Along the major promenade, you'll find everything from gift shops, video arcades and restaurants to wax museums, haunted houses and all kinds of other themed attractions. After spending a day enjoying Niagara Falls, Clifton Hill is a popular option for nightlife.

Clifton Hill Fun Pass
If you plan on doing a lot of the attractions, then look into getting Clifton Hill Fun Pass as it allows you to enjoy six attractions on Clifton Hill for one price ($35 for adults and $23 for kids).

The pass includes one-time admission to Dinosaur Adventure Golf, Niagara SkyWheel, Niagara Speedway, Zombie Attack, Cosmic Coaster and and Ghostblasters. Obviously the last three weren't for my kids but older kids will love it. 



Dinosaur Adventure Golf
We took our dinosaur-loving kids to the Dinosaur Adventure Golf, one of the country's largest outdoor mini golf courses with over 50 life-sized dinosaurs. We played mini golf through this prehistoric world of enormous dinosaurs and lush vegetation. This was definitely a highlight for the kids and we all had tons of fun.

The Niagara SkyWheel
I'm not a fan of heights so I skipped out on the Niagara SkyWheel but my girls loved it. My son must take after me because he didn't so after the first two go arounds (you usually do three to five rotations in 8 to 12 minutes), I asked one of the attendants to stop the wheel at their car so they could get out. The SkyWheel is Canada's largest observation wheel towering 175 feet (53 meters) offering views of the city and the Falls. My wife said it was nice and slow and offered great views but if you're like me and my son, you might find it too high. 

The Niagara Speedway
My five-year-old son accompanied me on the Niagara Speedway, North America's largest elevated go-kart track facility. It's dubbed a Mario Kart inspired racetrack as it marries the traditional throttle powered go-karts with the added thrill of an elevated roller coaster style track. We went three times around with about 30 other cars and it was fun and intense.

Rainforest Café
Not surprisingly, there are tons of food options on Clifton Hill, including themed restaurants like Rainforest Café and Hard Rock Cafe. We went to Rainforest Café around 5pm to beat the crowd and the kids really liked seeing all the rainforest-themed decor. It was their first time at a Rainforest Cafe so the whole experience was very novel for them. The restaurant offers a wide variety of choices including salads, burgers, pastas and signature sandwiches – no complaints about the food and the strawberry lemonade was yummy.

Walking Tour and Niagara City Cruises
The highlight for me was going on an hour-long walking tour ($94) and then doing a 20-minute Voyage to the Falls boat tour. On the walking tour, our guide shared lots of interesting facts about the falls and took lots of questions from my son. We also learned about Marilyn Monroe's time in Niagara Falls during the filming of the 1952 film Niagara. She stayed in Room 801 at the Crowne Plaza Niagara Falls, which is now a much-requested room, as you might imagine.

The Voyage to the Falls boat tour is billed as the journey of a lifetime and it really is accurate. There are three falls in the Niagara Gorge: The American Falls, Bridal Veil Falls and the famous Horseshoe Falls. You really do come face-to-face with the falls as you can feel the thundering roar, the awesome power and of course, the mist. Each passenger gets a protective recyclable mist poncho (on the Canadian side they're red and on the U.S. side they're blue). If you've never done the boat tour to get up close and personal with Niagara Falls, it's definitely something to experience once in your lifetime.

After the boat ride, the walking tour continues to the Journey Behind the Falls, which is supposed to be awesome but we didn't have time to experience it (plus, it's just too much for toddlers). What's great about going on the walking tour is that the tour guides have priority so you get to board the boat first, which means you're guaranteed to be at the front of the boat. Our guide said everyone tends to head straight upstairs but that you really want to be downstairs.
Botanical Gardens
On the way back to Toronto, we drove five miles to the Botanical Gardens, which also houses the Butterfly Conservatory. The 99 acre-gardens have been there since 1936 and they're really beautiful. There are perennials, rhododendrons, azaleas, formal parterre garden, shade, herb and vegetable plantings, as well as their world-famous rose garden featuring over 2,400 roses.

Butterfly Conservatory
The Butterfly Conservatory is a magical attraction that features over 2,000 colorful tropical butterflies floating freely among lush, exotic blossoms and greenery. If it hadn't been so crowded, we could have spent a solid hour on the paths that wind through the rainforest setting, past a pond and waterfall and the emergence window, where butterflies leave their pupae and prepare to take their first flight. Admission fees: $17 Adults (13+), $11.25 Children (6-12) and 5 and under are free.
As you can tell, Niagara Falls is a family-friendly destination and it's open year-round. After spending some solid time there, it's not surprising that millions of people visit Niagara Falls each year. The falls are spectacular and there's lot to do with kids.