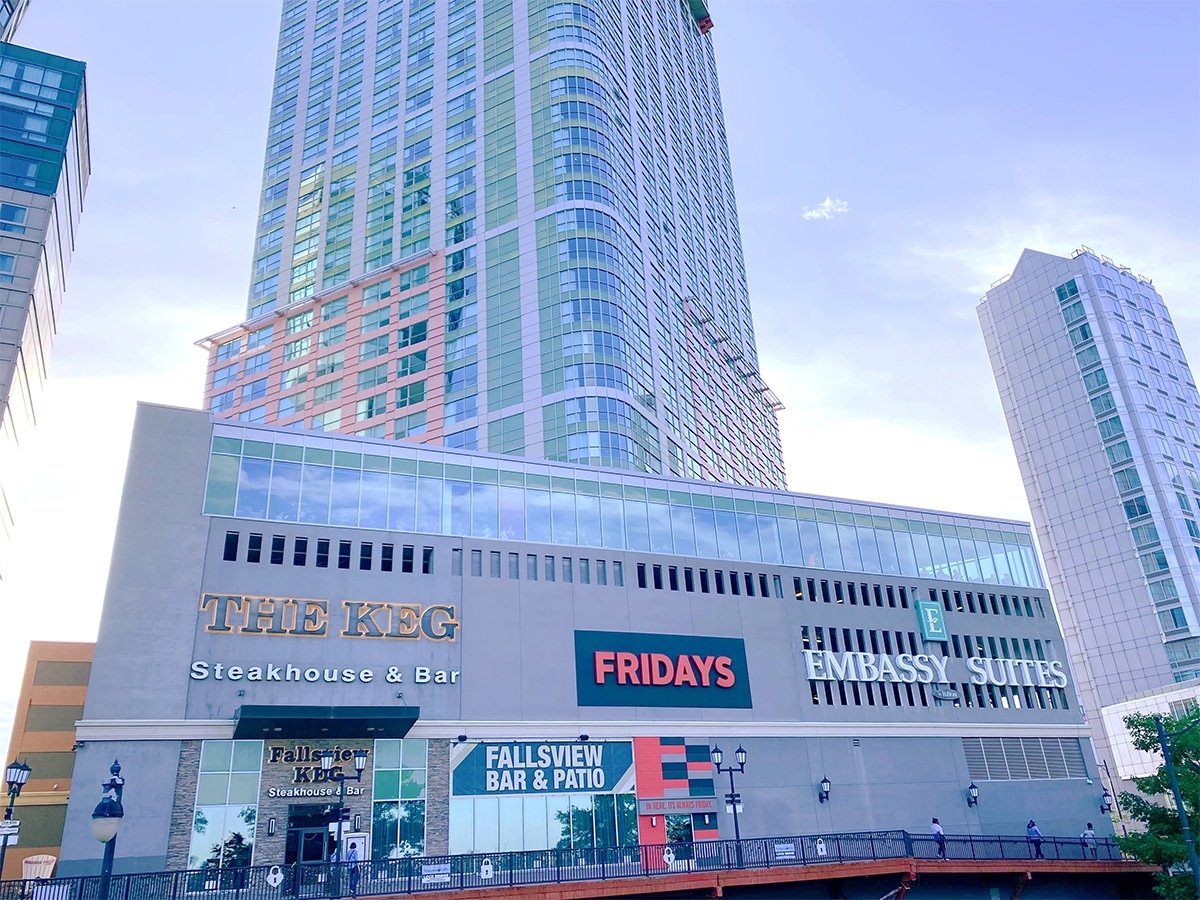 A big thanks to Embassy Suites Niagara Falls for hosting our stay so we could provide this detailed review of our experience.
If you've been following along with my trip to the east coast this summer, then you know that I left off in Toronto, Canada, where my wife is from. I know what you're thinking. "Oh man, you had to fly via Toronto Pearson International Airport?" It was labeled the worst airport in the world this summer for delays and cancelations. It is a mess but I think I cracked the code on how to avoid Toronto Pearson Airport's chaos. Here are my tips.
My top tip for beating the chaos in Toronto, or any airport in Canada or the U.S. when flying internationally, is to get Nexus and Global Entry. I've had both for over a decade and it was time for me to renew for the third time (it's good for five years). Unfortunately, because of Covid and Canada Border Services Agency being severely understaffed (the root of the chaos), there are no NEXUS/Global Entry offices open in Canada and getting an appointment in the U.S. isn't easy.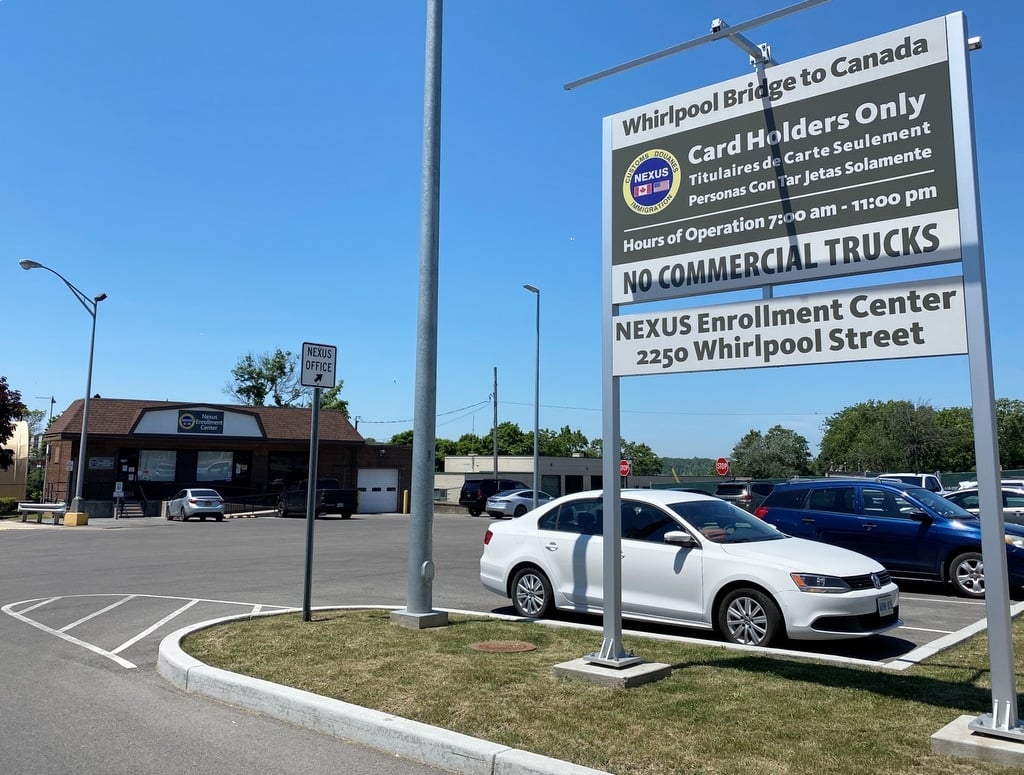 But I cracked the code on that too, and was able to snag a NEXUS/Global Entry appointment in Niagara Falls, NY, which is less than a two-hour drive from Toronto (without traffic). Here's that trip report and if you're interested, here's the secret site where users can find Global Entry, Nexus and Sentri appointments.
Since we were already in Niagara Falls for my NEXUS/Global Entry appointment, we decided to make a staycation out of it and spend a few nights in Niagara Falls on the Canadian side. We did a number of fun activities while we were there but first, we checked into our hotel.
Hotel Review: Embassy Suites Niagara Falls
Our first stop after crossing over the Rainbow Bridge back into Canada was driving five minutes to the Embassy Suites Niagara Falls to drop off our bags and set up our home base for our stay exploring Niagara Falls. When we pulled up to the hotel, we were greeted and shown a spot to park while I went into the hotel and checked in.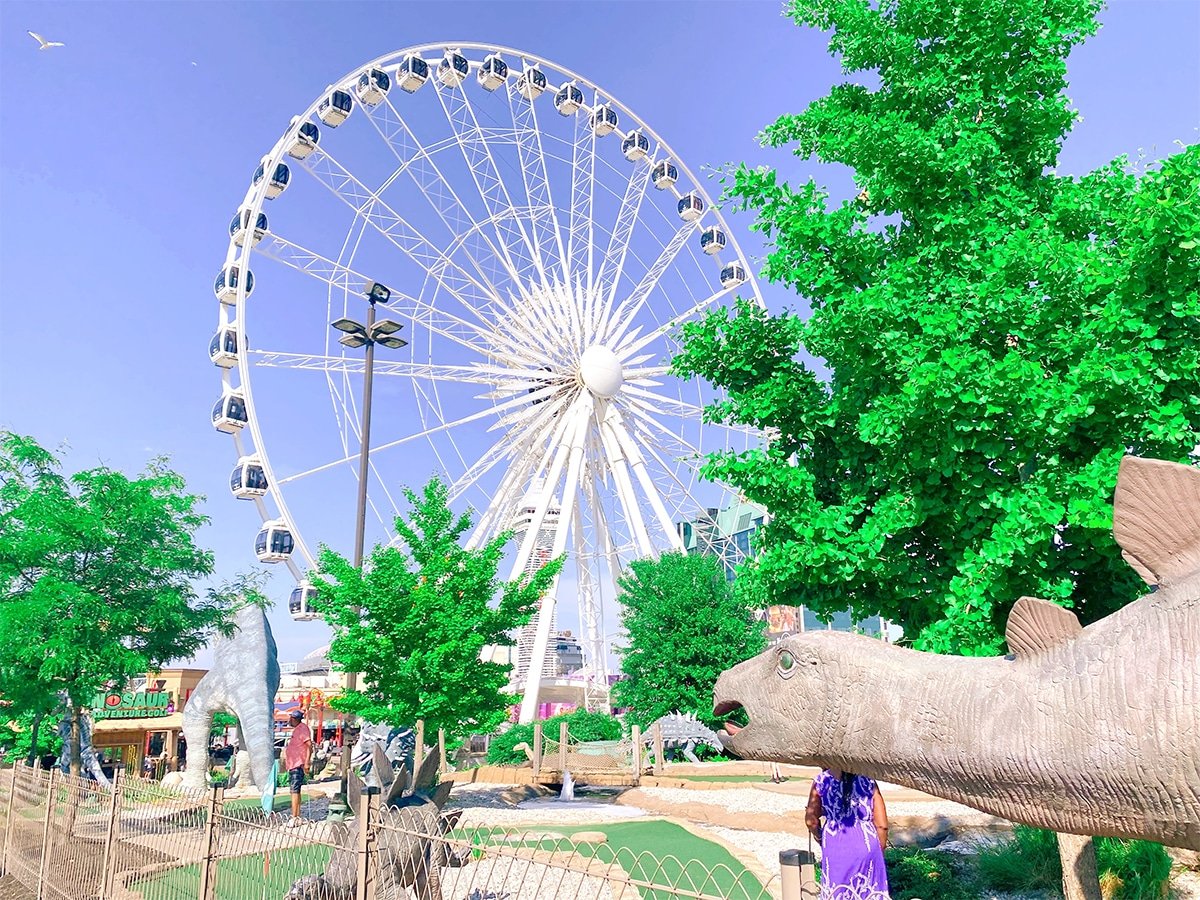 GOOD TO KNOW: The Buffalo Niagara International Airport is approximately 24 miles (39km) away from the hotel while Toronto Pearson International Airport is approximately 75 miles (121 km) away. The Embassy Suites Niagara Falls is just  300 meters from Horseshoe Falls and next to the Falls Incline Railway. Fallsview Casino and the Niagara Falls Convention Centre are within a six-minute walk, while Clifton Hill is just a five-minute drive.
There's no valet parking but if you want to park in the garage, it's $70 a day. Otherwise, there's a parking lot down the street and guests can take the shuttle to/from for $35. I chose the former. There's also a ridiculous 12% "Daily Mandatory Charge," I take is their version of a resort fee.

When I entered the hotel, I was pleasantly surprised to discover that there was a doorman opening the door for guests. For a second there, I thought I was at the Four Seasons or in Asia! It was a nice and unexpected touch.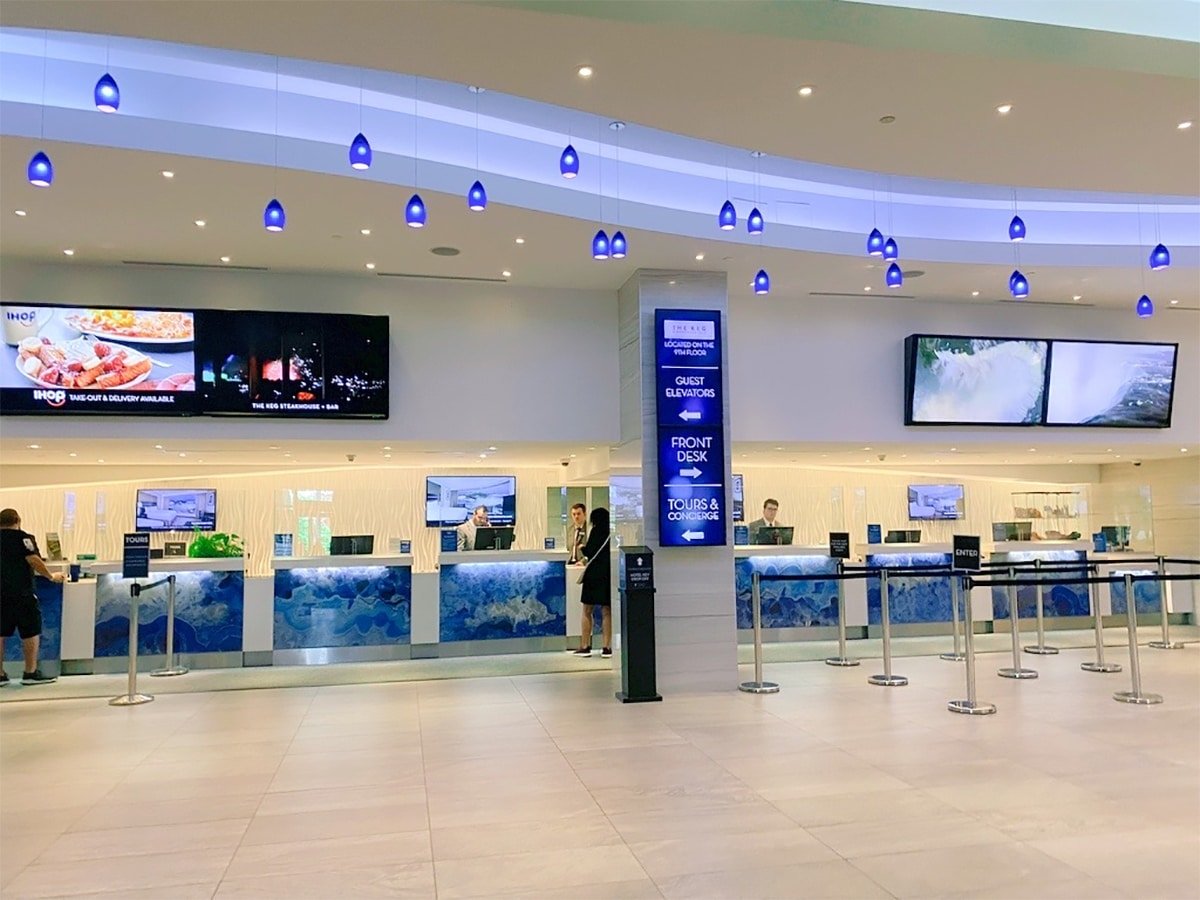 There was no line at check-in and the staff was friendly. The hotel has 42 floors and 565 two-room suites. Since it's an Embassy Suites, each room is a suite, which makes this hotel a great option for families.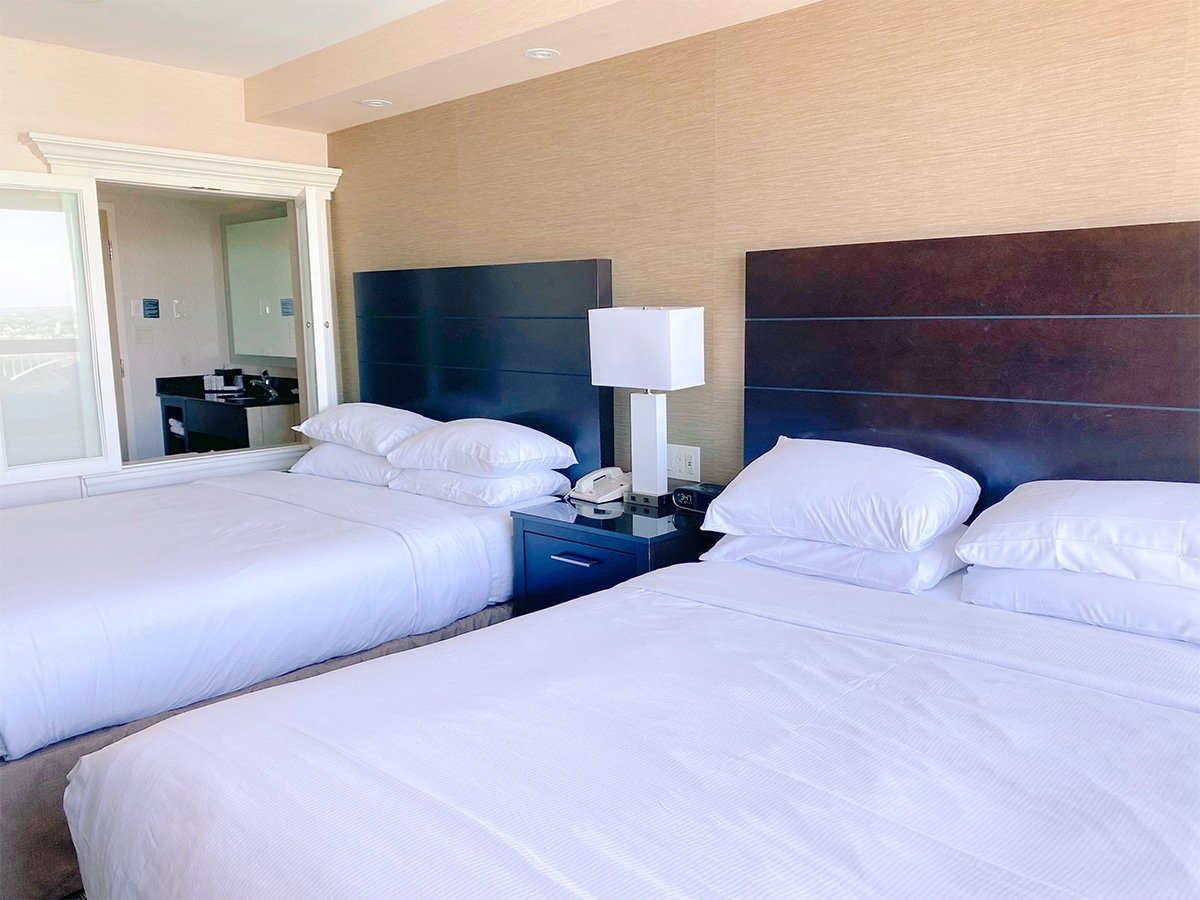 The rooms are dated but they have a ridiculously amazing view of Niagara Falls both during the day and at night.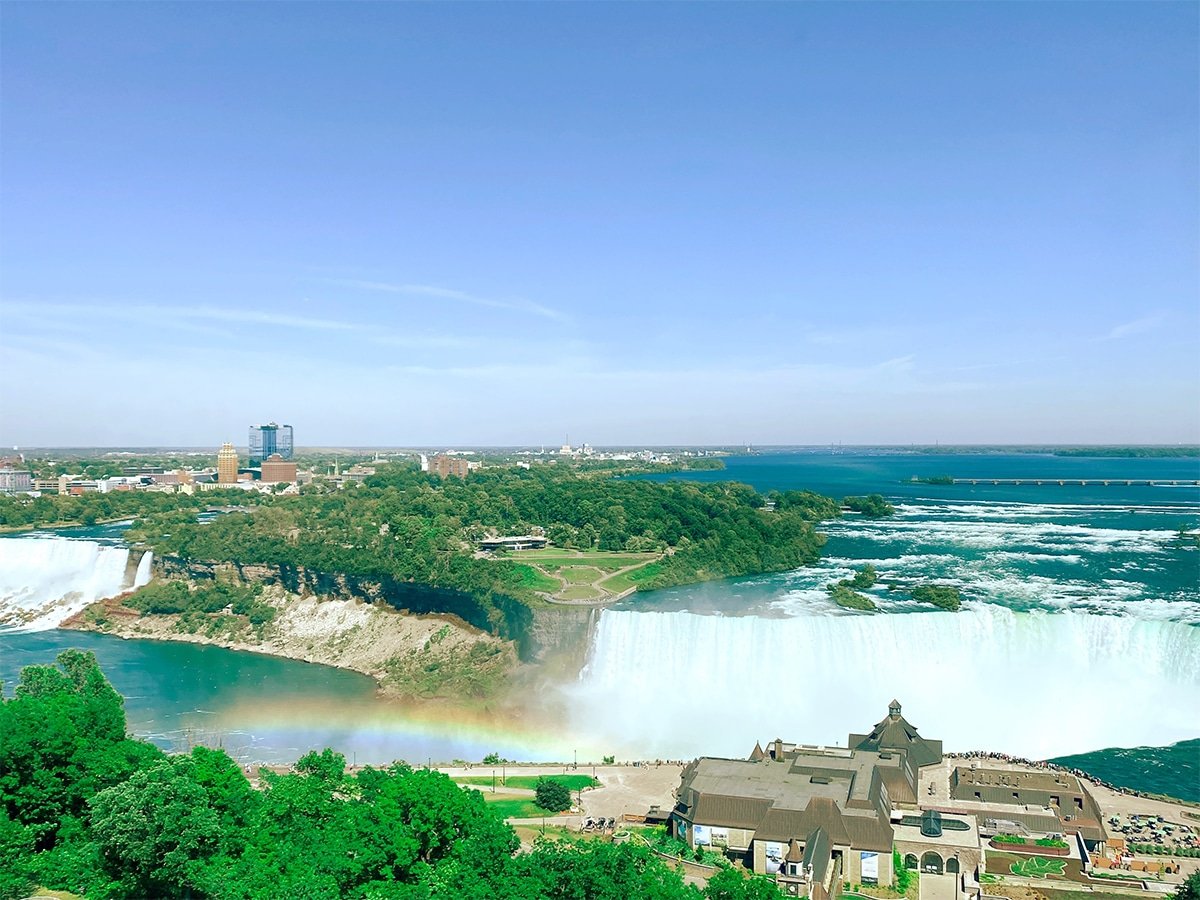 The view is so incredible that it makes up for any other shortcomings and overall, our room was perfectly clean and comfortable.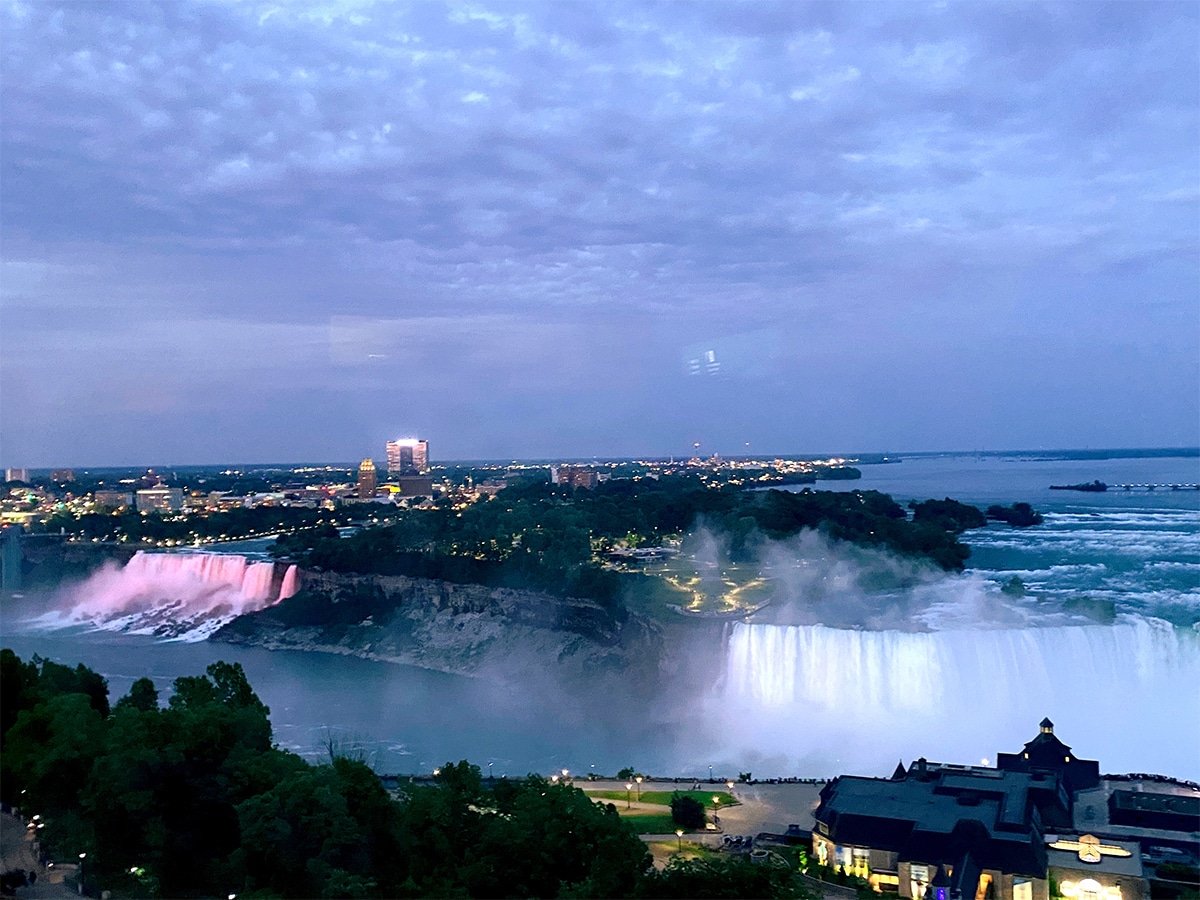 Niagara Falls is the star attraction here and the falls are illuminated at dusk every night of the year.
And during peak times, there's a nightly fireworks show at 10pm. Here's the website for the fireworks schedule to help you plan your trip accordingly.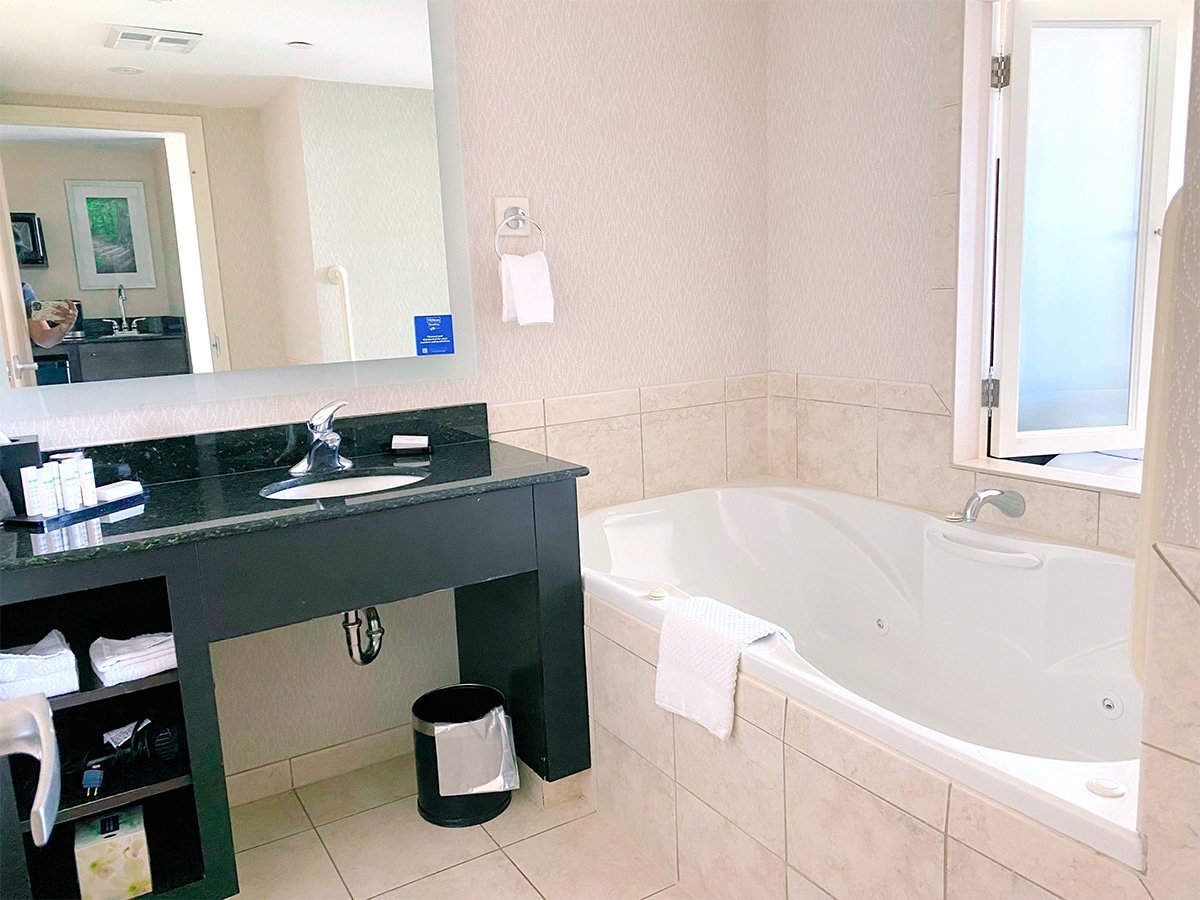 Our bathroom had a shower and a huge whirlpool tub that the kids absolutely loved.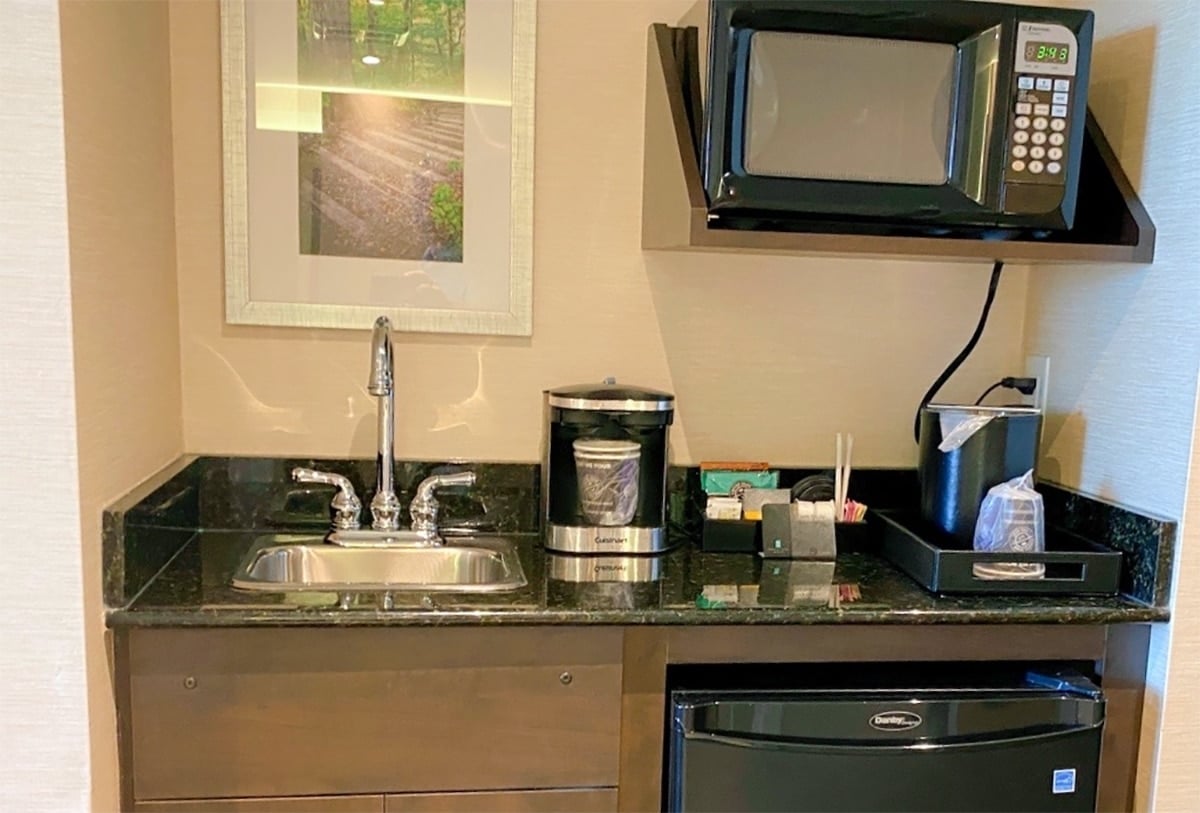 Each room has a microwave and decent sized refrigerator, which is always my wife's favorite hotel room feature. When you've got kids, a fridge and microwave make life so much easier by allowing you to keep milk on hand and to heat up meals when needed.
The room also had a small vanity area with a sink, handy for my wife to do her hair and makeup.

The living room area has a pullout couch and both the living room and the bedroom had flat screen TVs that weren't Smart TVs. That means there's no streaming but you can at least connect to the StayConnect app on your phone to control the TV, a feature I always like to use.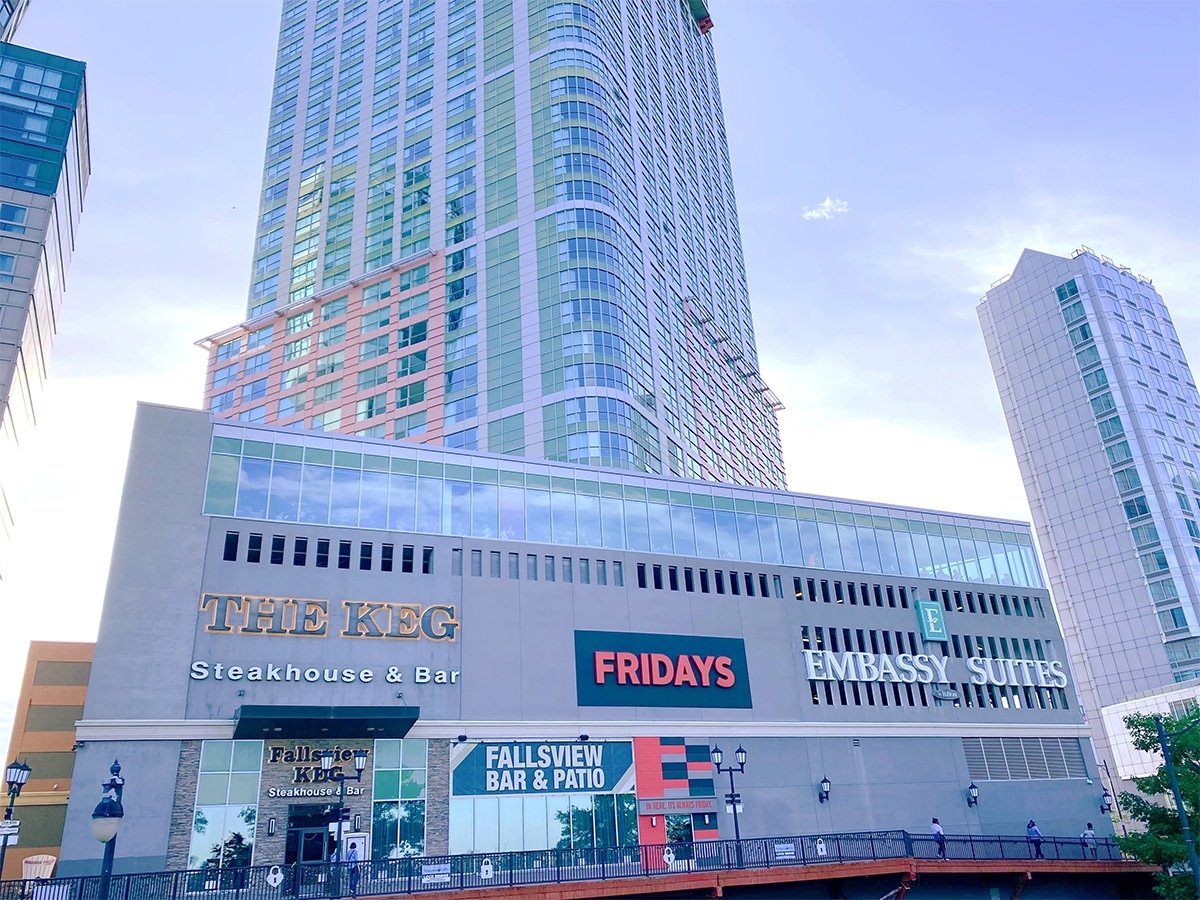 Inside the hotel there's a Starbucks and two restaurants: The Keg and TGIFridays. We only hit up Starbucks each morning to get tea for my wife and a bite for everyone to eat. 

The hotel is about 100 yards from the brink of Niagara Falls and guests can either walk there in approximately 10 minutes or use the Incline Railway, located directly behind the hotel. It brings guests right to the Canadian Horseshoe Falls for $3 each way or $7 for a day pass. Kids 5 and under are free. It's the quickest way to go, takes just a couple of minutes and is super fun for the kids.

Overall, the Embassy Suites Niagara Falls is very family-friendly, we loved all the space in our room (more importantly, the kids did!) and you can't beat the location. But the cherry on top is, without a doubt, the spectacular view of the falls from the rooms. No matter how many times you've seen them before, you can't help but stare out the window and marvel at how spectacular Niagara Falls really is.