Striving to stay human in a big city like New York can be challenging. Luckily, a quick flight to Virginia's Blue Ridge Mountains is where serenity smiles wide and presents a massive cultural shift away from the rat race.
Virginia's Blue Ridge Mountains are a sight to behold on the American landscape. Home to one of the world's most epic drives, the Blue Ridge Parkway, and an iconic stretch of the Appalachian Trail, you're never far from historic lodgings or world-class cuisine. These fabled mountains in Virginia's Blue Ridge have the city of Roanoke as its centerpiece with several other surrounding communities within an hour's radius, including the city of Salem, which is home to Roanoke College. With my daughter, Bella, a high-school senior in tow, we enjoyed the perfect mingling of cultured civilization and Mother Nature at her finest.
City of Roanoke
Roanoke simplifies the best of city and country life. The small, classic Southern railroad city is encircled by accessible mountains. Its downtown is a late 18th century and early 19th century architectural time capsule. In terms of buzz, a few locals referred to it as Asheville, NC, 20 years ago (so, watch out!). Downtown Roanoke, a square mile including the busy Market District, has a lot going on with more dining and activity options than seem possible in such a small footprint. There's something nifty to discover around every corner.
Bella's first taste of downtown Roanoke's culinary range debuted with Jack Brown's Beer & Burger Joint, where the 100 percent American Wagyu burgers are crowned with endless toppings including shocker sauce, peanut butter, cream cheese, and guacamole—and a weekly option to switch out buns for glazed doughnuts. This upbeat saloon-like classic-rock haven has good vibes with sweet potato fries.
A block away, The Vault at The Liberty Trust Hotel is an ultra-swank restaurant in the lobby of the seven-story, 54-room new boutique hotel that was built as a bank in 1910. Here, the black truffle burrata is just a start. The hotel and restaurant opened after a massive renovation that resurrected every inch of its former glory, melding Greek revival and French Ecole des Beaux-Arts. Our lovely seventh-floor corner room had two queen-size beds and great views of downtown, including an Amtrak station that's a football field away (five hours to DC). The overnight whir of freight trains minus the whistles set an even nicer mood.
The Vault's dining experience happens within an upscale living-room-like lobby with 30-foot ceilings and marble everywhere. This global food tour ranges from tapas to classic international street food to seasonal Japanese favorites. Served on mid-sized plates, the always-evolving menu uses locally sourced ingredients and encourages a shared dining experience. We especially enjoyed the Albondigas, a Mexican soup with beef meatballs, cotija cheese, and bravas sauce. Reviving Roanoke's version of royalty, this place does simple, elegant grandeur just right, and it has an ace staff to back it up.
Another national landmark that does an amazing job of combining dining, shopping, and accommodation is the new Fire Station One Boutique Hotel. This classic firehouse was transformed into a seven-room hotel above a classy eye-candy Txtur furniture showroom and the Stock Café, which serves Nordic/Northern European food in a comfy and modern open-kitchen restaurant that doubles as an art gallery. The café is also furnished with Txtur furniture made in Roanoke, VA. Try the local trout after a Kapsalon appetizer consisting of hand-cut fries topped with chicken shawarma, gouda, lettuce, tomato, cucumbers, garlic sauce, and sambal. I'm glad we didn't skip dessert: the cardamon/blood orange ice cream sandwich, with salted rye sandwich parts, was life changing!
This mind-blowing boutique hotel occupying Roanoke's national landmark firehouse features one-of-a-kind luxury digs with fire poles and lockers as part of the spectacular living room for all of the guests. This place is, hands down, the coolest accommodation in a national landmark that I've ever seen.
More downtown Roanoke dining and entertainment options
Ernie's is a genuine get-the-local-news diner where the counter seats inspire patron prattling. The memorabilia-rich walls tell another story.
All under one roof, the Center in the Square has many attractions including the Roanoke Pinball Museum's 60 fully playable machines from the 1930's through today. The interactive museum is dedicated to the science, art, and history of pinball; play all day for $12. You'll also dig the Roanoke Starcade, a huge video-game museum and working arcade with racing games, mini-basketball, and air hockey as a start. And don't forget about the neighboring Science Museum of Western Virginia.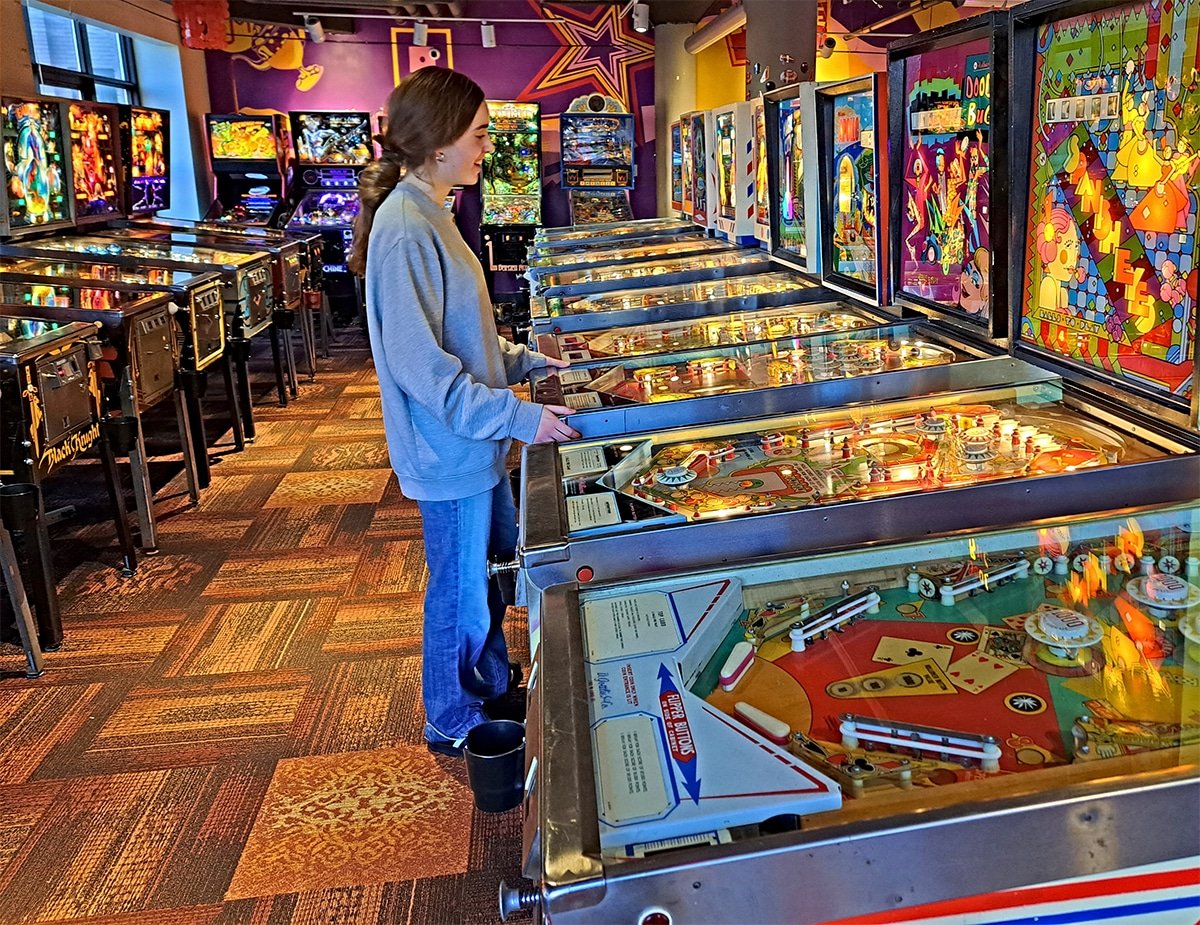 Nearby, Crafteria is a maker's market for Appalachian and local craftspeople to sell their art, records, soap, hot sauce, and baked treats to name a few. There's also a laid-back lounge upstairs. Book No Further is a cozy, multilevel bookstore. Martin's Downtown is a nifty live music joint, and you can get in some line-dancing at Sidewinders Saloon. Everything noted is within easy walking distance. Several vehicle bridges and pedestrian walkways cross the railroad tracks that bisect downtown. We used one to visit the historic Hotel Roanoke and its huge open-kitchen, Pine Room, where the crispy cauliflower appetizer features honey-chili sauce, sesame, and scallions.
Don't miss the gorgeous overview of Roanoke from the Roanoke Star, which also connects to the Blue Ridge Parkway, America's favorite drive. Roanoke is a great first date. It may not know this yet, but mountain-surrounded Chattanooga might be its sister city.
American Salvation: Black Dog Salvage & The Stone House
A bit yonder downtown Roanoke is the once-derelict but now epic Stone House, built by Italian stone masons in 1911, and located next to Black Dog Salvage. This architectural salvage yard was the catalyst for the 11-season 143-episode show "Salvage Dawgs." Cowboy-physicist Mike Whiteside, co-star of the home-improvement-on-steroids show, gave us a mind-blowing tour of his three-acre campus. It includes a multi-room workshop and an arena-sized marketplace selling a million unfinished and finished house parts, from airplane wings to tubs to pipe organs. Add an upper-level art gallery (well, the whole darn thing is an art gallery) and outdoor salvage museum with photogenic twists. It also doubles as a community center leading with live music and painting classes. Mike is the ultimate proof that you don't need to attend art school to be an artist. Bella was also floored by his spirit and this destination.
We stayed at the three-bedroom Stone House, which is the ultimate showroom for Mike's rescued gems. He transforms them into high-end architectural masterpieces. Yeah, not much is made in China around here. Check out this Salvage Dawgs episode guide of shows featuring various projects built for The Stone House. Take a peek, you'll quickly get an idea of the coolness of this house and show.
The Stone House and Black Dog Salvage are situated alongside the Roanoke River Greenway, a scenic river-hugging cycling and strolling trail with multiple river crossings and freight train encounters. Here, you'll also discover The Green Goat restaurant's comfort food in a comfortable setting as well as Roanoke Mountain Adventures, where you can rent bikes, inner tubes, and kayaks. Just down the road from The Stone House is the village of Grandin, where The Village Grill & Tavern has an easygoing atmosphere, Southern rock tunes, big salads, and American-entrée faves.
City of Salem
Lower-key Salem is just a few miles away from downtown Roanoke—it's almost as if it's an extension of it. This classic example of sweet small-town USA has a multicultural edge provided by Roanoke College and plenty to do both on and off campus.
We stayed in a suite at the Rowland Hotel, which has 16 boutique-style rooms on two floors, all with deluxe bathrooms and lavish showerheads. Three rooms are deluxe king suites with inviting bathtubs. It's located on the main street and across from Roanoke College. The ultra-friendly staff is always on hand for information or to simply have a nice chat. The hotel sits atop Frankie Rowland's Steakhouse, which has a sister location in downtown Roanoke. Steak afficionados, this place is the real deal. The pro-team of servers don't stop at Certified Angus Steaks from the Midwest; bring on the sauteed Brussel sprouts with bacon and balsamic. We enjoyed Rowland-style majesty, both in the hotel and the restaurant.
Gina's "food with flavor" piles on the classic Southern comfort food in a charming, former funeral home—with homey being the keyword. Go for the fried catfish with collard greens/pork, green beans, hush puppies, and cornbread. What the heck, life is short. Inside Gina's, three connected rooms share a fireplace, art, charm, and calories. The nearby West Salem Diner serves upscale Americana chow and has great natural lighting. It closes at 2:30pm (not am!). Off the main drag, you'll find Our Daily Bread Bakery & Bistro, which specializes in scones and Greek omelets.
Hiking Virginia's Blue Ridge Mountains
Twenty minutes' drive from Salem is the trailhead to scale the renowned McAfee Knob, an eight-mile up-and-back hike with a terrific and rewarding overview of the Blue Ridge Mountains from a series of towering ledges. This trek atop Catawba Mountain is also a highlight of the Appalachian Trail's ramble through Virginia's Blue Ridge. It's also where I glanced at my now full-grown Bella as she hiked a bit ahead of me and was reminded not to worry about who is teacher and who is student.
For more inspiration, stop by VISIT ROANOKE VA. Several cities enjoy direct flights to Roanoke, including New York City, which takes about an hour (although the airlines list the route taking longer). I really can't think of a place that's a one-hour flight from New York City that is so vastly different from it—in a very pleasant Southern way.
KEEP READING: 
–12 Things to Know Before You Travel to Europe
–12 Things You Never Knew About Italy
–7 Things to Do in Naples, Italy
–12 Things to Know Before Going to Paris
–19 of the Best Off-the-Beaten Path Things to See and Do in Paris
Want more travel news, tips and deals? Sign up here for Johnny Jet's Daily Travel Tip newsletter! Just fill in your email address and check the Daily Travel Tip box—and you'll have Johnny's best tips, straight to your inbox each day!