Without my insulin I would die within 72 hours. Yes, it's true. I'm a type 1 diabetic and that is a fact of my life. As a frequent traveler, I always carry my pump supplies and medication on my person. But on our most recent trip, the rest of our luggage didn't make it. We were going to my partner's mom's 80th birthday party in Palm Beach. We took precautions. We had our contact info and AirTags in everything. I'm an optimist by nature so I never expect to lose my luggage, and I rarely do. RELATED: An Airline Executive's Number One Tip For Avoiding Lost Luggage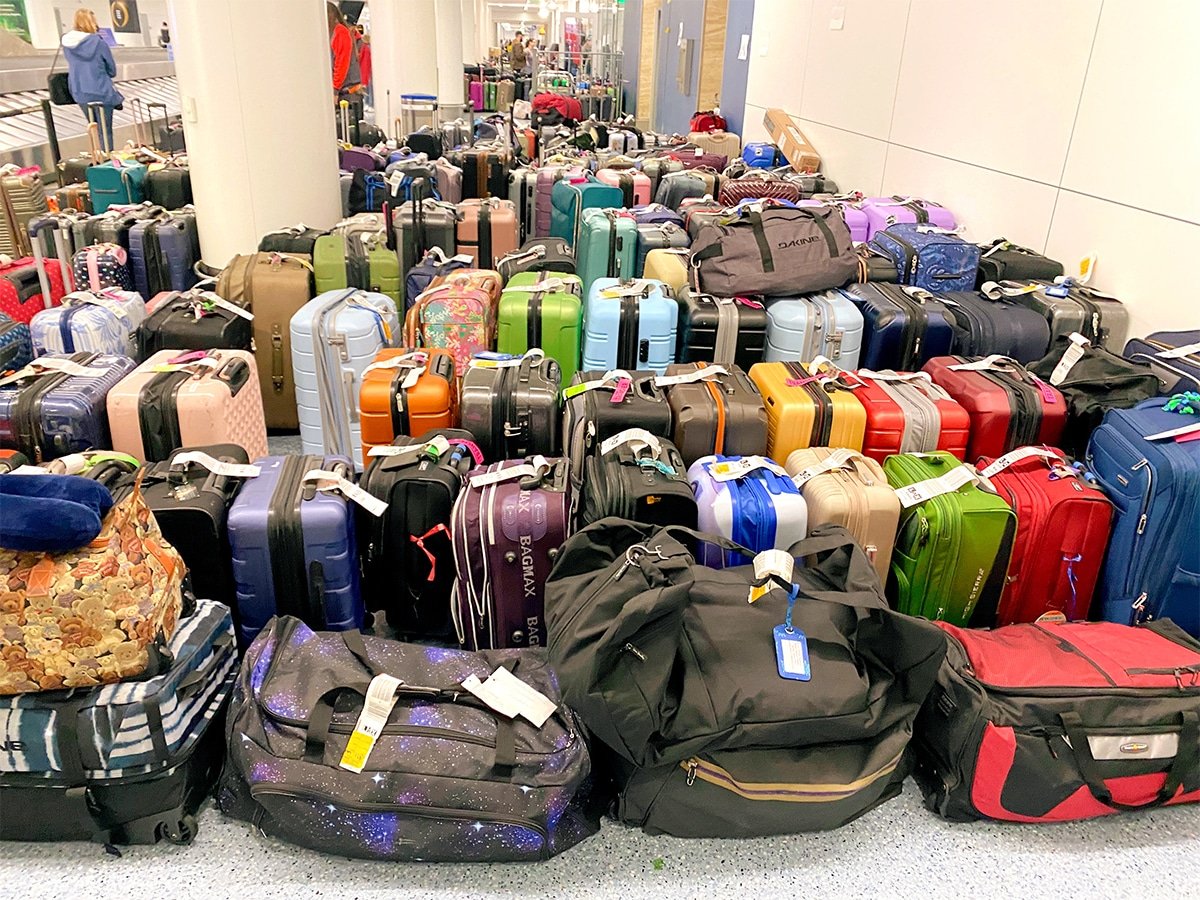 Admittedly, we didn't technically lose our luggage. We knew it was sitting in Dallas (DFW) somewhere. Random question, why in the world do we have to fly through DFW or Chicago (ORD) to get to so many places back East? Not to be a complainer, but we live in Los Angeles, the biggest city in the West. It is arduous to book direct flights to other cities. Palm Beach County is one of Florida's largest and most popular regions. Why do we have to fly through Dallas? I know, the whole hub thing, but it's annoying.
Back to our luggage. We had no way to hurry the painstaking process of working through American Airlines' land of lost luggage – a little shop of horrors in the bowels of the Palm Beach International Airport (PBI) where I expected to see an avaricious Audrey snapping at us any minute.
The vagaries of managing claims for your lost, delayed or damaged baggage are extensive and challenging to navigate. The U.S. Department of Transportation has a good resource summary. They also report that nearly 1.5 million bags were lost in just the first half of 2022, the most recent statistics available.
To be sure, we didn't have that much luggage, but after Palm Beach we were going to fly North and spend Thanksgiving with my 86-year-old mom at our family farm. So, we had to pack warm clothes and cold clothes. I needed a fancy dress and heels for the birthday party. Jeans, boots and the like were a necessity on the farm. And then there was all my makeup, skin care items, undergarments and PJs … it amounted to a medium-sized bag, a rolling carry-on and a large purse. I'm a frequent traveler and congratulate myself on being a light packer.
In my rolling carry-on bag, I carry my diabetic supplies as I mentioned earlier, my laptop, chargers, and some books. In my purse, a tiny tube of hand cream, a tube of lipstick, saline solution for my contacts, my glasses, tissues, hand sanitizer, iPhone, a mask and that's about it.
We were told it would take two days for our suitcases to arrive. The party was the next night at a fancy restaurant. Upon checking into our hotel, we were given a toothbrush and packet of toothpaste. Of course, they had soap, shampoo and a hair dryer. The next morning, we ventured to Marshall's where I bought a hairbrush and the best dress I could find that was two sizes too small and made me look like I was pregnant. My tennis shoes would have to do. Next door was a makeup store where I bought the basics and the kind clerk threw in a bunch of samples.
The party was a big hit. I wasn't at my best, but it didn't really matter. It was great seeing Dennis' family. His mom was delighted to see me and with a look of joy, rubbed my tummy. She clearly thought I was pregnant (well, that plane has left the gate), but she has Alzheimer's and I adore her so I gave her a pass.
As the saying goes, all's well that ends well. And boy oh boy, I learned something important: I did not need most of what I carried in my medium-sized, checked bag.
And most of what I did need could have been stuffed into my carry-on: one change of clothes, a dress, one set of pajamas and a change of underwear. I wore my comfy, yet stylish tennis shoes, and for the cold weather, I could have worn a winter coat onboard and stuffed it into the overhead. For face moisturizer, I used my hand lotion, and I've discovered that a tube of lipstick is all you need to go to a party. When I got to the farm, I could wash my clothes and wear everything again, and borrow anything else from my mom because we are the same size.
The good news is that we reconnected with our luggage right before we left PBI. The better news is that I learned to travel even lighter than I thought possible. If everyone would do that, it would save time, labor and weight, and therefore save on fuel and lower the carbon footprint, too. And maybe the airlines would respond by lowering fares. Probably not. But then, I'm an optimist.
KEEP READING
Want more travel news, tips and deals? Sign up here for Johnny Jet's Daily Travel Tip newsletter! Just fill in your email address and check the Daily Travel Tip box—and you'll have Johnny's best tips, straight to your inbox each day!