What a travel day! A couple of weeks ago, I surprised my lonely and depressed father at his senior home in Florida. Not only did I surprise him, but I told him I had a ticket to take him back to California with me that night so he could hug his grandkids for the first time in a year in a half. Links to my three stories are below as well as the video, in which you can see how it all went down, including him hesitating because he'd hurt his back the day before. As he said, he foolishly worked out for over 30 minutes on a rowing machine that he hadn't used in a long time.
-Part 1: My First Class Flight on American Airlines 777-300 for 34,000 miles
-Part 2: The morning on the beach and video of surprising my dad
-Part 3: Traveling back to L.A. with my dad, almost getting a fight in MIA and their wheelchair service
I cashed in just 20,000 American Airlines (AA) miles to fly him First Class in a plush, lie-flat seat on their 777-200 aircraft. On the flight, I realized it wasn't going to be easy for him to fly to New York on his own, which was my original plan, because of his back. So I spent hours, and I mean hours, trying to find two first class tickets for us to go to New York using miles. In the process, I uncovered the trick to finding inexpensive mileage tickets (here's how).
Originally, I was only going to have my dad for a week since we live in a relatively small place and he can be high maintenance but my wife is a great sport and we made it work so he stayed an extra 9 days. I decided to get tickets to travel on the Saturday before Memorial Day since it would be less busy and cheaper.
For my return ticket, I cashed in some of the dollars I had left over in my JetBlue Travel Bank Credits because we canceled our Boston to LAX flight last June. Can you believe I found three Mint tickets for under $1,500? I then found a relatively cheap JFK-LAX ticket in Mint for early Memorial Day morning and I was excited to fly it because I was able to score one of the individual suites by setting a seat alert (here's how) and they've just partnered with American in a deeper partnership to earn reciprocal miles.
I was also excited to be in my home state of Connecticut for my favorite weekend of the year as many of my high school friends get together for a game of stickball. However, the weather forecast turned from the typically picture perfect day to absolutely horrible a few days before.
My sister and friends told me not to go since it was going to be cold (43-52F) and rainy. That bummed me out but I was still excited to see friends and family and eat a chicken parm with hot peppers wedge from my favorite local pizza place and get a lobster roll. I've been jonesing for both since 2019.
However, just a few hours before our departure, I started to get a slight cough and almost felt like one of my yearly nasty chest infections was coming on. I have had way too many since I have a history of asthma.
When my dad found out I was planning to escort him to New York, he almost snapped. He said, "Are you kidding me? I don't need a babysitter or to be treated like a baby!" I was thinking, "Well, you kind of do." This conversation is all taking place inside the early morning car service I'd arranged via Blacklane on our way to the airport. He said, "You need to stay home and take care of your little kids and don't worry about me." I started thinking it sure would be nice not to go and to stay home with my family so I said, "Let's just see how things go at the airport. If the gate agents, and more importantly, the flight attendants are cool, I won't go."
Our car pulled up to LAX, which was busy at 6:30am but not crazy. The loop was just about a five-minute traffic jam, which is a win. It's been a while since I got a wheelchair for my dad at LAX but American now makes it easy to reserve one. You no longer have to call; you can just do it in your reservation online. However, when we pulled up, I asked an AA employee passing by where to get the wheelchair and she said I needed to speak to an agent. So I got in line at the Priority counter and waited about five minutes before a friendly agent printed up our boarding passes and called for the wheelchair.
I told him my dad was still in the car and when I went out to ask the driver to pull up closer to the wheelchair waiting area, I saw the AA agent come outside looking for the wheelchair valet (as my dad likes to call them). There weren't any but I was impressed the agent actually went outside to check.
I found an empty luggage cart curbside so I grabbed that so my dad could use it as a walker and that did the trick. We hung out in the wheelchair waiting area for about 15 minutes before a representative from Envoy (the company AA hires to handle passengers that need more assistance) showed up. BTW: I was happy to see they opened up the escalator closest to TSA PreCheck, as two weeks ago, it was closed. That might have been because I traveling mid-afternoon and mid-week but I'm not sure as this was just my third time at LAX in over a year.
The wheelchair handler whisked us up in the elevator and told me that their real check-in was on the other side of the terminal. I'm noting this in the hopes that my dad comes back out again soon. The TSA PreCheck security line was short and the few passengers in it were happy to part to the side so my dad and other wheelchair users could get to the front.
We went straight to Gate 45 since boarding was just about to begin. When I rolled up, I saw an agent giving a long, stern talk to a traveler using a friend's Buddy Pass, who was trying to bring on the biggest suitcase I've ever seen at a gate. He was lucky the agent didn't report the employee who gave him the golden ticket.
The agents were super cool and I told them my predicament: "I'm flying to New York to escort my dad but he wants me to stay home to take care of my little kids, which I would rather do as well! But I need to make sure he's in good hands."
I'd reserved us seats 10D and 10F, the last row in Business Class so no passengers would be walking by us or breathing over our backs. But I did notice that 6F, the first row of Business, was open, which would be a short walk to the bathroom and the door for my dad. I asked if it was possible to speak to the flight attendants and they said I could when it was time to board since I had a ticket. Two minutes later, boarding commenced and an unaccompanied minor was first and my dad was second, followed by Concierge Key, First Class, Business and Executive Platinums.
I quickly told the purser (lead flight attendant) what was going on and she said, "Don't worry! We will take good care of him!" I was kicking myself that I'd forgotten to bring chocolates, like I usually do but I guess I'm off my game. However, I did have those AA certificates they give to frequent fliers to give to employees who do outstanding work. The gate agents were great and so was Pamela, the flight attendant. I asked her to just make sure my dad gets in the wheelchair with his small suitcase when he lands so they can take him to the car service I had arranged to take him to Connecticut.
Pamela was super friendly and couldn't have been any nicer. She grabbed my dad and walked him down the aisle. I asked my dad for the hundredth time if he was sure and he looked at me and said, "Please, let me do this." It was almost as if he wanted to assert the independence he's lost and to prove to himself he could do this on his own. I gave him a huge hug goodbye and told him I loved him very much, which he reiterated … and then some.
I felt sad and elated at the same time. I didn't have to make a long cross-country trip and risk worsening a possible infection (cold damp weather almost always does it) and I would get to spend time with my family but at the same time, I was missing out on flying with my dad and seeing my siblings.
I deplaned before all the other passengers boarded and waited inside the airport until the plane took off, just to make sure there weren't any long delays or cancelations. I went into the Admirals Club to see if they would refund my miles for my ticket and the agent said I needed to call reservations. I was already on hold with them and when the agent did pick up (a few minutes later) she quickly redeposited my miles. Easy peasy.
Shortly after I heard the final boarding call for American Flight 34, a 917 number showed up on my cell. It's a New York number so I picked up and it was Blacklane stating that there might be a problem with my car reservation. My heart seriously stopped because the plane had just pushed back so it was too late for me to get on or pull my dad off.
It turns out, I'd originally put in a 5:44pm pickup because we were on the 9am flight but I changed it to the 8am flight when AA lowered the mileage amount. So I needed a 4:44pm pickup. I explained everything to the agent and said, "Please, this is the most important pickup I've ever scheduled." After a couple of calls, the agent said he was able to find a driver willing to go to Connecticut on Memorial Day Weekend so I was more than relieved.
Instead of taking a possibly crowded shuttle, I walked the 15 minutes to the designated rideshare and taxi area.
I ordered an UberX and four minutes later had the best Uber driver ever. Samuel has been driving for Uber for five years, has driven over 26,270 trips and had a 4.99 rating (out of 5). That's insane and I immediately could tell why when he pulled up in his unbelievably clean Prius. It was spotless, including inside the trunk.
Samuel asked where I was coming from and I said, "If you can guess, I will give you a million dollars!"
My dad's flight arrived in New York 30 minutes early and when I received Blacklane's automatic driver information, I texted the driver a photo of my dad and explained that he couldn't see or hear well. He'd originally asked for my dad's cell phone number so they could arrange the pickup because he couldn't get into the terminal, due to COVID restrictions. My heart stopped again and I quickly sent American a DM on Twitter and called them. It was then that I realized that I should have asked the flight attendant for her number, just in case of an emergency, which this clearly was. A few minutes later though, the amazing driver said that he'd gone into the terminal and gotten my dad himself.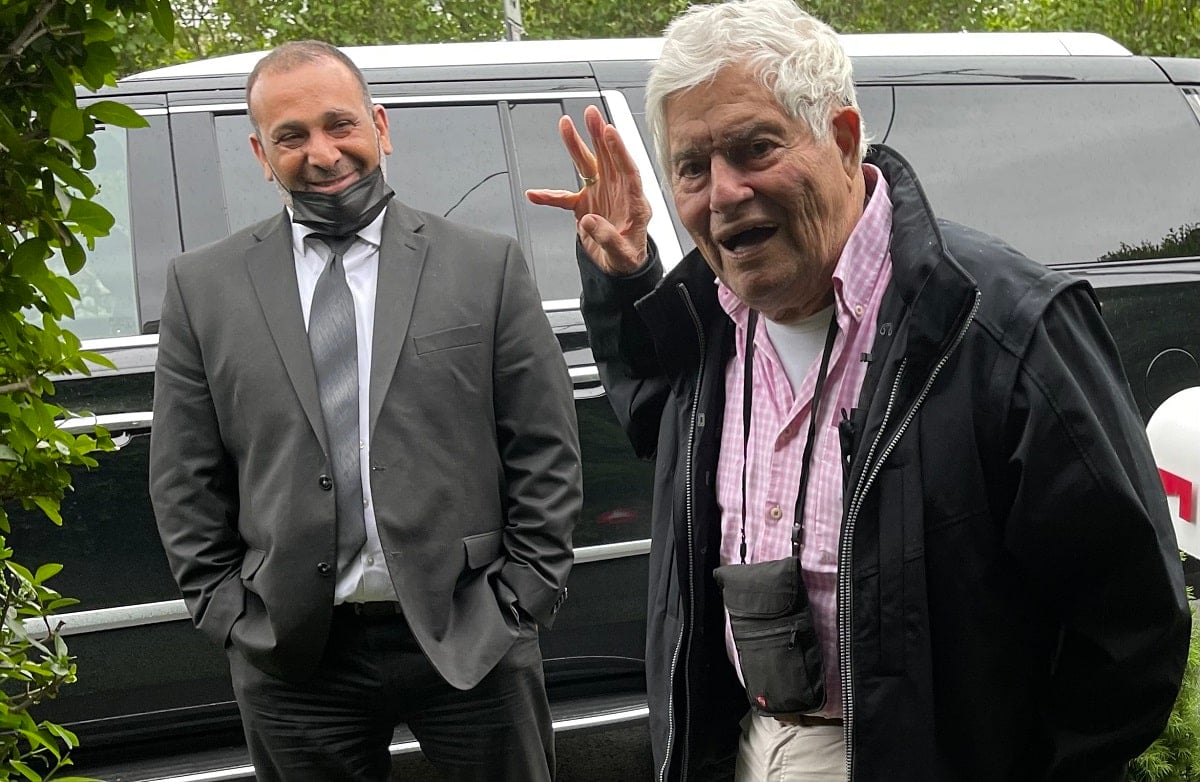 Crisis averted! My dad arrived safely and proudly. And I took a much-needed nap, with my son in my arms.