It's been 447 days since I last saw my 92-year-old dad in Florida. He has been living in a senior center close to my sister in South Florida and to say that COVID-19 has been challenging for him is an understatement. My dad can't see or hear well so he can't read, which is his first love, or watch TV and really understand what's going on. The senior center closed the dining hall, where my dad would eat two meals a day with his friends, for a year. He couldn't have visitors, though my sister would stop by and talk to him from his window and drop food off. And of course, I have called him multiple times a day, every day, so he could speak with his grandkids to pass the time.
I honestly didn't think my dad would make it through the pandemic since he's not the most sanitary guy. Even before COVID-19, I would constantly remind him he needed to wash his hands often so he didn't get the flu. To give you an idea, after he was fully vaccinated and they opened the dining hall back up, I asked him if he'd washed his hands when he got back to his room after dinner. He said, "Why should I? I'm vaccinated." Oh boy.
With the exception of my day-trip to Sonoma two weeks ago for Avelo's inaugural flight, yesterday was my first time back in the air or at LAX in 446 days.
On one hand, traveling felt like old hat and on the other, it was surreal, starting with checking in online, where you agree to wear a mask and confirm that you're not sick. This is what it says:
"By continuing with check-in⁠, you agree you:
Will wear a face covering at all times as required by federal law (refusal may result in penalties).
Have not had any of these symptoms in the last 10 days
Fever, chills or sweating (temperature of 38 C / 100.4 F or higher)
Difficulty breathing
New or worsening cough
Sore throat
New or recent loss of taste or smell
Nausea, vomiting or diarrhea
Have not tested positive for COVID-19 in the last 10 days.
Have not had close contact with anyone who tested positive for COVID-19 within the last 10 days."
BTW: If you like the World Map mask that I'm wearing above, it's an inexpensive find available on Amazon. My buddy Harvey turned me onto it. 
My First Time at LAX in Over a Year
I checked in online and my wife dropped me off at LAX. Just the drive around the horseshoe at LAX was eye-opening. Terminal 1 is finally completed so the construction that was causing all that bottleneck is gone. Same with T2. However, neither are too attractive. The Tom Bradley International Terminal (TBIT) looks like a bomb hit it. The outside is being torn apart and I hope they do a better job with the exterior design than what was done at T1 and T2. The airport is also making great strides building an automated people mover, which should be completed in 2023 and promises to relieve all the traffic congestion.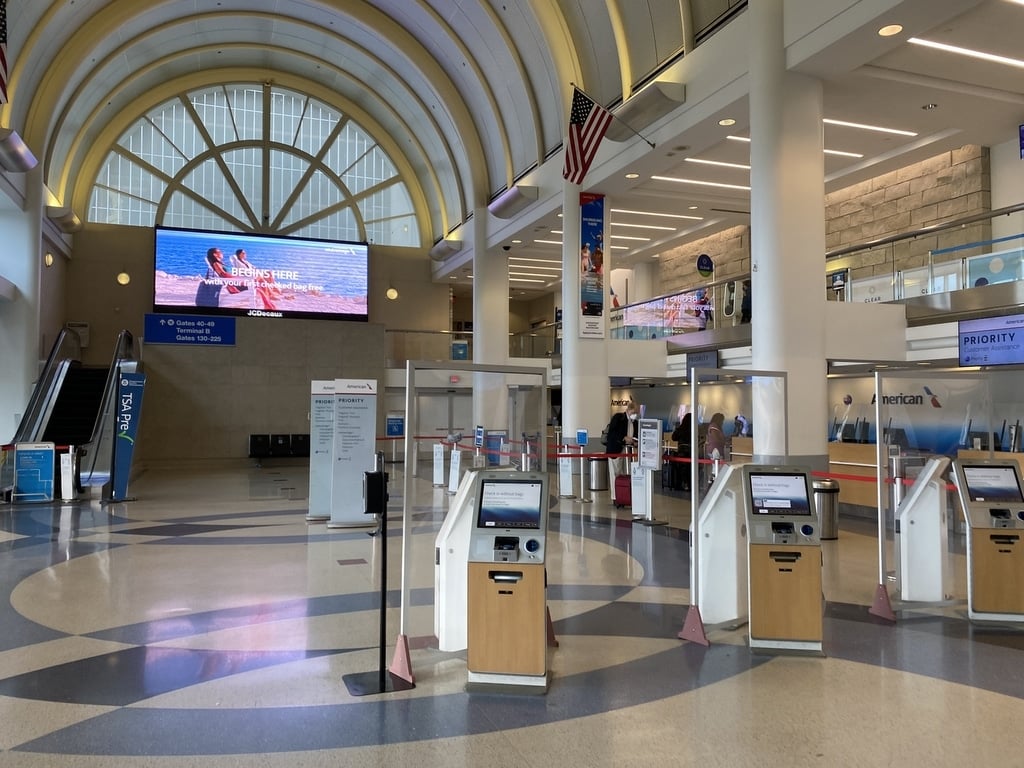 I arrived at 12:15pm for my 1:35pm flight and there was no traffic except in front of American's terminal T4. Looks like they're doing construction there, too. I went to go up the escalator on the far side where the TSA PreCheck checkpoint is but that was closed off. I'm not sure if it was because it was the middle of the day on a Wednesday or that's how it always is but I just took the escalator where all the security checkpoints are and then made my way to the TSA Pre line.
What's funny is that I almost renewed my CLEAR membership earlier in the day because I didn't want to get stuck in any long lines and CLEAR can be a real time-saver when the airport is busy. But there was no one in line at TSA Pre and I mean no one. So I was shocked that the four young ladies traveling together who had TSA Pre and CLEAR and were walking real slow in front of me all stopped off at the CLEAR kiosks. There are only two kiosks and there was no line at TSA Pre so it made no sense. By time they all cleared, I was already in the lounge.
I'm glad I'm fully vaccinated. Not everyone was wearing their mask in the airport, lounge or on the plane.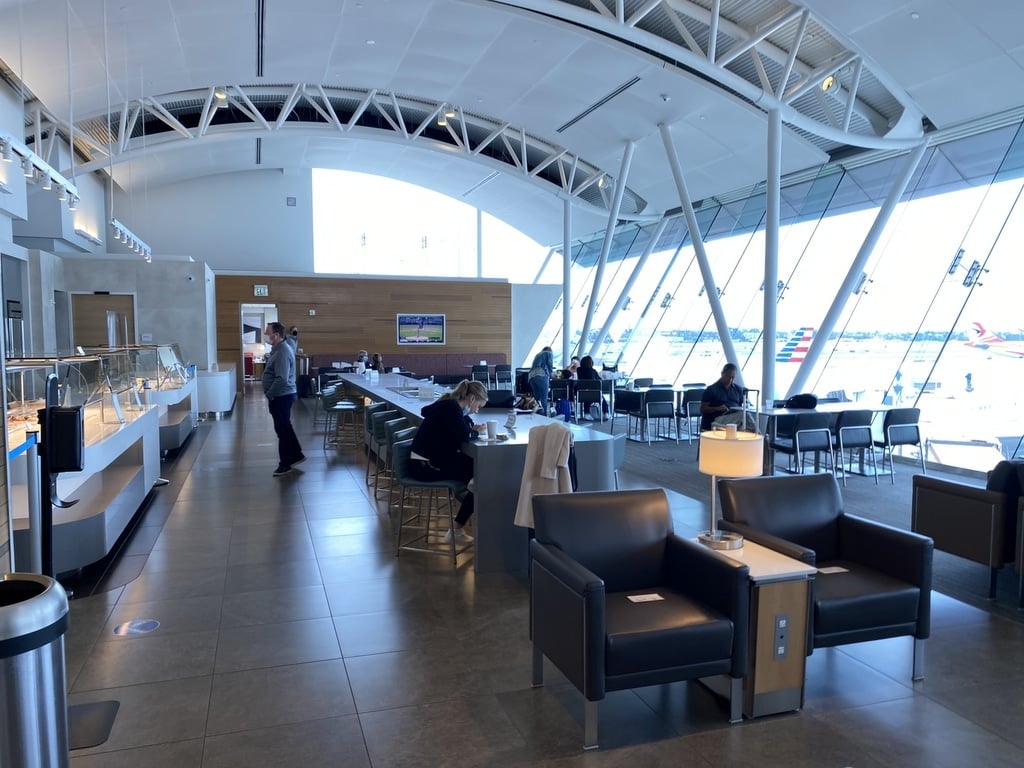 The Lounge
Speaking of the lounge, I downgraded my CITI Elite Mastercard to save money on the annual fee since I wasn't traveling. But I had access to the Admirals Club lounge thanks to booking a premium seat on one of AA's 777 plane with Flagship Business or First. I used 34,000 miles to fly First on a 777-300.
When I inquired if the Flagship lounge was open, I was told that it was closed at the start of the pandemic since they'd stopped international flights. I was told that right now, it's just the side where they serve food so it's part of the Admirals Club. Fair enough.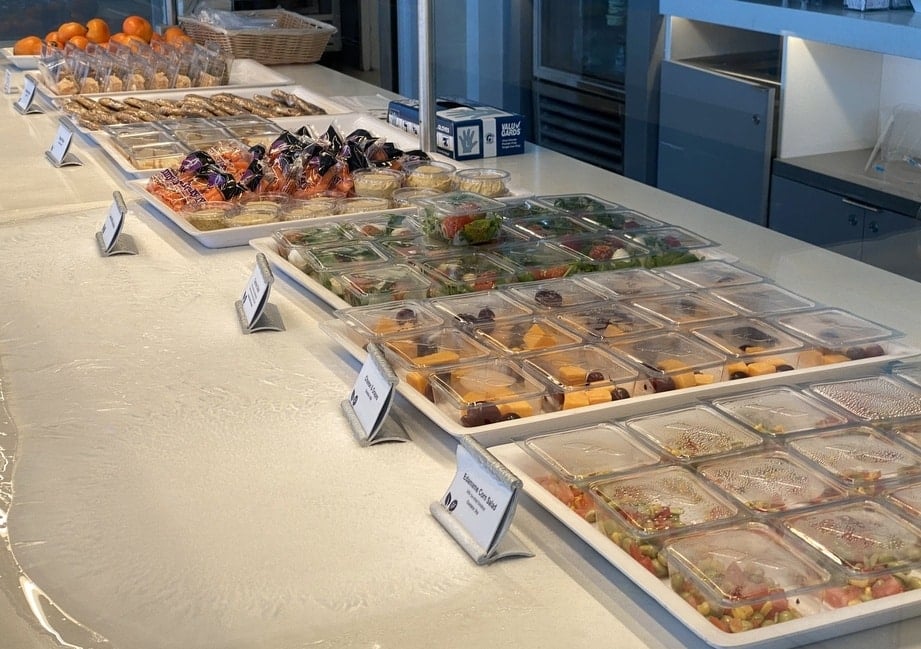 To get up to the lounge, I opted for the stairs instead of the elevators, as a lot of the guests took the elevators. The Flagship Lounge used to be so swanky with lots of food and drinks but they've really scaled back. The buffet is gone and they just offer small individual packets of food like caprese salad, some grapes with chunks of cheddar cheese, mixed nuts, marshmallow treats … They must go through a ton of plastic, which is a big shame.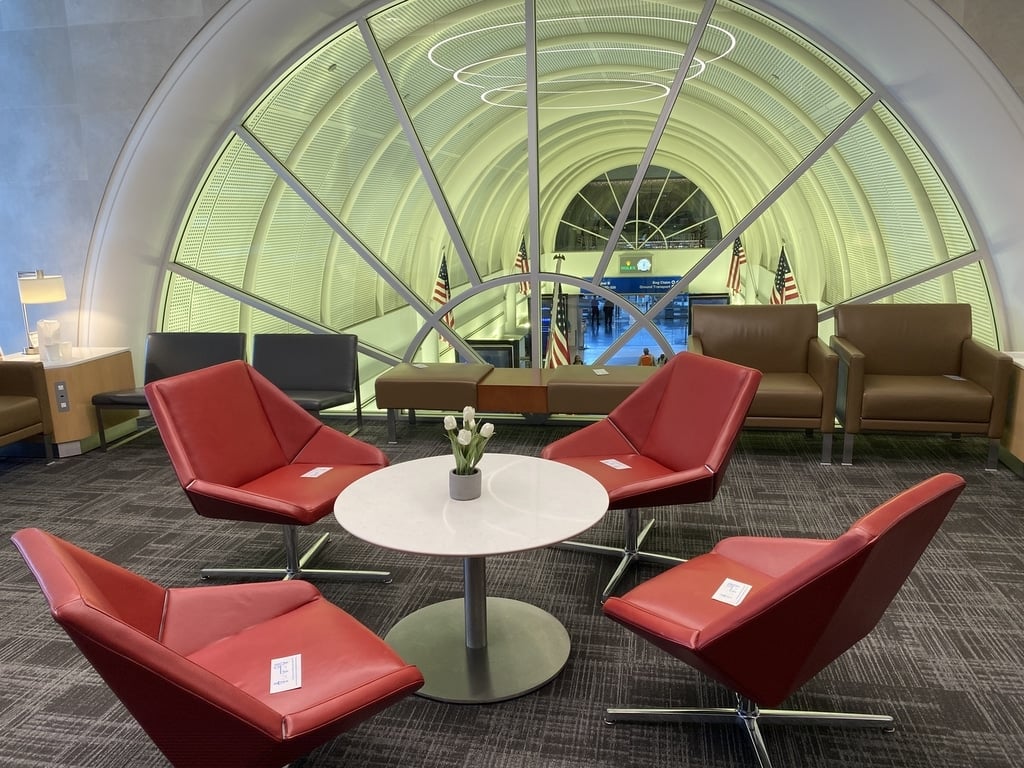 Before entering the lounge, a representative gives each person a run-down, and lets you know that all the seats have been sanitized and  have little placards placed on top. They ask that when you're done, you flip it over so they know to clean it. However, I was surprised when I asked an agent for a printed boarding pass she took my phone and held it so she could look at the boarding pass. Not sure why she just didn't ask to see my ID from a distance.
Not many people were wearing masks in the lounge, nor were they eating. I went to the other side to see what that was like and it was basically the same. There are no more fridges for self-serve drinks so you go to the bar. If you want a bottle of water it's $3.50 but they'll give you a full plastic cup for free.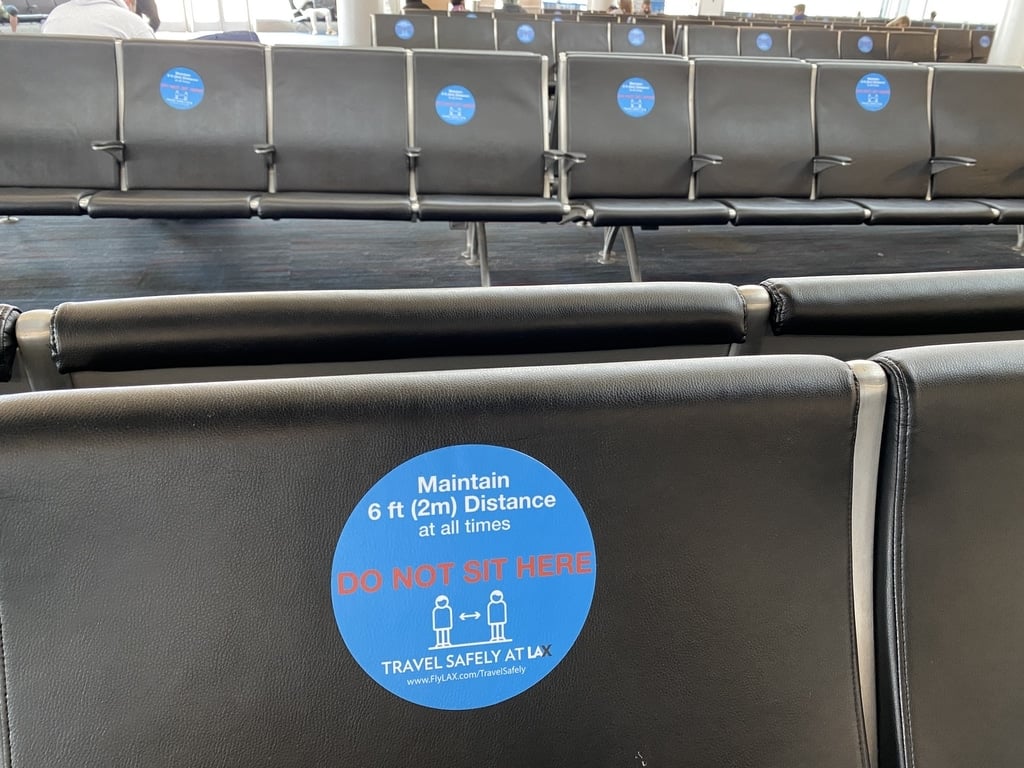 At the Gate
I went to check out the gate area and mine (Gate 43) was packed. So I walked down to the end to Gate 48 to scope things out and it was pretty empty except for a few gates. I made phone calls down there and then waited until about 20 minutes before departure time to board. The chairs all had stickers on every other one, indicating not to sit there. It was the same in bathroom with the urinals and sinks.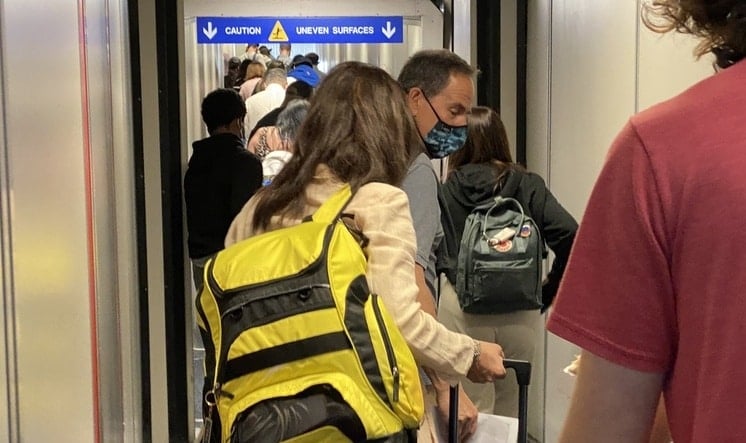 They were boarding Zone 7 out of 9. They didn't do a good job with social distancing but the line on the jetway moved fairly quickly. They weren't checking boarding passes but were handing everyone a mini packet of wipes.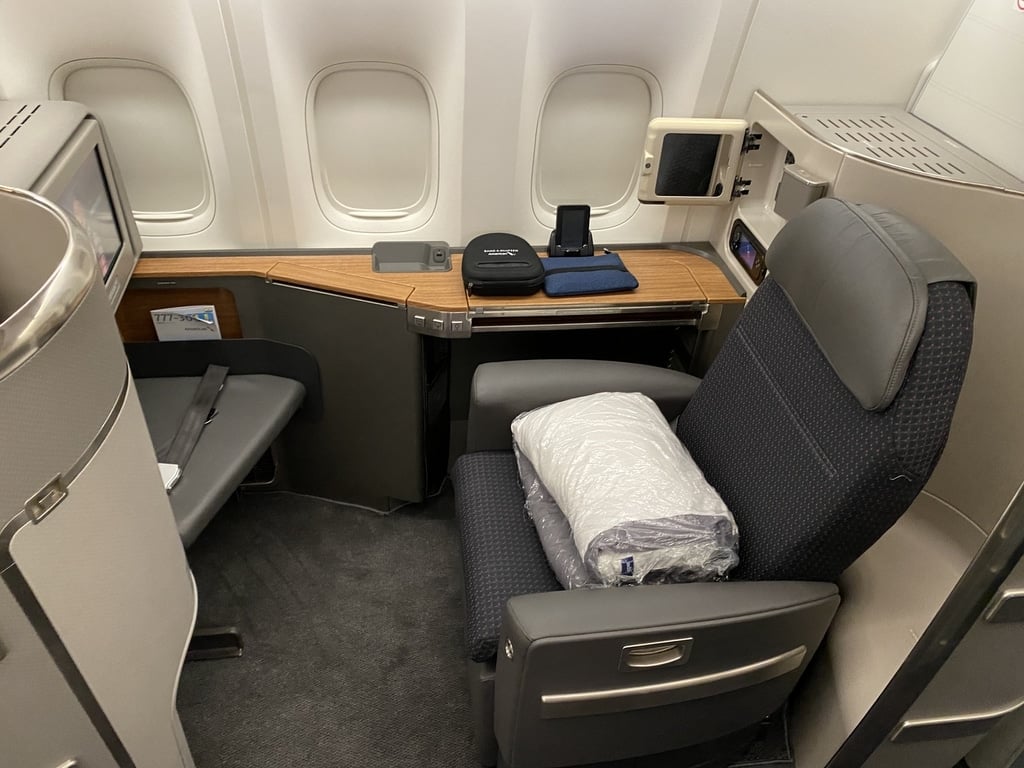 American Airlines First Class on 777-300
It was my first time not only sitting in one of American Airline's first class seats on their 777-300, but even getting a good peek at them. I wasn't disappointed. They rock as they have so much space between seats that I was pretty much six feet apart from everyone except the guy who sat in the seat across the aisle.
I should have known he was going to be a problem from the moment he stepped on the plane, talking on his phone super loud, telling his colleague he just got upgraded from business to first and that he's not getting champagne because of effin' COVID-19.
That wasn't the bad part. Even the fact that he talked loudly on his phone all way until the plane started our roll for takeoff wasn't the worst of it. It was the fact that he kept taking his mask off. At one point, his seatmate looked at me like, 'how did we get stuck with this dude?' Then, he picked his teeth, then worse, picked his nose and ate it. Seriously. Who does that? He ate his meal super slowly and drank his wine even slower so he didn't have to wear his mask. However, when he fell asleep without his mask and started coughing everywhere, a flight attendant pounced on him. I'm also pretty sure he's the dude who kept letting bombs off and sadly, masks do not help conceal that.
Speaking of masks, it's not that difficult to wear one the whole flight especially if you have air blowing on you. But what I do find a little annoying is that my ears get sore from the elastic straps.
There were no pre-flight departure drinks. The friendly flight attendant handed out menus, a bottle of water and asked if I needed help connecting the Bang & Olufsen headsets.
The eight seats up front are configured in two rows of 1-2-1. The bucket seats allow you to swivel and according to SeatGuru, the actual measurements are 64 inches of pitch, 78 inches long. Seat width is 21.5 inches.
The Trick For Getting a Cheap, Plush Seat
The 34,000 miles I paid for the seat was a bargain as they normally go for a 115K. You can find these sweet spots but the trick is that you really have to be flexible with your dates and times. That's why I flew mid-week in the middle of the day. But right now, with so many 777s on the LAX-MIA route, there's a lot of inventory. Combine that with the fact that not many business travelers are flying, you can get a plush, lie-flat seat for cheap. I've seen it go for as low as 17.5K each way. By way of comparison, I used to pay 20K to 30K for coach on the same route.
After takeoff, the flight attendants brought our pre-ordered drinks, all in plastic cups and a bag of mixed nuts (almonds, pecans, cashews).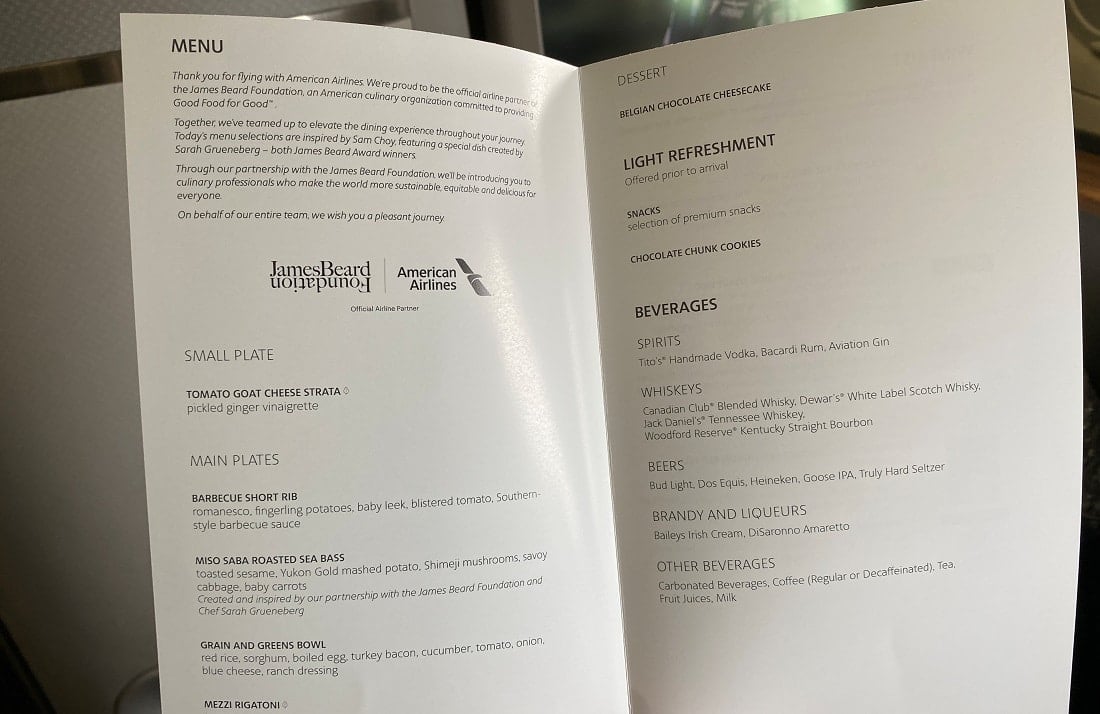 About an hour in, the flight attendants brought our meals. Here's what was on the menu (above).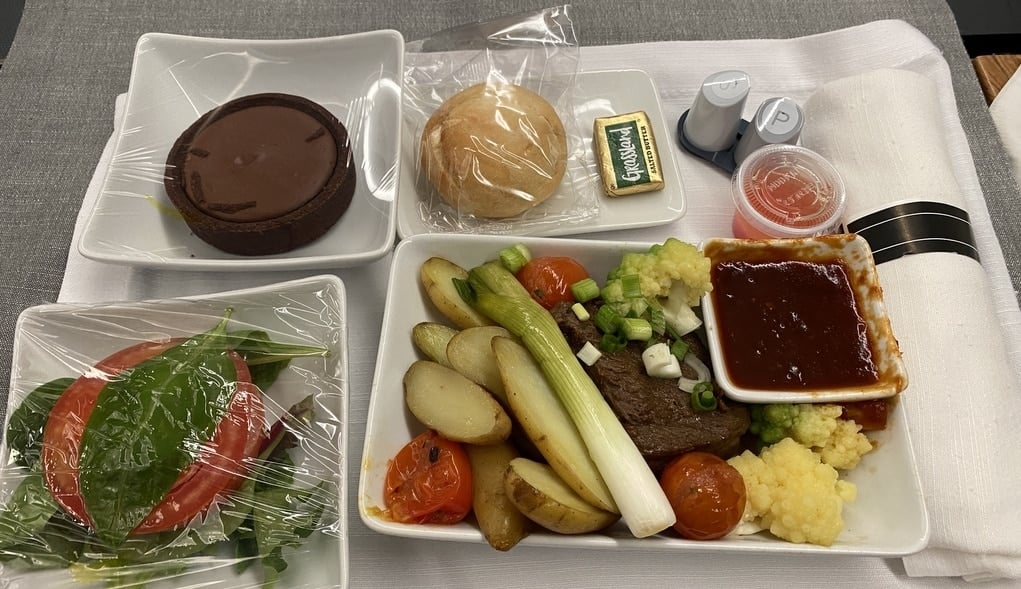 As you can see, I had the short ribs. FYI: You couldn't pre-order on AA.com, like in the past.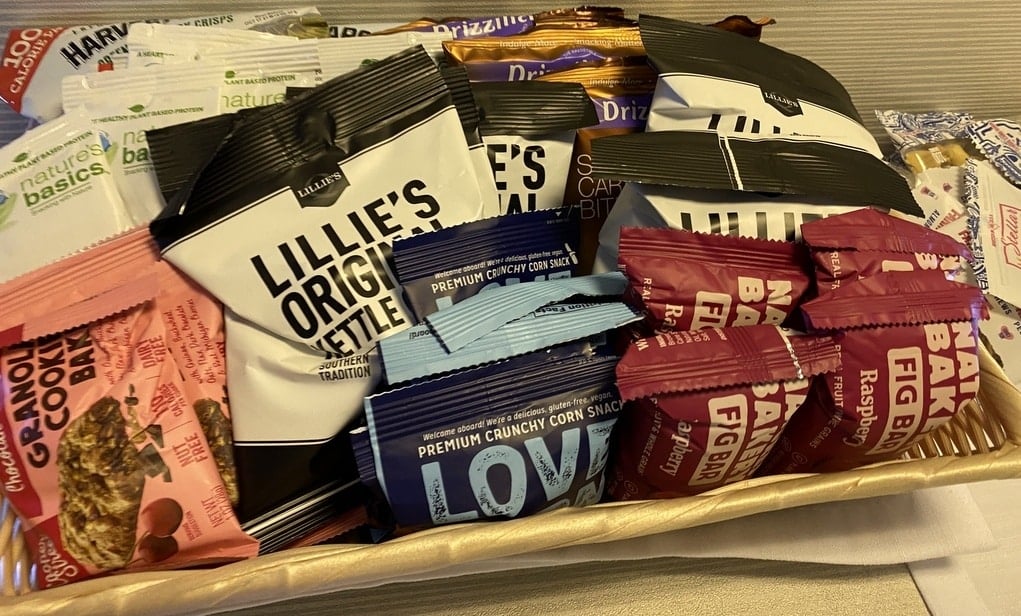 In the galley, they had a basket with snacks like Harvest Snaps dried peas and Drizzilicious Salted Caramel Bites (yum).
90 minutes before landing, they came around with individually wrapped cold chocolate chip cookies, which I think I like better than when they served them warm, as the chocolate doesn't get all over your face or clothes. Just me? No?
I reserved a car with Avis via Costco with a rate for $99 for 24 hours. I checked the rates again the day before and Costco's site was saying that no cars were available. I wondered if I would even get one, even though I had one reserved. I didn't want to mess around so I canceled it.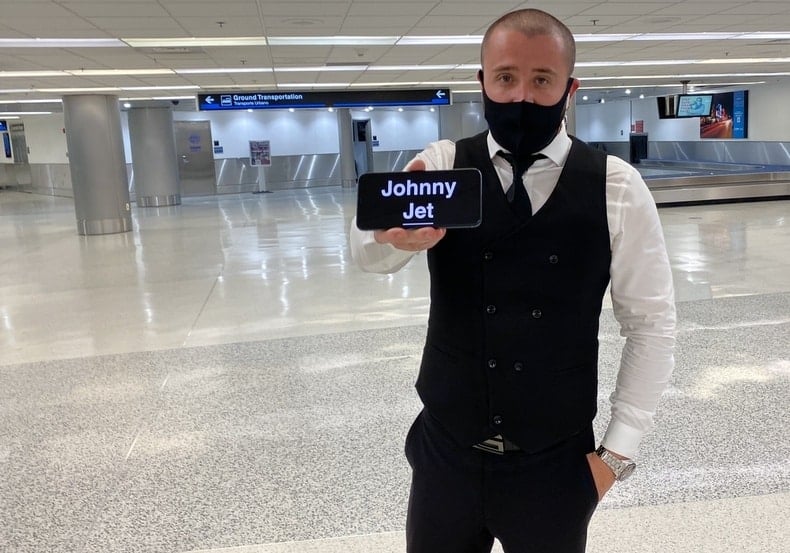 Car Service
Instead, I booked Blacklane since I had a voucher (I used to be one of their brand ambassadors) and they just lowered their price between MIA and Palm Beach to a flat rate of $159 each way. That's an incredible price since the price used to be double and it's over an hour drive without traffic. It's part of Blacklane's new city-to-city pricing, which is available in 50 cities throughout the world.
Opal Grand Resort
The Opal Grand Resort is the former Delray Beach Marriott, which will always hold a special place in my heart. That's because I met my wife here on a press trip back in 2006 (check out some of our wedding photos here). The owners didn't renew their contract with Marriott and pumped some money into a makeover and boy, did they do a great job.
The lobby and rooms make you feel like you're in a Caribbean resort with its airy, beachy feel.
It's weird being in Florida though as masks seem to be optional. However, at MIA, it seemed like more passengers were wearing masks than in L.A. The staff in the hotel all wear them and I would say about half the guests were.
Stay tuned for more about this trip and about surprising my dad. To be continued …