Good morning! If you caught my travel segment on Leo Laporte's show The Tech Guy yesterday, here are my notes:
I was talking about my trip to Florida to surprise my dad. Here's Part 1 including details about the flight from LAX to Miami for just 34,000 miles in true first class. And here's the website I mentioned about how to avoid paying baggage fees for your surfboard.
As I mentioned in my Part 1 post above, It was not only my first time at LAX in over a year but my first time flying American Airlines First Class on their plush 777-300 aircraft. Since I didn't pay for the $29 WiFi for the short four-hour and five-minute flight (we had strong tailwinds), I took meticulous notes, including how I only paid 34,000 miles for the amazing seat. I then took a Blacklane car service an hour north to Delray Beach, where I checked into a very special hotel, the new Opal Grand Resort. It's the former Delray Beach Marriott and it's where I met my beautiful wife on a press trip back in 2006.
When I arrived at the hotel at 10:30pm, I decided to download my photos and publish a post about my travel experience thus far. I promised to do a Part 2, since I was there to surprise my dad so here it goes …
I went to bed late, just before 2am local time and woke up surprisingly early 6:22am. The bed was so comfortable I didn't want to get up but I didn't want to miss sunrise since it's always special but especially in Florida. I looked at the time on my phone since I had no idea what time it was and then checked to see what time sunrise was … 6:32am. I debated for a couple of minutes and then sprang out of bed; I didn't want to have any regrets and besides, I was excited to go see my dad.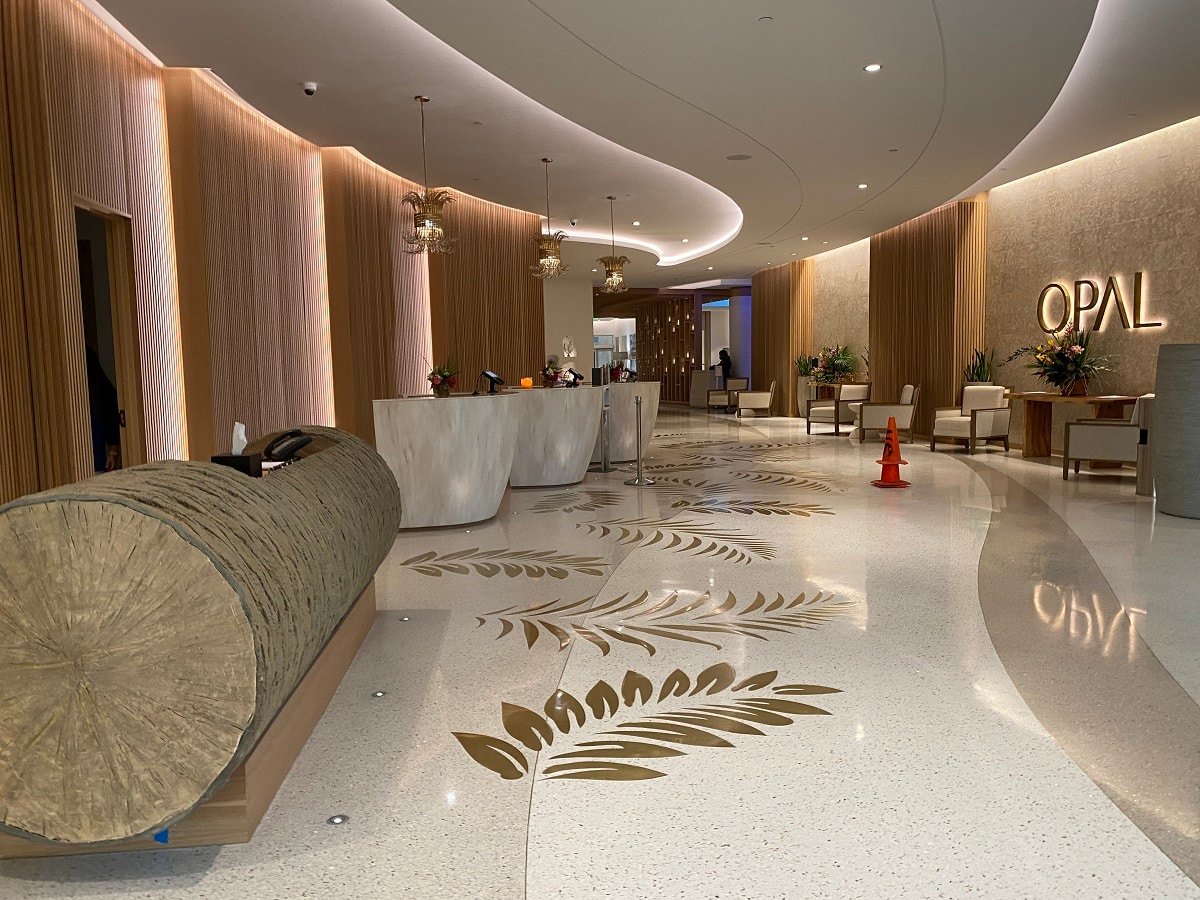 Opal Grand Resort
I quickly threw on some clothes, brushed my teeth, put on my baseball cap and quietly shut my room door (don't you hate it when your neighbors slam their door early in the morning? Here's a quick tip for shutting your door quietly.)
While walking to the elevator, I realized I had forgotten my mask and then it dawned on me, I'm in Florida where it's not required in except in some businesses. I snapped some photos of the beautiful remodel job of the hotel and darted across A1A to dip my feet in the soft Florida sand and warm Atlantic Ocean.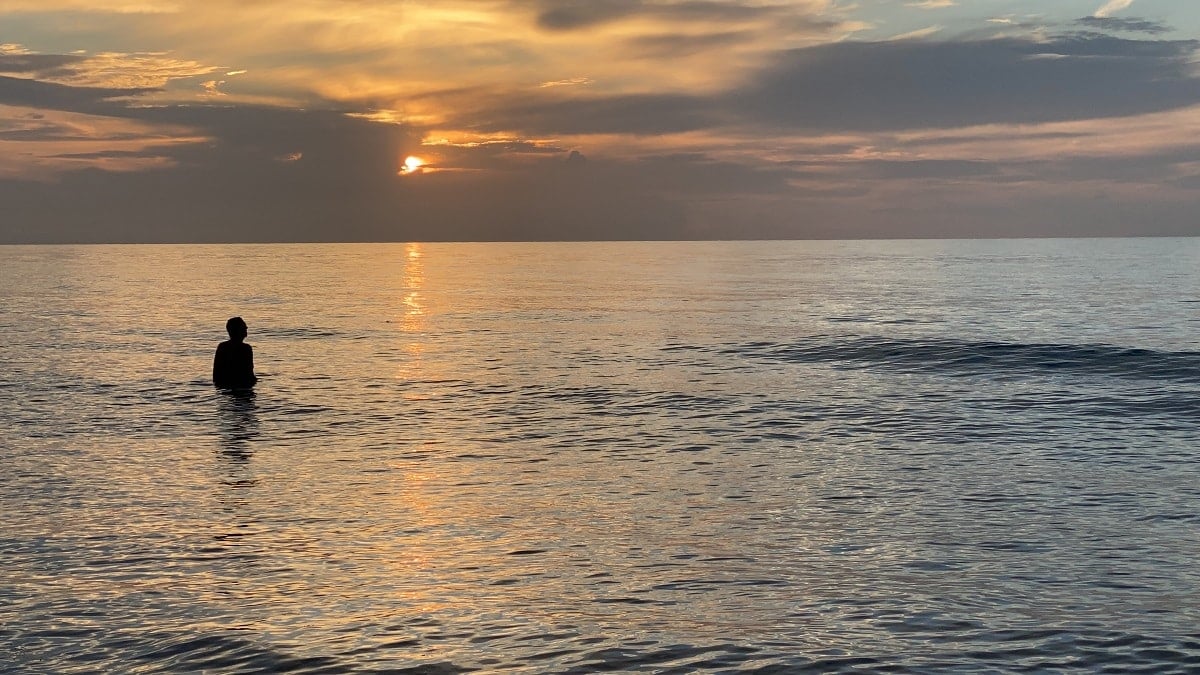 Sunrise on The Beach
I arrived just in time and there was a pretty good crowd on the beach to witness the sunrise … about 20 people which, is pretty darn good for so early. I wished I'd brought my swim shorts since the ocean was so warm. Instead, I just waded in knee high.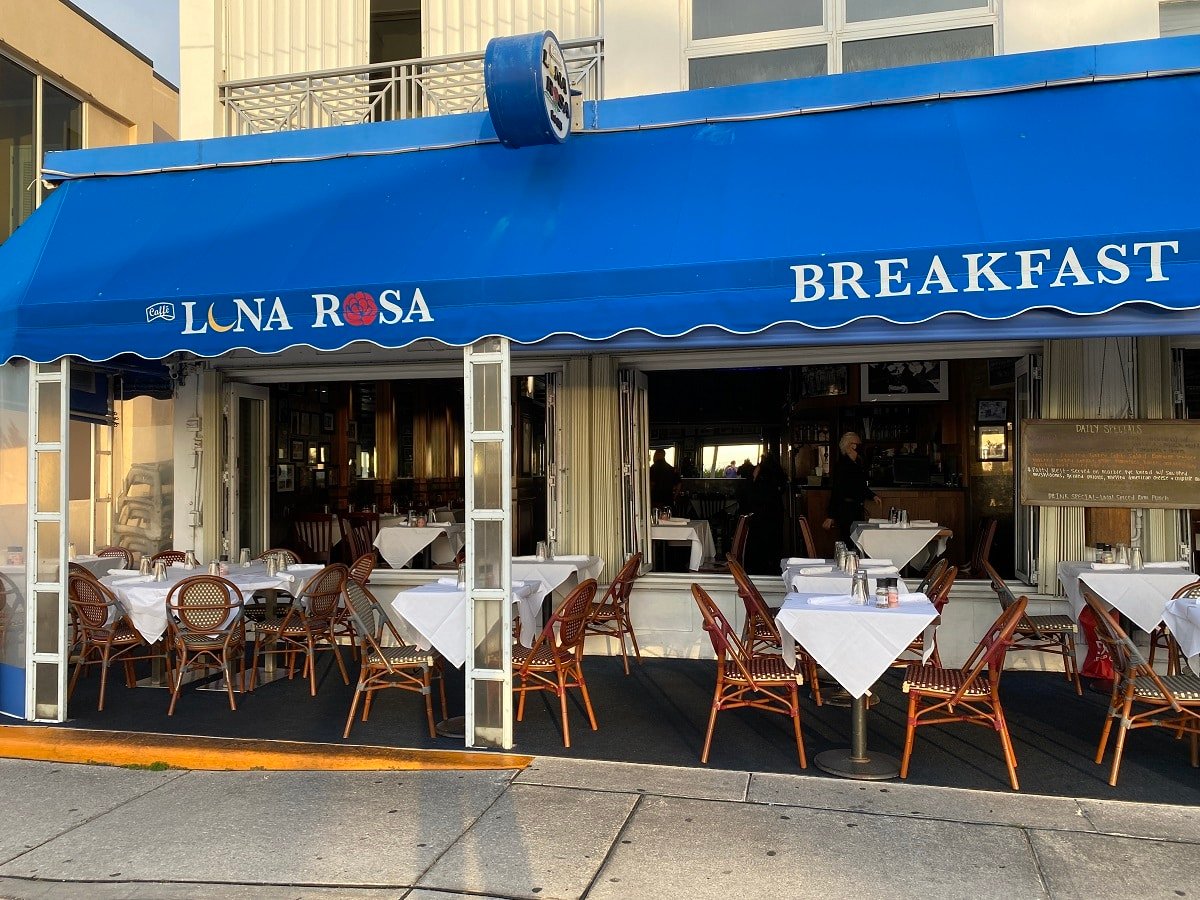 Breakfast at Cafe Luna Rosa
After about twenty minutes on the beach, I decided to do something I haven't done in over a year. Eat breakfast at a restaurant so I grabbed one of Cafe Luna Rosa's empty outdoor tables and ordered the French toast ($9). The hostess wasn't wearing a mask but the waiters were (I think because she's stationed outside). It was a weird experience but it felt good to be doing what I used to do several times a week in 2019.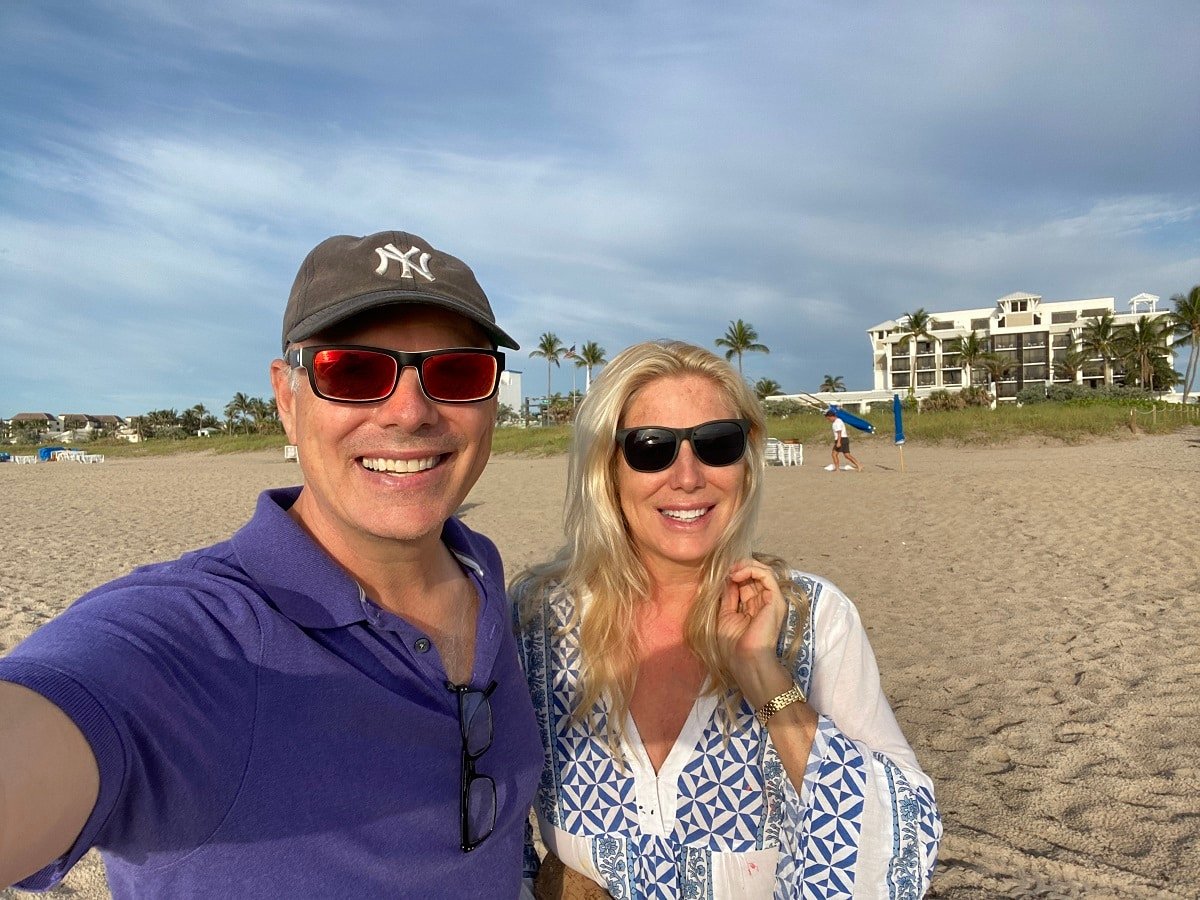 My Sister Carol
Next, a quick walk again on the beach but this time with my sister, who I hadn't seen since February 2020. She could only stay a few minutes as she now has a job at an art gallery and is busy painting her popular artwork (here's her website).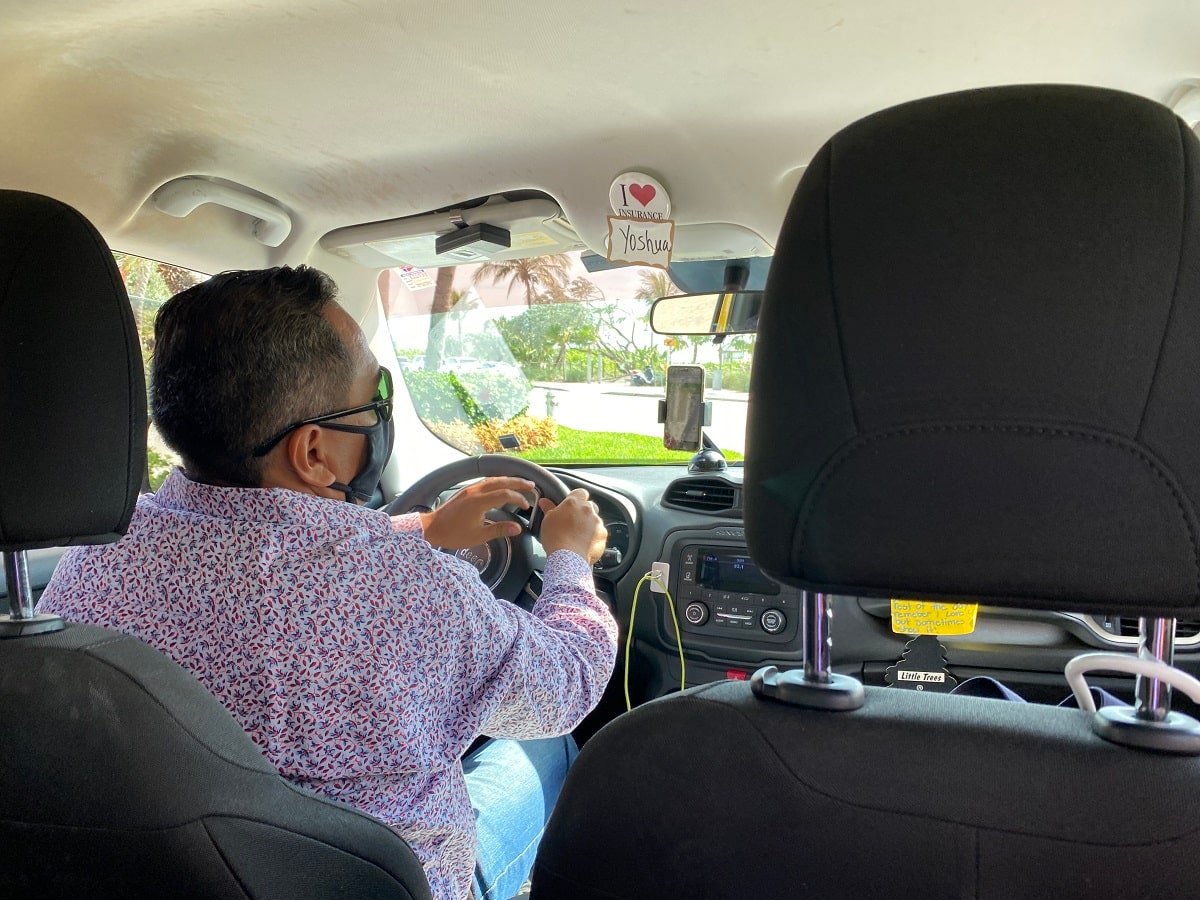 UberX for the First Time
I went back to the hotel and took a shower and debated if I should crawl back into that comfy bed or go see my dad. My dad's not a morning person but since it's been so long, I couldn't wait. I ordered an UberX another first in over a year and had a great driver who abided by all of Uber's health rules (wearing a mask and leaving the windows open). We had a great conversation and he told me he hadn't had one incident of passengers not complying of the mask rules, which surprised me. He said it's probably because they know Uber will ban them from the app if they do.
I checked into my dad's senior home where he's in independent living. I had my temperature taken and answered a health questionnaire, including whether I've traveled internationally in the last 14 days.
Surprising My Dad
As I mentioned, my dad isn't a morning person so I knew he wouldn't be over the top excited and when I've surprised him in the past (on average every three weeks before COVID-19) I always pretended to be a staff member at the senior center, hospital or rehab (wherever he was). My dad is 92 and sadly can't see or hear very well. I took video of our encounter for my siblings and friends on Facebook but decided to share it with everyone since it's kind of funny and sweet.
When I walked into his apartment, he was in his room on the phone with my sister Georgette (also an artist … if I don't include her website too, I will get a long talk).
It's been a long 447 days of not seeing each other but it's felt much longer for him since he's been alone (and lonely) in a senior community. He was in lockdown for a year and he can't hear well enough to watch TV or see well enough to read; he just lost his will to live. My dad loves his kids and probably his grandkids even more so I decided I would take him back with me to California for a week. As you'll see in my video below, he was lying on his bed, facing away from the door, which was perfect. He'd just hung up from a FaceTime call and is used to me FaceTiming him multiple times a day so he can see his grandkids.
When I walked into his apartment, I pretended to be a worker, which is why I called him by his first name and then when I realized that he thought I was on the phone, I went that route. You can see the whole thing in the two minute video below:
I packed his bag, grabbed his meds, hearing aid charger, sleep apnea machine and passport.
We hung out and he suggested lunch in his dining room. I used to go all the time and there was hardly anyone in there. Well, times have changed. They've remodeled and it was packed. I felt like I was in the Star Wars bar scene as they put us on a two-top between two other two-tops and we were just a foot apart. Everyone knew my dad and one of his friends said, "Are you Joey Jet?" and stuck out his hand. I hadn't shaken someone's hand in over a year so he must have thought I was a little strange as I was delayed in shaking it.
The whole time, I was thinking, "Well, this is new. I'm eating indoors, practically on top of people." Before my food came, I went to the bathroom to wash my hands but it was great talking to my dad's friends and the waitstaff.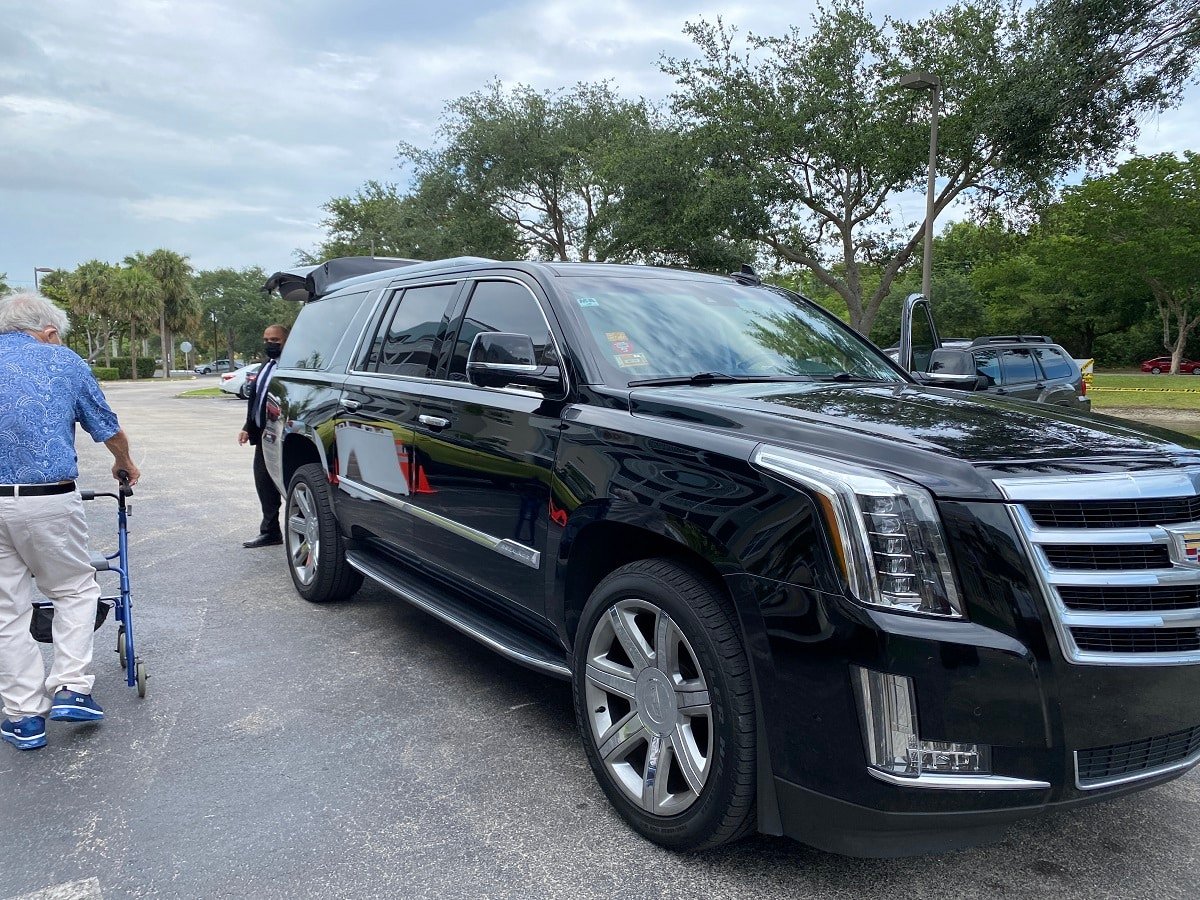 A couple hours later, our Blacklane car showed up (their price is half of what it used to be) and we had a smooth ride to Miami International.
Here's Part 3 of the story, about how crazy Miami Airport was (I almost got in a fight) and how good AA was with the wheelchairs.
Related:
–10 Air Travel Pet Peeves and What You Can Do About Them