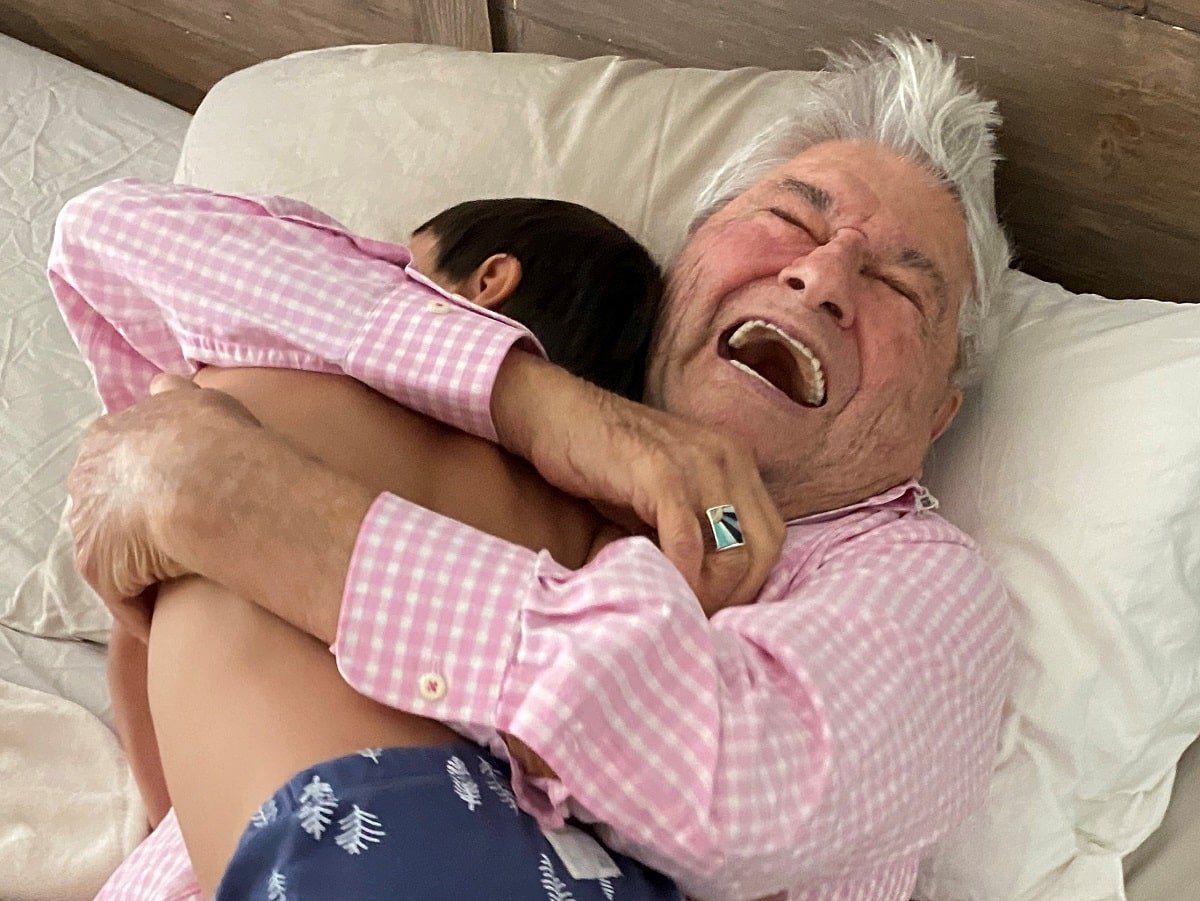 FYI: The photo above is from May 2021, when my dad saw his grandkids for the first time in over 18 months. Here's the back story.
Below is the latest on my 93-year old dad's experience with Covid. If you scroll further down, you will be able to read about his first and second bouts with COVID-19 (in August 2021 and January 2022). The doctor and nurses said that because he was double vaccinated he survived but he did have to be in the hospital and then a rehab for weeks. The second bout was much easier and we're praying the third is the same.
May 26, 2022
My family and I arrived on the east coast late Saturday night so we could visit my 93 year-old dad, who is living in a senior home in Connecticut and is really slowing down. Here's my LAX-JFK trip report, which includes getting four business class tickets (using miles) for the price of one.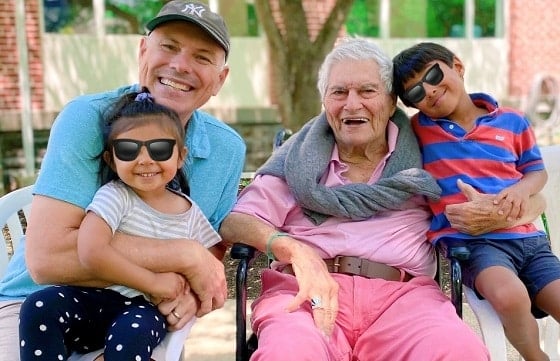 We spent a couple of hours with my dad outside on both Sunday and Monday and we only got close to him for  hello, goodbye and a few quick photos. Then we sat six feet apart and chatted.
The nurse said that he was tested for COVID with both a PCR and a rapid test. The rapid test came back negative, which is why we were comfortable being close to him but the PCR test, which  took two days to return results, came back positive.
I'm so upset because we were planning on spending much of the next week with him as he's been longing to see his California grandkids, who he only gets to see on FaceTime. But now my dad is in isolation for 10 days and we will be long gone by then so he probably won't be able to hug Jack and Olivia ever again, which really breaks my heart.
Right now he's doing well with no real symptoms except he had a sore throat. He had his second booster 10 days ago so hopefully he's protected. Fingers crossed.
May 29, 2022
My dad was rushed to the hospital a couple of days ago but he's doing better. He actually tested negative in the hospital so hopefully he will get out tomorrow.
June 3, 2022
Sorry for not updating this but I have a lot going on and my siblings weren't sure how much we should share but here it is… It turns out the hospital says my dad didn't have Covid for a third time so we're not sure what's going on. Fortunately, my sister Georgette who has now saved my father from dying multiple times went to his isolation room in his senior home and spent time with him even though it wasn't advised. It turns out that some of the workers were neglecting my dad and he was severely dehydrated, fell and has a slight fracture on his hip. He's in bad shape and I really thought he was going to kick it on my birthday a few days ago. But he's a fighter and he might be getting discharged today. Either way he has a long road to recovery because he's not the same person he was 11 days ago.
June 6, 2022
My dad was released from the hospital but he's still kind of out of it because they keep giving him drugs to calm him down because he keeps trying to get up out of bed. It also makes him delusional as he sees people who aren't there. It's quite scary but they say it's normal. Fingers crossed he snaps out of it.
June 12, 2022
My dad seems to be doing much better now that the heavy medication is wearing off. Though he still sleeps a lot. He's in a jetlag like routine which isn't good for anyone where he sleeps all day and is up in the night. I think I need to take him to Australia or Asia so he can snap out of it. J/K
June 16, 2022
My dad is doing MUCH BETTER! The heavy meds he was taking have wore off and he's coherent again. It's like night and day. Truly amazing. Thank you all for your love, prayers, and positive thoughts.
August 2021
Shortly after I sent yesterday's newsletter, I received a call that my dad was being rushed to a hospital in Connecticut (we recently moved him out of Florida and back to his home state). At first, they thought he had a UTI because his back hurt and he had a 100.4º fever. Turns out, he has COVID-19. My dad's going to be 93 in November so when my sister told me, my heart dropped.
I quickly put a cheap, first class seat for the next flight out on hold  (I wrote about this tip last week). Then I debated hard with myself about whether I really wanted to go into a room where I know the person has COVID-19 and risk bringing it home to my unvaccinated children. But the nurse made the decision for me when she said, "Don't come, no visitors allowed."
I figured this would be the case but you never know these days, and if this is it for my dad, I wanted to give him one last hug goodbye, and tell him how much I love him, even if it meant seeing him for just a second in full PPE. He probably wouldn't even have known who I was because he's been out of it and the emergency room misplaced his cochlear hearing aid, which is a whole other story and nightmare.
As I mentioned in yesterday's newsletter (sign up here) before all of this unfolded, I was excited about last night's Field of Dreams game between the New York Yankees and Chicago White Sox in the first ever MLB game in Iowa (here are the highlights). It turned out to be a great distraction (and game) since I love baseball, the Yankees and the movie Field of Dreams. But the night was even more emotional watching all the father/son clips and stories from the characters and baseball analysts.
I'm so fortunate to have my dad for so long and to have such a loving one at that, but I most certainly don't want him to die alone and isolated in a hospital. Fortunately, the nurse thinks he will pull through thanks to him being vaccinated back in February. I know he's been fairly careful so it just goes to show how easily this variant spreads. I also found out that another loved one has caught COVID-19 and he too was vaccinated, dined only outdoors and still caught it.
I'm hoping and praying my dad recovers so I can say to him, "Hey, dad, you wanna have a catch?"
UPDATE: August 14, 2021
I just spoke to my dad on FaceTime and he looked and sounded so much better. He's still in the hospital and will be for at least a few more days. The nurse said he should survive because he was fully vaccinated. I also told my dad about all the emails and comments from readers like you from around the world. I let him know that there are so many people pulling and praying for him. He was deeply moved, just as I was. My deepest thanks for all the love, prayers and positive thoughts sent our way. It has meant more to us than you know.
UPDATE: August 15, 2021
I just spoke to my dad and a nurse was in the room with him. She said my dad's doing well! He hasn't been on oxygen for a couple of days and he's improving. You really have to give it to the brave men and women working in hospitals. They're in a room with someone like my dad, who has COVID and is coughing everywhere. Given how transmissible the virus is, I don't think I could do it, even with a face shield, an N95 and a surgical mask like she had on. I thanked her for taking care of not only my dad but for every COVID patient who has passed through those halls. Hero.
UPDATE: August 16, 2021
I haven't spoken to my dad yet for the day but my sister spoke to his nurse who said he's extremely tired, which is one of the symptoms of COVID-19. The doctors hope to get him out of bed and moving around a bit today but he's so tired he hasn't even answered my multiple calls.
UPDATE: August 17, 2021 (10amPT)
I haven't spoken to my dad in more then 36 hours despite calling him almost every hour. Normally, I speak to my father at least three times a day so this is very worrisome. The hospital requested that just one of us call the nurse and that honor goes to the eldest, so my sister updates me twice a day. She said my dad's doing okay but is extremely tired. So naturally, I'm worried but I'm hopeful. Thank you again for all the prayers and positive thoughts.
UPDATE: August 17, 2021 (11amPT)
I just spoke to my dad (finally!) He said he feels a bit better but he's still miserable and is coughing. But he doesn't have a fever or need any supplemental oxygen. He did say his back is really itchy and he's lonely. I think one of the worst things about COVID or any transmissible virus is that people can't visit their loved ones. You can't ask the nurses to keep patients company or do little things like scratch his back. Here's hoping they put some cream on it.
UPDATE: August 18, 2021
I spoke to my dad earlier and he looked and sounded much better. What a relief. I realize he's not out of the woods yet but he's sure on the right path. Fingers crossed. Thank you again for all of your love and support.
UPDATE: August 19, 2021
I haven't spoken to my dad yet but I did just before he went to sleep last night. He's doing much better except COVID is making him forgetful and confused, which is one of the side effects, especially for the elderly. The doctor also told my sister that he will be there for at least a few more days and that my dad's insurance doesn't want to cover his hospital stay since he didn't need oxygen. Crazy, right?
UPDATE: August 20, 2021
I haven't spoken to my dad in over 36 hours. I've tried calling him multiple times but he hasn't answered. My sister spoke to his nurse and said he's extremely tired and his hearing aid wasn't working yesterday. They're charging it now so hopefully in a few hours I can speak to him. But I know he's not getting out for at least a few more days. Fingers crossed.
UPDATE: August 21, 2021
I finally spoke to my dad last night. He couldn't hear me because his hearing aid wasn't charged so he really seemed out of it. He was extremely tired and just told me that he loved me. It saddens me that he's wilting away in a hospital bed and I know it would be different if he could have me and other loved ones around to help him and keep him company.
After reading this NPR article about how highly vaccinated Israel is seeing a huge uptick in COVID-19 cases, I think that my dad problem may have been he was vaccinated (Pfizer) so long ago (his second shot was administered on Feb 4). It appears at least to me that after reading the article that the vaccine may have started to wear off because my cousins who were with him two days before in his room were vaccinated in May and tested negative. I wish he got a booster.
The good news is the doctor said that because he was vaccinated, he hasn't needed oxygen and should survive, unlike the news I heard from my cousin, who lost two friends to COVID this past week. Both were unvaccinated.
UPDATE: August 22, 2021
Good morning! It's a great day because I just spoke to my dad and he sounds so much better. It's a remarkable recovery and I had a long talk with one of his nurses last night who just happened to be a traveling nurse. I wanted to make sure I was getting his update unfiltered.
My dad really seemed to be wilting away the last few days and I think it was mostly because he wasn't eating and feeling lonely. His cochlear implant was really giving the staff a problem, too. Well, his nurse told me that my dad was doing much better and he was just worried about his cough. We talked for a while about travel and about vaccines. I asked him if the vaccine helped my dad and he said he's pretty sure it would have been a different outcome if he hadn't taken it and then gave me an example.
The nurse said, "Your dad is 92 and doesn't have a strong immune system like most young people but he was fully vaccinated. Unfortunately, we just had to intubate a 27-year-old mother who has a strong immune system but was unvaccinated." He said most of the people who are coming into the hospital with COVID are unvaccinated.
UPDATE: August 23, 2021
I spoke with my dad multiple times yesterday, including for almost an hour because he didn't want me to hang up, he just wanted me to be there with him even if we weren't speaking. He did the same with my sister Georgette. It was difficult because he kept complaining about an itchy back and said that he was cold and was hungry, all things that I could have easily taken care of for him if I were there, but obviously no visitors are allowed.
He also FaceTimed with my son who said, "I love you, Grandpa" and then took the phone and hugged it. It made my dad's day and made my heart melt.
I spoke with one of my dad's nurses again late last night (I call around 11:15pm because it's usually the nurses' slow time) and we had a good chat. First of all, he said that my dad is doing much better and should be discharged this week. But, he said, he's really weak so he'll probably have to go into a rehab to get stronger.
I asked a lot of questions about COVID-19 and the nurse said he was in a North Carolina hospital last year and the hospital he was working in turned into the COVID hospital for that city. He said he was having to make 2-3 calls a night to family members, to tell them to hurry up and come in because their loved one wasn't going to make it to the morning. How awful is that?
I asked if a lot of people are dying these days and he said, "Not the vaccinated patients." He said people like my dad who are vaccinated, get sick but not really sick. "It's the ones who aren't vaccinated that are being intubated," he said. "It's weird that most of the people who get in real trouble are middle-aged folks, many of whom are in great shape and have never been sick before. Their bodies just can't cope with COVID-19 for some unknown reason." He went on to say that people like my dad probably just need a booster to keep them out of the hospital.
Speaking of staying out of the hospital, he said he sees a lot of people being turned away from the emergency room unless they're having trouble breathing. Most people who get COVID-19 just need to stay home and isolate.
UPDATE: August 24, 2021
Good news! My dad is being released from the hospital today and being transferred via ambulance to a rehab facility to get stronger. It's not surprising after laying in bed for 12 days. What is surprising is the hospital hasn't tested him to see if he's COVID-19 negative. However, they did say they will at his next stop but he's done with his quarantine so he should be good to go. Let's hope so.
UPDATE: August 25, 2021
Today would have been my parents' 70th wedding anniversary. I'm not sure my dad even knows since I haven't spoken to him yet today but last night he was really out of it. He was moved to a rehab facility, which is great but the nurse says COVID-19 really does a number on some older people. My dad called me late last night in a panic saying that he needed help. He said he'd lost his wallet and that he was in an airport hotel and didn't know what he was going to do after tomorrow. His hearing aid wasn't working so he couldn't hear me, which made it even worse. Finally, the nurse got it working and I hear he's doing better today, though extremely tired.
UPDATE: August 26, 2021
Unfortunately, yesterday afternoon I thought it was going to be my dad's last day on earth. He looked and sounded awful. But it may have been from the medication because he looked much better in the evening. My sister Georgette drove 5 hours from Vermont to surprise him and she brought him some of his favorite foods (meatball grinder and pasta fagioli soup). Then she got him up and walking. However, today she went to visit and my dad's hearing aid isn't working again and he's miserable.
UPDATE: August 27, 2021
Unfortunately, my dad doesn't seem to be doing great. I'm hoping it's the meds but at this point I'm not sure. I have a sick feeling that he's slowly fading away which breaks my heart. I'm planning on visiting him soon to surprise him and hope it perks him up. Please keep him in your prayers.
UPDATE: August 28, 2021
My dad is still in a rehab and it doesn't look like he will be getting out anytime soon. I'm not sure how good the place is because my dad's not really moving a lot. But thanks to my sister and cousins who are visiting and bringing him his favorite foods he's starting to eat.
One of our family friends who is like a son to my dad visited him yesterday and he said he's going back again today not only to visit my dad but other people in the rehab center. He said he had a long conversation with a couple of older people in the hallway who were so bored and lonely.
So he asked the front desk who gets the least amount of visitors and could use some company. That reminded me a life lesson that I learned from going to a Tony Robbins seminar that my brother dragged me to in 2004. The two things I got most out of the intense three day weekend was I could walk on hot coal and that he wished everyone would stop off at an old folks home and ask the front desk who needs someone to talk to the most.
I know it's difficult today with COVID-19 but at the rehab my dad is in, or at least the wing, everyone has just recovered from it so they are negative and probably can't catch it again for a while.
UPDATE: August 29, 2021
My dad still has a long way to go. Yesterday, my dad had his usual ups and downs. A couple cousins visited him and brought him good food so he would eat more and he did. However, later in the day when one of our family friend's visited he looked terrible. But we're pretty sure it's because the nurses are giving him medication that knocks him out like cough syrup with codeine. But when it wore off he looked much better. One thing for sure is the rehab facility is short staffed like everywhere and many of the workers are understandably burnt out.
UPDATE: August 30, 2021
My dad is doing much better today. I think having him off the heavy duty meds and loved ones visiting and bringing him tasty Italian food and encouraging him to eat and shower has really helped. I was planning on surprising him today but I had slight cough and congestion yesterday. I think it was allergies as I feel fine today. But I'm also worried about being exposed to COVID-19 and bringing it home to my two little kids.
UPDATE: August 31, 2021
I was planning on writing this from Connecticut but I canceled my trip to see my dad at the last minute for a variety of reasons. I'm so glad I did because the rehab center my dad is in just had a positive COVID-19 case so they shut down all indoor visits for at least a week.
He can now only meet outside, which is probably better for everyone anyway, but the visits have to be in short spurts since he's so weak.
I just got off the phone with him and he complained for the first time that his neck really hurts. I wished I was there to give him a neck massage or better yet ,put this neck massager that's perfect for travelers on him like I did in May and he loved it.
Although he looks so much better, he's still a bit confused, paranoid and lonely. He keeps worrying the nurses are going to steal everything from his wallet to, get this … his TEETH!
UPDATE: September 1, 2021 (4:20amPT)
I spoke to my dad last night just before he went to bed around 8:45pm. He was very tired but he looked pretty good. What's crazy is the rehab center almost gave him the Moderna vaccine because they thought he wasn't vaccinated. His Connecticut medical records didn't show he was fully vaccinated in Florida in Jan and Feb with Pfizer so I guess there's no universal database. It's just statewide which is ridiculous in this day and age. Fortunately, my sister stopped them. Then I heard they  wanted to give him a booster shot but I was like no way! He just had COVID, he's weak and it hasn't been the suggested eight months which the CDC recommends. You really have to be on guard 24/7.
UPDATE: September 2, 2021 
I spoke to my dad multiple times yesterday. He's definitely getting stronger and is looking better. However, my brother visited him for the first time in a while and said he looks like he's aged 10 years. Frank brought him clam spaghetti but I don't think he ate it which is surprising. Our cousin Nicky brought him a chocolate milkshake which I know he really enjoyed. Other highlights include getting a really tight haircut to help hold his cochlear implant better because it keeps falling off his head. I'm up early writing this so I will call him in a couple of hours to see how he's doing. Thanks again for all the love and prayers.
UPDATE: September 3, 2021 
I think I'm going to stop this update because my dad is doing so much better. He's now eating, walking and visiting often with friends/family outside of his rehab. Yesterday, I spoke to my dad for over an hour as he was in a great mood and just wanted company as he waited for his physical therapists. He was singing which I haven't heard him do in a long time. I can't thank you enough for all the love, prayers and support. COVID-19 is no joke but my dad catching it just goes to show it's easily transmissible and that vaccines will save your life.
UPDATE: September 5, 2021 
I'm touched by so many readers asking me to continue to update this post so here I am. I just got off the phone with my dad and he's doing great. He's still in the rehab but he's back to his old self. He's telling jokes, telling the nurses how nice they are. Believe it or not he says he really likes it there and he wants to stay. So now we're going to see how much it costs for long term residents which I know they have.
UPDATE: September 8, 2021 
Today was a big day for my dad as we moved him to a new rehab that's in his hometown and closer to family. The bad news is that they're really strict about who can go visit and visits can only be 30 minutes at a time. My dad loves having a lot of visitors and never wants anyone to leave. The first seven days are going to be rough because he has to quarantine in his room and he can't leave the building. Not even to go to his brother's memorial service, a brother who died of COVID in March of 2020. He can still have visitors but they have to be vaccinated and pre-approved. My sister, Carol, can't visit since she would be coming from Florida. I'm still waiting to see if I can visit since I live in California.
UPDATE: September 9, 2021 
This new place run by nuns is strict. They just informed me that I can visit but only for 30 minutes, I have to show proof of vaccination and sign an attestation form for proof of authenticity. I can't meet my dad outside and I have to wear full PPE (gown, gloves, face shield, and mask). My sister Carol can't visit since she lives in Florida unless she quarantines for 7-10 days prior to visiting. I'm not sure how this is going to go so I'm waiting to hear from my other sister who is about to visit him.
UPDATE: September 10, 2021 
I haven't spoken to my dad yet but yesterday morning his hearing aid went missing. He has a cochlear implant so without it he's stone deaf. I'm really pissed at the place because he hasn't left his room (he's not allowed to) and his hearing aid is gone? It's his lifeline. No he cannot only not hear but his eyes are so bad he can't see well enough to read or watch TV. He's in a room with cement walls and no art that I can see from the photo my sister sent me. Just a cross on the wall. I'm sure it brings him back to his Catholic education (including college and law school).
UPDATE: September 11, 2021 
I just got off the phone with my dad. I've spoken to him multiple times today including at 5:30amPT. He seemed fine then but he's going stir crazy now. His back is also killing him. The good news is the place found his hearing aid after we put up a huge stink and we told them it costs $11,000. Guess where they found it? In the DUMPSTER!
UPDATE: September 12, 2021 
My dad had a rough day yesterday. He's really going stir crazy and I can't blame him. The guy can barely see so he can't watch TV or read (the latter was his passion) and his back hurts. My sister visited him and brought some Italian food which cheered him up but my brother hasn't visited him and he's not happy about it. I'm not either.
UPDATE: September 13, 2021 
My dad is doing better today. My sister just returned and said he looks great. I spoke to him on FaceTime and I concur. He just had a shower for the first time in a while (I believe) and he's feeling better. He just needs to start walking which he hasn't been doing much of lately.
UPDATE: September 16, 2021 
My dad is almost out of quarantine at his rehab center which is great news. The bad news is his back is killing him. He's had a bad back for years but it seems to come an go and unfortunately, it's back. I have tickets to surprise him tomorrow but he's miserable and I just asked him do you want me to come see you? He said, "what's the point. I'm not going to croak and I'm miserable." Good point was my reply. My sister is taking him to the doctor tomorrow so lets hope he can help him.
UPDATE: September 19, 2021 
My dad is out of quarantine which means he can have visitors who are vaccinated. Those that aren't can only meet him outside of the rehab center. His back is feeling better and he's about to get a cortisone shot (I believe) since his x-rays showed he needed it. Things are looking up!
UPDATE: September 23, 2021 
My dad is doing so much better. He's basically back to his old self with the exception of not being able to walk as much. But we moved him to a new rehab, that's nicer and not as strict with visitors. He really needs a social life and my sister Georgette has been amazing. She's done the work of four since my other siblings haven't really done much.
UPDATE: September 25, 2021 
My dad is doing great! He just called me to tell me. He loves his new rehab and he said he just returned from his first exercise class and he LOVED it! He really sounded happy and like his old self.
January 2022
Now with Omicron flaring up around the world, including my dad's new senior home in Connecticut, he has contracted it again. Two weeks ago, his residence reported that 19 patients had contracted the virus and sadly, two died. Thirty four staff members also tested positive so it shouldn't be a surprise my dad  got it too.
Fortunately, this time around seems to be a lot less severe. In fact, he doesn't have any symptoms and I'm not sure if that's because he got the booster shot a couple of months ago and/or because he had COVID in August or a combination of both. I'm just thankful he's doing well.
Sadly, I can't say the same about one of my friends and my cousin. Both are unvaccinated and in separate states. My friend died a few days ago and my cousin has been in the ICU for over a week and the prognosis doesn't look good. So if you haven't gotten vaccinated and/or boosted, follow the science.
---