A big thanks to Visit Santa Barbara for hosting our stay so we could provide this detailed review of our experience.
My family and I recently returned from a weekend getaway in Santa Barbara, which many people refer to as God's Country, as parts of the area are jaw-droppingly beautiful. Santa Barbara is an easy drive from Los Angeles. It's just 101 miles (about 1 hour and 45 minutes without traffic) from LAX. Thanks to Visit Santa Barbara, our stay included two nights at what many will argue is the best hotel in town, the El Encanto, a Belmond hotel. I had never heard of it before but have since learned it's quite popular and has hosted many movie stars, from Clark Gable to Barbara Streisand. RELATED: California Road Trip: Los Angeles to San Francisco and Must-Visit Stops Along the Way
Brief history
The property has an extensive history and has been around since 1877. It was closed for six years between 2007 and 2013 for an extensive renovation in cooperation with Santa Barbara's Historic Landmarks Commission. El Encanto used to be an Orient Express but in 2019, Belmond bought Orient Express so now the hotel is officially known as El Encanto, a Belmond Hotel.
When I think of Santa Barbara, I tend to think of the Pacific coast but El Encanto isn't located on the coast. In fact, it's not really near the coast so you may wonder what makes it so appealing. Driving up the hill through the winding roads of the residential area that lead to the hotel, you may find yourself wondering if your GPS is correct. But then … you see the hotel and understand what all the hype is about.
Here are all the reasons you should consider a stay at El Encanto in Santa Barbara:

Service
The moment you pull up to the hotel, you see that the service is top-notch. The valet and bellhops help you immediately. They take your name, ask if you would like help with your bags (we did), and discreetly radio the front desk to alert them of your arrival. It's not unique, most luxury hotels do this but here, it's smooth and seamless, making a great first impression and the genuine friendliness of the staff is a contributing factor, not to be overlooked.

Check-in
 There was another guest checking in at the front desk so another agent grabbed a mobile device and checked us in on one of the lobby's comfy chairs by the fireplace. It was 2:40pm and check-in isn't until 4pm. The friendly employee said they would call my cell in 10-15 minutes when our room was ready.

Right there in the lobby is a beautiful bar area where guests can sit and grab a drink if their room isn't quite ready.
Lavender lemonade
Upon arrival, guests are offered a refreshing glass of lavender lemonade. They gave our kids turtle bath toys and asked if they wanted to feed their four resident turtles in the courtyard. You should have seen my kids' faces light up when the clerk handed them a bag of turtle food.

The hotel grounds
Five minutes later, the front desk agent came out to the beautiful courtyard to tell us our room was ready. She handed me the key and said that when we were ready, a bellman would escort us and deliver our bags to our room. She could tell the kids were not even close to being ready to move on from the gorgeous hotel grounds they were busy exploring.

Walking around feels like you're traipsing through the Audubon Society. It really is that special. Inside our room was a welcome amenity that included notebooks and coloring pencils for the kids. The first thing they wanted to do was go outside and start sketching. They sat by the lily pond to draw …

… then moved on to the water feature, in search of turtles.

Afterwards, we continued to explore the beautiful grounds and loved all the places to sit and relax, the outdoor fireplaces, the unique amenities like the life-size chess and checkers boards, and the views. The natural beauty here is definitely one of the biggest highlights of the property.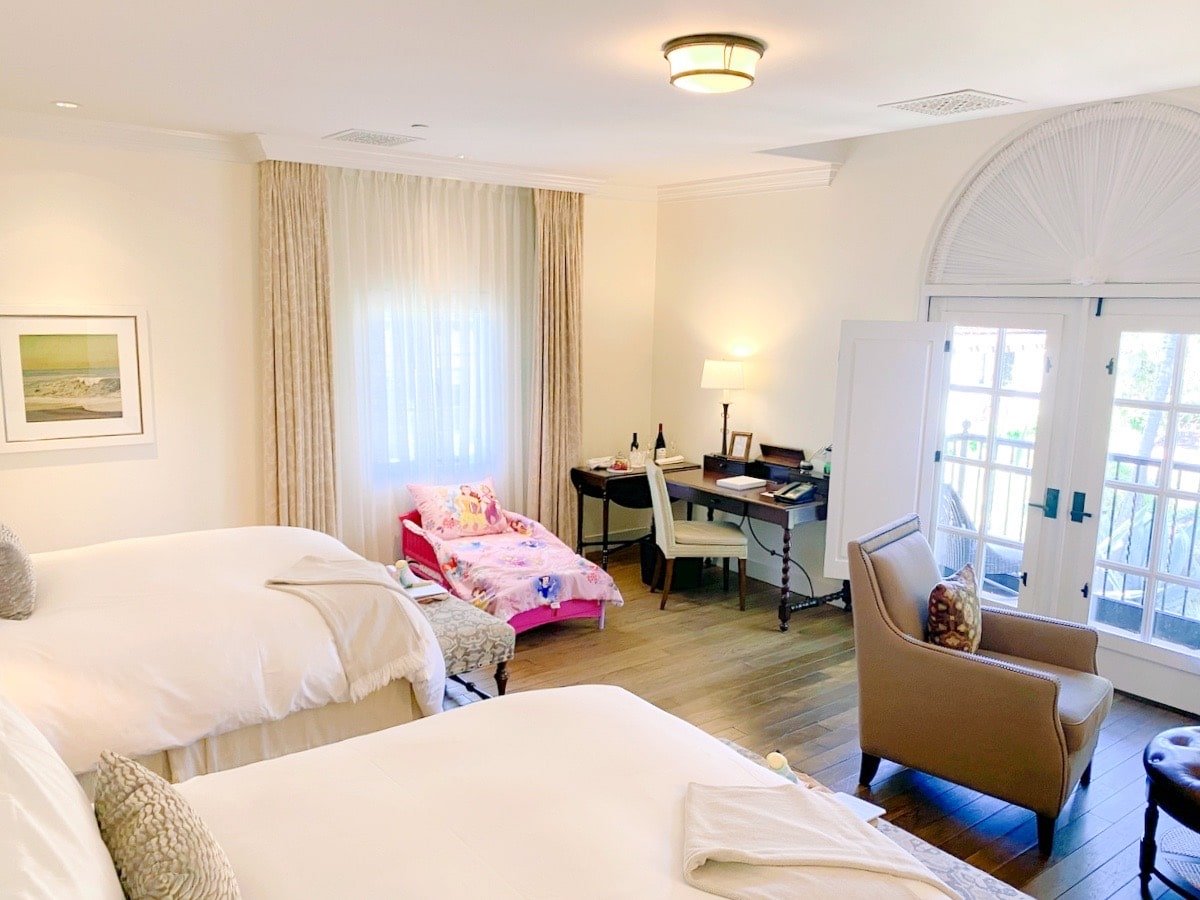 Our room
We were in room 1804 and according to one of the workers I spoke to, there are 93 rooms on the property and there were 20 rooms smaller than ours and 70+ that were larger. Ours was a comfortable 470 square feet. FYI: The smallest one is 350 square feet.

The biggest and best surprise was the pink toddler bed for our three-year-old daughter, complete with Disney princess bedding. She couldn't have been more thrilled to see that extra special touch, just for her.

Any hotel that has a pillow menu with more than two types of pillows is luxury in my book and El Encanto has a pillow menu with nine (yes, NINE!) different types of pillows to choose from. Uncomfortable pillows in hotels is all too common but you can rest assured that here, you'll find just the right one to enjoy an excellent night's sleep.

The minibar had a nice selection of offerings, including complementary Santa Barbara Popcorn and a couple of drinks, organic strawberry lemonade and passionfruit elderflower hard seltzer.

The weather was pleasant while we were there but the evenings were on the chilly side, perfect for lighting the gas fireplace, which was easy enough with just the press of a button. After their nightly baths, the kids loved sitting in front of the fireplace and reading, drawing or watching a movie.

For me and my wife, the real luxury was in the bathroom. It's perhaps the largest hotel bathroom I've ever seen with a large, double sink vanity, a separate shower and deep soaking tub (that fills up very fast), a large closet for opening up your suitcase and hanging clothes, a full-length mirror and a separate room with a door for the toilet. And in the middle of all of this is a huge, open space.

I loved that the shampoo, conditioner and body wash bottles all had large print so you can actually read them without your glasses on. There's also a window in the shower with shutters so you can have natural light or better yet, open it up to feel the pleasant contrast of the hot water with the cool, fresh air.
And I loved the huge, soft, clean, cozy towels and the heated bathroom floors.
Room rates start at $1,100.

Fitness
You'll find a state-of-the-art fitness studio if you want to squeeze a workout in. You can get your blood pumping on the treadmills, exercise bikes and elliptical machines. Plus, they offer classes, from high-intensity workouts to relaxing yoga and even personal training from an in-house instructor. Another great amenity are the stylish electric cruisers that guests can request from the front desk to explore the local area.

Heated pool
Guests can continue their wellness journey at the pool, which is small but heated to 85 degrees and offers great views of Santa Barbara and the ocean in the distance. Hard to beat! Plus, they have an old-fashioned popcorn machine that both kids and adults will love – the perfect poolside snack.
Spa
My wife and I were lucky enough to enjoy spa treatments, courtesy of the hotel. We each got the 60-Minute El Encanto Signature Massage (a soothing blend of Swedish style massage with light to medium pressure), which was as wonderfully relaxing and rejuvenating as you would expect from a high-end hotel. The tranquil experience begins the moment you enter the spa and my wife particularly loved the peaceful waiting area that had adult coloring books to use while you waited. After your treatment, guests are invited to relax with detoxifying teas or juices on the Dining Room terrace and soak in the stunning Santa Barbara views.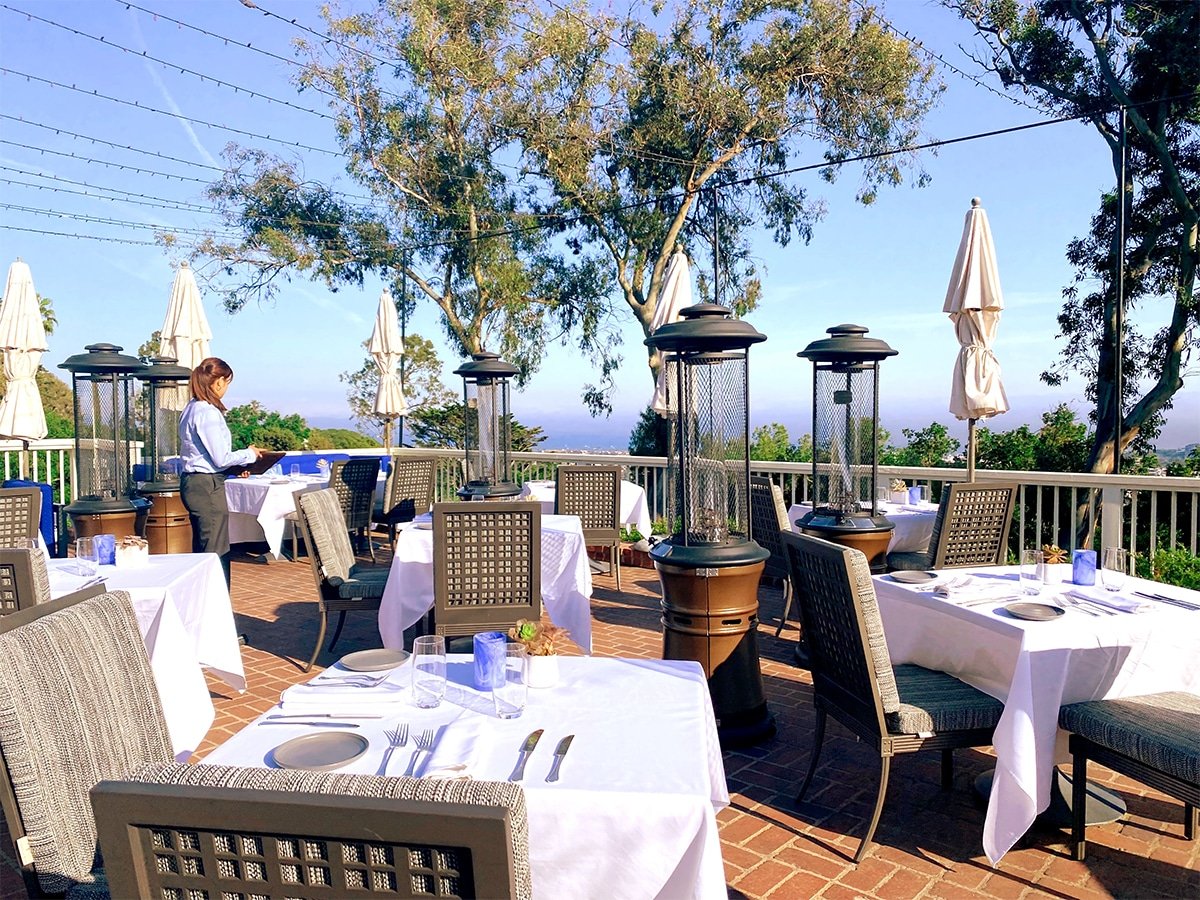 Dinner
For dinner, we dined al fresco at the Dining Room. From our corner table, perched high above Santa Barbara and the Pacific Ocean, we were able to enjoy unobstructed, panoramic views of the beauty all around. From up there, it's easy to see why Santa Barbara is known as the American Riviera. It's really beautiful and truly feels like a world away, like you're on a European getaway.

One of the staff members told me that A-list celebrities like Ellen DeGeneres and Rob Lowe come to the restaurant to dine and the spectacular views aside, it's not hard to understand why. The food is delicious. My wife raved about her beet salad and scallops (the seafood is caught daily from the shores below) and the kids enjoyed their pasta pomodoro and broccolini ($14), which was very reasonably priced. Other items like the prime beef filet I enjoyed were pricier ($85) but between the quality of the food, the attentive service and the panoramic views, it's worth it.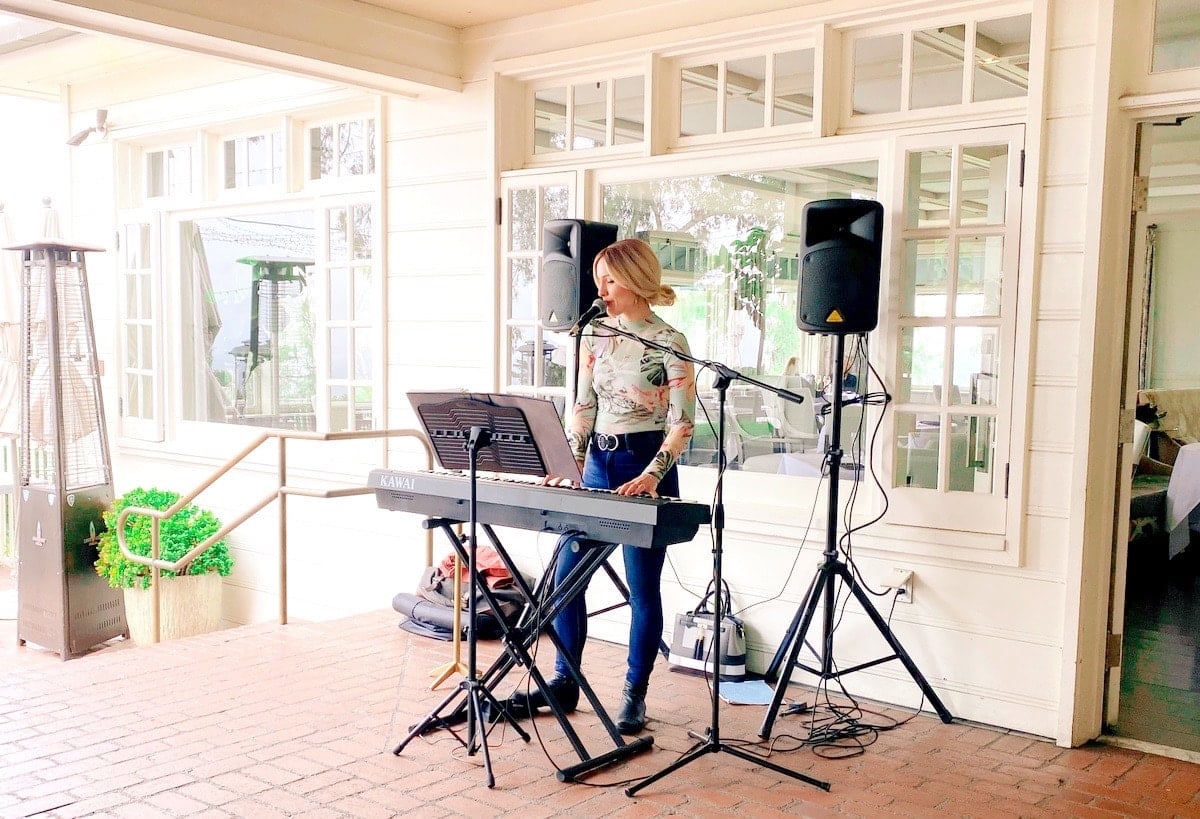 Music
The hotel restaurant offers live music from 6pm to 9pm every week from Wednesday through Sunday. Guests can also enjoy live music during Sunday Brunch.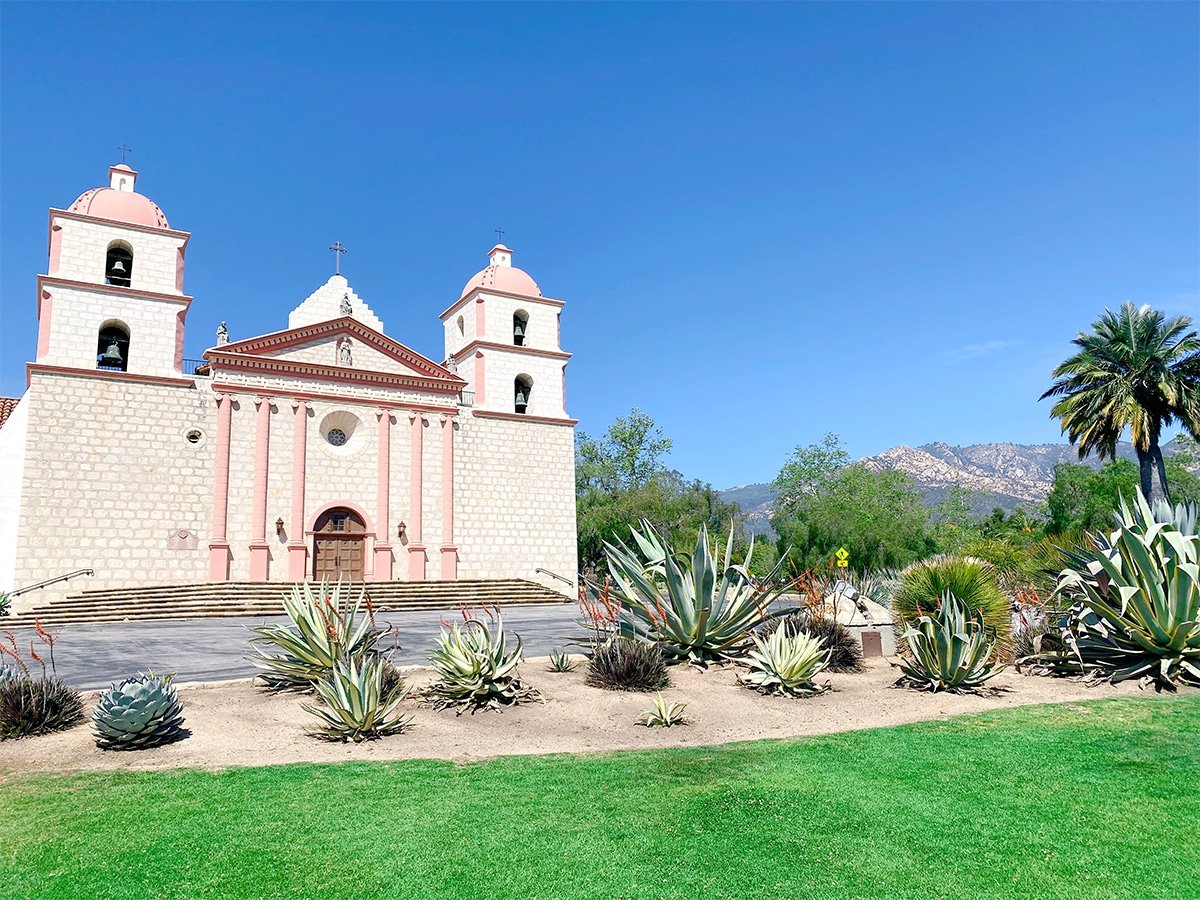 The local area
The hotel is situated close to many area attractions that you'll want to check out while you're visiting Santa Barbara. Downtown Santa Barbara is a seven-minute drive (and so is the Ralph's grocery store, if you need one!) The Museum of Natural History is less than a mile away, and so is the Old Mission Santa Barbara. The Santa Barbara Botanical Gardens is 2.4 miles away from the hotel.

Santa Barbara Museum of Natural History
The Santa Barbara Museum of Natural History was founded in 1916 and both times that we visited, it hasn't been very busy (and we were there on a Saturday in April.) The museum's collection spans 3.5 million specimens and explores the natural history of Santa Barbara, from wildlife and paleontology to geology and astronomy. I love the exhibits dedicated to native Chumash history, which I studied extensively in college.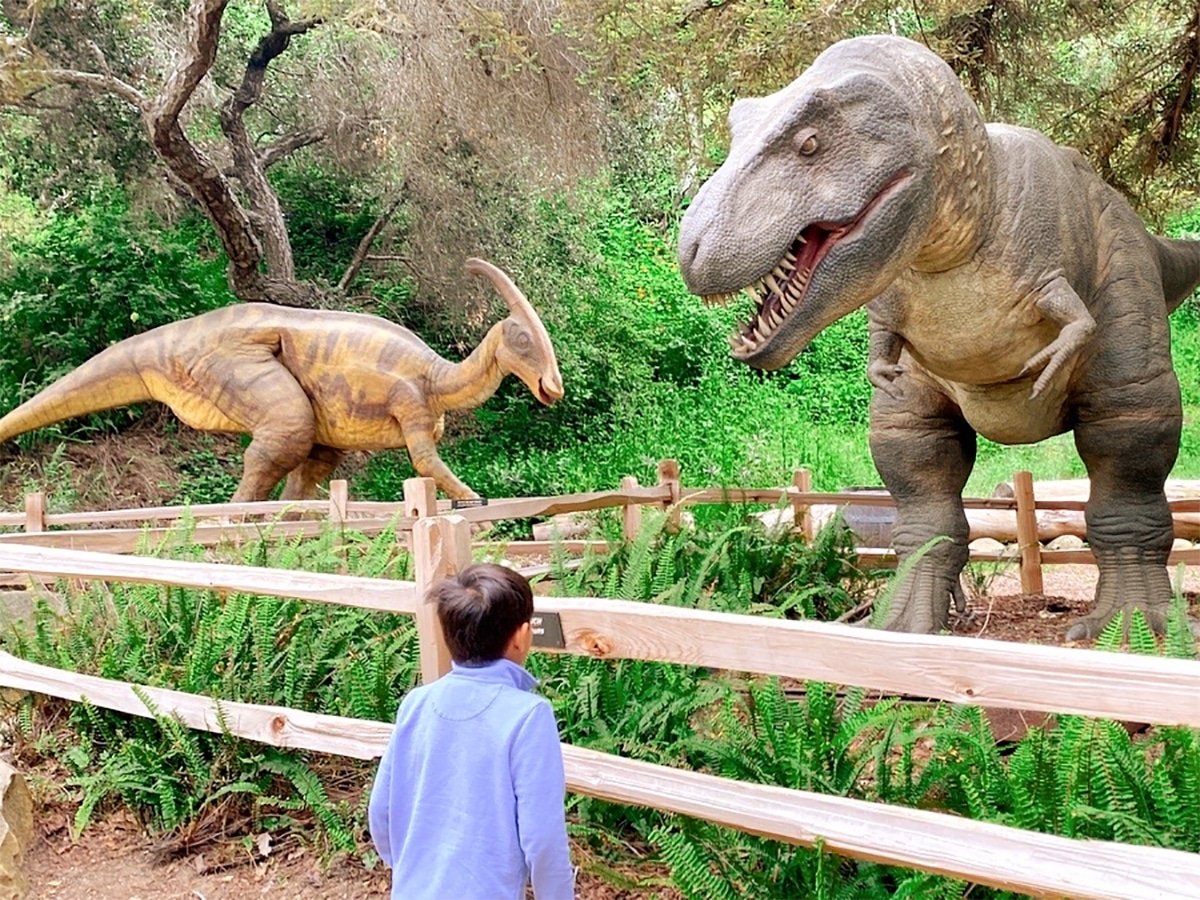 The museum was renovated in 2018 and our favorite part of the 17 acres of oak woodland is exploring outside. In addition to the Mission Creek, which looks and feels like you're in Vermont, our favorite part is the prehistoric forest. The hand-crafted, moving animatronics really do spark the imaginations of dinosaur-lovers of all ages.
The museum is open 10am to 5pm every day but Tuesdays, the one day of the week they're closed. Tickets cost $19 (18-64 years), Seniors (65+ years) and Teens (13-17 years): $17, Children 2-12 years: $14. Same-day tickets also grant members entry to the Sea Center on Stearns Wharf.

Santa Barbara Botanic Garden
The Santa Barbara Botanic Garden was established in 1926 and was the first botanic garden in the United States to focus exclusively on native plants. My advice is to make reservations and get there early since the parking lot doesn't hold a lot of cars. But once you're in, it's a little slice of heaven. The 78 acres of sloping foothills in the Mission Canyon showcases the beauty of native plants and there are five and a half miles of scenic trails to stroll where upwards of 1,000 California plant species are on display. The museum is open from 10am to 5pm and costs $20 for adults and $12 for 3 to 12 year olds.
Did you know Santa Barbara is the birthplace of Earth Day?
While we were in town, we learned that Santa Barbara is the birthplace of Earth Day and there is an annual commemoration held every April in Alameda Park to demonstrate support for environmental protection and movement. The first Earth Day occurred in 1970. The park is only a five-minute drive from the hotel but next time, we will take an Uber since parking nearby was pretty busy. We circled three times looking for a spot. 
Where to Eat
Besides the hotel restaurant, Santa Barbara has an endless amount of great places to eat. It all depends on your budget and what you feel like eating. Here's where we went:
Olio Pizzeria
On our last trip to Santa Barbara, we ordered takeout from Olio Pizzeria and it was fantastic. Same this time around. Olio Pizzeria is not to be confused with their sister restaurant, Olio e Limone Ristorante, which is right next door and is fine dining (they also don't serve pizza). Olio Pizzeria is their casual concept restaurant. I ordered a Margherita pizza ($19), spaghetti and meatballs ($27) and local insalata ($12) and got it to go so we could eat on the balcony of our room. The pizzas are small but I'm glad I only ordered one since my kids just wanted pasta.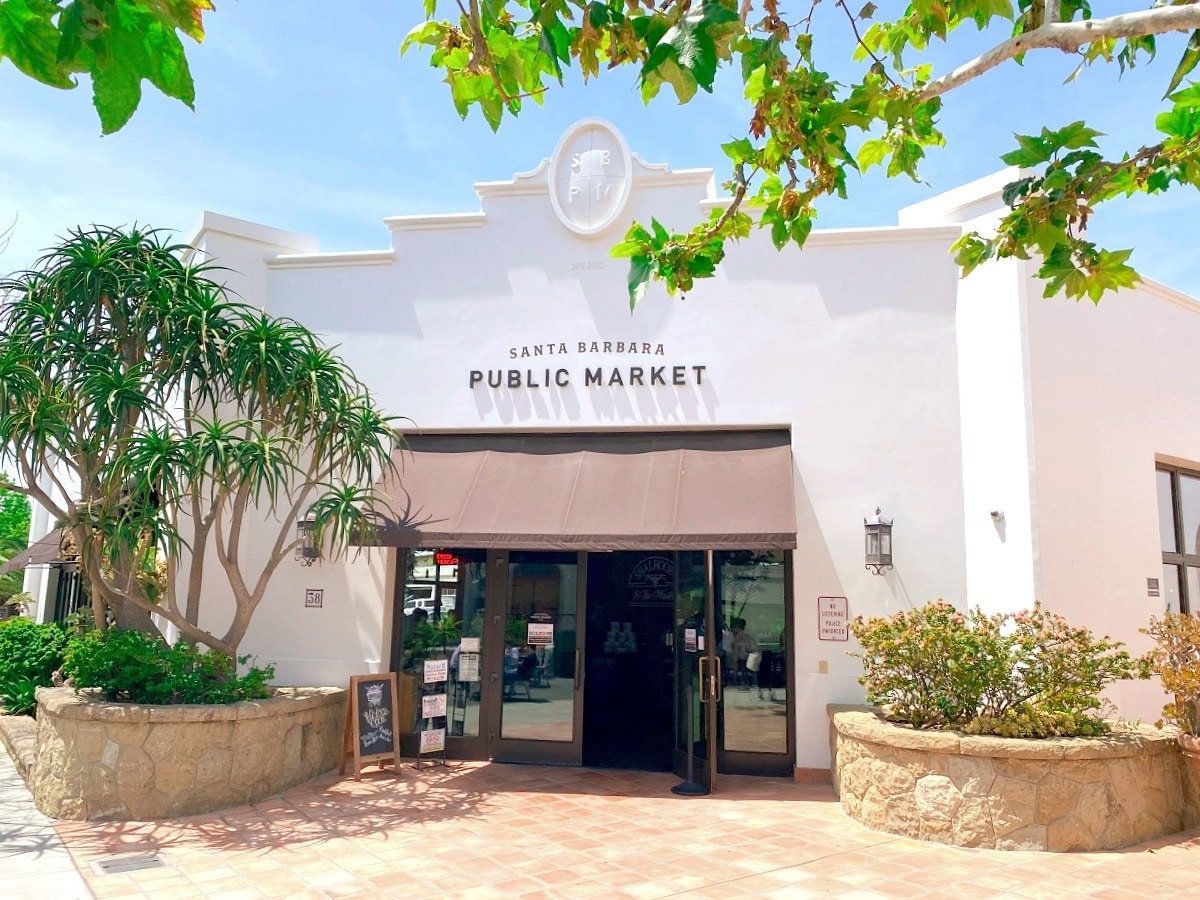 Santa Barbara Public Market
I met a local at the museum and when I asked him where he suggests we eat, he said, The Santa Barbara Public Market has something for everyone since it's a food hall with nine different places to eat. That's exactly what we did and it's been around since 2014.  I had a chicken Bahn Mi ($16.50) from Three Monkeys which hit the spot. While my kids and wife ate at Corazon Cocina.

Panino Montecito
On the way home, we drove 3 miles on the backroads to Montecito. It's where a lot of celebrities live who don't want to deal with the craziness of L.A. including Oprah and Prince Harry. The concierge at the hotel recommended Panino Montecito and it didn't disappoint. Though next time, I will look at the menu ahead of time since there are so many choices and it's very detailed. While we waited, we walked into the nearby Vons grocery store to grab some snacks for the two-hour drive home.
Santa Barbara is a dream getaway and our stay at El Encanto was unforgettable. The breathtaking beauty of the hotel grounds along with the views of the ocean make it a real hidden gem you'll be thrilled to have discovered.
KEEP READING 
–10 Best Budget-Friendly Vacation Destinations For 2023
–Stuck in a Middle Seat on a Plane? Here's How to Get Out of It
–The Top 20 Safest Airlines to Fly in 2023 According to New Airline Safety Ratings Results
–How to Avoid Long Lines When You Travel … And At Home
–This Item in Most Hotel Closets Can Be Used For a Clever Travel Hack
Want more travel news, tips and deals? Sign up to Johnny Jet's free newsletter and check out these popular posts: The Travel Gadget Flight Attendants Never Leave Home Without and 12 Ways to Save Money on Baggage Fees. Follow Johnny Jet on MSN, Facebook, Instagram, Pinterest, and YouTube for all of my travel posts.