This post contains references to products from one or more of our advertisers. We may receive compensation when you click on links to those products.. For an explanation of our Advertising Disclosure, visit this page.
Last week, American Airlines denied boarding to a mom whose two-year-old son refused to wear a mask. You can read more about what happened here. As the mom of two young children, I can definitely empathize with the struggle of traveling alone with a child. And traveling alone with a child during COVID-19? That can't be easy. In mid-March, my husband and I canceled all of our travels and we won't be traveling until it's safe to do so again. And as much as I dream about getting on an airplane and going somewhere, (old and familiar or new and exciting, I don't care!), now just isn't the time for non-essential travel. But if you do have to travel with young children, it must be extremely stressful. My four-year-old son is so good about wearing his mask but would he have been at two years old? Or for the duration of a long day of travel? It's hard to say; as any parent will tell you, sometimes there's just no reasoning with a toddler. When Rachel Starr Davis' two-year-old refused to wear his mask on a flight from Charlotte, NC to Manchester, NH, the situation appears to have devolved quickly and they were not permitted to fly.
RELATED: The Latest Face Mask Policies For Each of the Four Biggest US Airlines
However, American Airlines' face mask policy is very clear and states that only children under the age of two are exempt from the face covering policy. So the flight crew who removed Davis from the flight were just doing their jobs (though, going by Davis' account of the situation, it could have been handled with perhaps a bit more kindness and compassion).
RELATED: 7 Face Masks for Kids
This got me thinking. Face masks can be uncomfortable and scary, especially for children as young as two. So what resources are available to help parents get their little ones to wear masks? A reader, Julie, left a comment on this article suggesting that parents read their kids books about masks to help them understand and I thought that was a great idea. So I've rounded up a selection of books that are written to help parents talk to their kids about the pandemic, masks and social distancing. Maybe some advance preparation can help all parents avoid a tense situation at the airport, navigate these truly strange and challenging times we're living in, and provide some calm and comfort to our children.
A Unique Start From 6 Feet Apart
School Is Different This Year and That's OK!
If You Can't Bear Hug, Air Hug: A Book Inspired by Social Distancing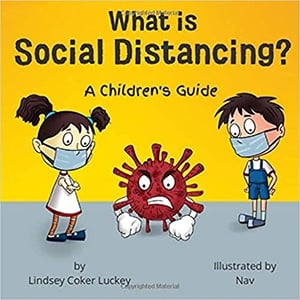 What is Social Distancing?: A Children's Guide & Activity Book