In April 2020, we planned a trip to Hawaii that was going to be our first-ever trip with our daughter, who was 8 months old at the time. But as we all know, COVID had other plans for the world and that trip was postponed. And postponed. And postponed yet again. Finally, last month, we were able to take this long-awaited trip.
After our smooth five-and-a-half-hour flight on United Airlines from Los Angeles, we arrived in Honolulu. We spent the first four nights of our trip at the Hilton Hawaiian Village, which is by far the largest hotel in Hawaii. It sits on 22 lush tropical acres and has 2,860 rooms in seven towers (two of them are timeshares). Full disclosure: We worked with the hotel on a combination of free nights and a media rate.
Here are my unbiased 10 reasons to stay at the Hilton Hawaiian Village: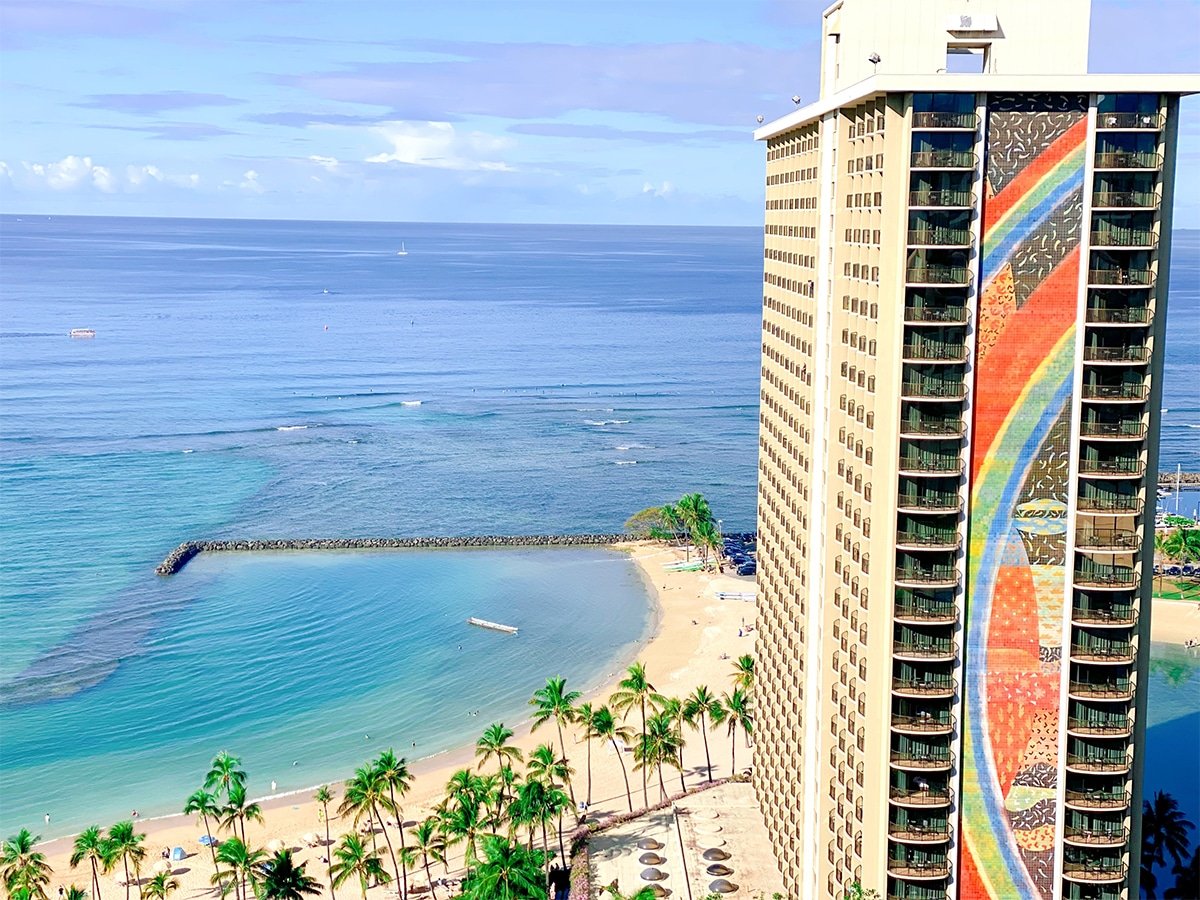 1. Location
The Hilton Hawaiian Village is 20 minutes from Honolulu International Airport (HNL) and is located on the south shore of Oahu at the very beginning of Waikiki Beach. The hotel isn't technically on Waikiki Beach but it's close and you can see Diamond Head from some of the tower rooms. It's a good place to stay if you don't want to be in the center of Waikiki as it's a solid 15-minute walk. But there's so much going on at this hotel you don't even need to go into Waikiki if you don't want to – and if you do, it's not far.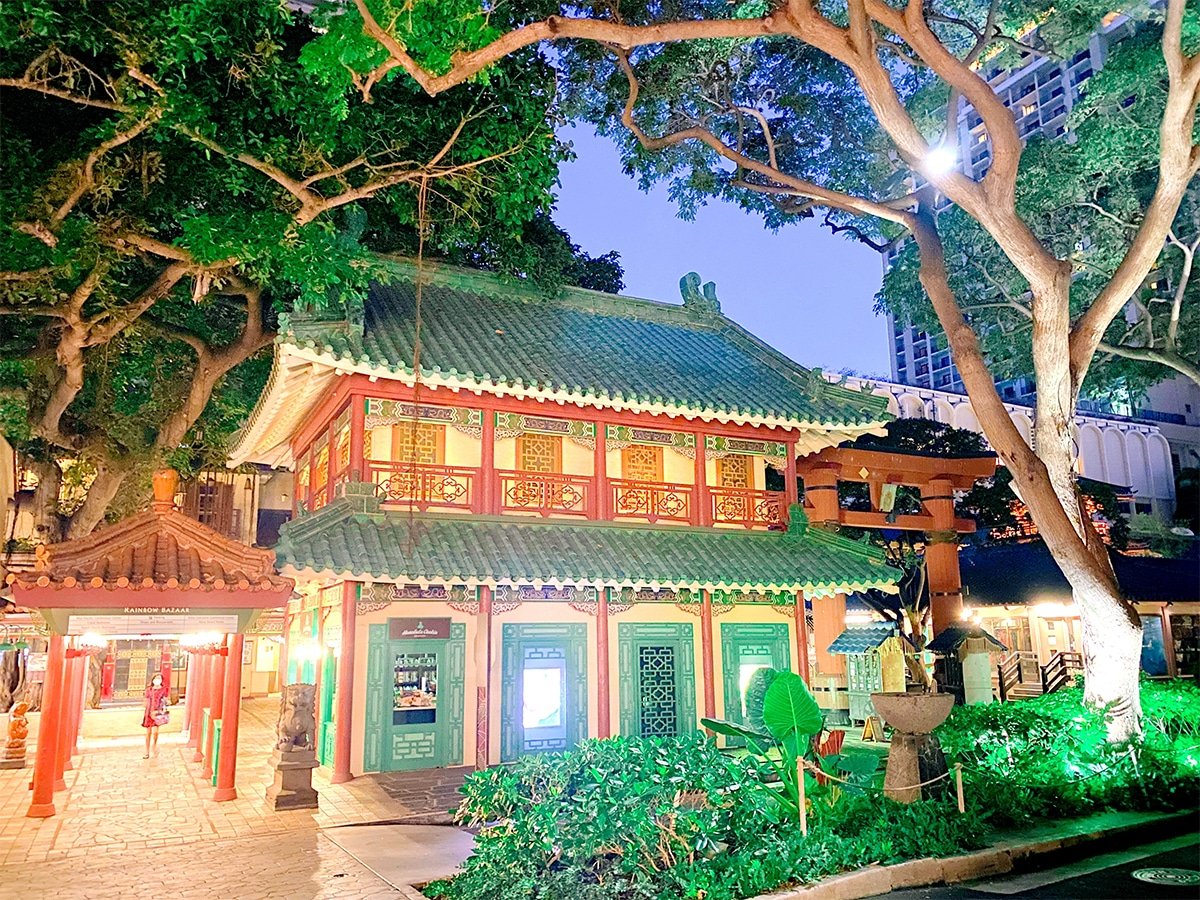 2. It Really is a Village
Hilton Hawaiian Village truly is a village. If you like having the convenience of all the amenities of a large resort nearby, you will love this place. It has 18 restaurants and bars and over 80 shops and services, including multiple ABC stores, which you will find on practically every block in Waikiki. You could seriously spend a week here without leaving the property and you still wouldn't be able to experience everything it has to offer. Here's a 360-degree tour of the resort.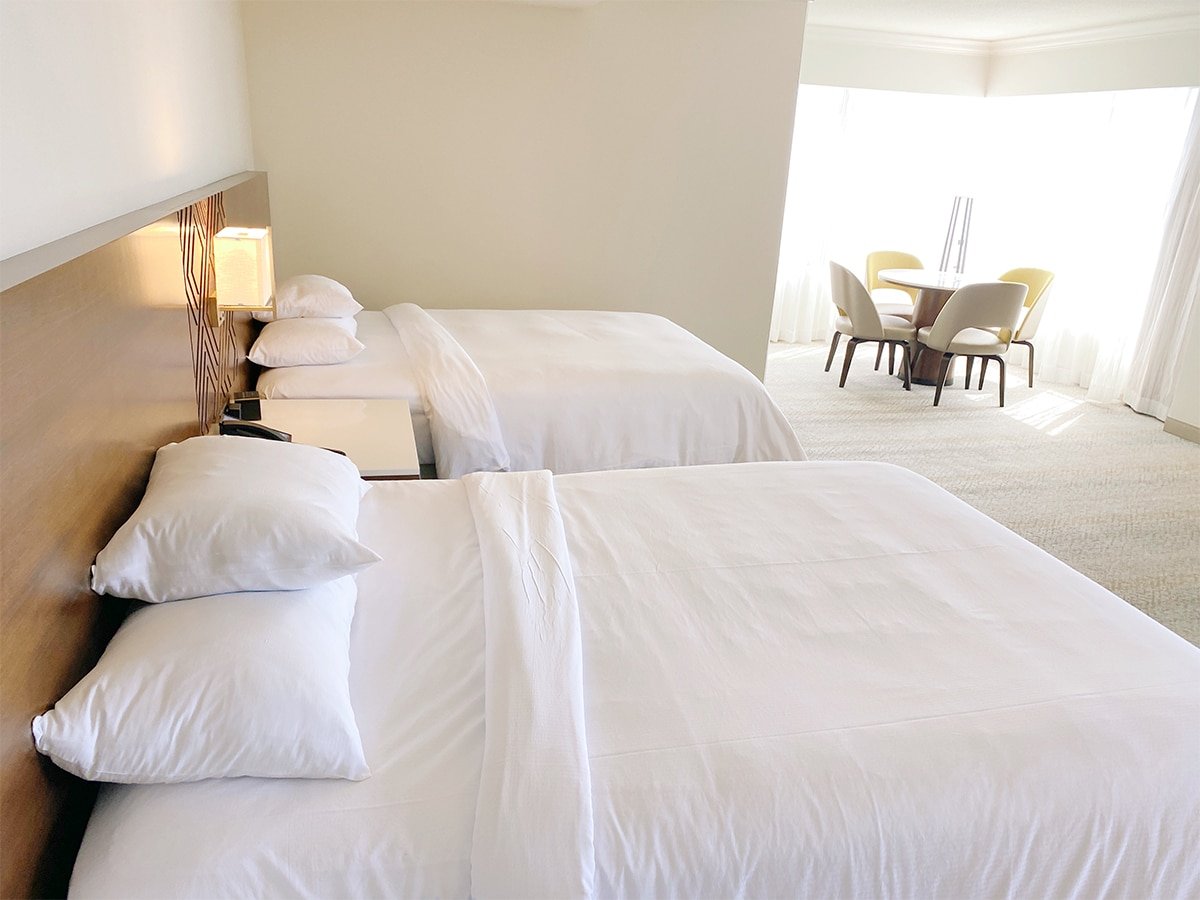 3. Newly Renovated Rooms
The newly renovated rooms in the Tapa tower are really nice. We were lucky to experience a corner ocean view junior suite, which is just under 500 square feet and has two queen-sized beds.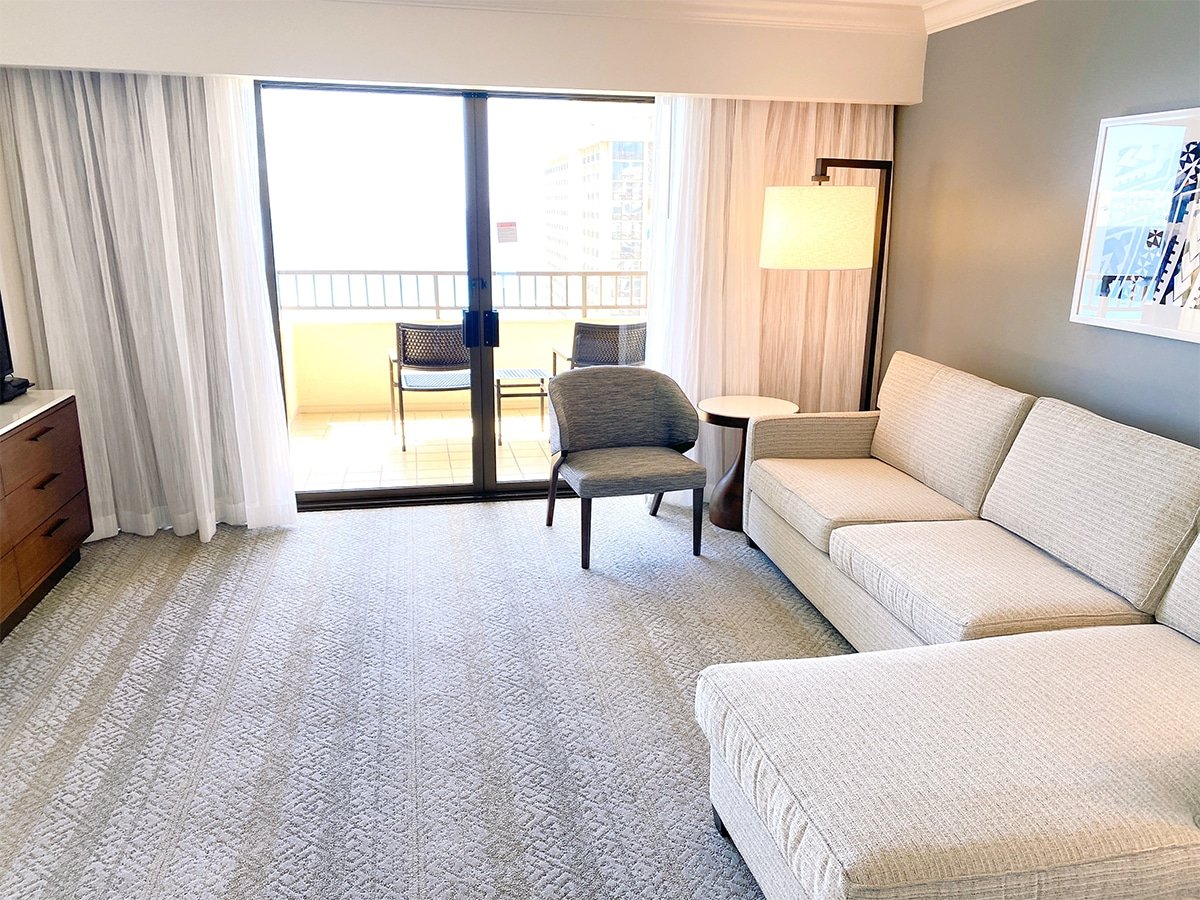 The living room area is so spacious, there was plenty of room for the kids to romp around and the spacious lanai, with views of the ocean and Waikiki below, was the perfect place for the kids to enjoy sunset and look at the planets and constellations once the sky turned dark.
There's a table with four chairs where the kids spent a lot of time drawing and coloring and we ate some meals (with a fantastic view of the Pacific Ocean and Diamond Head) and a small kitchenette with a sink, mini-fridge and coffee machine. When traveling with kids, you really do need some extra space and this room provided more than enough room.
4. It's Family Friendly
I wouldn't want to stay here if I was on my honeymoon (my wife and I went to Bali, which I highly recommend, along with French Polynesia and the Maldives) but if you have kids, like we do now, then this is a great place to stay. It's extremely family-friendly, mostly because of the multiple pools, the lagoon, water activities and proximity to the beach.
5. Duke Kahanamoku Lagoon
Right next to the Rainbow Tower is the Duke Kahanamoku lagoon. It's a shallow, five-acre lagoon with brackish water, featuring a state-of-the-art water circulation system. It's named after Hawaii's legendary Ambassador of Aloha – surfer and Olympic swimming champion, Duke Paoa Kahanamoku – and is the perfect place to take little kids since it's so shallow and there are no waves. The Hilton Hawaiian's proximity to the lagoon is a huge attraction. While we spent lots of time at the beach, too, beaches can be stressful with little kids. The lagoon was so much fun for the kids but gave me and my wife the chance to relax a little because of the shallow water. The kids loved it so much, they never wanted to leave and wanted to go to the lagoon every day.
There are little fish inside the lagoon (no one I asked was quite sure how they got in there) but my son sure had hours of fun trying to catch them with his bucket. If you want a beach chair ($23 a day) and/or an umbrella ($38 a day), you'll have to rent one or bring your own. There is a Target a mile away to pick up beach toys and other essentials you might need. NOTE: Most people pass along their beach stuff to another family on the last day of their trip so they don't have to lug it home and to make someone else's day. Just sitting on the beach, we were given beach toys, a boogie board and some roll-up straw beach mats. We used them while we were there and passed everything along to other grateful families before we left.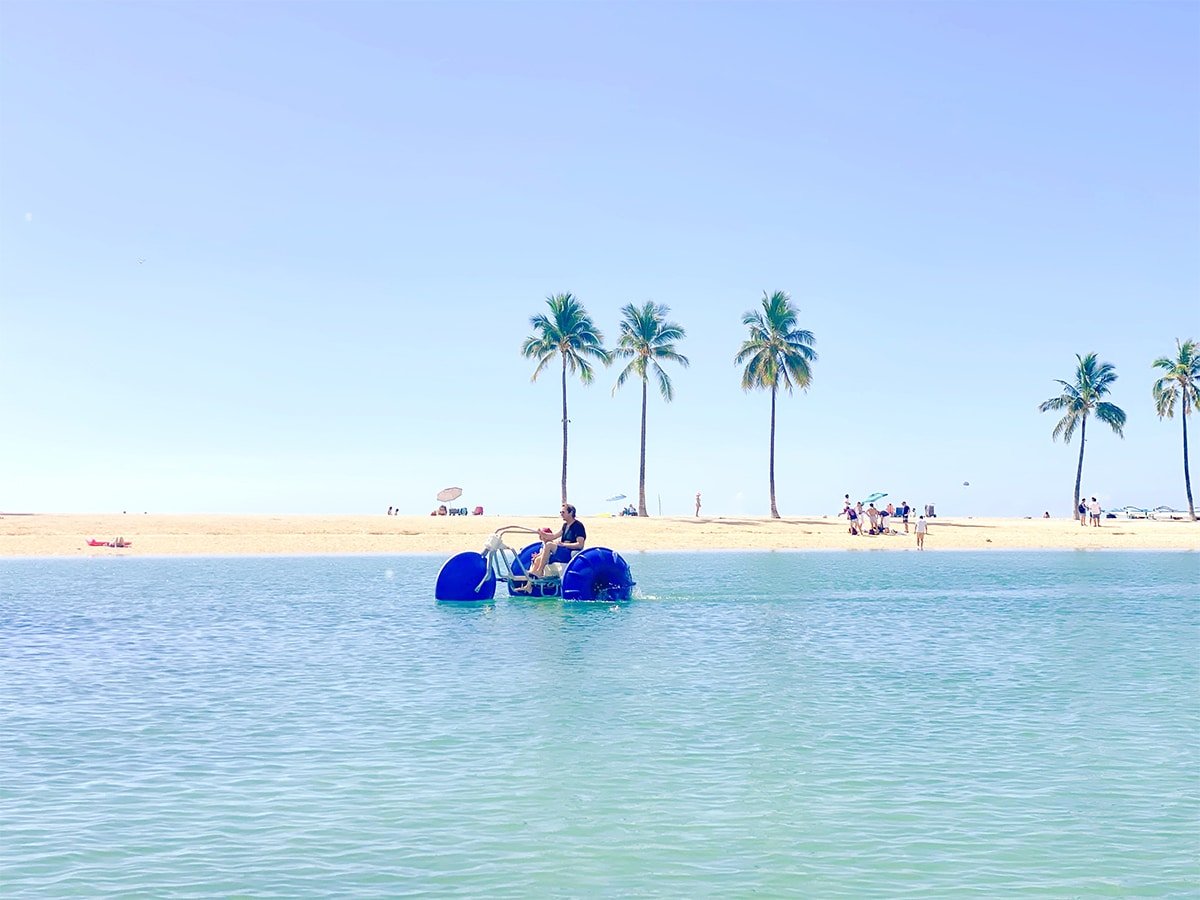 6. Lagoon Rentals
Next to the lagoon, you'll find the Waikiki Beach Activities stand, where you can rent lounge chairs and umbrellas or, more importantly, equipment for fun water activities like stand-up paddle boards ($49/hr), kayaks ($55/hr) and aqua cycles ($65/hr). We tried the aqua cycle and the kayak and had an amazing time. Both fit a family of four and the kids were thrilled.
7. Beach
As much fun is the lagoon for kids and relaxing for parents, I didn't have any desire to swim in it. It's better for playing and doing water sports. To swim, you just have to walk a few steps to hit the beach. Again, it's ideal for kids. While the waves are definitely bigger and you'll have to be more watchful, it's still reasonably calm and our kids loved chasing the waves.
8. Pools
The Hilton Hawaiian Village has five swimming pools and a sixth one for kids. The Super Pool is 10,000 square feet and is the most popular because of its location between the Rainbow Tower and Ali'i Tower. The Paradise Pool is a 5,000-square-foot family activity pool with the longest slide in Waikiki and overlooks the Duke Kahanamoku Lagoon. The Tapa Pool is a tropical pool located between the Tapa Tower and Diamond Head Tower and the Kalia Tower Pool is an infinity pool located on the fourth floor. The Ali'i Tower Pool is only for guests staying in the exclusive Ali'i Tower and has a sundeck and whirlpool. The Keiki Pool is a shallow, tiered pool off the Super Pool that's perfect for kids. Believe it or not, we didn't go to any of the pools except on our last day when we checked out the Tapa pool. It has some fun bubbles in the shallow area but our kids didn't have much interest in the pools since the lagoon and beach were so epic.
9. Bluewater Shrimp
There are 18 restaurants and bars at Hilton Hawaiian Village to choose from. I ate lunch at the hotel restaurant Tropics Bar & Grill, which is right along the beach and the food was unbelievably quick and solid. I also had breakfast at Bali. Both were excellent but pretty expensive (but that's Waikiki). I asked the guys working the lagoon rentals stand where they eat. I figured they were going to send me off property but they didn't. They recommended Bluewater Shrimp in the village and said they loved it so much they'd just eaten lunch there that day.
I whipped out my phone and ordered online. The prices were reasonable and the food is local. Natalie had the spicy garlic shrimp (8 pieces) for $18 and I had the Hawaiian BBQ chicken plate. Both come with rice, salad, corn and a choice of a house salad or potato salad. We ended up eating from there multiple times since it was so good and convenient. I highly recommend booking online because during peak periods, expect a long line.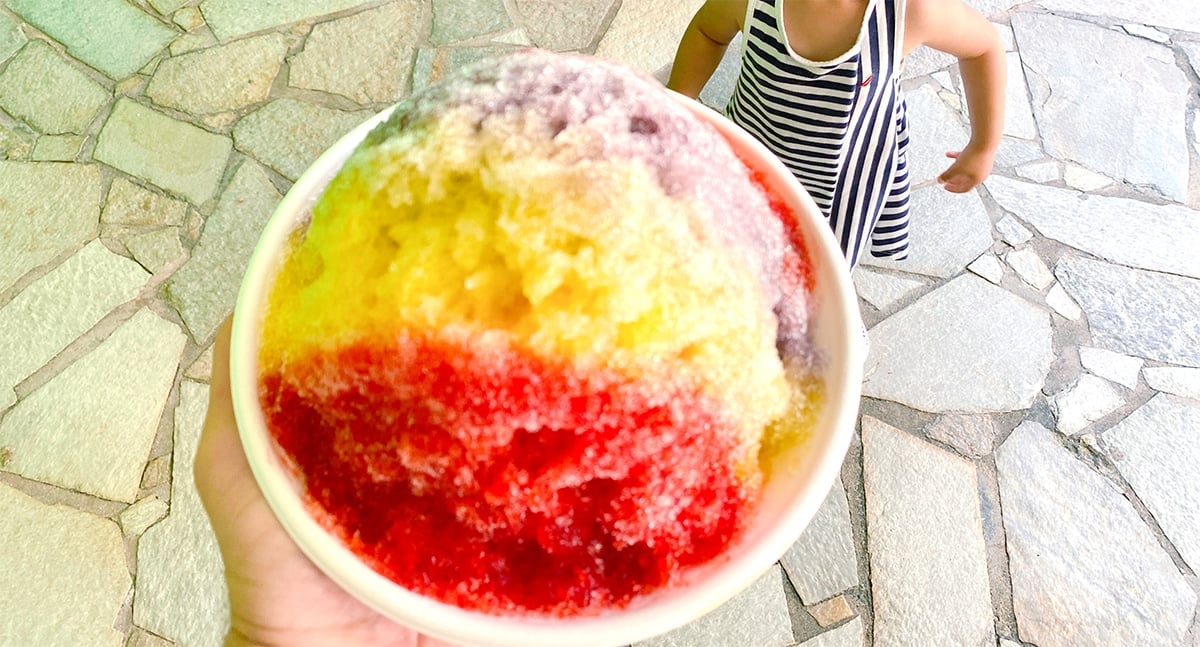 10. Shave Ice
I consider myself a shave ice connoisseur. My Hawaiian friends say the best is Waiola Shave Ice but it was a mile away. I ate at Island Vintage's Shave Ice booth in the heart of Waikiki, which is good but the kids didn't love their all-natural flavors. So we ended up getting shave ice from the Wiki Wiki Market at the Hilton Hawaiian Village, which is ridiculously overpriced (an individual bowl of Cheerios is $7, triple the price of Target down the road). At $9, their shave ice isn't cheap either but it sure is convenient and good.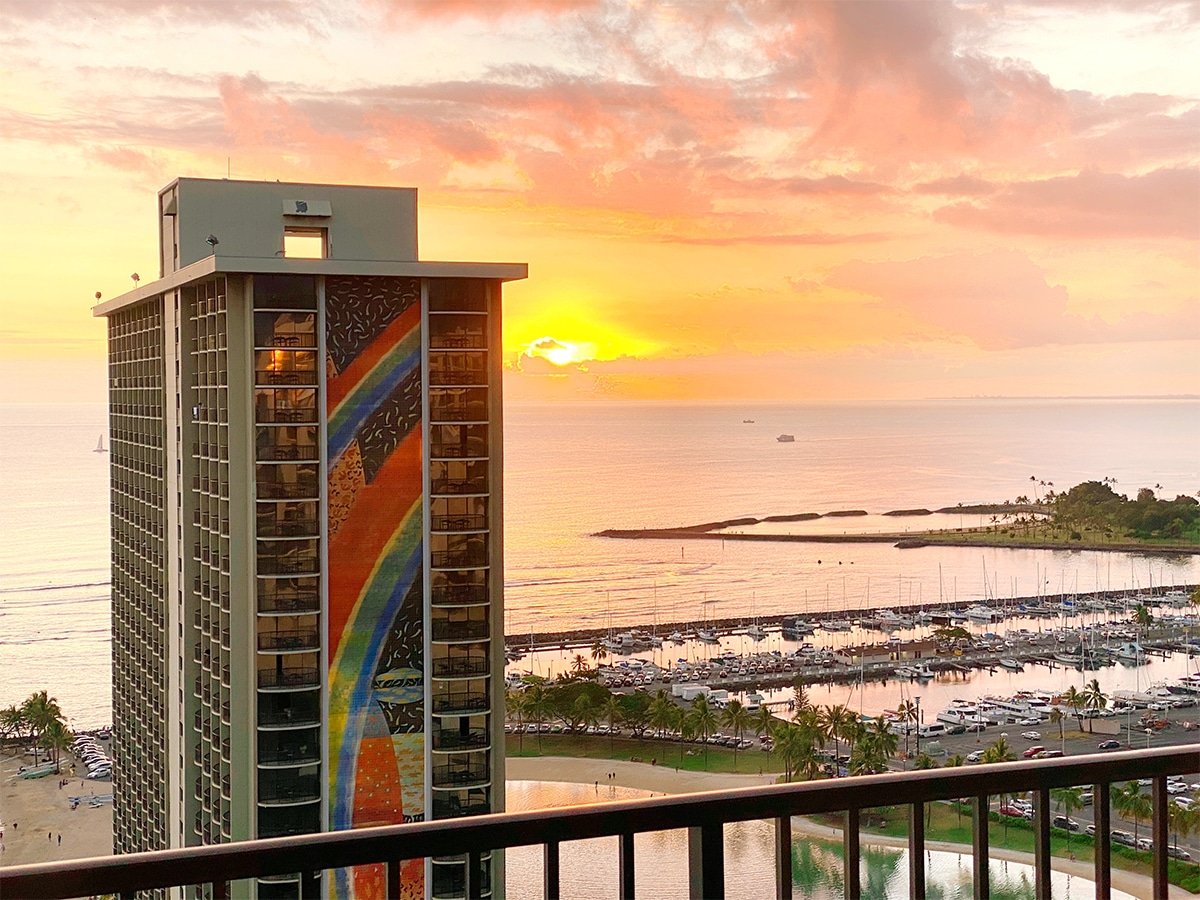 11. Views
Depending on your room, you will be treated to some seriously amazing sunrises and sunsets. I recommend getting up early and going for a walk on the beach to witness it. You won't be disappointed. RELATED: The Best Times to Capture Photographs While on Vacation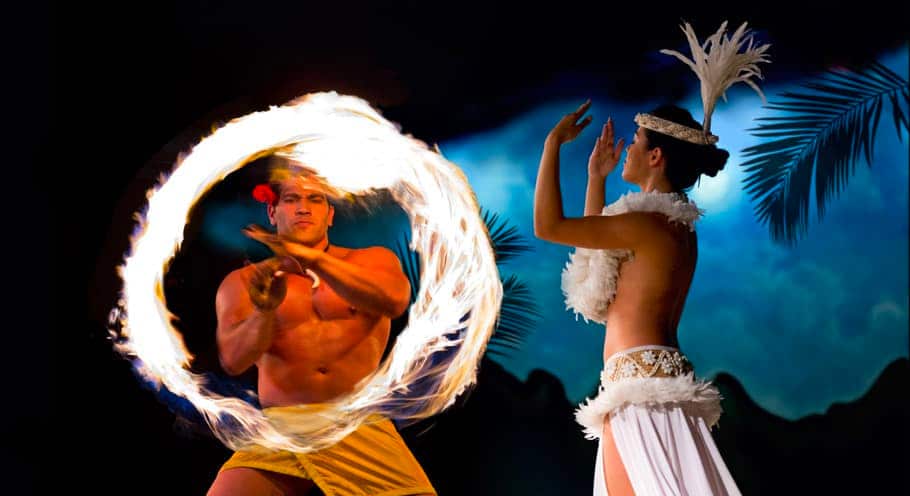 12. Luau
Hilton Hawaiian Village's Waikiki Starlight Luau is currently available on Mondays, Tuesdays, Thursdays and Fridays (weather-permitting) on the Great Lawn, located off of the Duke Kahanamoku Lagoon. We didn't go to the hotel's luau because it was sold out but the beautiful music floated up so we could hear it and from our balcony, it sure looked fun. Prices are $170 per adult (12 years and up) and $110 per child (ages 4-11). Children 3 and under are free. Table seating is with other guests. Find more information here.