I got two words for you: Bora Bora! Of course, I had to save the best for last, which you should when you visit the beautiful islands of Tahiti. If you want to learn all about this paradise and see the hotel that was recently featured in ABC's hit show The Bachelorette, then come with me on this virtual trip. We also are wrapping up Jerome Shaw's detailed account of his trip on the Aranui 3, a cargo ship that reaches the remote islands of French Polynesia. And you will never guess who was on my flight the other day: Ed Begley Jr., possibly the greenest person alive.
FRENCH POLYNESIA ROUNDUP
Since this is my final post about my trip to Tahiti and her islands, I thought I would do a quick recap: It all began with the flight down from L.A. on Air Tahiti Nui. Then we toured the island of Tahiti and its capital city of Papeete, and last week we explored the island of Moorea. Now, we hit what is arguably one of the most beautiful places in the world: Bora Bora.
END WITH BORA BORA
I always suggest to those visiting French Polynesia that they should either end their trip in Bora Bora or at a special hotel in Taha'a, the island next door, which I've visited on my previous two trips to French Polynesia. Both places are without a doubt jaw-dropping, and there's not a lot to do, so you get to fully unwind before making the long, sad trip home to reality.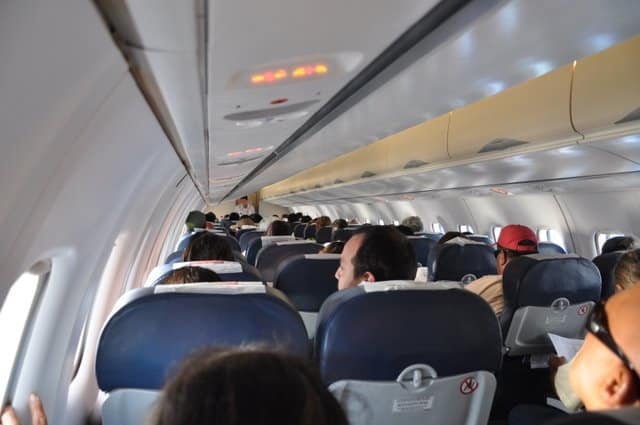 MOOREA TO BORA BORA
Ideally, you will want to fly nonstop to Bora Bora, but I was on a press junket, so the airlines just gave us the seats they had available–and since it was high season, there weren't a lot. Instead of going directly from Moorea on a 40-minute flight, we first made a six-minute scenic flight back to Papeete on Air Moorea in a 19-seat DHC-6 Twin Otter 300.

MOOREA AIRPORT
The Moorea airport is about as laid-back as you can get. I didn't have to show identification, and there's no security at all–I love it. Since our flight wasn't full, they didn't weigh passengers as they have in the past–this time they weighed just the bags. We showed up 20 minutes beforehand, played with a smelly dog named Airport, and we were off. BTW: Someone seriously needs to step up and help get the dogs of French Polynesia neutered–they keep getting pregnant since no one can afford the US$400 it costs to fix them!
2ND-SHORTEST COMMERCIAL FLIGHT
Air Moorea boards like Southwest Airlines used to–no paper tickets, just a plastic boarding card and no assigned seats. The views were spectacular from both sides of the plane, and the six-minute flight was smooth. (Thank God, because I hate these little planes.) What's neat is that at just six minutes long, it's one of world's shortest commercial flights (I believe it's the second shortest).

PAPEETE AIRPORT
When we landed, our tour operator picked us and our bags up in a van and drove about 500 yards to the main airport. We checked in at Air Tahiti, and it was almost like being back in America. Passengers have to show their passports, they weigh not only checked bags but carry-ons too, and the latter can't weigh more than 5 kilograms (13.4 lbs). Then passengers have to schlep their bags to the checked baggage screening before going through security themselves. At least here you don't need to take laptops or liquids out, and you can keep shoes on. NOTE: You are welcome to bring liquids onto the plane.
PAPEETE TO BORA BORA
Air Tahiti flies much bigger planes than Air Moorea (phew). They use ATR72 twin-turboprops that seat up to 78 passengers. Before boarding, I asked the pilot, who was standing planeside with one of the pretty flight attendants, which side of the plane I should sit on for the best views. He said the left side, but unfortunately his approach got changed at the last minute, so I didn't get to fly over "the most beautiful lagoon in the world" until the return trip to Papeete but I did see Taha'a! FYI: Bora Bora is located 149 miles (240 kilometers) northwest of Papeete.
AIRPORT CODES
Speaking of the return trip, we weren't able to get on one of Bora Bora's many 45-minute nonstop flights to Papeete either, so we made stops in Huahine (HUH), Raiatea (RFP), and Moorea (MOZ). I thought it was going to be a long day, but the flights were all quick hops, smooth and really scenic. Besides, I love learning new airport codes, and Huahine (HUH) and Bora Bora (BOB) have to be two of the best. FYI: Since the flights were all so short, the flight attendants only served pineapple juice on the longest one, and I did see one passenger buy a couple of beers.
BORA BORA AIRPORT
I love landing in Bora Bora. During the walk from the plane to the open-air arrivals area, you can literally feel yourself, and everyone else, begin to unwind. They made it to their final destination, and the worries are finally gone–until they check out and get the hotel bill. Every hotel has a booth set up inside, where guests get lei'd and check in for their boat transfers. That's right: The airport is on a small island, so everyone has to take a boat to wherever they are going.
SMALL WORLD
I was a little bummed when the hotel asked if we and the other guests wouldn't mind waiting 25 minutes for the next flight to land, because the sun was going down and I wanted to get some sunset pictures from the water. But there's a reason for everything, and the wait turned out to be a blessing. Strolling around the airport, I ran into Denis, the GM of Le Meriden Bora Bora, and his daughter. I got to know Denis over breakfast in L.A. a few months ago while he was doing media visits. He's lived all around the world and has a ton of crazy travel stories. I also got to visit the airport bathroom, which has to be the best-looking regular old public restroom you've ever seen–it's decorated with fresh flowers.
ABOUT BORA BORA
Bora Bora is an island in the Leeward group of the Society Islands of French Polynesia, an overseas territory of France in the Pacific Ocean. Bora Bora is called The Romantic Island, and it doesn't take long to figure out how they came up with that name. Most of the resorts are on white sandy motus (small islands) that are surrounded by an emerald lagoon, which is protected by a barrier reef; the resorts began welcoming visitors over 40 years ago, and they are constantly being renovated. In the center of Bora Bora are the remnants of an extinct volcano, which has two peaks, Mount Pahia and Mount Otemanu.
DID YOU KNOW: That Captain Cook thought the locals were calling the island Bora Bora, but it was really Pora Pora, since the letter b does not exist in the Tahitian language.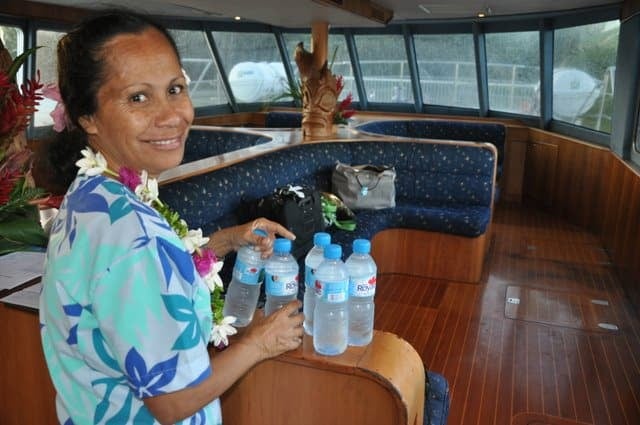 AIRPORT TO HOTEL
This is the island on which you will find the most luxurious hotels, with the picturesque overwater bungalows, thatched-roof villas, and spas you've dreamt about. Our hotel, the Hilton Bora Bora Nui Resort, was no different. It takes 20 minutes to reach this paradise from the airport, and everyone receives a warm welcome from a band.
STARS SO BRIGHT
To check in to your room, you're seated in the island's only overwater lobby. You are given the standard paperwork, cold towel and a delicious fruit drink. A few minutes later, you are whisked to your room on an extended golf cart. They took a while delivering the luggage (a good 45 minutes), so instead of my usual unpacking and downloading emails/notes, I was forced to relax. And I'm glad I did, because after photographing the inside of my overwater bungalow, I went out on the deck and lay down in one of the two lounge chairs. I was instantly mesmerized staring up into the heavens. The stars, planets, and constellations never looked so close–they were so bright, I could even see the ones directly above the horizon.
HILTON BORA BORA NUI RESORT
The Hilton Bora Bora Nui Resort just received a crazy amount of press, as it was featured in the final episode of ABC's hit show The Bachelorette. I was told that I was in the same room as the star, Ali, but I later found out that wasn't true. The hotel has 122 all-suite bungalows. Most are over the water, but some are located on land.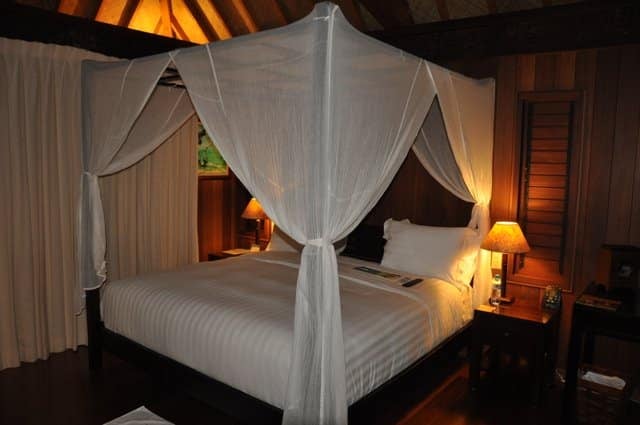 ROOMS
They all are appointed with rich mahogany furnishings and a four-poster bed. The bed is pretty comfortable, but I still don't love Hilton's pillows–they are a little bulky. There's air-conditioning, a ceiling fan, a CD/DVD player, two televisions with satellite TV (one flat-screen, one old-school), a minibar, and a tea/coffee maker. The decks of the overwater bungalows have a glass viewing panel in the floor, and there's also one next to the tub. On both sides of the couch are end tables with a glass surface, and they open up so you can stare at the fish even closer.
ROOM OBSERVATIONS
Although the room wasn't as swanky or new as the Four Seasons (where I stayed last time), I loved its Tahitian feel and high thatched roofs. Most of the overwater bungalows are seven years old, which is getting up there in age in Bora Bora's competitive luxury market, so they may be getting a renovation soon, but they definitely don't need it yet.
-There is in-room Internet, which is fairly fast, but it's not wireless, so you can't surf the web while sitting on your deck. FYI: The internet cost US$33 for 24 hours.
-The marble bathrooms have a separate tub and shower. They are stocked with plenty of soap, unlike the Hilton Moorea. One thing that's tired? The towels–they were getting shaggy.
DON'T SWIM AT NIGHT
I was told by our tour guide not to swim at night–not because of the sharks, as they won't hurt you, but because of the moray eels. Good to know, because I was tempted to jump in at night just like I did every morning after rolling out of bed. The water is the perfect temperature–around 82 degrees–and you can see all kinds of fish. NOTE: The pool boy has free snorkel gear (and towels), just be sure to bring the little card with your room key to get it.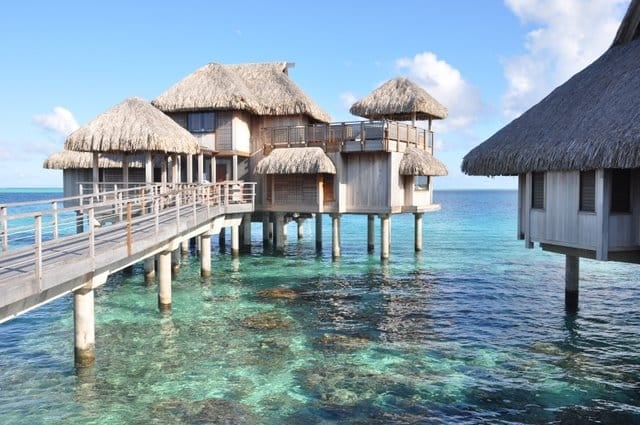 TWO-STORY OVERWATER BUNGALOW
The Hilton has two new rooms, which are in fact French Polynesia's first two-story Presidential Overwater Villas. In the show The Bachelorette, the parents stayed there. They are plush, but they go for US$5,000 a night and only have one bedroom (and a sauna). But I can claim to be the second person to ever jump off the top deck of these bungalows–see this 30-second video. The video is pretty funny because the water is so clear that my colleagues weren't sure if it was deep enough, but I had gotten confirmation that it was–which is why I made the plunge.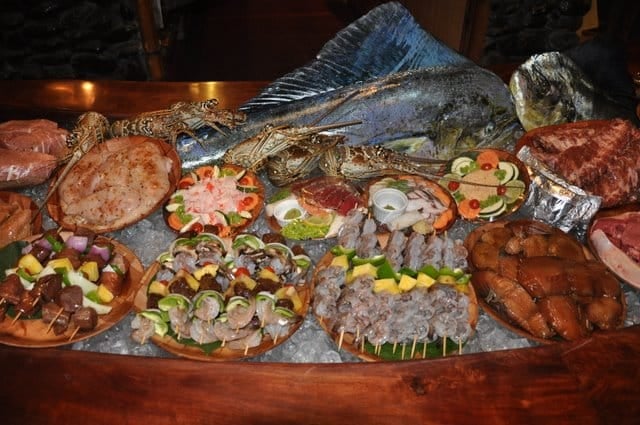 DINING
The first night, we all had dinner in the hotel's fine-dining restaurant, Iriatai, meaning "on the surface of the water." They had a couple of local guys playing the guitar and singing contemporary songs, but with a Tahitian twang, so it was awesome. Some of the dishes making their way to our table were: seared tuna ,risotto arborio (2,100 XPF), black tiger prawns tails infused with vanilla (3,800 XPF), pan-seared scallops (3,400 XPF), and tournedos of angus beef with mashed breadfruit (4,300 XPF). For dessert, we tried a chocolate fondant (1,700 XPF), and a palette of local flavors of sorbet and ice cream, which included pineapple & coriander, rosemary, mint, vanilla, cinnamon, and Grand Marnier (1,700 XPF).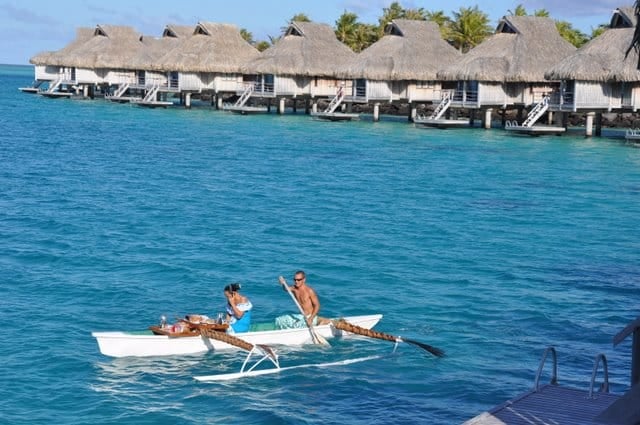 BREAKFAST
The breakfast buffet was at Tamure Beach Fare Grill. I usually would leave my shoes at the table so I could walk around in the sand to the buffet, which had all the usual fixings along with Polynesian, Pacific Rim, and Mediterranean specialties. The hotel also had food and drinks at the Ta Ie Ie Beach Bar and Upa Upa Panoramic Bar.
LUNCH ON A PRIVATE ISLAND
My most memorable meal from the hotel was on their private island called Motu Tapu. It's a 10-minute boat ride away, and guests can rent it out for themselves (or groups) or share it with just a few other guests. They set up the bar and tables in the water, so you get to eat literally along the shore–it's magical, especially with the backdrop . Be sure to bring your water shoes and snorkel gear, because there's plenty of fish and coral to be seen. After the lunch buffet they taught us how to open a coconut and tie a pareo. Hilton Bora Bora Nui Resort & Spa.
DINING OFF THE RESORTS
What's nice about Bora Bora hotels and restaurants is that they make it easy for guests to get off property and experience local cuisine. Neither the hotels nor the restaurants charge for transportation (boat and car).
BLOODY MARY'S
Bora Bora's most famous restaurant has to be Bloody Mary's. It's located in town; you take a 10-minute boat ride from the hotel to the Vaitape wharf to get there. Each evening (except Sundays), the daily catch of the local fishermen is displayed on ice, and on entry the host/hostess explains exactly what's available that evening and then takes your order. The atmosphere is laid-back, and although the dining area is indoors, the floor is covered in soft sand. For more info, check out their website.
LA VILLA MAHANA
My most incredible meal came from La Villa Mahana. After scoring one of their highly coveted reservations, I took the same boat into town as I did for Bloody Mary's. From the wharf, the restaurant's taxi was waiting for my buddy Mark and me and two other couples from the Hilton to drive us 10 minutes to Damien Rinaldi Dovio's acclaimed restaurant. The owner and chef is a young Corsican who married a beautiful Tahitian woman (she's the waitress), and their restaurant, which is in their former home, looks like it came straight out of Provence, France.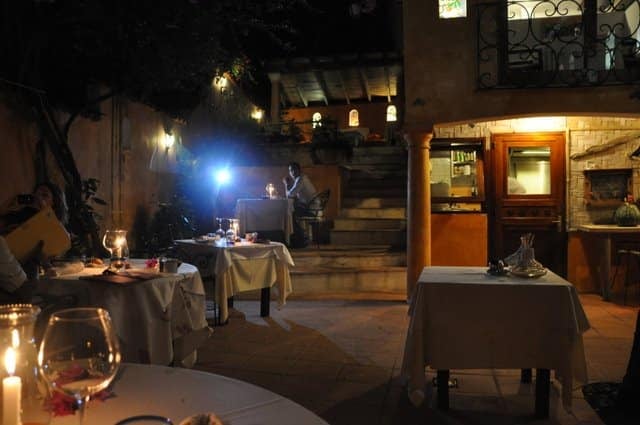 THE SOUTH OF FRANCE?
I dined here last time with my girlfriend Natalie, and we sat in the main restaurant because it was supposed to rain. They only have six tables total, and if someone had knocked me out and I'd woken up here, I would have sworn I was in the South of France. The only things that gave away the tropical location were a few geckos on the wall and the Tahitian paintings. The menu prices are even in euros. What's interesting is that the men get the menu with prices (the yellow menu). The women get the green menu, sans prices. What's even more interesting is that the chef comes around and takes your order, as it's a two-man show–his wife serves and he cooks. There are no sous-chefs.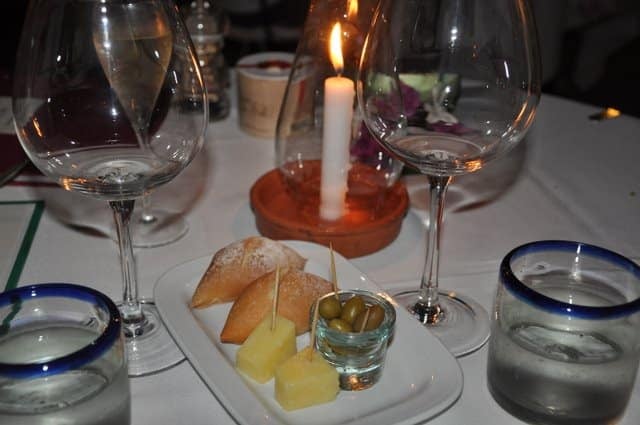 FIRST COURSE
We sat outside, listening to Peggy Lee, Louis Armstrong, and other old-timers while soaking in the ambience. I didn't think it was possible to have a better experience than last time, but sitting outside is phenomenal. The moment you try both the warm French and Tahitian loaves of bread , you know that this place is going to live up to all the hype. The Tahitian bread is baked in leaves and tastes sort of like not-thoroughly-cooked corn bread, but in a good way–it's yummy. Next, everyone gets a salad. They have one with lobster, shrimp, goat cheese, and caviar on top, or just with parmesan cheese. Then come the appetizers and main dishes.
APPETIZERS AND MAINS
For an appetizer, I had the lobster risotto, while Mark had the foie gras. For my main course, I had Damien's special roasted beef tenderloin with a red wine vanilla sauce and creamy gnocchi potatoes. The piece of beef was so big that it would've fed three people, but it was so good I couldn't let it go to waste. Mark had half portions of both the lamb and the lobster risotto. The wine pairings made it even more exquisite.
DESSERT
For dessert, the chocolate fondant with Tahitian vanilla ice cream is to die for. The restaurant only does one seating a night, so everyone arrives and departs together. The meal lasts two hours, which go by almost too fast. On the ride back in the taxi and then boat, under the bright starry sky, everyone raved about how they'd just had one of their best meals ever. My advice is to make reservations for your last night in Bora Bora at La Villa Mahana (Tel/fax: 00(689)675063, from United States dial 011 689 675063 or email damien@villamahana.com)–and do it in advance, as there's always at least a three-week wait. Sometimes they do have cancellations, so you can have your concierge try and get you in if you forget to do your homework.
HOTEL SPA
Back at the resort, I quickly learned that the most incredible views are not from your balcony but from the Hina Spa, which is perched up on a hill. One of the workers told me that the best views are between 10 a.m. and 2 p.m. Walking around up there, I thought I was in the '70s TV show Fantasy Island. I was waiting for Tattoo to shout "De Plane, De Plane," except there were no planes flying overhead.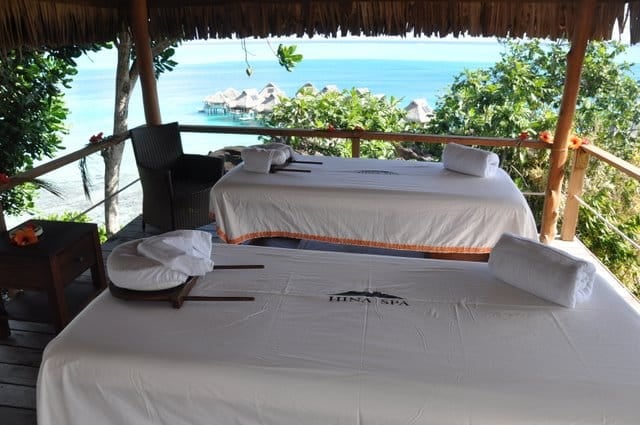 MASSAGE
The spa has three individual bungalows, all set up for couples massages, though that doesn't include their outdoor one, with a view that Ricardo Montalban would've thought was a fantasy. I had a Belgium masseuse who was good, but the spa director Tony is the one to ask for. Oil choices are vanilla, tiare, coconut, or Ylang Ylang. I went with vanilla and medium pressure (next time I will ask for strong). The room was filled with soft music, really cozy sheets, fresh flowers (including on the floor below the head pillow) and candles. It was so relaxing that afterward, I had to get a ride to my bungalow instead of walking.
WHAT TO DO
There's not a crazy amount of things to do in Bora Bora, which is why many people have nicknamed it Bora Boring. I think that's what makes it so special. But if you are really an active person, there is stuff to do if you seek it out. Obviously, there's snorkeling and diving. You can take out one of the free kayaks, go jet-skiing (WaveRunner), or windsurf, and every guest at the Hilton gets a free 45-minute catamaran sailboat ride. On land you can hit the fitness room, hike, or ride a 4×4 around Mount Otemanu. Around the hotel they have board games and a billiards table. A 10-minute boat ride away is the main town of Bora Bora, where they have local and international original art, Tahitian pearls, perfumes and oils, and wood handicrafts.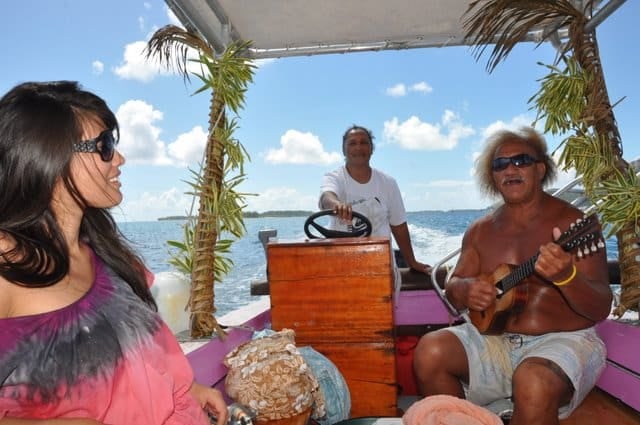 LAGOON SAFARI TOUR
One thing you definitely want to do in Bora Bora is a three-hour Lagoon Safari tour. The last time I was here I did a private tour with Patrick Tairua (US$750); the group tours are a fraction of the price. Patrick was amazing, and the couple (married couple; the son also operates a boat and tour for them) that the Hilton hotel uses for their private tours was almost as good. Actually, they were just as cool, and they picked us up in an equally decked-out boat.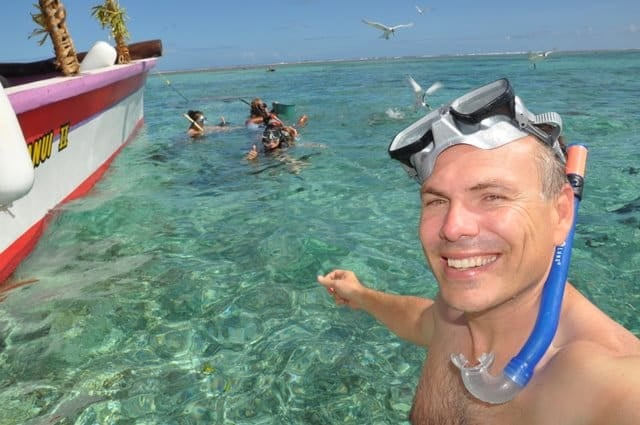 SHARK FEEDING
What's nice about this tour is that they don't take you on any crazy-long rides, though that wouldn't be bad, since cruising along the calm waters, taking in the multiple shades of blue in the ocean and sky, is magical. The first stop was about 12 minutes straight out of the hotel towards the barrier reef. We all watched in amazement as the man set up a rope that we could later hold on to and not go past as he chummed for black tip reef sharks and a few stingrays. I was the first in the water, and I wasn't scared since I've done it before, but these sharks were a little bigger and they were within a foot of me. We all stayed behind a rope and held on since the current was a bit strong. After he stopped throwing the bait fish, we swam past the line.
CORAL GARDENS
We then jumped back in the boat, put on our flippers, and rode about 100 yards or more in the shallow water to an area they call the coral gardens. Snorkeling through this was without a doubt the best snorkeling I've ever done, as the coral was so colorful and bountiful. The fish weren't too bad either, but they have more fish in the Great Barrier Reef. The only thing I didn't like was the wife walking on the coral in her flip-flops. She said it was OK, and nothing broke off, but I found that disturbing because I was always told not to touch the coral. I also didn't like that, unlike most tour operators, they didn't tell our group to respect the coral.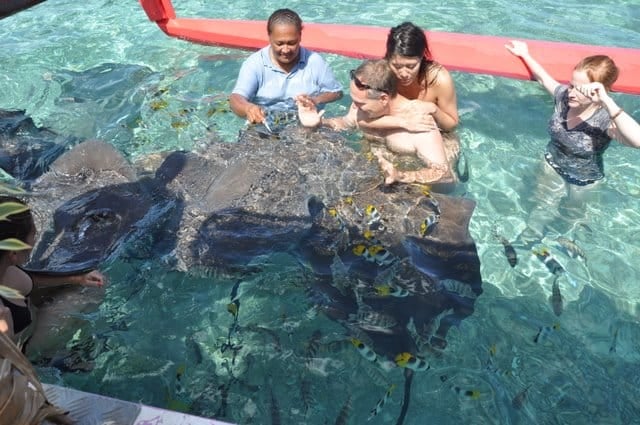 STINGRAY FEEDING
Our last stop was to feed the stingrays. Some were a little uneasy about getting into the warm three-foot-deep blue water, especially considering what happened to the Croc Hunter. However, our guide assured us that the stingrays wouldn't hurt us unless we grabbed or startled them, which is supposedly what Steve Irwin did. I remembered Patrick, the other guide, telling me: If you're walking down the street and a stranger wraps his arms around you from behind, what would you do? You'd shake him off, any way possible. That's supposedly what happened to Steve Irwin. We then were showed the proper way to pet them (they feel like wet velvet) and shoo them, by holding your hand out flat and pushing off gently from their nose (see my video below).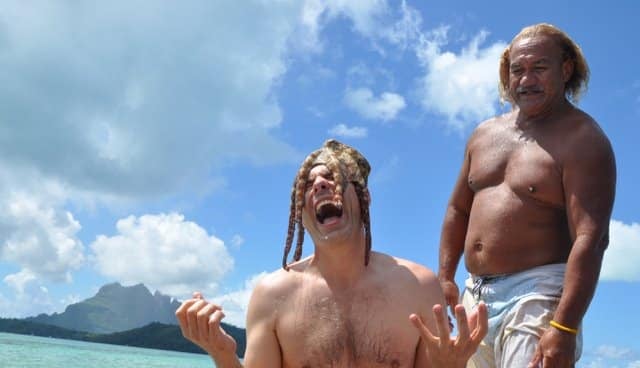 OCTOPUS ON MY HEAD
Our guide seemed to know all 20 of the stingrays' names–and they sure seemed to love him. He was a total trip, kissing them all, and when one of the girls freaked about their tails brushing up against her, he put one tail in his mouth to show it's okay. If that wasn't crazy enough, he then found an octopus and put it on his face and then on ours. The sucker suctioned my face during the photo op, but it didn't hurt. On the way back to the hotel, his wife drove the boat, he played the ukulele, and we danced. The tour was amazing, just like my entire trip to French Polynesia.
SIDE NOTES
-The nearby Bora Bora St. Regis hotel is where they filmed the movie Couples Retreat
-Currently, the currency conversion is US$1 = 91.6 XPF.
-When I book my trips, I always consult with my Tahiti Islands travel agent, Jean-Louis Delezenne (meherio@yahoo.com).
-Buy Tahiti & French Polynesia Guide
VIDEO
Here are the two-minute Johnny Jet videos of my previous trips to French Polynesia. We have also posted on YouTube all the Johnny Jet videos ever made.
Tell us what you think of this week's newsletter!
WEB RESOURCES:
Note: This trip was sponsored in part by Hilton Bora Bora Nui Resort & Spa