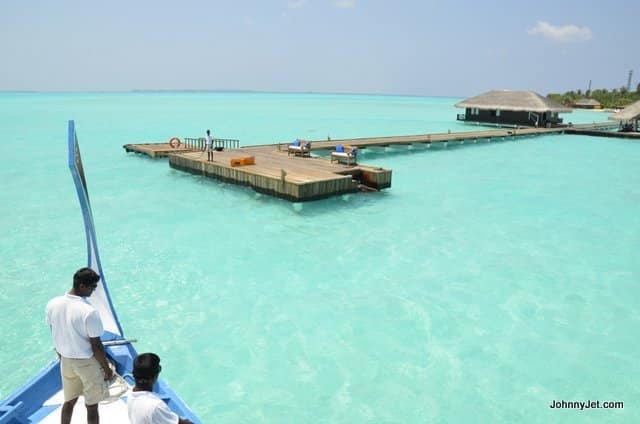 I just spent three unforgettable nights in the Maldives at Taj Exotica Resort and Spa as a guest of Taj Hotels. The lush, tropical, 56-acre island is what dreams are made of and the moment your boat pulls up, I can promise you your jaw will indeed drop. That's why it's one of the ultimate vacation destinations in the world. Here are 20 reasons you should visit:
1. Location
After flying halfway around the world, the last thing you want to deal with is getting on a small float plane or a long boat ride — especially if there's bad weather. What's nice about the Taj Exotica is that a few minutes after you land at the Malé airport, you will be whisked away in a speedboat (available 24 hours) for just a 15-minute, 8-kilometer jaunt. The resort is located on the exotic Emboodhu Finolhu Island (which used to be called 'Three Coconut Island'), in the middle of one of the largest lagoons in the Maldives.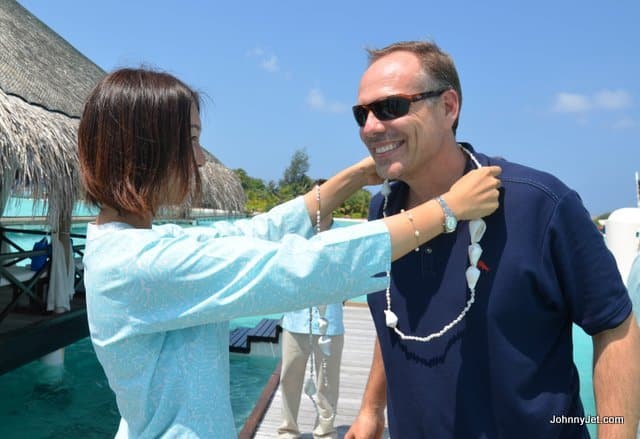 2. Arrival
The moment you collect your belongings and clear customs, your worries will disappear and you can stop thinking because a Taj representative will be waiting to escort you to the boat. Guests are greeted with a shell necklace, alcoholic or non-alcoholic drink and cold towels when they step foot on the island. And that's not including the cold towels and bottled water you get on the boat ride over. Returning guests and VIPs even get a band and a rose petal shower greeting.

3. Overwater Bungalows
Taj Exotica has 54 overwater bungalows that have a plunge pool on their balcony. If you don't want to see the shimmering lights of the capital city of Male off in the distance, then request an odd numbered suite since you then get unobstructed views of the Indian Ocean and a bit more privacy.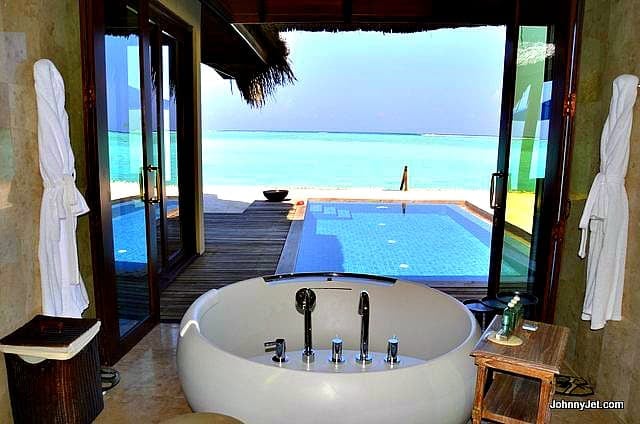 4. Rooms
The island has 64 rooms in total in eight different categories. Natalie and I were in a premium beach villa with a pool, which is a category four suite, but in my book, it was a number one. For starters, it has a private pool, hammock, lounge chairs, a day bed, a bathroom with his and hers sinks, indoor and outdoor showers, Molton Brown toiletries along with other bathroom amenities and the most comfortable bedding I've ever slept in, made by a company called Ploh.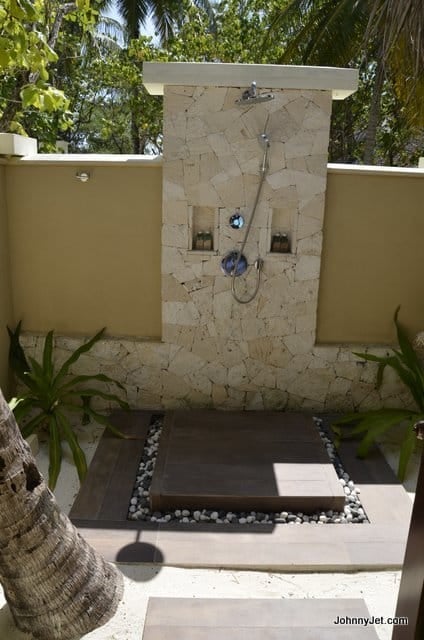 5. Outdoor Shower
I've been fortunate enough to have rooms around the world with an outdoor shower but it's safe to say this is my new favorite. The design is easy on the eyes just like the water and there's plenty of privacy. The stone pathway keeps your feet sand- and dirt-free and they have reusable Molton Brown toiletries (though Natalie wasn't a fan of the hair conditioner, which she said didn't detangle her hair well.)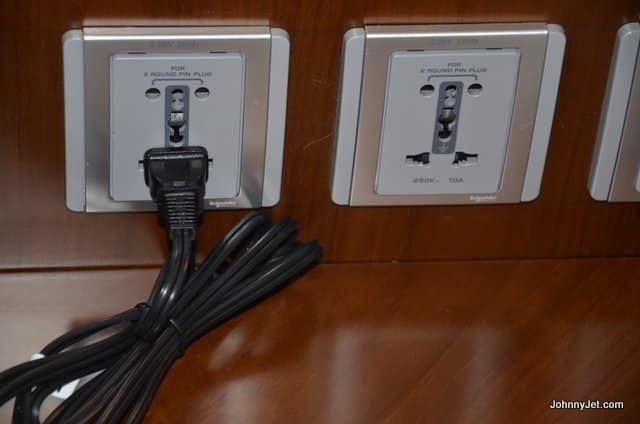 6. Room Details
There's no need to bring electrical adaptors or converters as the rooms have plenty of multi-pronged outlets. The closet has two types of robes for guests: one thick and fluffy to keep you warm and the other a light cotton one, perfect when you want to stay cool. There were also rain jackets for the monsoon season.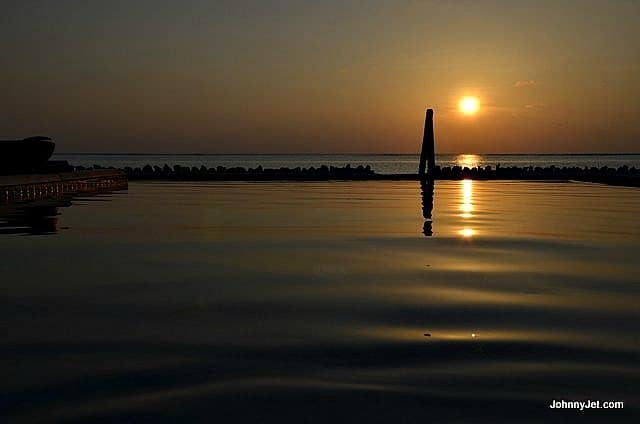 7. Views
I woke up every morning so I could witness the sunrise from bed. It didn't actually break the horizon until 6:15am but the sky began its wonderful transformation around 5:30am. The sunsets were equally impressive and there's nothing like starting or ending your day with those gifts from Mother Nature.
8. The Water
The vibrant turquoise color of the water is ridiculously beautiful and warm at 87°F (31°C).
9. Water Activities
Guests can pretty much do any type of water sport. I saw people jet ski, wind surf, stand up paddle, parasail, waterski, go for banana boat rides … but the real treat is diving or snorkeling. Natalie and I did the latter. The water was so clear and warm and had beautiful coral and fish. Our group even saw a black tip reef shark.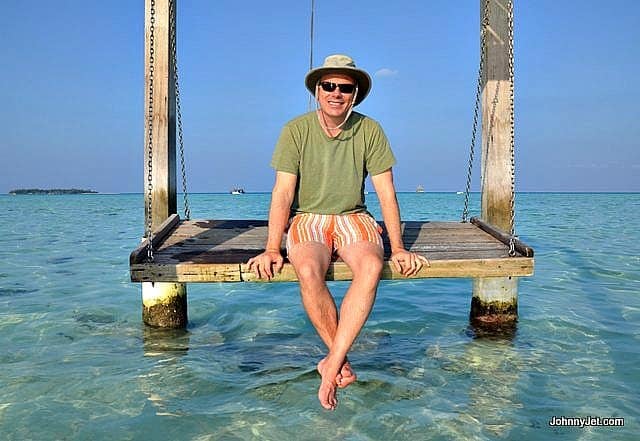 10. Water Swing
If the above activities aren't enough for you, Taj Exotica also has a water swing about 100 yards off the beach, which you can walk to at low tide.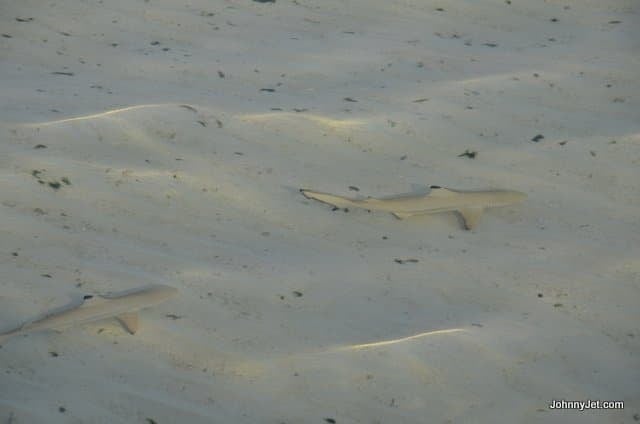 11. Wildlife
What's so cool is walking from the dock to the lobby I spotted stingrays, cornetfish and small black tip reef sharks. The resident marine biologist does a nightly feeding for both and gives an interesting educational talk. Besides the array of colorful sea life, I saw a few fruit bats a night, all kinds of birds, lizards and a couple geckos in our room. FYI: I was told there are no snakes or mosquitoes in the Maldives so no worries about Malaria. Bugs definitely weren't a problem and I didn't use my bug spray once, unlike in India.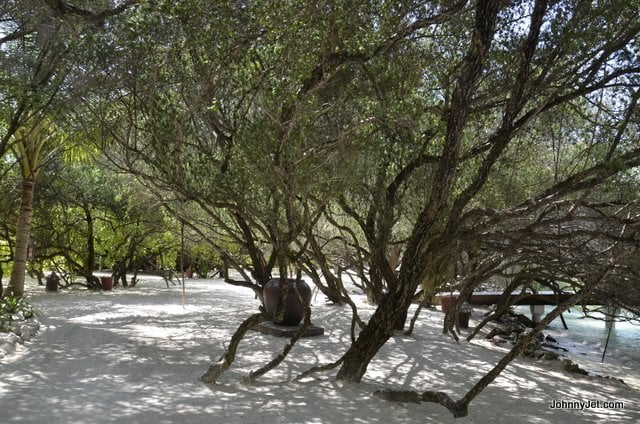 12. The Grounds
The grounds are meticulously manicured each day and the sand below the canopy-covered walkway was so white it looked like snow.

13. Buggy
If you are lazy or in a hurry you can get a ride to and from your room to wherever you are going within minutes.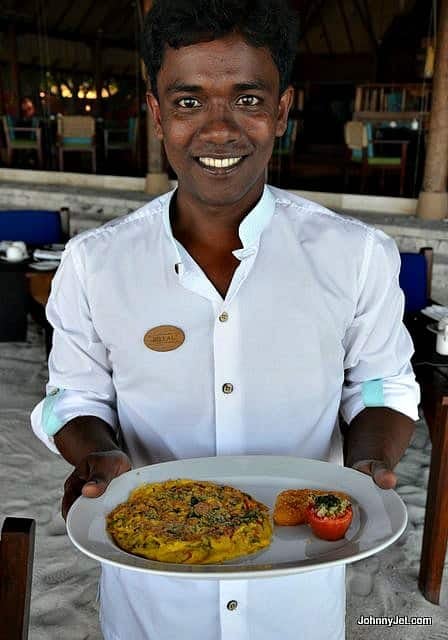 14. The Staff
There are 230 workers and all but 10 of them live on the island. They might be occasionally slow, especially in the restaurant, but they are all genuinely friendly. Of all the times I passed the workers, maybe one of them didn't greet me.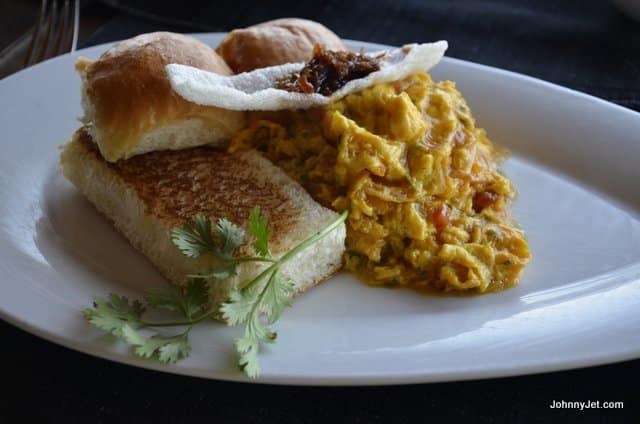 15. Food
The resort has two main restaurants on either side of the island. Deep End offers fine dining with progressive world cuisine and is only open for dinner. 24 Degrees serves all day long in an ultra-casual atmosphere – most of the tables are on the beach. The food is solid and they have a ton of dishes to choose from. I'm talking everything but Kosher food because they don't have a rabbi blessing the food. The menu has items like Australian beef cheeseburgers, chicken enchiladas, pizza, pad Thai and Maldivean Rock lobster. My favorite was pav akuri for breakfast, which is eggs scrambled with Indian herbs and spices and served with butter toasted sweet buns. There's also 24-hour in-villa dining.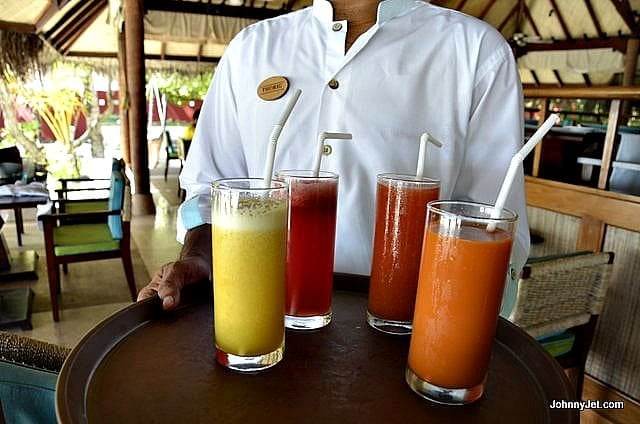 16. Drinks
If you thought the food menu was extensive wait until you see the drink list. For an island, they have quite a collection. The ingredients are 100% natural as they use cane sugar or honey for sweeteners and they use seasonal fruit (watermelon is grown all year round). The biggest drink can be found in The Equator Bar, called the Romantic Jumbo for two ($40) that is made with watermelon and lime juices, tequila, vodka and some other secret ingredients they wouldn't tell me. My favorite was the Dreamer ($11) listed under the non-alcoholic coolers, which consisted of chopped orange chunks, mint leaves, and topped up with fresh passion fruit and watermelon juice. FYI: When you land in Male, you will see signs that say alcohol and products containing alcohol (in any quantity) are restricted by law. The only place you can drink is on one of the country's 90 resorts.
17. Live Music
Almost every night, the resort has local musicians come and play. And on holiday weekends like when we were there (Easter), they had a band each night. They both played contemporary western music.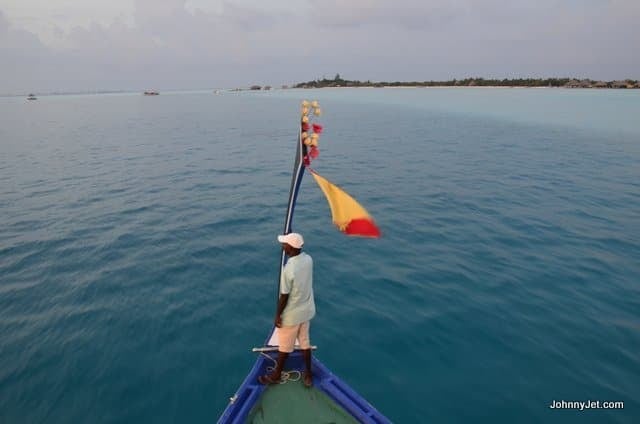 18. Sunset Cruise
On our last night, we took a traditional Dhoni boat ride and went out on a one-hour sunset cruise. Because it was a holiday weekend, they had a really talented guitarist on board and the crew served champagne, fresh fruit and canapés.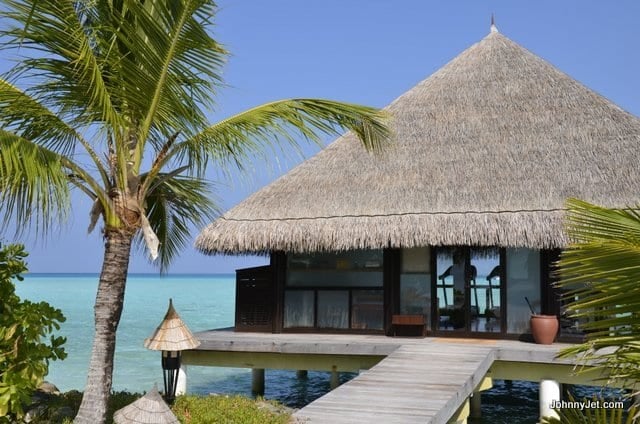 19. Spa and Gym
The Jiva Grande Spa is brand new and has a doctor who offers free consultations. Natalie got a facial and loved it, while I took one of their free 30-minute yoga classes then hit the gym that's housed in an overwater bungalow.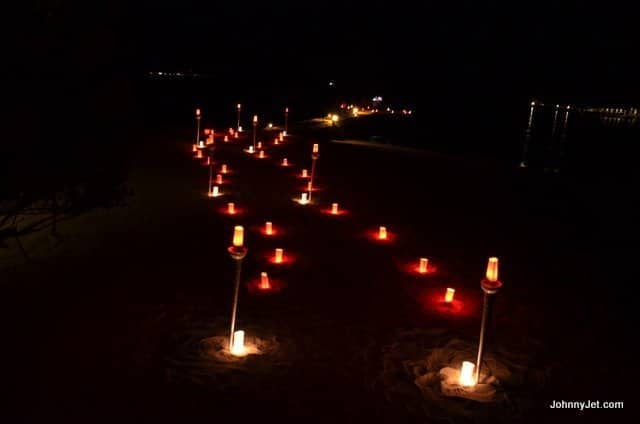 20. Private Island Dining
We didn't get to experience it personally but I did see guests dining privately in different parts of the island, including out in the middle of the lagoon. Beautiful and romantic.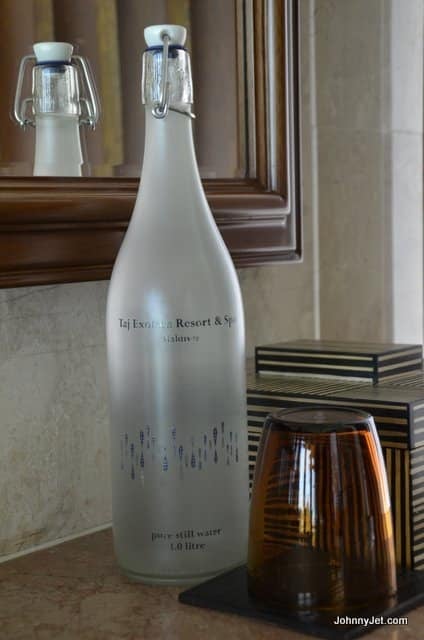 21. Eco-Friendly Water Bottles
Every room is stocked with re-usable bottles with the following message printed on the back: "In line with our endeavour to be eco-friendly, the water in this bottle is a product of the Classic Crystal purification system, and the bottle is re-usable, saving Alila Villas Hadahaa from disposing of about 100 000 plastic bottles each year."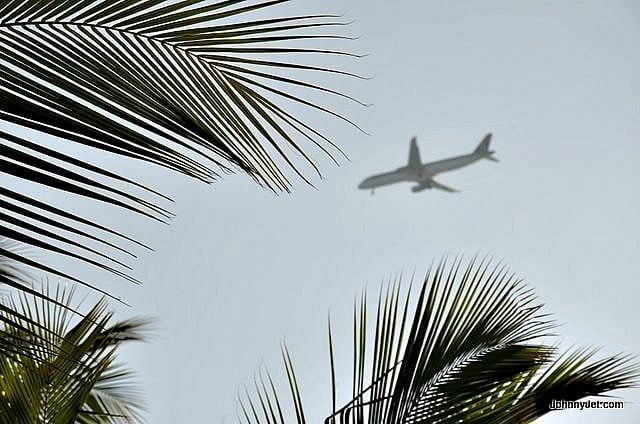 22. Plane Spotting
I love watching planes take off and land and here you can do it from your own bungalow. You only see the planes land so it's not loud unlike the noise of planes taking off. I learned they have six flights a day from the Middles East (Qatar, Emirates, Etihad, Oman Air), a number from Asia like Air India, Sri Lanka, Singapore and some from Europe like British Airways and some charters I didn't recognize. It's exciting to see them come in and land and I could imagine the smiles on those passengers' faces – I wonder if they were bigger than mine?
Good To Know
-The Maldives is way more expensive than I imagined. I know it's an island nation (made up of 1,197 islands, 200 of which are inhabited), so everything is rightly marked up but this destination isn't cheap. Rooms at Taj Exotica start at $750 a night and that's during low season (June – August).
-The resorts need to do a better job of picking up plastic bags and water bottles that float up on shore just like while I was in Malaysia.
-The airport shops list prices in US dollars and will give you change in greenbacks. It's not cheap. A simple shot glass costs $5, as did a pack of 10 unexciting postcards.
-Many Maldivians speak Italian as an Italian tourist discovered it in the 1980s.
-Here's the 10-day weather forecast for Male the capital.
-Check out more photos that will inspire you to travel to the Maldives.  
Save