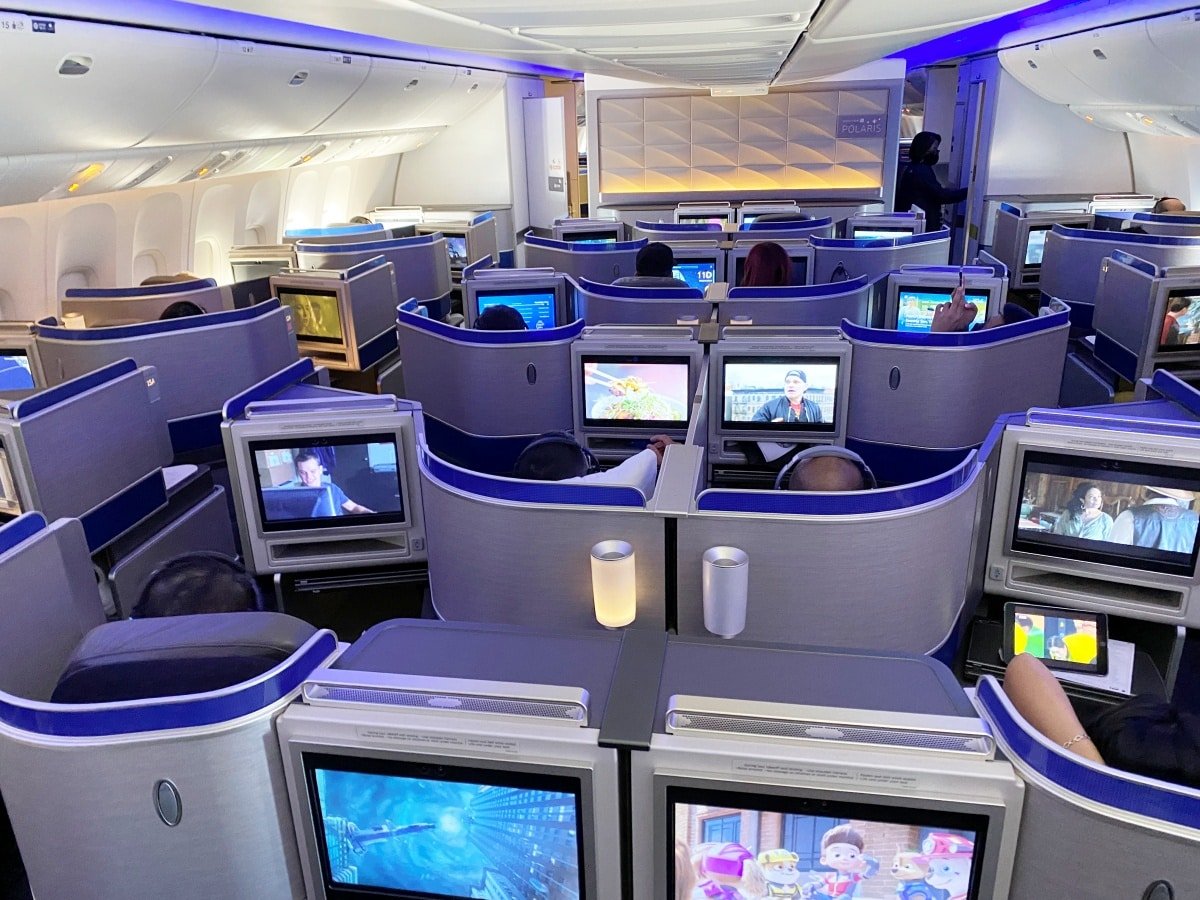 Aloha! After three long years, we finally made it back to the 50th state. It was a special trip since this was supposed to be my now two-and-a-half-year-old's first flight in April 2020 but we all know what happened. We've postponed this trip multiple times including again in early January when we had planned to escape the post-holiday blues but Omicron was raging so we pushed it to February 28.
With COVID-19 decreasing by 90%, we figured this was the best time to go. It was also just ahead of Spring Break and the mad rush of tourists who have been waiting for Hawaii's restrictions to loosen would no doubt be arriving in droves.
It was my first time flying to Hawaii since the pandemic began and there was a lot to learn, especially about uploading our CDC cards. If you're traveling after March 26th, you can disregard this paragraph but for now, everyone over the age of 5 has to either prove they're vaccinated or get a COVID test. I booked all of our tickets at once but each adult (18 and older) has to create a profile on hawaiicovid19.com/travel. I put our kids under my profile and my wife had to set up her own. Each adult has to have their own email address.
United Airlines has a virtual assistant, which worked surprisingly well. Before our flight, United sent me a text reminding me to check-in and to confirm all my paperwork so I didn't have to wait in a long verification line at HNL or quarantine for five days upon arrival. Once the agent verifies your paperwork, they will send you a QR code, which you bring to the airport either on your phone or a printed copy.
At LAX, after check-in, you'll go through security and take a hard left at the top of the escalator. The Hawaii pre-clearance line for United is not well-marked so don't rely on signs.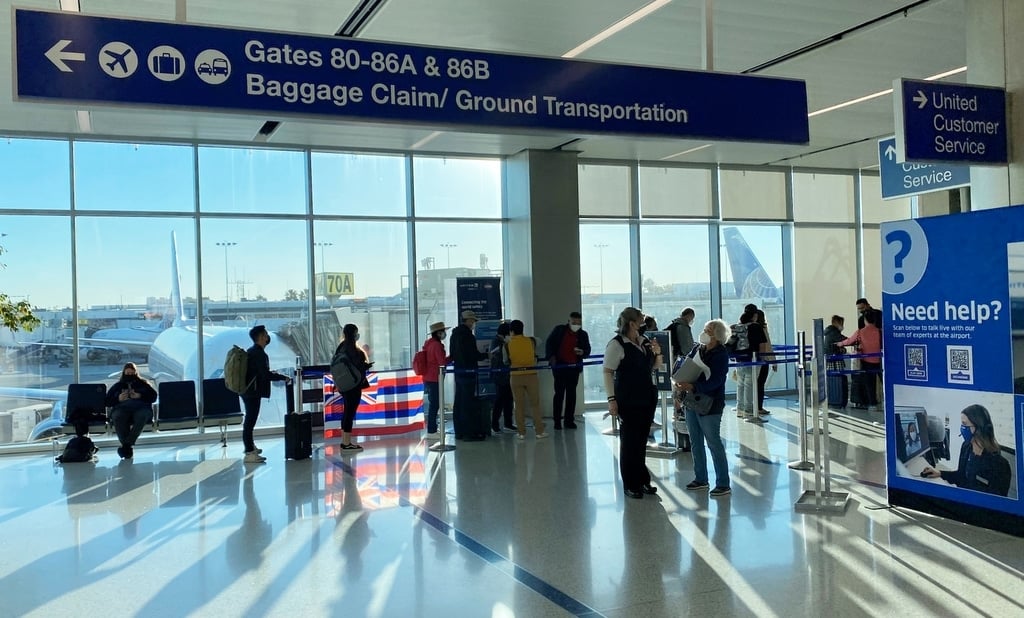 United's Hawaii Pre-Verification Line
There, they have two lines. The line for those with a green QR code is much quicker. My QR code was yellow, I'm guessing because my two-year-old daughter's age needed to be confirmed but I don't know for sure.
The line I was in was longer and the woman behind me was flipping out because one of the agents said she would need to have her CDC card and she obviously hadn't brought it. But by the time she got to the front of the line, the lone agent wasn't asking for them and after checking his clipboard, he quickly handed each passenger wristbands. Those under five don't get one.
FYI: The United agent said this verification line can take anywhere from five minutes to forty. It took us 10 minutes.
Don't Lose Your Wristband
Be sure to keep the wristband on so that when you land in Hawaii, you can exit the airport like pre-Covid times. If you don't have one, you're sent to another line where you have to have everything verified and I hear that line is much longer unless your flight is the first to arrive and you're one of the first off the plane.
FYI: I don't think every airline offers the pre-Hawaii check but I do know that Alaska, Hawaiian and United do. I'm not sure about American, Delta and Southwest but in a couple of weeks, it's a moot point, anyway.
New Hawaii Rules
Our timing was so perfect that the day after we arrived, the Governor announced that he's ending Hawaii's Safe Travel Program for U.S. travelers. So starting March 26, there will no longer be any confusing, time-consuming and tedious uploading of documents. And in the middle of our stay, we stopped having to show our ID and proof of vaccination or a COVID-19 negative test when dining at restaurants. It was also announced that the indoor mask rules will end too, on March 26th.
Here's my trip report:
Blacklane Car Service
We arrived at the airport at 6:50am for an 8:50am flight. We took a Blacklane car service since we didn't want to deal with an Uber or taxi. We also didn't want to bring car seats or boosters. Full disclosure: I'm one of Blacklane's brand ambassadors and they provide me with a certain number of rides a month. As my wife, Natalie, says, having access to Blacklane makes our trips so much less stressful since we can always guarantee they will be on time, we will have a professional driver that we can trust and they'll provide car seats for the kids so we don't have to lug them around.
First time customers: Use code JOHNNY15MAR22 for 15% off your first ride. Valid thru March 31.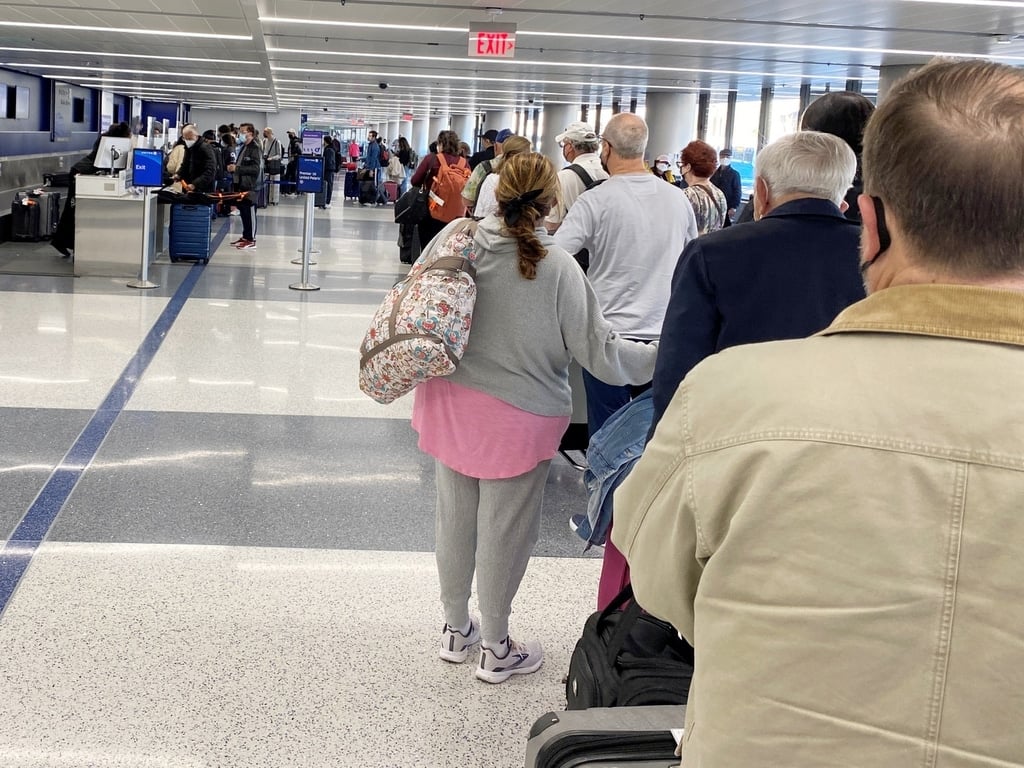 Check-In
We had first class tickets so we checked-in at the Premier 1K/First Class line, which was long but moved fairly quickly. It took 12 minutes total. Natalie and the kids waited outside until I was close to the front of the line to reduce their amount of time indoors.
Boarding Passes
United's boarding passes are ridiculously flimsy, which is disappointing since I like to keep mine and my kids' as a keepsake.
Security
Security was even quicker than check-in but if you don't get the first lane in the TSA's relatively new Automated Screening Lanes (ASLs), people keep trying to put their bins between yours. We had four bins since we each had backpacks, but I made sure no one bullied us. If everyone you're traveling with is an adult or older child, they should each take their own lane.
CLEAR
FYI: We didn't use CLEAR since that line was longer than TSA PreCheck's and by the time we "cleared", we were already through.
Grand Piano
Just past security, United has a grand piano where they encourage travelers to play. I saw one teenager play for her friends and she was really good. I saved everyone from having to listen to my son and daughter "play" for them.
Boarding
Boarding began 50 minutes before departure. Pre-boarding started at 8am and we took advantage of it since kids 2 and under are included. Normally, I like to board last during the pandemic with my kids but there was nowhere to sit in the airport without a lot of people. And Polaris customers can't use the lounge unless they're flying to New York or internationally.
I also wanted to get photos of the plane since I haven't been on a United 777 in years, if not a decade.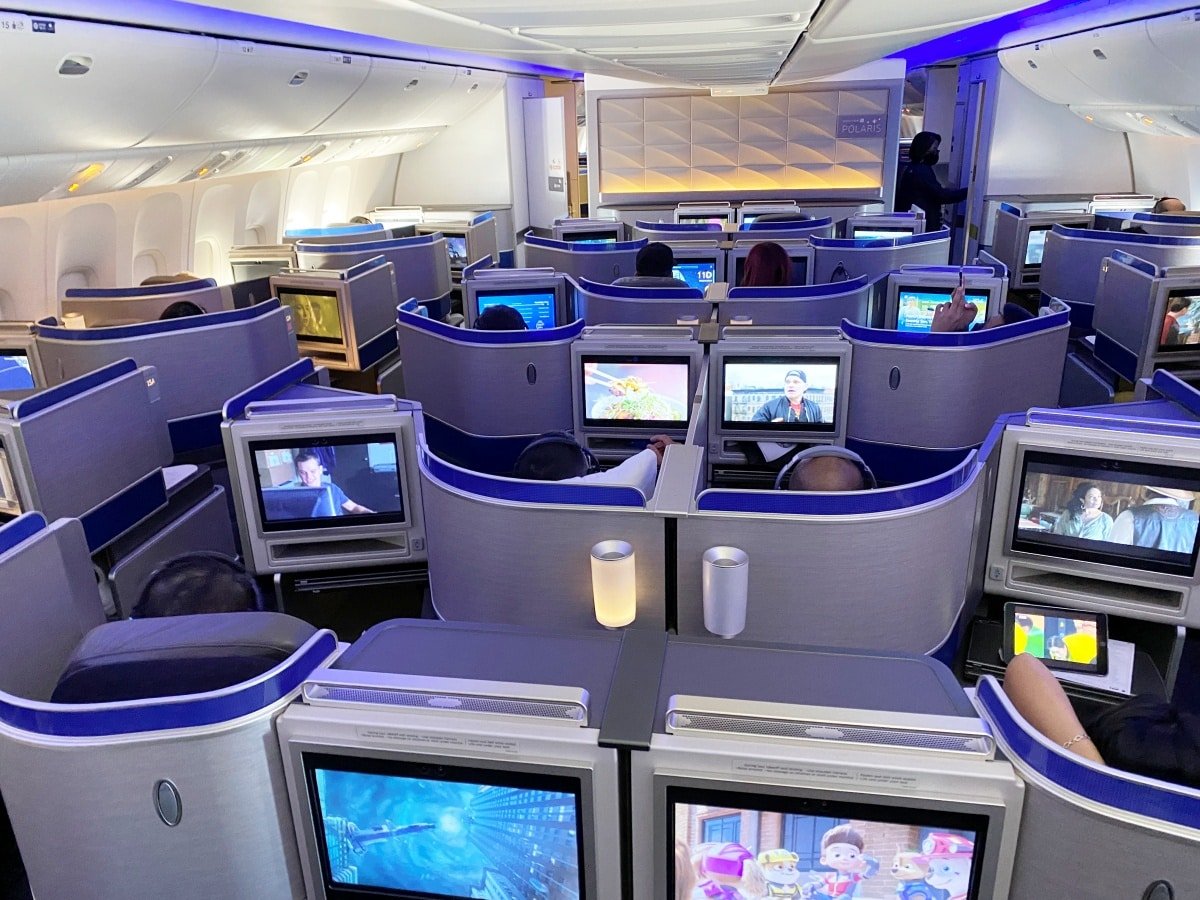 United's 777-300 First Class
I spent some time analyzing the best seats for my family. United's configuration on the 777-300 is 1x2x1 but the middle seats are staggered so every other row, the middle seats are close together while the other rows you can barely see your seatmate. In fact, you can't at all if you put the divider up.
Our Seats
Jack and I sat in the last row (18), while, Natalie and Olivia were in the seat in front of us since they were closer together. Normally, I would take the whole row but Olivia hasn't flown very many times and likes to be on top of her mommy. When they get older, I will pick the whole last row. A great alternative is the first row of premium economy but it wasn't that much cheaper.
Pre-Take Off Beverages
Pre-takeoff beverages (water) was served in a plastic cup. There were no bottles of water at the seat or handed out at any point throughout the flight, which was surprising.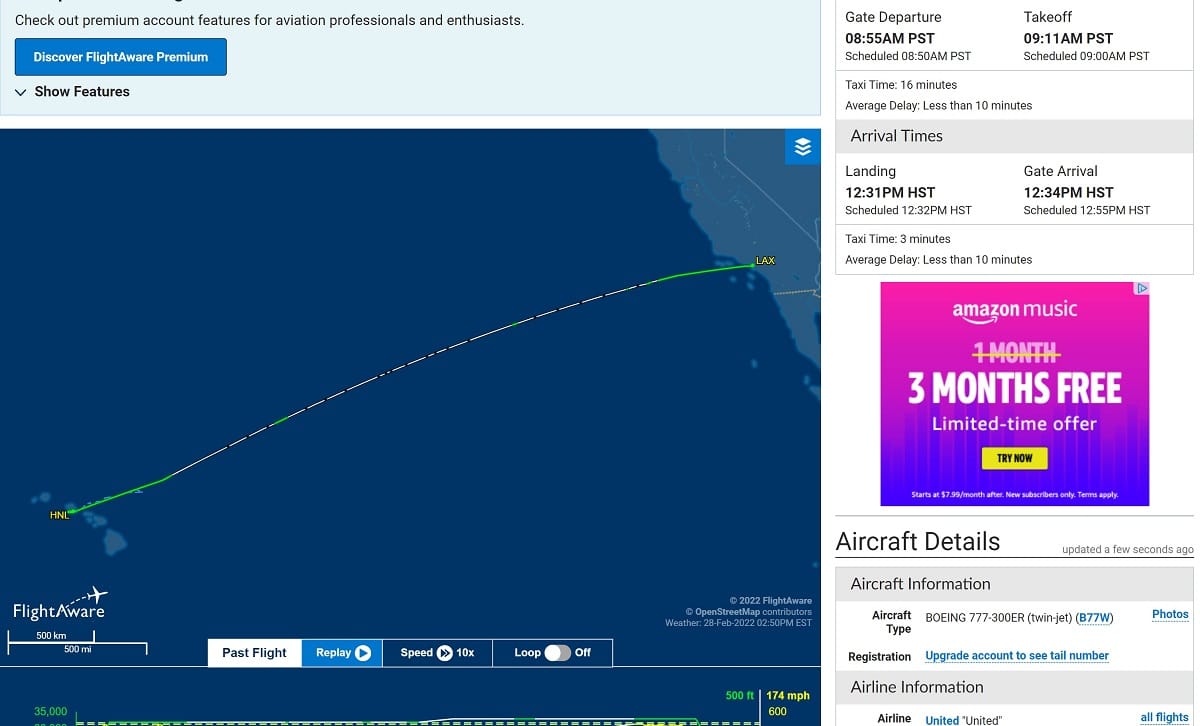 According to FlightAware (image above), we took off at 9:11am and flight time was five hours and 28 minutes.
Breakfast
I pre-ordered children's meals but the flight attendant said they don't do pre-ordered meals anymore, which didn't make sense. There were no breakfast menus and there was a choice of French toast or an egg white something-or-other. I had the French toast.
Because my son has an egg and nut allergy, the flight attendant was kind enough to get us some snack boxes from economy free of charge.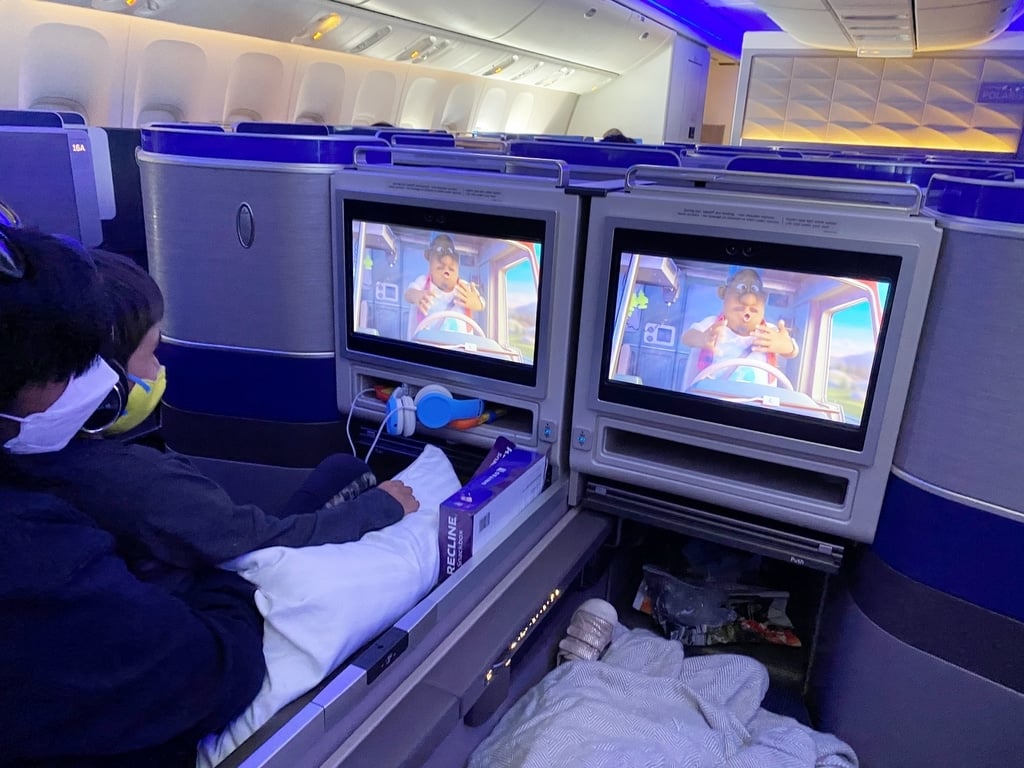 Inflight Entertainment Systems
United's inflight entertainment systems are great; Natalie perfectly synced ours so the kids could watch the same movie together. The most surprising thing was that United has WiFi and they sell it for only $8 for the whole flight. That's a deal! It worked well on my computer but wouldn't connect to my phone or Natalie's.
Hemispheres Magazine
I thought United had gotten rid of their inflight magazine Hemispheres but apparently they didn't. Leave it to my son to find it. I almost spit out my drink when I looked over and I saw him kicked back, reading it. The funniest part is he can't read yet but you would never have known.
Sleep Time
The best thing about booking first class on this plane is that the seats turn into 78-inch, lie-flat beds. I didn't sleep but my daughter did, which was a relief.
Chocolate Chip Pie
Prior to landing, the flight attendant came around with a mini chocolate chip pie, which was different but tasty.
Hawaii!
One of my favorite things about flying to Honolulu is about thirty minutes before touching down, you can usually spot the Big Island and Maui on the lefthand side. The pilot made an announcement so I brought my son up to the exit door to look out the window. He found it just as exciting as I did.
No Halfway to Hawaii Game
I asked the flight attendant if they still play the halfway to Hawaii game where the pilot gives passengers all the flight details and passengers guess the time we'll be halfway there. Unfortunately, the FA said they only play on occasion and it depends on the pilot. Ours wasn't into it, I suppose.
Deplaning
Deplaning was quick as they used two doors. The aisle on the left exited through door number two and the aisles on the right exited door one. My son and I met my wife in the airport since they were different jetways.
Arrival
Because we had pre-verification wristbands, arrival was easy. A person who was checking everyone just directed the way for those with and those without wristbands.
Baggage Claim
Our luggage was tagged priority but it was one of the last out on the carousel, which was frustrating. But our Blacklane driver made up for it since he was waiting for us inside; he said our luggage came out quick compared to the day before, when he said he waited an hour for his customer. Our bags took just over 30 minutes after landing but we spent a good 15 minutes on the walk from the plane to the carousel.
Blacklane Driver
Our Hawaii Blacklane driver was one of the best I've ever had and I've had dozens. He had the right car seats, he offered us cold drinks and gave my wife and daughter sweet plumeria hairclips.
Twenty-five minutes later we were arriving at the Hilton Hawaiian Village.