It's hard to believe that Christmas is on Friday! I hope you've finished your holiday shopping because it's probably too late to get most items delivered. However, some of our picks might still be available (depending on where you live) either for one-day delivery or pickup. Or, you can wait until the day after Christmas to see if they go on sale and save some cash. Scroll down for our holiday gift guides.
The excitement in our house is mounting. A few relatives have already sent wrapped presents for the kids that are now under the tree and just testing my son's patience. One way to give the kids their Santa fix, besides watching The Grinch (2018 version), Arthur Christmas and Rudolph the Red-Nosed Reindeer (check out the incredible back story of Rudolph on my Facebook page) on repeat is by downloading these free apps.
The perennial favorite is Norad Santa, which tracks Santa and has a remarkable back story since it began in 1955. They've really ramped things up with a whole new website, including adding an arcade games section. I've only played one (Santa On Skates) with my son and it's addictive! At one point, my son and I were almost fighting over the computer for the next turn.
Google has a new Santa Tracker as well, which I will test out tomorrow night with my kids.
Santa Can Come To Your House
Dr. Fauci says he personally traveled to the North Pole to vaccinate Santa Claus. "He is good to go," Fauci told children during the fifth CNN and Sesame Street's coronavirus townhall. -via CNN
Here's a feel good story: A classic Cheerios holiday commercial with a grandmother and baby gets a 2020 update. Here's the original and the 2020 version.
How to Get $50 Off Alaska Airlines Flights
I was reminded about this tip I wrote last month when Costco sent me an email with all of their promotions and this was front and center. If you're planning on flying Alaska Airlines in 2021 or beyond, here's a great way to get $50 off Alaska Airlines flights.
Unfortunately, most of the travel news is not great news so if you don't want to ruin your holiday, I suggest you wait until Saturday to read it. But here's a quick round-up, in addition to all of travel news located at the very bottom:
Countries Cut UK Off
"The United Kingdom has been cut off from much of the world after a new, potentially faster-spreading variant of the coronavirus surged across southeast England. UK Prime Minister Boris Johnson said the new variant "may be up to 70% more transmissible," but top health officials cautioned that this has not been definitively demonstrated. England's chief medical officer, Professor Chris Whitty, said the new variant was responsible for 60% of new infections in London, but stressed there is no evidence to suggest that the new variant is more deadly." -via CNN
THIS JUST IN VIA BBC: "Second "more transmissible" strain of coronavirus detected in UK, thought to be from South Africa, Health Secretary Matt Hancock says." Also: UK to suspend all flights with South Africa, & ban travel due to another new COVID19 strain found in Britain. You can expect other countries to start banning South Africa flights as well.
Airlines Offer Travel Waivers for United Kingdom
Will the U.S. follow the lead of 40 other countries like Argentina, Belgium, Canada, Italy, the Netherlands to ban flights to and from the U.K.? United Airlines issued a waiver for December 21 – January 17, 2020. Customers traveling to, from or through London (LHR) are permitted to make voluntary changes to their plans within the parameters provided. Others will follow if they haven't already. We have direct links to every airline's travel notice page here.
U.S. Airlines and Hotels to Most Likely Receive Long-Awaited Relief as Part of New $900 Billion Aid Package
"The $900 billion coronavirus relief deal delivers the airline and hotel industries some of the top requests on their respective holiday wish list. Just as before, airlines get the biggest prize." Congress reached a deal for $15 billion in additional payroll relief to the airline industry. -via Skift
United Airlines
However, Scott Kirby, CEO of United Airlines says re-hires will only be temporary: "Importantly, though, we don't expect customer demand to change much between now and the end of the first quarter of 2021. United has been realistic about our outlook throughout the crisis, and we've tried to give you an honest assessment every step of the way. The truth is, we just don't see anything in the data that shows a huge difference in bookings over the next few months. That is why we expect the recall will be temporary. But as we've said before, we do see the light at the end of the tunnel."
What You Need To Know About JetBlue's Companion Pass
JetBlue is launching several changes that can make flying the discount airline more rewarding in 2021. For starters, frequent flyers can enjoy a "companion pass." There are also TrueBlue Mosaic status changes that are worth glancing at. Here's what you can look forward to in the coming months from JetBlue.
What you need to know about JetBlue's Companion Pass and the 2021 Mosiac Status changes.
CDC Looks into Death of Man on Flight From Orlando to LAX
"United Airlines has given information about other passengers to federal health officials after a man who possibly had coronavirus-like symptoms died shortly after being on a flight Monday from Orlando, Florida, to Los Angeles." United also said "the CDC did not specify the man's cause of death, and United does not know whether it was COVID-19. But, the airline said, the man's wife was overheard telling an emergency medical technician that he had shown symptoms of the disease, including loss of taste and smell." -via Travel Industry Today
Senate Report Faults FAA & Boeing For Failures of 737 Max
Boeing and the FAA continue to ruin their once golden reputation. "Among those "lapses" is the claim that Boeing officials were allowed to improperly influence the outcome of tests of the aircraft's faulty flight control system, known as MCAS. The system software, while intended to keep the plane from stalling, has been blamed for forcing the plane into nosedives that pilots have struggled — and in the case of the two crashes, failed — to recover from." -via NPR
U.S. Airports See Rise in Traffic
More than 5 million people have passed through U.S. airport security checkpoints in the past five days in a sign that public health pleas to avoid holiday travel are being ignored, despite an alarming surge in COVID-19 cases.
VIDEO: Trump Official "Avoid Travel If You Can"
2:40 into this ABC News interview, Trump coronavirus task force member Adm. Brett Giroir says "avoid travel if you can." It's not so much that planes aren't safe, it's that your mixing with a different bubble and we now know over half the people that have COVID-19 and can spread it are asymptomatic. -via MSN
American Airlines Fights Back
CrankyFlier.com writes, "There was a lot going on with American this week. First, it took a swing at several airlines. Starting in April, it will fly Dallas/Fort Worth to Long Beach once a day, going up against Southwest's new Love Field flight. It will also bring back Phoenix to Anchorage, something it hasn't flown since 2019 but a route that Alaska just announced it would fly year-round. (This one is admittedly the least retaliatory.) Lastly, in response to JetBlue's decision to go into Miami, American announced it would fly Fort Lauderdale to Boston, JFK, Los Angeles, and Port-au-Prince (along with Austin-Orlando, just for kicks). At the same time, it's upgauging LA to Miami to have several more 777 flights per day. It's going to be a bloodbath for awhile."
FAA Fining Passengers Refusing To Wear Masks
"Federal officials said Friday they are seeking civil fines of $15,000 and $7,500 against two airline passengers accused of assaulting flight attendants for telling them to wear face masks." -via USA Today
New South Wales to Require Non-Qantas Crews To Quarantine In Hotels
This is going to make flight crews not want to fly to Australia but I'm surprised this already wasn't in place. "To date, the relaxed quarantine arrangements for international airline crew have been a weak point in Australia's otherwise stringent border and quarantine rules. All other arrivals have to spend 14-days under guard in a guarded quarantine hotel." That's about to change.  -via Simple Flying
Marriott Announces Covid-19 Testing Availability and Optional Health Protocols for Groups
Marriott International is trying to bring meetings and conventions back safely and they're doing it by offering attendees:
Self-administered COVID-19 tests taken by the guest prior to travel
COVID-19 testing administered by a third-party testing provider on site at the hotel
Daily and/or pre-arrival health screening questions via a dedicated mobile application
Daily temperature checks to enter the event area
Available at Gaylord Hotels and Resorts in Florida, Tennessee, Texas, and Colorado as soon as January 2021. In the weeks that follow, the health protocols are expected to be available for selection at certain other Marriott branded hotels throughout the United States.
Georgia College Student Sentenced to Prison For Breaking Cayman Islands' Covid-19 Protocol
An 18-year-old college student from Georgia has been sentenced to two months in prison in the Cayman Islands after breaking the British Caribbean territory's Covid-19 protocol while visiting her boyfriend for a jet skiing competition, according to her family. -via CNN
Pythons Could Be on Restaurant Menus in Florida
"Turns out python may be the new chicken in the Sunshine State, because the Florida Fish and Wildlife Conservation Commission and the Florida Dept. of Health may give the green light to make the slithery creature a menu item in restaurants and at home." However, "Scientists are evaluating whether mercury levels in the snakes are at acceptable levels. Problem is … the smart money is on mercury levels being too high for human consumption, but scientists aren't sure, so they're testing 6,000 pythons." -via TMZ

Kilauea Volcano Erupts in Hawaii
The civil defense authorities warned people to stay indoors to avoid the fallout of ash carried by the winds. (NYT)
Media Mention
I did an hour long interview for Allan Karl's YouTube channel called: Jetting Around The World 100,000 Miles Every Year—Until COVID—The Journey of Johnny Jet.
Holiday Gift Ideas
–20 Gifts for Travelers Under $10 
–14 Travel Gifts and Gadgets Under $20
–The Travel Gadget Tech Expert Rich DeMuro Recommends
–The Touch Screen Crossbody Bag Female Travelers Need
–16 Great Gift Ideas for Kids
–16 Best Luggage Pieces For Every Budget
–The Best Toy Airplane For Any Kid on Your Holiday Shopping List
–Hands Down the Best Beach Toy for Kids
Rip Roy M. Wallack
I subscribe to the Los Angeles Times and I try to read it their PDF version every day, even though I'm always pressed for time. I realized I hadn't read yesterday's and I almost closed the box since it's old news but I decided at least to quickly skim the headlines above the fold. When I saw the headline "Crash kills avid athlete, writer Roy Wallack" I thought he wrote it since he often writes for the LA Times. Then my stomach dropped when I realized it was Roy who the story was about. I can't believe it. He was so full of life and I also can't believe he was 64. He was in better shape than most 24-year-olds.
Here's a paragraph from the story I wrote in 2004, when I met Roy on a press trip in Fiji. "I was bummed to learn that everyone in our group would share a room (on most nights) with another journalist. Before Bruce and Lori handed out the room assignments I was thinking, "Please give me anyone but Roy" — he seemed to be uptight. Of course, I got Roy. But having him as a roommate reminded me I should never judge a book by its cover. We got along great. He's not uptight — just intense, and in his own world. When it comes to fitness and adventure travel writing Roy is the man. He knows everything, and writes for several publications — including Men's Journal and Playboy."
We had the best time and so many laughs. RIP my friend.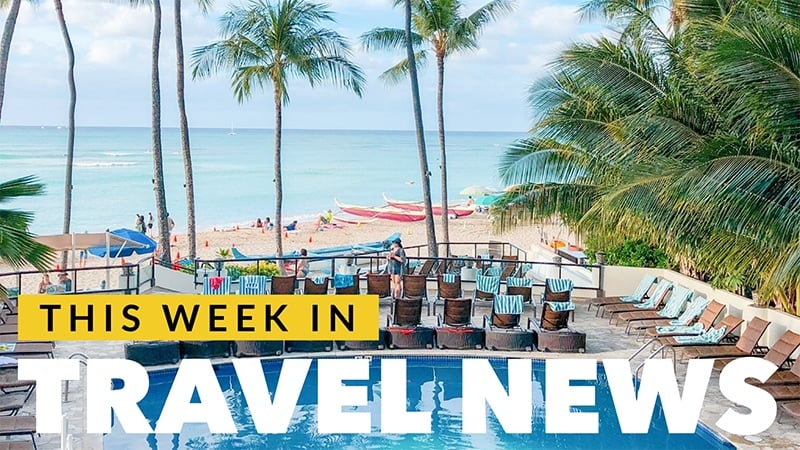 Airline and Airport News:
Boeing 'inappropriately coached' pilots in 737 MAX testing – U.S. Senate report
Alaska Airlines agrees to buy 23 Boeing 737 MAX jets
Toxic fumes on airplanes make crews, fliers sick
United and CDC Work Together on Contact Tracing Initiative for All International and Domestic Flights
American to launch Charlotte to Honolulu nonstop this spring
Cruise News:
Why Do Cruise Ships Sail Under Foreign Flags?
Holland America Line: The Only Way To Visit Alaska In 2021
Viking Announces 2022-2023 World Cruise aboard New Ship Viking Neptune
JetBlue adds Companion Pass for 2021, lowers Mosaic qualification requirements
Domestic News:
Native American Interior Secretary Nominee Presents Big Promise for U.S. Outdoor Tourism
Hawaii Gov. David Ige reduced the quarantine duration for arriving travelers from 14 to 10 days, following guidance from the CDC.
The Geffen Playhouse becomes a 'Stayhouse' to keep theater alive in a virtual format
Alaska awmaker scolds Alaska Airlines over mask policy that helps protect passengers and employees from coronavirus infection
International Travel News:
Tourist Falls To Her Death While Posing For A Photo On The Edge Of A Cliff
Machu Picchu shuts again
Canada-US border to remain closed until January next year
Ontario, Canada is creating a travel tax credit to help reinvigorate the province's tourism industry when COVID-19
Italy ordered a nationwide lockdown for the holidays amid a surge in coronavirus cases
Hotel and Lodging Travel News:
Flexibility and Safety on Display at Marriott Connect With Confidence Event
The partial reopening of Hawaii's largest hotel property is expected give work back to 250 to 300 employees
Las Vegas hotel room rates appear to be significantly lower in January 2021
Miscellaneous Travel News:
Donald Trump Wants An Airport Named For Him
Dreaming of a COVID Christmas
Wearing someone else's face: Hyper-realistic masks to go on sale in Japan
If My Toddler Refuses to Wear a Mask on a Flight, What Can I Do?