This post contains references to products from one or more of our advertisers. We may receive compensation when you click on links to those products. For an explanation of our Advertising Disclosure, visit this page.
Have you ever wondered when to transfer Chase Ultimate Rewards® points to Chase travel partners? You should, as these points can be incredibly valuable and can be redeemed for award travel in two very different ways.
First, you can redeem your points for travel reservations made directly with Chase's Ultimate Rewards Travel Center. In addition, you can transfer your Chase points to airlines and hotels and then book your award travel through these third-party loyalty programs.
Credit Cards That Earn Ultimate Rewards Points
To stretch your points as far as possible, should always investigate both options before making the decision.
Redeeming Points Through The Chase Ultimate Rewards Website
Chase allows cardholders to redeem their Ultimate Rewards points directly for travel reservations using their Ultimate Rewards travel portal. This is the only travel rewards option for holders of the Chase Freedom and regular Sapphire cards, and these points are only worth one cent each towards airfare, hotels, car rentals, cruises, and "activities."
However, holders of the Chase Sapphire Preferred® Card and Ink Plus cards receive 1.25 cents per point redeemed through the Ultimate Rewards travel portal. Plus, you will get an even better rate with the Sapphire Reserve. Note that your Ultimate Rewards points won't expire as long as you keep your Chase credit card active.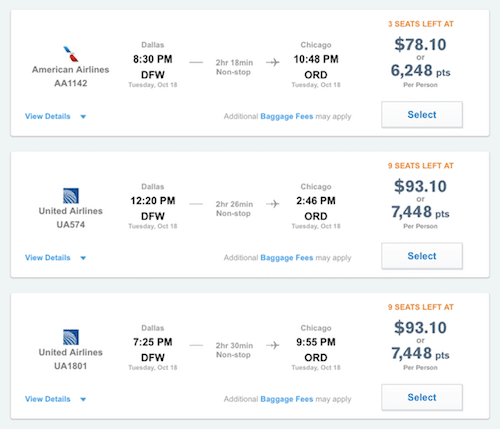 There are several advantages to using the Ultimate Rewards travel portal. First, you have a broad selection of travel providers to choose from including most (but not all) airlines, name-brand and independent hotels, and many different rental car providers. In addition, the "activities" option can include a variety of other awards such as tours, airport transfers, and admission to theme parks and other attractions.
Furthermore, you can use the Ultimate Rewards travel portal to redeem points to pay for your entire travel reservation, including any taxes and fees imposed at the time of purchase. Finally, you can use your points to pay for just part of an award and charge the remainder to your credit card.
Disadvantages to Consider
Unfortunately, there are some disadvantages to redeeming your Ultimate Rewards points this way. First, the value of your points will be fixed at 1.25 cents for Chase Sapphire Preferred® Card and Ink Plus cardholders. So, the number of points required will rise with the price of the reservations.
If you were to redeem points for a last-minute airline ticket, a premium class seat, or a hotel during a peak travel period, your points won't go very far. Another disadvantage is that their airline search engine cannot book tickets with some carriers, notably Southwest Airlines. When booking rental cars, you are unable to book one-way rentals.
Transferring Ultimate Rewards Points To Airline & Hotel Travel Partners
While there are many credit cards that allow you to redeem your rewards for travel reservations, one of the most valuable features of the Chase Sapphire Preferred® Card, Chase Sapphire Reserve®, and Ink cards is the ability to transfer Chase travel points to airline and hotel programs.
The current Chase airline & hotel travel partners include:
Aer Lingus AerClub
Air Canada Aeroplan
Air France/KLM Flying Blue
British Airways Executive Club
Emirates Skywards
JetBlue TrueBlue
Singapore Airlines KrisFlyer
Southwest Airlines Rapid Rewards
United MileagePlus
Virgin Atlantic Flying Club
Iberia Plus
World of Hyatt
IHG Rewards Club
Marriott Bonvoy
Advantages Of Transferring Your Points
There are several advantages to transferring your points to travel partners rather than redeeming awards directly with Chase. First, it's possible to get more value from some awards than you could when booking travel directly through Chase's Ultimate Rewards Travel Center. So long as you are getting at least 1.25 cents in value per point redeemed, you are coming out ahead.
For example, you can get several cents in value per point when you transfer your rewards to airline miles. Then, you can redeem those miles for premium class international awards or last-minute flights with high walk-up fares. Nevertheless, you will have to find award seats available at the lowest mileage levels in order to get the most value from your points and miles.
Furthermore, Southwest Airlines is a transfer partner. It's Rapid Rewards frequent-flier program offers approximately 1.4 cents per point in value per point. This is about 12% more than the 1.25 cents in value that you will receive from award tickets on other airlines when redeeming points through the Ultimate Rewards Travel Center.
Disadvantages of Transferring Your Points
Of course, there are several disadvantages to transferring your points to travel partners. First, you will be at the mercy of these companies when you redeem your points or miles. In many cases, airline loyalty programs will severely restrict the number of seats they offer at the lowest mileage levels.
Redeeming the higher number of miles may offer less value than the 1.25 cents per point that you receive from the Ultimate Rewards Travel Center. Therefore, you have to be sure the award you want is available before you transfer your points since it cannot be reversed.
Another disadvantage of transferring points to travel partners is the sheer complexity of it. Each of these travel partners has its own loyalty program with their own detailed terms and conditions. These programs can vary from Southwest's surprisingly simple Rapid Rewards program to the Korean Air SkyPass program which can be maddeningly difficult to use.
Finally, there are some instances where you just won't be able to receive enough value from your points, no matter how savvy you are. For example, the Marriott Bonvoy program can be great when you earn huge amounts of points from staying at their hotels or by using their credit card. But it's very rare that you will ever receive more than one cent per point in value, and just half a cent is more likely.
Take This Into Consideration
Therefore, I would never consider transferring Ultimate Rewards points to Marriott Bonvoy unless you are just a few points shy of an award that you need to book quickly. Transferring Ultimate Rewards points out to Hyatt is a better option.
When to Transfer Chase Ultimate Rewards Points to Travel Partners?
Before redeeming your Ultimate Rewards points, you should take a moment to consider all of your options. Before transferring your points to miles, be sure to take a look at the options available. Even check the points if the flights are with a different carrier. And before transferring your Ultimate Rewards points to hotel points, double-check to see if a more attractive property is available. You may find something through the Ultimate Rewards Travel Portal for a comparable number of points or less.
But likewise, you should check your award travel options through Chase's transfer partners before booking airfare through the Ultimate Rewards Travel Portal. Be sure to visit Southwest.com to determine the number of Rapid Rewards points needed. Their flights won't appear on any online travel agent's site, including the Ultimate Rewards website.
When booking hotel reservations, be sure to check the award night options with Hyatt. Hyatt offers any unsold standard room as an award night. By comparing the point transfer options to the Ultimate Rewards Travel Center, you can stretch your Ultimate Rewards points even further than you may have thought possible.
Credit Cards That Earn Ultimate Rewards Points