This post contains references to products from one or more of our advertisers. We may receive compensation when you click on links to those products. For an explanation of our Advertising Disclosure, visit this page.
The Capital One Venture X Rewards Credit Card is an exciting premium travel credit card. But, it's not the best fit for infrequent travelers and those who don't book trips through Capital One Travel. For various reasons, you might be wondering how to downgrade your Venture X to a Capital One Venture Rewards Credit Card with a more affordable $95 annual fee. Here's what you'll need to do.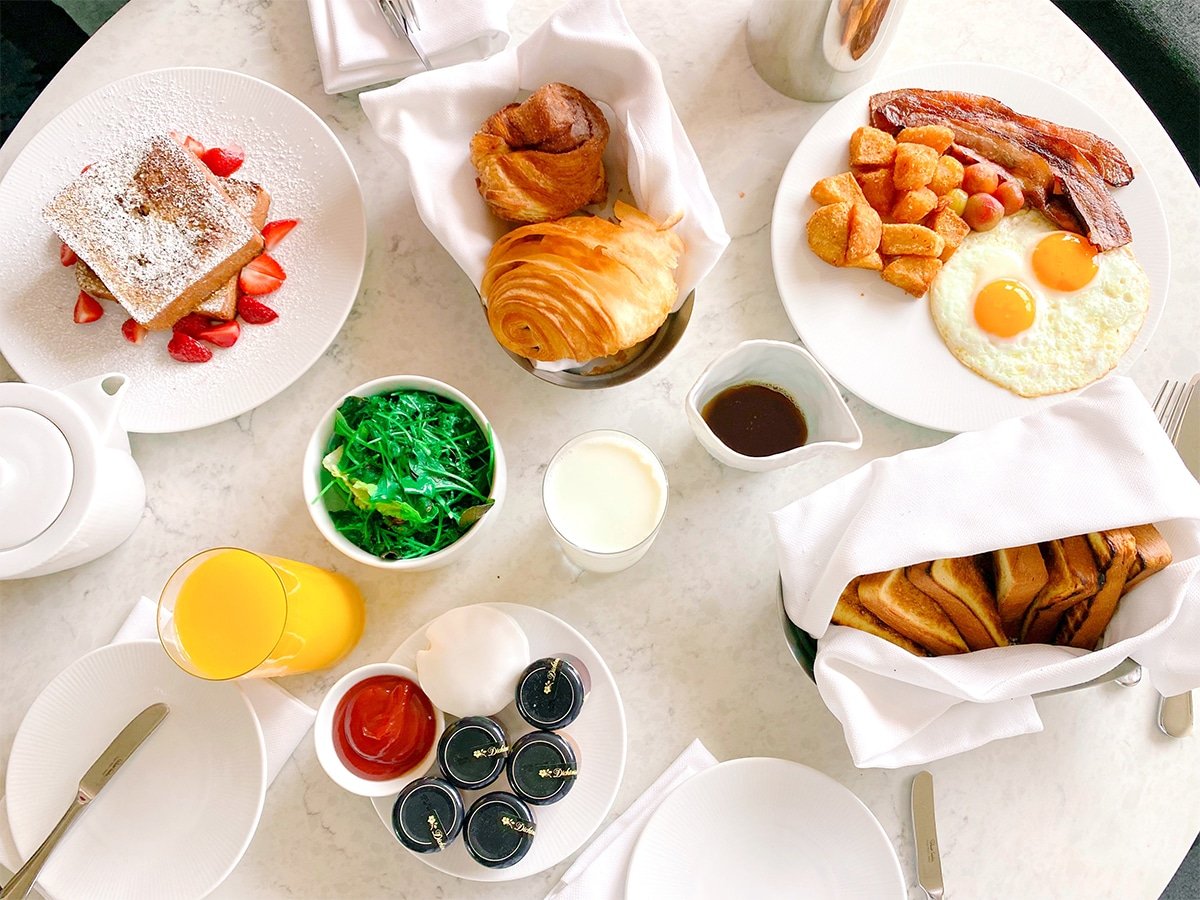 Is a Venture X Downgrade Possible?
Yes, it's possible to downgrade the Capital One Venture X Rewards to a different product. But this request isn't guaranteed. You will most likely need to wait for a product change offer when the bank determines your account is eligible for different Capital One credit cards.
Typically, you're eligible for a downgrade if Capital One sends you offers to change your card. You can also try contacting the card issuer and speaking with an agent to review your downgrade options.
Request a Change At Least 60 Days Before the Card Anniversary
Venture X cardholders are only eligible for downgrades at least 60 days before their card anniversary date.
If requesting a change during the last two months of a card membership year, you are still required to pay the $395 annual fee. Some data reports online indicate that the only way to avoid the fee is to permanently close your Venture X account no later than 30 days after your anniversary date.
This policy is relatively rigid as many banks usually refund the fee difference if you downgrade your account near your card anniversary date.
Related: Can You Have Both The Venture And Venture X?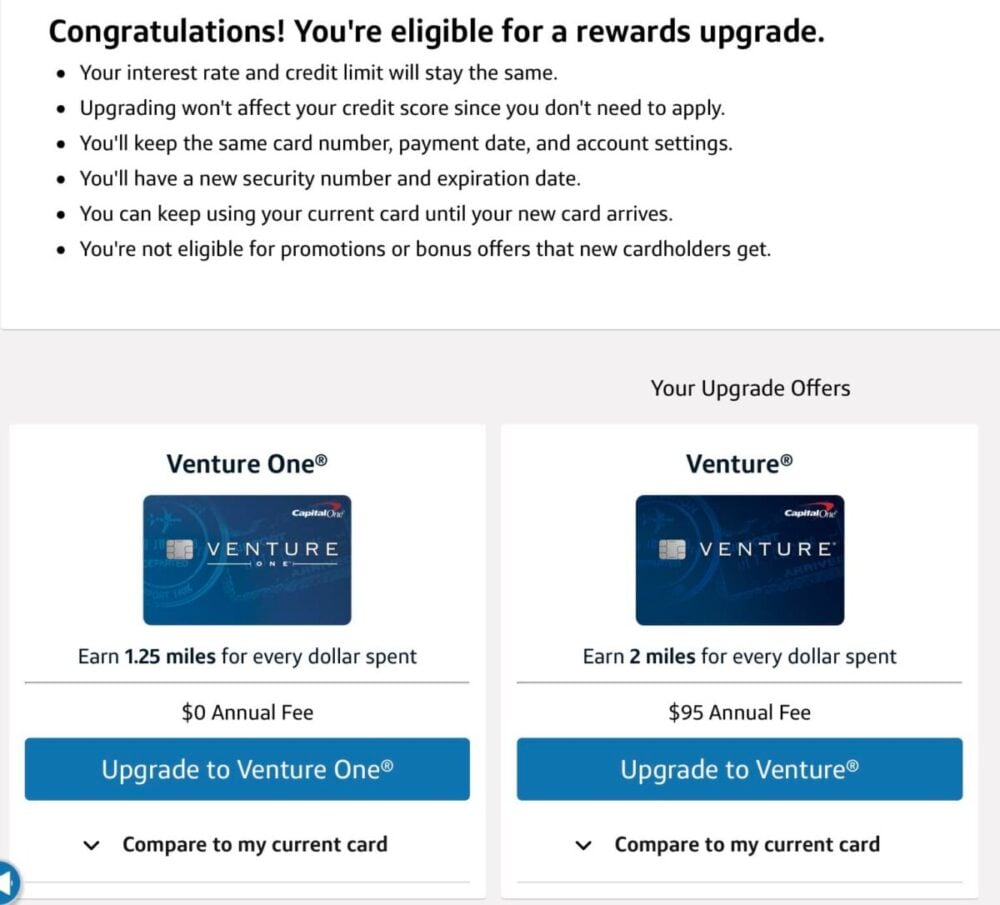 Review Capital One Offers
After logging into your Venture X Rewards account, select the "View Offers and Upgrades" option from the "I Want To…" menu.
You may see product offers for the Capital One Venture Rewards Credit Card and other cash back cards from the Quicksilver and Savor families. The options vary by customer. They depend on which Capital One-issued credit cards you currently have or previously held.
Additionally, if you're a previous Venture Rewards cardholder, you may not be able to downgrade to that product. Instead, you may need to choose the Capital One VentureOne Rewards Credit Card with no annual fee. Or a cash rewards card may also be an option.
Capital One seems to prefer a progression in card ownership instead of switching back and forth between two products.
Minimum Waiting Period
Your account will most likely need to wait at least a year before you can request a downgrade and be eligible to change your existing card account without a credit check.
Capital One doesn't publish minimum waiting period guidelines. Each request is evaluated on a case-by-case basis. But it's fair to say that the bank discourages card churning by earning a signup bonus and closing the account shortly later.
The one-year waiting period is standard for most credit card companies to avoid giving back your signup bonus.
So, if you're still in your first year of having the Venture X Rewards, the downgrade becomes possible after paying your annual fee for your second anniversary year.
For example, Live4Fishing requested a downgrade several weeks after the account opening. But, the bank representative said they weren't eligible for any current card offers. As a result, this cardholder couldn't downgrade or change products right away.
Venture X Downgrade Path
Here are some of the experiences of Venture X cardholders seeking to switch to a different product. The data points are relatively few but provide a glimpse of what to expect.
NoMoreE46 was offered a product change to either the Venture Rewards or Quicksilver Rewards in January 2022.
Telesam provides this insight after conversing with a Capital One agent, "I just upgraded 2 days ago from Venture to (the) Venture X. They told me I could downgrade to either VentureOne or Quicksilver once I upgrade but not back to Venture. I was told in past years that you can't switch between the two product lines. Things must be in transition."
So, you must wait for Capital One to offer Venture Rewards with a $95 annual fee as a product change offer. Otherwise, you can switch to a card with no annual fee if you want to build a credit history with this account before paying the $395 annual fee again.
Related: Comparison: Capital One Venture X vs. Venture Rewards
What Happens If You Downgrade a Venture X?
Here are some of the factors to consider if you switch from the Venture X Rewards to another rewards credit card.
Capital One Miles May Expire
Your Capital One Venture miles won't expire if you switch to the Venture Rewards or VentureOne Rewards family as you continue having a card in the same family.
However, you can forfeit your current points balance by switching to a product in the Quicksilver or Savor family.
If you're considering these downgrade options, you should redeem your Capital One miles first to get more value from your Venture X card membership.
No Signup Bonus
While you won't undergo another hard credit check and you get to keep your account age, you forfeit the opportunity to earn a new member spending bonus.
If the bonus points are more valuable than dodging a hard inquiry and extending your account age, closing your account and applying for a new card account is the better option. However, your approval isn't guaranteed if you don't meet the signup offer and Capital One credit requirements.
Related: Can You Receive A Capital One Venture Bonus Twice?
Build Credit History
You get to keep the same card number, credit limit, and interest rate as you're switching products instead of having multiple cards. However, your replacement card will have a different security number. You may need to update some of your auto-pay details with merchants.
As your current account stays open, your length of credit history keeps extending. Not having to switch to a lower credit limit also maximizes your credit utilization ratio which is another scoring factor.
This route also means you're preapproved for the Venture Rewards Card instead of taking the gamble of applying for a new account and hoping you get approved.
Related: How Hard Is It To Get The Capital One Venture Rewards Credit Card?
Summary
Venture X downgrades are possible but may only be available on a limited basis. First and foremost, you cannot switch to a different card if your Venture X is renewing within 60 days. Next, you must wait for Capital One upgrade offers that are viewable online. Alternatively, you can call the customer service number on the back of your card.