This post contains references to products from one or more of our advertisers. We may receive compensation when you click on links to those products. For an explanation of our Advertising Disclosure, visit this page.
You may have your eye on a travel card that earns Membership Rewards® points. It's possible to transfer American Express points to a number of different travel transfer partners. However, point transfers might only make sense if they happen quickly and award space is still available.
Knowing how fast American Express point transfers take prevents you from being stuck with a mountain of points you can't easily redeem when award flights are no longer available. Although many point transfers happen instantly, it can take a few days for a handful of partners.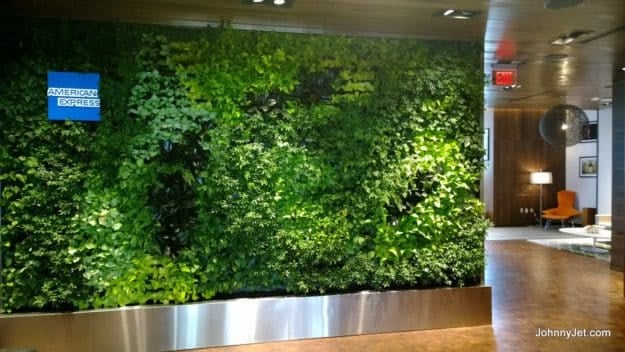 Terms apply to American Express benefits and offers. Enrollment may be required for select American Express benefits and offers. Visit americanexpress.com to learn more.
Amex Transfer Partners
Some of the Amex cards that let you transfer points include:
To save you the hassle of finding the estimated transfer times, you can check out this guide below. Plus, we also show you how to look up the estimated transfer times yourself.
While you will see that most transfer times are instant, note that there are times it can take longer. The maximum transfer time is listed in parentheses.
Airline Partners
Below are the usual transfer times for the various American Express Membership Rewards® airline transfer partners (some of which are also included in our best miles credit cards list):
Aer Lingus: Instant (up to 48 hours)
Aeromexico: Instant (up to 14 days)
Aeroplan: Instant (up to 48 hours)
Air France: Instant (up to 48 hours)
Alitalia: Instant (up to 48 hours)
ANA: 2-4 business days
Asia Miles: Instant (up to 72 hours)
Avianca LifeMiles: Instant (up to 72 hours)
British Airways: Instant (up to 48 hours)
Delta Air Lines: Instant (up to 48 hours)
EL AL Israel Airlines: Instant (up to 48 hours)
Emirates: Instant (up to 48 hours)
Etihad: Instant (up to 48 hours)
Hawaiian Airlines: Instant (up to 48 hours)
Iberia: Between 4 and 7 days
JetBlue: Instant (up to 48 hours)
Qantas: Instant (up to 48 hours)
Singapore Airlines: Within 3 days (up to 10 days)
Virgin Atlantic: Instant (up to 48 hours)
With the exception of ANA, Iberia, and Singapore Airlines, most airline point transfers are instant. However, as you can see transfers could take up to 48 hours. To play it safe, you may initiate the transfer 48 hours before you plan on booking an award flight.
Note that you can't transfer air miles back to your Membership Rewards account. Before transferring a large amount, you might try transferring the minimum number of points (usually 1,000 points) to see how long it takes for the transfer to complete.
Bonus Tip: Aer Lingus, British Airways, and Iberia all convert your Amex points into Avios miles. Try transferring your points to Aer Lingus or British Airways as those transfers usually happen right away to book a partner flight.
Hotel Transfer Partner

s

It's also possible to transfer American Express points to these hotel loyalty programs:
Choice Privileges: Instant (up to 48 hours)
Hilton Honors: Instant (up to 24 hours)
Marriott Bonvoy: Instant (up to 48 hours)
Transferring American Express Points
You must first link your Membership Rewards accounts to your airline or hotel loyalty account. After that, you can begin transferring your points. Most transfers are on a 1:1 basis and require 1,000-point increments.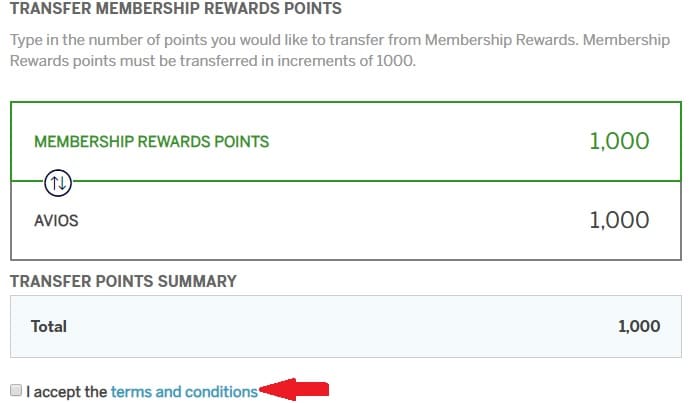 In the Membership Rewards portal, select the point transfers option. You can find the estimated transfer time for each partner by clicking the "terms and conditions" link under the point transfer calculator.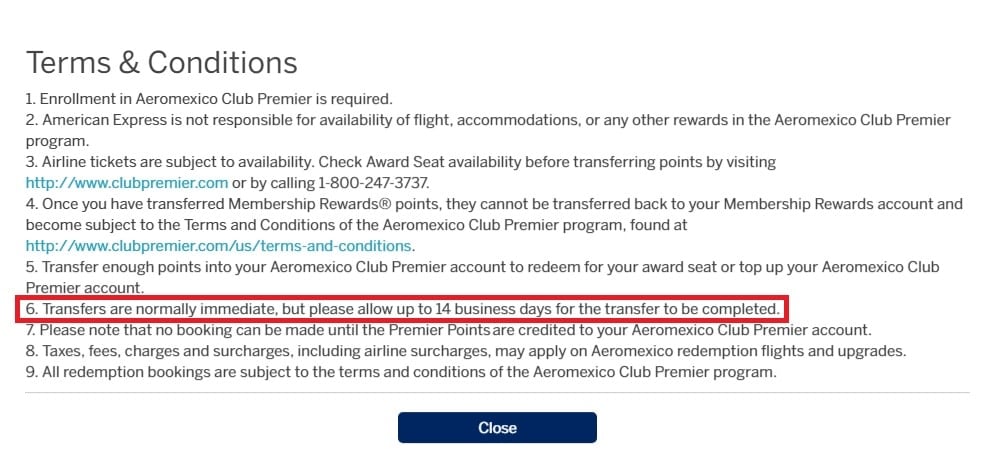 Some transfer partners have more terms and conditions than other partners. The estimated transfer time is currently one of the last items. For Aeromexico, it's line #6. Current transfers are "normally immediate" but can take up to 14 business days according to American Express.
Excise Tax Offset Fee
When transferring points to a U.S.-based frequent flyer program, you will need to pay an excise tax offset fee of $0.0006 points (up to $99 per transfer). All rewards credit cards charge this fee, including the best rewards credit cards. This fee applies to Delta SkyMiles, Hawaiian Airlines, and JetBlue point transfers.
You will need to pay this fee to complete the transfer. Amex gives you the option of either paying the fee with points or cash. For instance, the fee is $12.00 (or 2,400 points) when transferring 20,000 points.
This fee doesn't apply to any of the foreign-based airline partners or any of the hotel transfer partners.
Examples of Redeeming American Express Points
Your American Express Membership Rewards points will almost always be the most valuable when you transfer them to an airline. This is because each point is worth 1 cent each when booking award flights through AmexTravel.com. Transferring and booking directly through the airline means they can easily beat the 1-cent value.
Just make sure award space is available before transferring.
Transfer to Singapore Airlines
Singapore Airlines partners with all of the leading credit card rewards programs including Chase Ultimate Rewards® and Capital One (check out our post to learn more about how long it takes to transfer Capital One miles). This makes it easy to pool your various credit card points to book award flights.
You can use your KrisFlyer miles to fly on one of the best first-class award flights on the Singapore Suites A380 fleet. A first-class saver ticket may only cost 107,000 miles one way from Los Angeles to Tokyo.
Another option is booking Star Alliance partner flights. This is one way to book American Express points on United Airlines. One-way main cabin flights from the continental U.S. to Hawaii cost 17,500 KrisFlyer miles. You pay 22,500 miles if you book directly through United.
British Airways to Hawaii
You can convert your American Express points into British Airways Avios to book Hawaii award flights. Your two best options are flying either Alaska Airlines or American Airlines from the U.S. West Coast. A one-way flight in the main cabin can only cost you 13,000 miles plus $5.60. That means you pay as much for a roundtrip ticket as what some airlines charge for a one-way award fare.
If traveling to Europe, redeeming Avios for short-haul flights is another valuable option. Flights during the off-peak season start at 4000 Avios plus fees, like Paris to London. You won't pay a fuel surcharge on these shorter intra-Europe flights.
Virgin Atlantic
You might consider Virgin Atlantic point transfers for a posh flight from the U.S. to England. Award prices are distance-based, and the best rates are from northeastern cities like New York, Boston, and Washington.
A roundtrip "Upper Class" ticket costs 115,000 miles plus $1,410. You can access the Virgin Atlantic Clubhouse which can help you prepare for the voyage.
To save a few points, you can book a similar transatlantic route in Delta One for 90,000 miles plus a $1287.61 roundtrip in the standard season.
When Hawaii is on your mind, Hawaiian Airlines flights cost 20,000 miles economy or 80,000 miles in first class for a roundtrip fare from the U.S. West Coast. This partner option can save you a few points compared to booking directly through another airline.
Summary on How Long It Takes to Transfer Amex Points
It only takes a few minutes to transfer American Express points to most airlines. However, there are some that do take a bit longer. Plus, although it says they will transfer instantly, they still come with the fine print of "up to ____ hours/days"). To ensure that you get what you want, you can aim to transfer your points 48 hours before you book and/or try testing out the time it takes by transferring a small amount first.
Related Articles: