In 2020, the story of a man jabbing the seat of the passenger ahead of him after she reclined her seat went viral. We wrote about it here and embedded the video that the passenger posted so you can see it for yourself.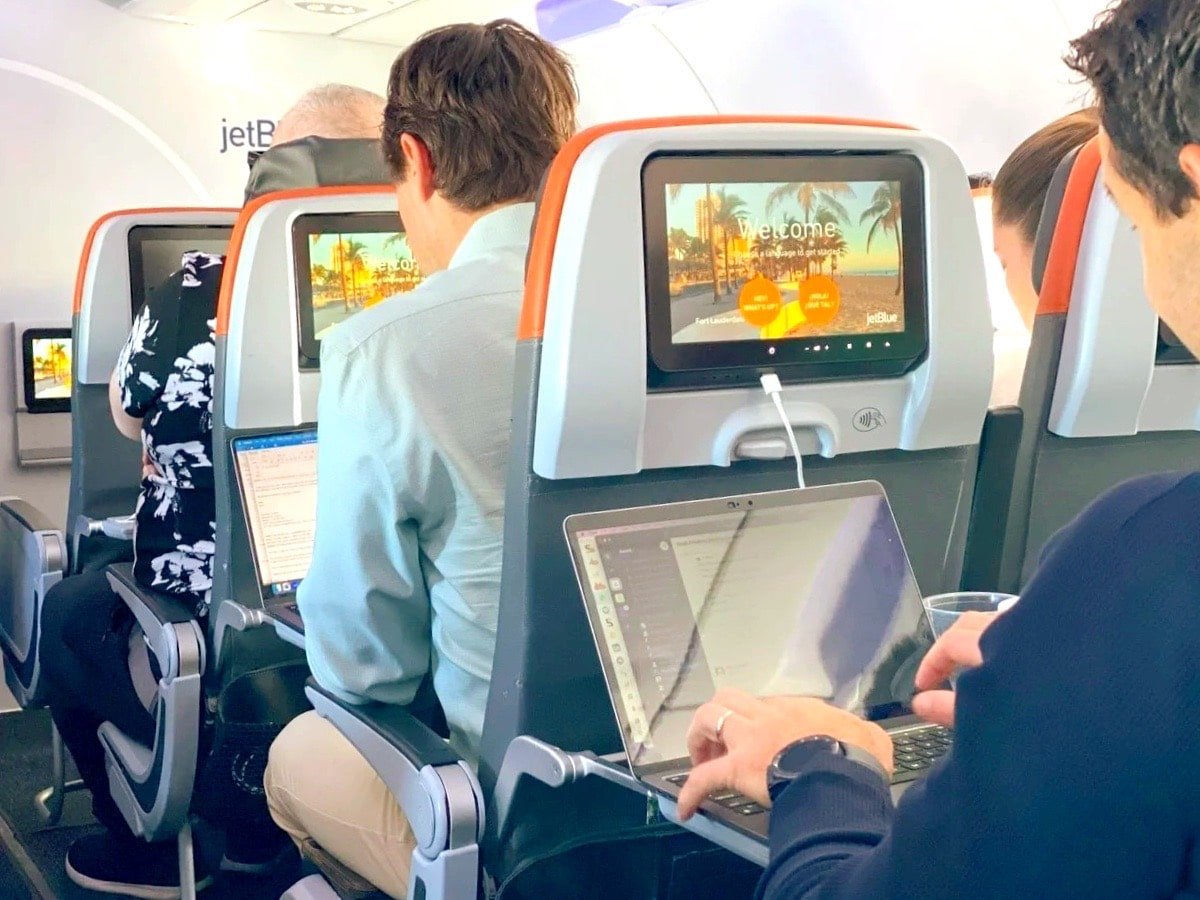 I wasn't on the flight so I have no idea what went on before the woman started recording, but in my opinion, the guy totally overreacted. I think he should have been dragged off the plane.
I know one thing for sure: If the woman had turned around before she reclined her seat to let him know, the situation probably wouldn't have escalated to the degree it did. That's the polite thing to do. I get upset when I'm working in my seat and all of a sudden the person in front of me reclines with no warning at all and their seat comes close to smashing my laptop.
Below are two photos of what a smashed laptop looks like.
More Devastating Proof of Why You Should Never Recline Your Plane Seat

Or at least why you shouldn't tuck your laptop screen into the lip of your meal trayhttps://t.co/QdpbDzaf0x pic.twitter.com/PT0wzBv09I

— Deepak Mohoni (@deepakmohoni) February 29, 2020
It happens more often that you think:
When you're a travel writer and your computer gets smashed mid-flight by someone reclining their seat and the first thing you do is take photos because you know there's a story there… pic.twitter.com/pq80nES9Oj

— Tarah Chieffi (@tarahchieffi) December 9, 2022
So, does a passenger have the right to recline? Absolutely. But there needs to be some common courtesy.
A lot of people who commented on the situation on my Facebook page and in the comments on the post said that this was the airline's fault for putting the seats too close together. I remember when all the airlines started cutting legroom, shortly after 9/11, from what was a standard of about 35 inches down to 31 inches. American was the last to cut legroom because they hoped passengers would pay a little bit more to fly American to get more legroom, but guess what? They didn't.
I have no sympathy for the guy jabbing the seat. He should have known that his seat didn't recline before he boarded. I spend a lot of time making sure I have the best seat possible for each flight I take.
He should have assigned himself a different seat, paid a few dollars more for AA's Main Cabin Extra (five extra inches of legroom), or splurged for a seat in business class. (Although these days even some domestic first class seats are so tight that they're uncomfortable when the person in front reclines.)
Bottom line: Before you recline your seat, no matter if it's a long or short flight, you should just turn around and give your seatmate the common courtesy of a heads-up. The only times I don't do that are when I wait for the person to recline and fall asleep or to go to the bathroom. When I have a lot of work to do, and I'm in a regular coach seat, I'll sometimes even pay the person in front of me not to recline. 
It seems like the days of common courtesy are over. Have I ever mentioned what irks me the most? When people talk on their cell phones or watch movies using their speakers like they're the only ones on the plane. But that's a whole other subject. 
What do you think?
Do people have the right to recline? If there's something else that irks you about traveling on planes you want to share, please leave a comment.

KEEP READING
• How to Save Money With a Secret Third Carry-On
• How to Use Your Wireless Headphones to Watch In-Flight Movies
• 10 Airport Security Hacks Every Traveler Should Know
• How to Get the Best Coach Seat on the Plane
• The Sleep Hack Every Traveler Needs to Know
• Never Get Your Valuables Stolen on the Beach
Want more travel news, tips and deals? Sign up to Johnny Jet's free newsletter and check out these popular posts: The Travel Gadget Flight Attendants Never Leave Home Without and 12 Ways to Save Money on Baggage Fees. Follow Johnny Jet on MSN, Facebook, Instagram, Pinterest, and YouTube for all of my travel posts.