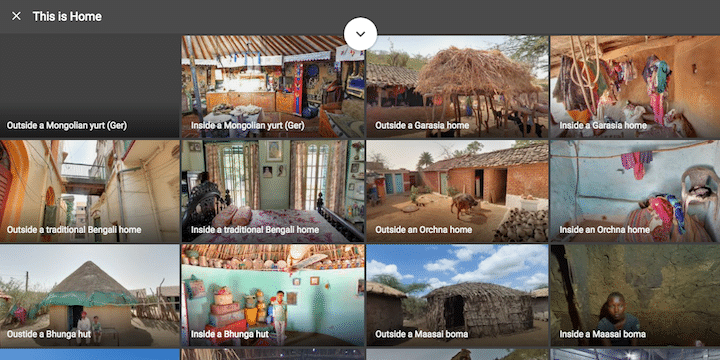 One of the best parts of traveling is seeing how locals live. It's not every day that you can tour someone's home, but if you have friends or friends of friends, or if you make friends, or if you go on a progressive tour, you just might be able to. One of my most memorable was having appetizers, dinner and desserts in different homes in the Cook Islands. Another was having tea in a St. Petersburg apartment.
Well, thanks to new technology from Google—that uses both Google Earth and Street View—you don't have to travel halfway around the world to see how other people live. You can tour various traditional homes all over the world and learn about cultures with just a click of a button.
The "This Is Home" interactive program currently has 53 homes listed on six continents. Just scroll down and click the one(s) you want to see a 360-degree view of the space. You can zoom in and out, which allows you to get up close to the artwork and even the cooking products they use.
I went inside a Bhunga hut, and like with each home there's a little pop-up window with a description. This one says, "In this Bhunga hut, meals are cooked on a mud stove and eaten in the main room during the day and the courtyard in the evening. The family spends time together in the large outdoor area, which has separate buildings for the kitchen, storeroom and more. Everyone sleeps outside on cool summer nights and inside during the winter and rainy season."
This is a really amazing addition to Google and I think the more homes will continue to be added so check back often.