Greetings from Russia! Saint Petersburg was stop number four (after Copenhagen, Stockholm, and Helsinki) of my August Seabourn Sojourn cruise along the Baltic. If you want to see pics and read stories, then what are you waiting for?!
FINALLY, RUSSIA
Russia was the one country of this seven-country Baltic cruise that I was the most excited to visit. First of all, I'd never been. Secondly, all my life I've heard stories about this mysterious country from either random conversations or the 6 o'clock news, so I was incredibly inquisitive. Since I'm not the only person who felt that way, Seabourn (and other cruise ships) usually spend more than the typical one day in port. In fact, we were there for three days and two nights. If I had had a visa, I would've spent the nights on land in a hotel to get a better feel for the city, like we did in Stockholm, but that didn't happen–as you are about to find out.
ST. PETERSBURG
St. Petersburg, Russia, is located on the Neva River, which is at the head of the Gulf of Finland on the Baltic Sea. It has a population of 4.6 million, making it Russia's second-largest city after Moscow and the fifth-largest in Europe. If you aren't that familiar with St. Petersburg, that's because it used to be known as Petrograd (1914–1924) and then Leningrad (1924–1991).
HELSINKI TO ST PETERSBURG

From Helsinki it was just a smooth overnight (185 nautical miles) trip to St. Petersburg. When I awoke at 6 a.m. we were just pulling up to the port. I rubbed my blurry eyes to see that the weather was perfectly clear and about 70 degrees. We first passed a shipyard, then some military boats, and finally docked across from an Eastern Orthodox church. I felt like throwing my clothes on and just running off the ship to go explore, but there are protocols when cruising in Russia.
RUSSIAN VISA
All boats that arrive in St. Petersburg, like at any other international port, need to be cleared by customs. Once that was taken care of, only those who had sent their passport to the Russian Embassy and spent $140 (minimum) to receive a tourist visa were free to come and go off the ship. Like most of the other passengers, I didn't get a visa–instead I went with the semi-free route: those passengers arriving by boat can get into the country without a visa as long as they are on an escorted tour. It's one way to help boost the local economy, right?
GOING THROUGH PASSPORT CONTROL
To get through passport control we didn't wait more than 15 minutes. However, a huge Spanish ship arrived after us, and their lines were really long. The good news is, once you're stamped you don't need to wait in long lines–it's the same when you return to the boat (you do need to return the red card they give you).
RANDOM VISA CHECKS
When the tour is done, you need to go back to the ship. However, I heard that some people in the past have just gone for a "walk," so we did too, but only a couple hundred yards, as we didn't want to find out the repercussions the hard way. One reason we chickened out is because earlier in the day we did see an officer doing random visa checks.
SPLENDID ST. PETERSBURG
The first tour we signed up for was called Splendid St. Petersburg, which costs $65 per person. It began with all the passengers piling into three different coaches. Our first stop was to see The Strelka, which supposedly boasts one of the best views in the city. It's also right next to the Stock Exchange (designed by French architect Thomas de Tomon and built between 1805 and 1810) and two Rostral Columns that served as oil-fired navigation beacons in the 1800s.
STREET LIGHTS
I love how the street lights in Saint Petersburg let drivers know how long they have to wait at a red light and how much time they have left on green lights. Why can't we do this in America?
CANAL TOUR
Next was a fantastic boat tour through St. Petersburg's waterways. I was amazed at the architecture, and I was so shocked that it looked so much like Venice. No wonder it's known as "the Venice of the north." We then learned that Peter the Great ordered that palaces should be located on the Neva River. Other boat highlights included seeing the battleship Aurora, which signaled the start of the revolution in 1917, and a bronze horseman statue of Peter the Great.
CHURCH OF THE SAVIOR ON SPILLED BLOOD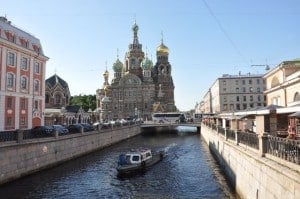 After a 45-minute boat ride we got off at a touristy area (I bought souvenirs using a mix of euros and U.S. dollars–cash only) next to the multi-colored Church of the Savior on Spilled Blood. It marks the spot where Alexander II was fatally wounded by an assassin on March 1, 1881. The 17th-century Russian church costs 320 RUB (US$10, I paid by credit card) and was worth it because inside is seriously jaw-droppingly beautiful. All the paintings are actually mosaics, and it's covered from floor to ceiling.
BUS ACCIDENT
We drove around the city some and saw St. Isaac's Square, the famous Summer Gardens, and the State Russian Museum. On the way back to the ship, our bus driver made a crazy U-turn that not only threw us off guard, but also the student driver who crashed into us. I didn't even feel the impact, but we all had to get off and wait for a new bus. While we waited our guide took us to what I think was the Church of the Smolensk (Icon of the Mother of God).
TOUCHES OF EVERYDAY LIFE
The next day we signed up for a tour called Touches of Everyday Life (US$65 pp). What appealed to us with this tour was that it gave us a chance to "peek inside the Russian way of life and see how it has been affected by the collapse of the communist regime and subsequent liberalization of the country."
FOOD MARKET
The tour began by getting on a bus, where we were all given earpieces, but they were cheap and it was difficult to hear our guide's instructions. Our first stop was the Kuznechny Rynok, a food market (fruit, vegetables, meat, fish, candy, pastries, pickled and dried goods) that is a cross between Western supermarkets and the grim Soviet-style shops. There weren't many people in there, and the produce wasn't looking as fresh as in Helsinki's market. The most disturbing part was seeing all the dead animals with fur still by their feet so it looked like they were wearing socks. FYI: You could only pay using Russian rubles.
ST. PETERSBURG
We then walked a block to the St. Petersburg Metro, which is acclaimed for its efficiency, cleanliness, and architecture. It was built after WWII and it's the deepest subway in the world. What's really amazing is that the older stations are decorated with granite, marble, and even sculptures. We took two different lines and it was definitely cool.
VISITING A FAMILY
We rode the Metro to visit with one of the three families that welcomed our group (we split up into three of groups of 12 people) into their homes to chat and drink some tea and eat cookies. Our hosts lived in a small one-bedroom flat that was in a good location. The building had five floors and four flats per floor. There wasn't an elevator, just wide stairs. They bought the home 12 years ago for about US$32,000 and today it's worth about US$250,000. That's how expensive Russia has become. We learned that most families have two kids, but our family just had one who was still in university and living at home. The host said her 25-year old son likes ballet but he said there are always two opinions but one decision. We asked all kinds of questions, and one was about Internet. They do have full access to Internet, and they pay the same way we do, a monthly fee based on connection speed. Most families have second homes in the country. NOTE: When visiting a family, it's a polite thing to bring a small gift like tea. FYI: Both of our tours began at 8:30 a.m. and ended at noon.
DEAD BODY
WARNING: The two photos listed in this paragraph are somewhat disturbing. The craziest thing we saw by far was a dead body on the docks. One of the guests spotted the fisherman pulling it out of the water. What's crazy is that the Seabourn crew asked the authorities to at least cover the body, but they were told to stay out of it. I heard the body was gagged and the hands were tied behind the back, and they just left it on the dock for a few hours. People were walking by just looking at it. It turns out that supposedly this is fairly common, as they find 3,000 bodies in the water a year–that's 10 a day! This place is like the wild wild west.
CLASSICAL BALLET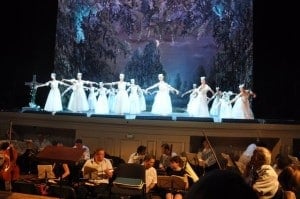 When Natalie found out that Seabourn still had tickets available for the ballet (US$99), there was no getting out of it. After all, we were in St. Petersburg, which is now the ballet mecca of the world. BTW: Did you know that ballet is originally from France, but Russia became the epicenter for it in the 19th century when they created Tchaikovsky's Swan Lake, Sleeping Beauty, and The Nutcracker?
DID YOU KNOW: St. Petersburg is home to more than 200 museums?
HERMITAGE
We signed up to see Giselle, which was being performed at Catherine the Great's personal theater at the Hermitage in St. Petersburg. The Hermitage Museum is the largest art museum in the world, and just like this locale many of the other ballet theaters are in historic buildings. That's because the Russian rulers and the aristocracy loved ballet and constructed theatrical buildings throughout the city.
CATHERINE THE GREAT
On the 20-minute bus drive over (it should've been five minutes, but because St. Petersburg has crazy one-way streets it took much longer) we learned that Catherine the Great would sit in the second row and that she started offering open seating. She also wrote plays herself. I guess no one was paying attention, because her seat was wide open and we grabbed it! The theater was hot, with no a/c, marble columns and an ornate chandelier. TIPS: Get on the early bus since it's open seating. There's no problem bringing water into the theater and it's fun to watch the orchestra members play jokes on each other.
Note: This trip was sponsored in part by Seabourn.