Aloha! Sadly, I'm not writing this post from the beautiful state of Hawaii like I had planned to. I had to cancel my trip, which was a huge bummer. You see, I was heading there as part of my annual holiday challenge with The Starwood Preferred Guest® Credit Card from American Express, a trip I had been planning for the last month or so.  I'm part of the SPG Amex Stars program and have been for the past few years. We partnered because I'm such a big fan of the card and their program that my love for it is authentic.
Along with a few other travel influencers, I have been invited to some really cool, exclusive Card Members-only, behind-the-scenes events like attending the past five US Opens and having meet-and-greets with tennis legends like Monica Seles, Lindsay Davenport, Billie Jean King, Andre Agassi and Chris Evert (my sisters attended the last two for me).
I've also done numerous trips with SPG Amex, including an around-the-world trip to highlight the card's no foreign transaction fees on international purchases.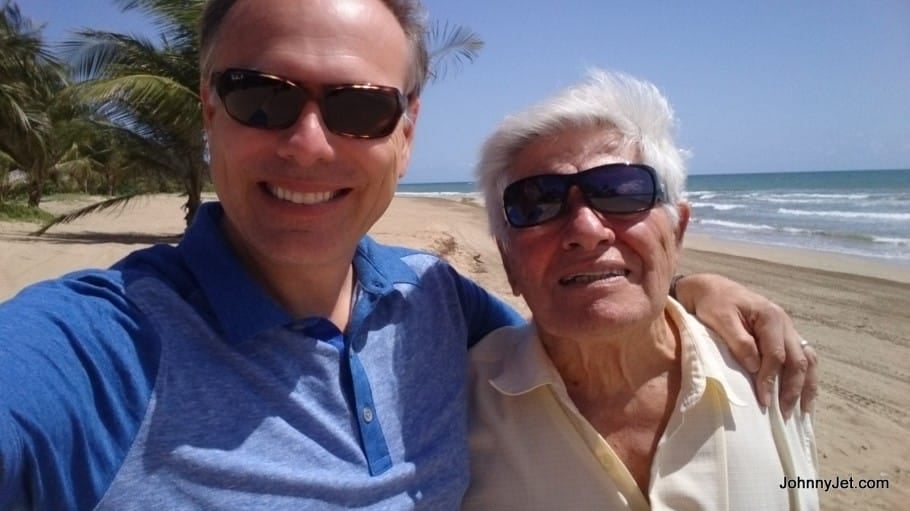 I've even taken my dad to Puerto Rico.
But best of all, I've taken my wife Natalie to Hawaii three times exclusively for SPG Amex (2013, 2014 and 2015).
The reason why I choose Hawaii so often is because it's not only one of my favorite places on earth, but it really shows the power and benefits of the card and the program. Each year around November, SPG Amex gives me 70,000 Starpoints and I need to use them just like any regular Card Members would. I have to book a room without any special help and then write about the experience. What's amazing is that I can go anywhere in the U.S. that has a Starwood hotel (St. Regis, The Luxury Collection, W, Westin, Le Méridien, Sheraton, Four Points by Sheraton, Aloft and Element) as long as it's before December 31.
Believe me, when I say I've spent hours on Starwood's directory page contemplating places to go. I've entertained everything from skiing in Utah to Christmas shopping in NYC or hitting the beaches of Guam or St John, USVI. But just like in the past, I chose to put SPG points to the test and that meant returning to Hawaii during their busiest period of the year, between Christmas and New Year's.
Since Natalie and I just welcomed our bundle of joy, Jack, into the world on September 15 (also our wedding anniversary) and the doctor recommended he not fly until after flu season, Natalie was going to stay home with Jack and her family (they flew out from Toronto for Christmas). Since the SPG Stars program allows me to bring a guest along (they pay for our airfares but they don't cover transportation, food, parking or resort fees), I decided to bring my dad since he recently celebrated his 88th birthday, he loves the sun and has only been to Hawaii a couple of times.
When I booked our trip in November, it was past the resort's cancellation period and having a newborn, you just never know if you can go through with your plans or not. I was going to book us at one of Starwood's lower tier properties for fewer points but I wanted my dad to experience one of my favorite Hawaii hotels … the Westin Moana Surfrider.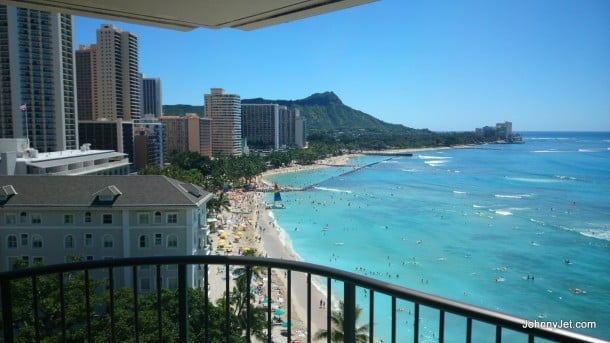 The Westin Moana Surfrider is right on the beach in the heart of Waikiki so it's a perfect location and the views are jaw-dropping. One of the huge perks of using SPG points is that there are no blackout dates. So if a room is for sale, you can use your points to book it. Room rates were starting at $550 a night and points were going for 25,000 points a night. Both are pricey but I was lucky they weren't sold out like they were a couple of years ago.
One of the ways to really take advantage of your Starwood points is to book four consecutive nights so you get the fifth night complimentary. That's what Natalie and I did last year but since I didn't want to be away from home that long, I was planning on only booking three nights.
FYI: One of the things I don't like about Hawaii is that most hotels there charge a resort fee, which is typically around $30 a night (Moana Surfrider charges $31.41). I think it's really lame that the hotels/resorts do this, but that's a whole other story. Another thing I don't like is that many Hawaiian hotels, including Starwood's, don't allow you to cancel last-minute without a penalty (whether you pay with cash or points).
Because I didn't know if Jack, Natalie or my dad would get sick and prevent me from going, I didn't want to risk losing so many points or pay their penalty fee of $341 (plus tax) for redepositing them. So I just booked one night and was going to book the other two while we were there. I checked rates and availability often just to make sure we didn't end up on the streets. My backup plan was to pay for a hotel if by chance they sold out.
But wouldn't you know it … it wasn't Jack, Natalie or my dad who got sick. It was me. I started developing an upper respiratory infection and I could feel my body getting worn down. I knew if I jumped on a plane, I would only get sicker (especially since we had exit row seats and our upgrades weren't going to clear) so I had to cancel the whole trip a couple of hours before departure. It was a bummer but I plan on bringing my dad there along with Jack and Natalie later in the year.
I emailed the hotel to see if I could get my points back and they said I needed to call Starwood directly. I did and the agent said there was no problem in redepositing the points but I'd have to contact the hotel about them waiving the cancellation fee. I did and explained my situation and because I have platinum status, I was able to get them to waive the fee which put a smile on my face and made me want to return even more.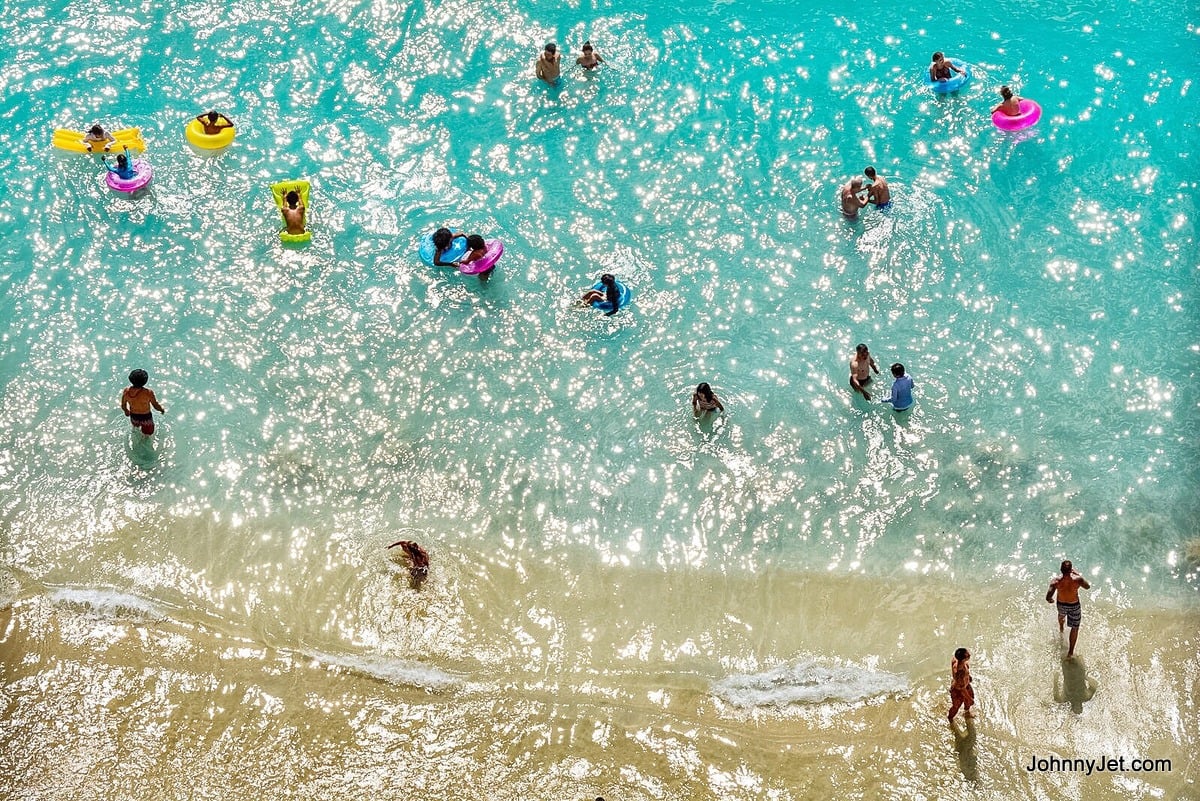 Tips for using your SPG Starpoints:
-If you book four consecutive nights with your Starpoints, you automatically get the fifth complimentary!
-It's very important to ask when the cancellation deadline is and to set multiple alerts just in case you need to cancel. For their Hawaiian hotels, the cancellation deadline ranges from a few days to a couple months in advance depending on season.
-When using your SPG Starpoints for Hawaii, especially during peak times, book as far in advance as possible.
-If you can't get the hotel you want, call back every couple of weeks to see if anything opens up.
-If you don't have an SPG Amex card, check out all of their benefits (including complimentary in-room, premium internet access) and know that you can earn 25,000 bonus Starpoints® after you use your new card to make $3,000 in purchases within the first 3 months.
Save
Save
Save
Save