If you couldn't tell by now, I'm a big fan of the Starwood Preferred Guest credit card from American Express. Since I'm such a fan and a travel blogger, Amex invited me to be part of their SPG Amex Stars program for the past few years to help communicate the benefits of the Starwood Preferred Guest credit card from American Express to travelers. Because of this, I have been invited to some really cool, exclusive cardmembers-only, behind-the-scenes events like attending the past three US Opens and having a meet-and-greet with tennis legends Monica Seles, Lindsay Davenport and Billie Jean King.
One of my favorite parts of this program is that they allow me to bring a guest along so I get to show a loved one the card benefits as well. This "assignment" is to use 70,000 Starwood points just like regular cardmembers would during the prime travel season of the holidays. My job is to book a room without any special help and then write about the experience. This year, I was given the points in October and I had the choice to go anywhere in the U.S. that has a Starwood hotel (St. Regis, The Luxury Collection, W, Westin, Le Méridien, Sheraton, Four Points by Sheraton, Aloft and Element) before December 31, 2014.
Of course, I chose the most popular destination during their busiest time of year…Hawaii! My wife Natalie DiScala was the lucky benefactor and she came along with me last year when we went to Kauai (The Westin Princeville Ocean Resort) for our Holiday Challenge.
The whole purpose of this challenge is to show off one of the best things about SPG points—that there aren't any blackout dates. If they have a room to sell, then you can use your points, which is why using Starpoints over the holidays is a great way to offset your costs – especially during this high-priced period.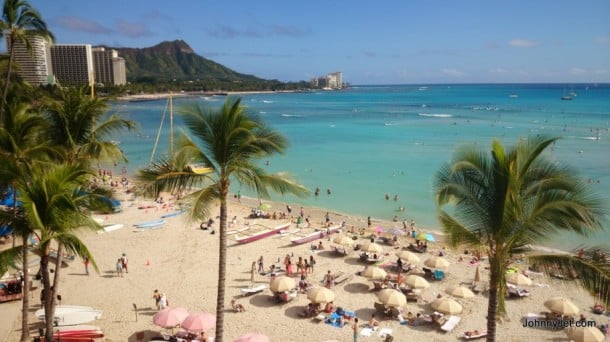 Over the years, I've learned that points vary from property to property and that in this economy, you better book luxury hotels well in advance. I called SPG's 800 number and a friendly agent named Tiffany from Boston informed me that not only was our first choice, The Royal Hawaiian, completely sold out but our second choice was, too…The Moana Surfrider, Westin Resort Spa. Again, not just for points but for cash, too. In fact, she said all of Oahu and Maui were completely sold out for the dates I wanted (December 27-January 1).
Tiffany, was very helpful and spent a good 30 minutes on the phone with me, which included the time she spent helping me merge my two accounts. She also reminded me that if you book four consecutive nights, you automatically get one free, which is an amazing deal.
Tiffany told me I had three options for Hawaii during this time period for five consecutive nights since Oahu and Maui hotels were all sold out:
We could stay at the Sheraton Kauai for 70,000 Starpoints.
The Westin Kauai where we stayed last year was going for a whopping 200,000 Starpoints (they only had suites available)
The Sheraton Kona Resort & Spa at Keauhou Bay for just 46,000 points.
I couldn't decide if I should stay at the Sheraton Kauai or Sheraton Kona and said I wanted to speak it over with my wife. Tiffany said that wasn't a problem and that she could put them both on hold for me. She even put the Kauai property on hold even though I didn't have enough points in my account yet (I called SPG a couple days before the points dropped into my account). She said it would cancel after a week if I didn't confirm. I only needed an hour to decide what we were doing and ended up going with the Sheraton Kona since it had the best value and I would have left over points to use another time. Besides, we had gone to Kauai the previous year and the attitude of the owner of nearby Wakeup Café left a bad taste in my mouth.
FYI: About a week before we arrived, I ended up canceling the last two nights of the Sheraton Kona since our friends on Oahu invited us to their New Year's Eve party. So I ended up losing the free night but only redeemed a total of 34,500 Starpoints which means I will be staying at some swanky SPG property in the near future. Here's how our trip unfolded:
Pack sunscreen and hats
Natalie and I flew from Toronto to L.A. and had a five-hour layover so we had plenty of time to do some errands and swap out our winter clothes for summer clothes. I was also sure to pack a lot of sunscreen and hats after my lip cancer scare last month.
Kogi taco truck at LAX
While waiting for our American flight to Kona, we stopped off at the new Kogi Korean taco truck that's in the terminal near gate 46A. The founder of Kogi is arguably the person responsible for the whole food truck movement and his tacos are insane and only cost $2.70 each. What's nice about the LAX truck is that you don't have to wait in a huge line like you do on the street.
Toronto to L.A. to Kona
Our American Airlines flight from Toronto to L.A. was on a new 737-800 and I was able to get us upgraded since I have Platinum status. But the L.A. to Kona plane was so old it felt and looked like it was from the 80s. We didn't get upgraded but scored an empty middle seat in between us in the exit row. But seriously, the first three quarters of the flight my hands were sweating because the plane was so old and I know there's nowhere to land on the way to Hawaii if something goes wrong. But after speaking to the flight attendants, I felt better since they not only had to turn around and go right back that night to L.A. but they were flying again to Hawaii the following day as well and they do it all the time. Insane.
KOA airport to Sheraton
We arrived on the Big Island 20 minutes early just before 9pm local time (it's a two-hour time change from California this time of year, three hours in the summer). I checked to see if any Uber cars were available and they weren't. That's because I couldn't get a car rental. Would you believe every dealership on the island was sold out when I called back in October?!
I knew I had to either take a taxi for $60 (including tip) or the Hawaii Executive Shuttle for $38 for one and $43 for two. We didn't feel like making stops so we walked straight to the taxi line. The friendly taxi dispatcher was spot on when he predicted that it would cost $52 and take 25 minutes. The driver wasn't very friendly, spoke on his phone the whole time and wasn't happy when I handed him my credit card. I ended up paying cash which bummed me out since I lost out on all those points. Lesson learned: Ask if they accept credit cards before getting into a taxi.
Sheraton Kona
I knew the Sheraton Kona wasn't going to be some plush hotel like the Royal Hawaiian but I love its open air space and that its located right on the water and has natural lava rock cliffs. Unfortunately, there's no beach but we were told it's only a five-minute drive to the Kahaluu Beach Park, which is beautiful.
The seven-story hotel has 519 rooms and is where many flight crews and families stay lbecause it's affordable. What's disappointing is that like most Hawaii hotels the Sheraton Kona comes with a $30 resort fee per night (yes, even if you use Starpoints). Boo, I know. I hate resort fees too but pretty much every Hawaiian resort implements them so the only way around it is to pick a different destination.
At least the resort fees include Wi-Fi, self parking ($7 for valet), unlimited local and 800 calls, 30 minutes of long distance telephone calls including international, use of the Kailua-Kona trolley, two bottles of water a day, yoga, cultural tours, hula and/or ukelele lessons, lei-making classes and 50% off one bike rental.
The guest rooms were renovated in 2012 and come with 37 inch flat-screen TVs. If you want a view of the ocean ask for a higher floor but keep in mind the elevators are painfully slow. There are four restaurants on property and if you have an SPG membership it entitles you to a 15% discount at all of the hotel's dining venues. Just be sure you give the server your number and that the discount has been recognized when it's time to sign for the check.
The hotel offers a long list of activities including swimming with the giant manta rays at night (I recommend Eka Canoe Adventures which costs $100 per person). If you want to relax, visit the Ho'ola Spa and get a sunset massage outdoors. Listening to the waves crash and the hotel's live Hawaiian music is truly magical. The spa also has the only Himalayan salt room in Hawaii.
For breakfast or lunch, my favorite hotel restaurant is Akule Supply Co. It's a casual restaurant down the street from the hotel but has the same owners so you can charge to the room and even receive the 15% SPG membership discount. For breakfast I ordered Loco Moco—white rice, topped with a hamburger patty, a fried egg, and brown gravy ($10). The following day, I had fried rice with green onions, shoya, ginger and Spam ($7). The food is 'ono' and the service is friendly.
The best part about the hotel is that it's affordable and family friendly. Rates begin at $169 a night or use your SPG Starpoints.
Good to know:
The hotel's air conditioning units are loud and you can hear hallway traffic so get a room away from the elevator
Every Monday night, the hotel has a luau that costs $89.25
Every Wednesday, there's a Big Island Farmers Market (9am to 2pm) near the entrance of the hotel
Every Sunday night, they have family movies by the pool
The hotel has a 360,000-gallon pool with a combined surface area of 14,100 square feet. Kids will be sure to go crazy over the Manta Ray Super Slide & Pool.
Tips for using your SPG Starpoints:

When using your SPG Starpoints for Hawaii, especially during peak times, book as far in advance as possible (the same goes for reserving a car on the Big Island)
If you can't get the hotel you want the agent suggested calling back every couple of weeks to see if anything opens up
You can cancel with no penalty up to a few days before (double check with agent to make sure it's still true with your property)
For this holiday challenge, I really pushed my SPG Starpoints to work hard for me by choosing to travel to Hawaii during the year's peak travel season…and I came out on top. Not too shabby to be able to ring in 2015 in style from one of the most beautiful places on earth…Hawaii. Hau'oli Makahiki Hou or Happy New Year!