Every traveler I know who has the Starwood American Express Card loves it! I have it, and I love it too, which is probably why their PR team has invited me and a guest to the US Open in New York for the last two years to one of their exclusive cardmembers' "behind the scenes" events. Tickets to the event are limited and normally cost $165 a piece and include seating in the lower promenade of Arthur Ashe Stadium. They aren't the greatest seats but what makes it a fantastic deal is that it also includes access to the SPG cardmember hospitality area for a cocktail reception, dinner and a meet-and-greet with a well-known tennis star before the night matches. They don't disclose the star until the last minute but last year was Lindsay Davenport and this year it was Monica Seles.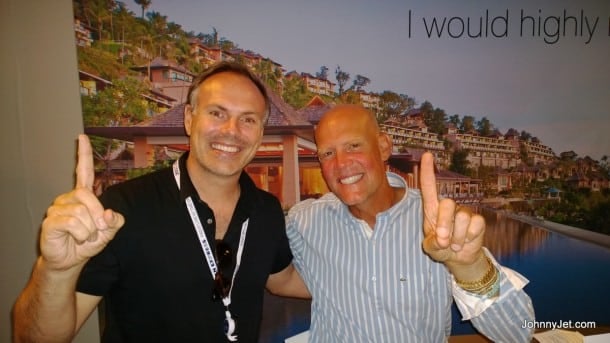 They also brought in Murphy Jensen (awesome guy), who was a doubles champion and now does commentary for ESPN, to interview Monica which was very interesting. She talked about growing up in Yugoslavia and how the reason she has a two-hand backhand is that back then, Yugoslavians didn't have access to kids' rackets, so she learned to play with her older brother's racket—and needed two hands since it was so heavy. She also told the crowd of around 100 that she still loves tennis and plays three times a week to stay in shape. Of course, we had to ask about travel; her favorite cities are Paris and Rome which she said is so cliché.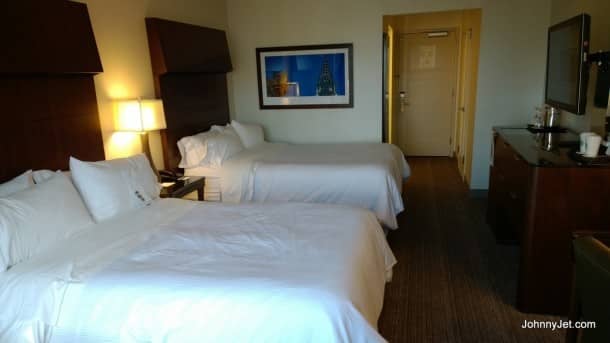 What's also nice is that Starwood put my guest (I brought my dad) and I up at the Westin New York Grand Central for two nights. The hotel is very comfortable and located in midtown Manhattan so it's centrally located. It's just a block and a half from Grand Central Terminal (GCT) which is my favorite train station (I know it's called terminal) in the world. Inside and out, GCT makes me warm and fuzzy—except their public bathroom. Note: I plan on going back to the Westin to do a full story but I included some photos from this trip below in the gallery.
GCT is also where a bunch of subway lines are located and that's the quickest and cheapest way ($2.50) to get out to The U.S. Open (which takes place in Flushing Meadows, Queens, New York). I took the 7 train to Shea Stadium/Willets Point Station with my dad and travel blogger Lee Abbamonte and his guest. Lee's a great guy and has been to every country in the world so he's fascinating to hang out with. The other bloggers were Ben from One Mile at a Time and blogger Mommy Points.
FYI: The ride takes about a 30-minutes and then it's a fairly long walk to the tennis center but fortunately for my dad SPG was providing free bicycle taxis ("Bicy Taxi") to everyone (not just SPG members or cardholders).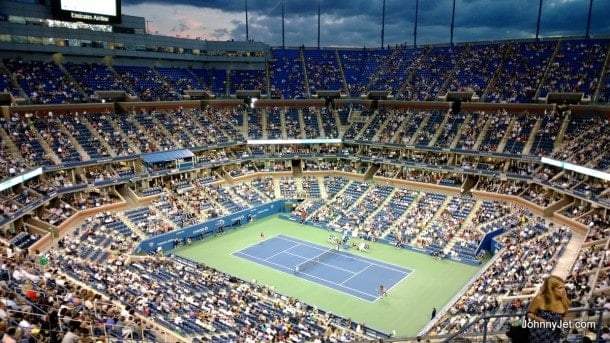 We watched Serena Williams double bagel (6-0, 6-0) her opponent to win her quarterfinal match in 53 minutes. The other match was Andy Murray—who just won Wimbledon—play against Denis Istomin of Uzbekistan. Everyone thought Andy would roll but it took him four sets. My dad and I left at the beginning of the third set since it was already 10 pm and I was getting tired (not my dad).
We had an amazing time and it really is a privilege to be part of the Starwood American Express team. I realize how fortunate I am to be able to attend events like this and share them with my loved ones. It's also a privilege that part of my deal with SPG AMEX is that whenever they fly me to an event, they have to provide a bunch of SPG points that I can use as a reader giveaway so one lucky winner can have some fun too. This contest is going be a Twitter contest taking place today (September 12) from 11 am-5 pm ET—so be sure to tune in on Twitter to find out how you can be entered to win 30,000 SPG points. My Twitter handle is @JohnnyJet.