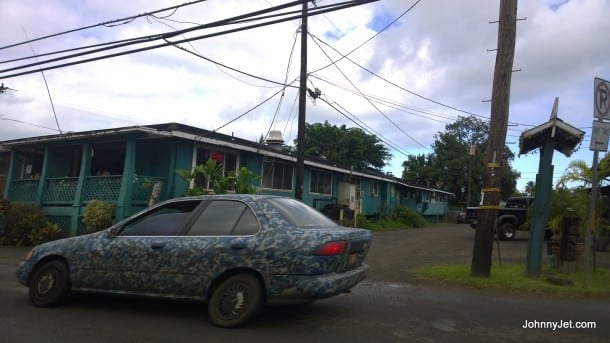 We spent the first two nights on Kauai as part of Starwood's Holiday Challenge (here's my story). We had a fantastic time except the part where we wasted 40 minutes of our lives at the Wake Up Café—the hostess was so rude we walked out and she compelled me to write a negative review of the place on TripAdvisor, Yelp and below.
Let me start by saying that I really debated writing this review. I don't normally do this. But the hostess at Wake Up Cafe in Hanalei was one of the rudest people I have ever encountered in my travels. Initially, I figured I would cut her some slack, in case she was having a bad day. Maybe her boyfriend had broken up with her, or there was a death in the family or maybe even a sick child at home … I thought a lot about the reasons that could have made her so unfriendly, rude and inhospitable. But after seeing the other negative reviews here, presumably about her and another "heavier & older" owner that were posted weeks and months ago, I realized I wasn't alone in this experience.
This woman wasted forty minutes of my life. At first, she seemed pleasant. When we arrived, I popped my head in the door to see if there was a signup sheet since there was a bit of a line. She informed us that there was no signup sheet and to just wait with the others (about 15 others) and she would seat us.
She said we would be seated in 10 minutes as they were quick which was a flat out lie. Thirty minutes went by and the group in front of us asked what was going on. She snapped at the older gentleman and said, "Hey, we want happy customers and if you aren't happy, you can go somewhere else." That got my attention and I debated, just like that poor family, whether to leave then. The wife/mother wanted to leave but the others were hungry so they decided to wait since they were next in line.
In the meantime, the line is completely disorganized. There were about 15 to 20 people out there so the hostess has no clue who should be next. We watched as a couple with a child brazenly jumped the line and grabbed a table ahead of two or three other families who had been waiting a long time.
A few minutes later we were finally seated and just before we sat down, I mentioned that a family of three had cut the line and helped themselves to an empty table. I thought she would be happy to know but instead she said rudely and aggressively, "I don't care about that. If you don't like it, you can eat somewhere else."
There was no way I was going to support this place with my hard earned cash and I certainly wasn't going to endure this waitress with a bad attitude. We ended up walking out just as she brought us coffee that we didn't even order.
I'm pretty certain she's not local and if I were a part of this community, I would boycott Wake Up Cafe. If you're a tourist traveling through the area, spend your dollars in a more deserving place. Unfortunately, this woman completely ruined our experience there…there is nothing Aloha about her.