As you probably know by now, I'm an avid frequent traveler and points collector. I have as many credit cards as Chevy Chase's character Fletch had IDs. Some I signed up for just to get their sign-up bonuses, others to get into specific airline lounges, some to get extra miles/points on food, or to use strictly for international travel.

Like many travelers and point junkies, one of my favorite cards is The Starwood Preferred Guest® Credit Card from American Express (SPG Amex). Since I'm such a fan and a travel blogger, Amex has invited me to be a part of their SPG Amex Stars program for the past few years, to help communicate the benefits of the card to travelers. Because of this, I have been invited to some really cool, exclusive Card Members-only, behind-the-scenes events like attending the past three US Opens and having a meet-and-greet with tennis legends Monica Seles, Lindsay Davenport, and Billie Jean King.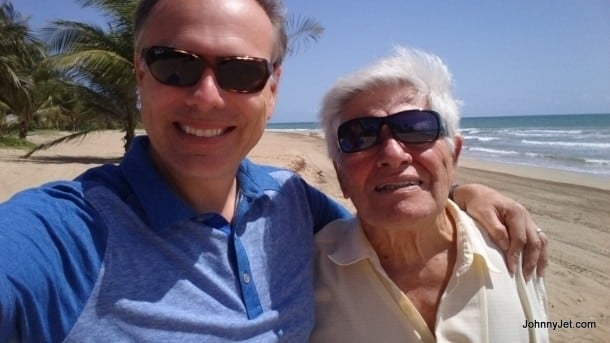 They've also allowed me to bring a guest along so I get to show a loved one the card benefits as well. In the past, one of the 'assignments' was to use 70,000 Starwood points just like regular Card Members would, during prime travel season, ie: over the holidays. My job was to book a room using my points and write about my experience. The last couple of years, I've gone to Hawaii (Kauai in 2013 and Kona in 2014) with my wife, during the week between Christmas and New Year's. And last summer, I took my dad to the St. Regis Puerto Rico. Not too shabby, eh?
Well, this year, Starwood really blew my mind when they invited me and my wife to fly anywhere in the world there's a Starwood hotel (St. Regis, The Luxury Collection, W, Westin, Le Méridien, Sheraton, Four Points by Sheraton, Aloft, and Element)—air and four nights of accommodation was on them. The only catch was that our travels had to be outside of the United States and take place during the month of August!
Why outside the US, you might ask? That's because SPG Amex announced on August 11 that their card no longer had foreign transaction fees! That's huge because in the past, when I traveled internationally, I always left that card at home so I didn't mistakenly use it and get socked with those nasty 3% fees.
I can't even tell you how much time I spent on Starwood's hotel directory page, trying to decide on a place to go. The choices were so vast and I could not stop thinking about my options. So I decided to write a post to get the help from friends and readers.
Most of the comments, between the post and my Facebook page, were to go to the St. Regis Bora Bora, Moorea, or Bali. Natalie and I have been to all three of those destinations and we were all set to go to the island of Mauritius until I learned that my good friend and colleague had already snagged the best hotel on the island before us (here's his story).
BTW: My wife's first choice was to go to Rome since it's near the top of her list of places she'd like to visit but no right-minded travel expert would go to Rome in August. We thought about Sardinia but it would be ridiculously crowded and food and transportation would be astronomically expensive – not a good combo.
Since we were already going to be in France for a Uniworld river cruise (back in February, I purchased $1 plus tax American Airlines tickets to Europe), we decided to start the Starwood trip from there instead of going back home. Not only would this mean less flying but we could then go around the world, which is the ultimate trip in my humble opinion. SPG was onboard.
After much debate, we ended up choosing the St. Regis Bali because the flights made the most sense to accrue airline miles and we hadn't been back since our honeymoon in 2012 (here's the story of our crazy wedding day) and the whole trip was a blur!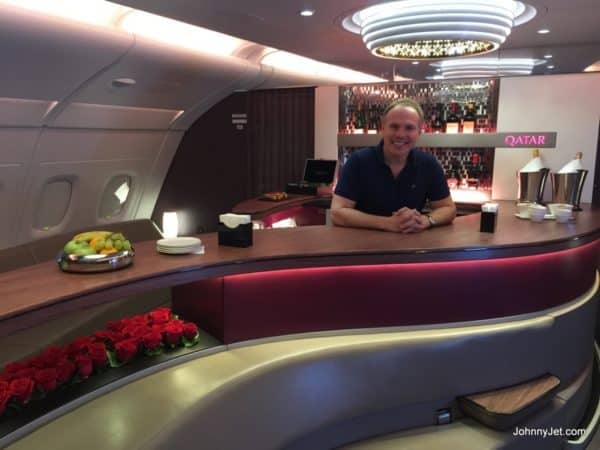 After using the SPG Amex card on our night in London, then all throughout southern France and Paris, we flew six hours to Doha on Qatar Airways' amazing A380. Since Qatar Airways is a Oneworld partner, we accrued American AAdvantage miles which was a huge added bonus.
Instead of just changing planes in Doha, we spent the night at the incredible Sharq Village and Spa before flying nine hours on a Qatar Airways 787 to Bali. Yes, I used my Starwood Preferred Guest and American Express to pay for hotel charges. Gotta love not having to worry about foreign transaction fees.
The moment we stepped off the plane, we knew for certain that Bali was a great choice. The 123-room hotel we'd be staying at offers complimentary airport transfers so our thinking and worrying about our next move stopped there. We found the hotel greeter easily and he escorted us to a van where we were treated to chilled towels, water, and even chocolate!
BTW: The airport in Bali is brand new, the new one having been built since we were last there…and they did a great job. On top of that, they built a new airport road over the water so it only takes 25 minutes to get to the hotel instead of 45 minutes.
The St. Regis Bali is absolutely beautiful (stay tuned for all the details) but I was bummed to learn that they don't give complimentary upgrades to Gold Starwood members. That was until I walked into our standard room. A standard room here is 95 square meters and comes with 24/7 butler service. They'll even unpack and pack your bags for no extra charge. Tea, coffee, and bottled water are also included as well as the off-the-hook breakfast buffet.
After a couple of days sharing our experience on Facebook, Twitter, and Instagram (below are our handles), their marketing team contacted us and we met for drinks. I asked to see one of the 41 villas on-property and when they learned that there had been a cancellation, invited us to move into one of them. We felt torn about leaving our room but once we went to the villa we honestly didn't ever want to leave. It was huge, had three bathrooms including one for a maid, butler, or nanny (if you happen to travel with one), a kitchen, and its own pool. The photo above should give you an idea of what it was like.
Twitter: @JohnnyJet
Facebook: Johnny Jet
Instagram: johnnyjet
Twitter: @NatalieDiScala
Instagram: nataliediscala
We ate all of our breakfasts at the St. Regis but had our dinners outside of the hotel. The first night, we returned to Amanusa, where we honeymooned. One night, we ate at Bumbu Bali 1, a local restaurant, and one night at the Grand Hyatt for their incredible Indonesian buffet and dinner show. All were paid for with my SPG Amex, except the taxis, which took cash only. FYI: All of our taxi rides cost 30,000 Indonesian Rupiah (IDR) = $2.12 USD.
After four nights in Bali, we flew five hours to Taipei on EVA Airways (I earned United miles and Natalie Air Canada, since they are a Star Alliance partner) and spent two nights at the Regent Taipei. I used the SPG Amex card at the hotel and everywhere we ate. The only times it was denied was in the taxi from the airport (I think the magnetic strip was wearing down because the sign said they accepted AMEX) and at an airport museum store.
FYI: We took UberX back to the airport as well in London and my SPG Amex is connected to my Uber account. They also had Uber in Doha and Bali but I didn't use them.
We're now home in Los Angeles and above is a map I created using the Great Circle Mapper, which depicts the codes of all the airports we visited on this trip around the world: LAX-LHR-MRS; CDG-DOH-DPS-TPE-LAX. In total, we flew 23,196 miles and were in the air for 31 hours.
The whole trip was like a dream and if I didn't have the photos to prove it happened, I would be convinced it was.