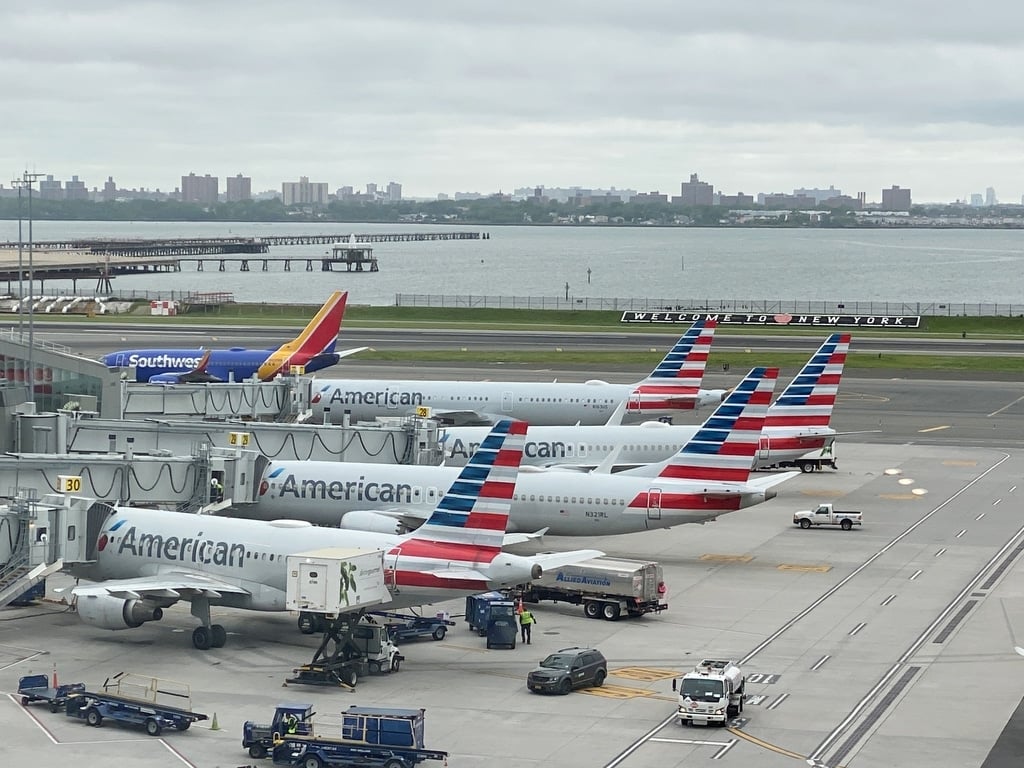 I was planning to visit my dad in Connecticut for the day yesterday because I haven't seen him in a month and I'm relatively close (I'm in Toronto). I also had some American Airlines vouchers that were expiring soon. I know what you're thinking: Why would I fly AA after writing this scathing post about them? There were multiple reasons:
-I have travel vouchers expiring
-I have elite status so I can avoid long lines and long wait times on the phone
-I can get free upgrades
-It was a very last-minute trip so I checked the weather and the skies were clear
-I checked the recent history of the flights I was intending to book and they all looked good as they've been going out on time
The biggest ordeal I encountered was trying to book them. AA wouldn't let me use any credits online like they have in the past so I had to call. Surprisingly, there was no wait time for the Executive Platinum call center at noon on Tuesday. But to buy a plane ticket should have been just a few minutes but my total call time was exactly one hour. See screenshot below.

What really surprised me is that when I called, the agent asked, "Are you calling about the Toronto to LaGuardia flights?" I said yes, but how did she know? I had them up on my screen but I didn't put them on hold because you can't so last minute unless you're using miles but I wasn't. It was a little freaky but it did make things easier.
Other notables: Since I was traveling internationally, I could only use one voucher (I didn't have that much money on each voucher) per flight instead of two. I asked if we could break the trip up into two one-ways, and she said that would be possible. I'm not sure if it helped because after an hour, I lost interest. I was sorry I didn't just pay cash, which might be the point of them putting you on hold for so long. I do know that if the phone got disconnected and they didn't call me back, I would have paid cashed.
The real time suck was waiting for AA's fare desk, who supposedly put my agent on hold. When I asked why I couldn't book online using the vouchers, the agent said there was a computer glitch. It was unfortunate but things happen. Hopefully, it's fixed but I doubt it.
What was surprising is the email informing me that my free upgrade had cleared before I even got the ticket confirmation. See screenshot below.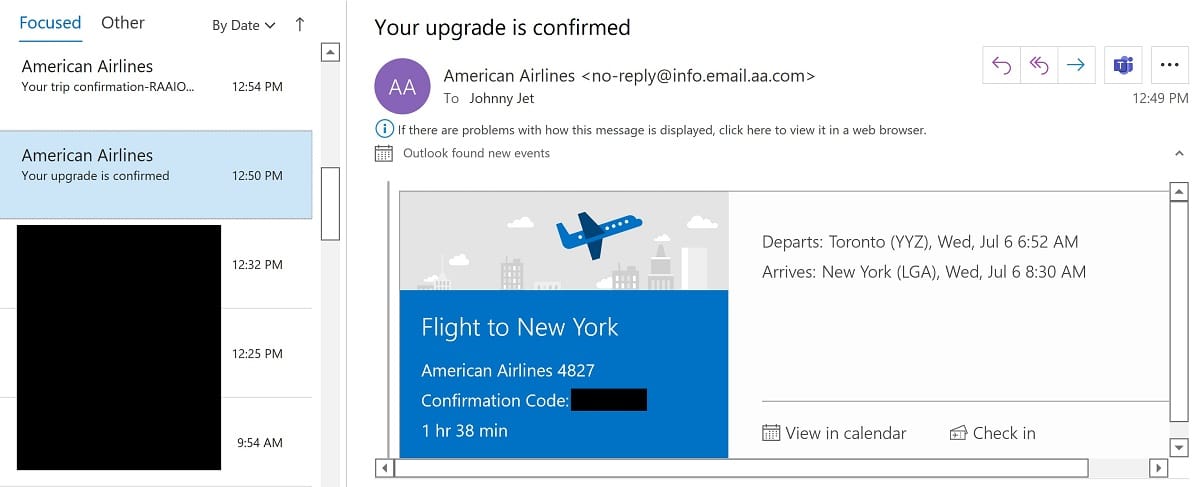 Most surprising of all? I ended up canceling my trip over fear. That's right.
The whole trip came about when I was having a conference call with my dad's senior home (they do one every few months for each family). When the administrators said they were going to have a BBQ the next day for lunch, I figured it was a great time for me to go surprise him since my dad loves it when I visit. He used to come visit me when I was in college whenever there was a big event like a father-son golf tournament or I had a big lacrosse game.  FYI: My dad has made a remarkable recovery and is basically back to his old self.
I was going to take the 6:52am flight from Toronto's Pearson International Airport (YYZ) and land at New York's LaGuardia (LGA) around 8:30am, drive to Greenwich, Connecticut and then take the 5pm flight back to YYZ. I had a few Blacklane vouchers so I had all my ground transportation set. But my first concern crept up when my sister told me he had a 9:30am eye doctor's appointment 30 minutes away, which meant I wouldn't see him probably until at least 11am.
But the real kicker was that I woke up in the middle of the night and couldn't fall asleep. I made the dreadful mistake of getting on Twitter and reading all of the horrible news, from the mass shootings to the huge rise of COVID cases. My mind started wandering and I paced around the apartment going over the pros and cons of the trip.
One tweet that really got me was one that read something like 'make wise choices.' That's when I thought this isn't that wise a trip. I've been pretty much in an indoor bubble with Natalie's family. When we meet with friends, we meet outside so is it really worth taking that risk? Especially since we have a big trip in a couple of days and don't want to risk any of us getting sick and missing it because to get new tickets will be crazy expensive and we won't get the plush seats I reserved. Worst of all, my fear of getting my mother-in-law sick. Nope.
So I canceled everything. I never told my dad I was coming so he wasn't disappointed and my sister later said I made the right move because they ended up spending more time at the doctor and the BBQ got cancelled.
The one thing I did learn, besides the fact that you just have to trust your gut, is that I was testing out the premium version of a new flight app, which I now love. Read more about it here.