This post contains references to products from one or more of our advertisers. We may receive compensation when you click on links to those products. For an explanation of our Advertising Disclosure, visit this page.

Yesterday, I reported on how New York Yankees legend and current baseball announcer, David Cone, lost his iPad at New York's LaGuardia Airport. He made a rookie mistake, which was the basis of my tip. You can read about it in his funny play-by-play with colleague Michael Kay here: Former New York Yankees Legend and Current Baseball Announcer Makes Rookie Mistake at LaGuardia Airport
I watched today's game hoping they would update us on his lost iPad and I'm happy to report that they did, 56 minutes into the game. Here's tonight's play-by-play between the two Yankees announcers: 
Michael Kay
Yesterday you reported that while going through LaGuardia Airport security, that you lost your iPad, which you really use a lot. I said, there's no chance you will ever see it again. Let's get the update.
David Cone
I checked out Lost and Found at LaGuardia Airport and it is found! So I sent in the serial number and they confirmed it. And it's there for me, they're holding it for me.
Michael Kay
That's amazing. That's amazing!
David Cone
So, I'm going to get my iPad back. I've just got to get to LaGuardia or send them a shipping label. They'll ship it, you know? You just have to send them a shipping label and pay for the cost.
Michael Kay
Well, congratulations that's great news. Usually it's lost and never found.
David Cone
I like LaGuardia Airport.
Michael Kay
Oh, it's great.
David Cone
The new terminals are fantastic. I emailed Lost and Found today at LaGuardia Airport, Terminal B and I got a response in a half hour. They asked for the serial number. I sent it right back and they responded again. We got it, here's your transaction number. Come get it. It's my airport, LaGuardia. My airport.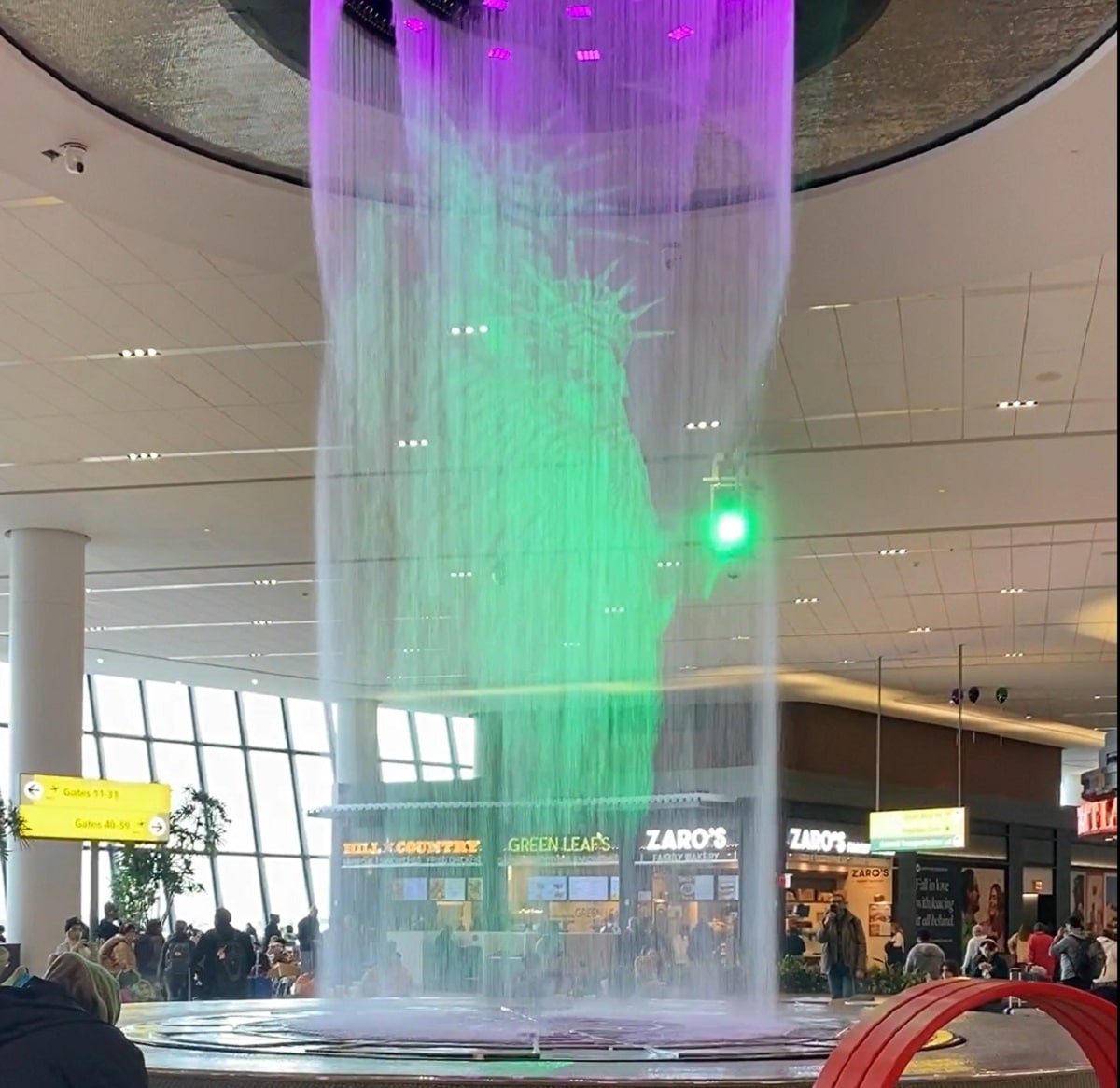 SIDEBAR: Michael and David are right. If you haven't been to LaGuardia in the last year or two, go. It's completely changed and is now pretty swanky. No, I never thought I would say this … and if you asked my well-traveled kids what their favorite airport is, they will say LGA because of the water show. Photo above. OK, back to the exchange between Michael Kay and David Cone:
Michael Kay
That is really impressive. I lost an iPad once at O'Hare. Yep, it's still gone. No chance.
David Cone
I was told that they get about 90 to 100 per day in LaGuardia. iPads left.
Michael Kay
And most people don't have the serial number so they don't get it back. But you have that little app, Find My iPad.
David Cone
It's in the cloud.
Michael Kay
Beautiful ending to that story.
I looked up the Lost and Found for LaGuardia Airport and this what I found on the Port Authority of New York and New Jersey website (they run the local airports):
"Please note that any item lost on board an aircraft, in the airline terminal or curbside with an airline tag is turned in to the appropriate airline. Please contact your airline's baggage service office for further information.
LaGuardia Lost & Found Clerk: lgalostandfound@panynj.gov
For items lost at a TSA Security Check Point, please contact TSA Lost & Found at (718) 505-5839. The TSA Lost & Found Office at LaGuardia is open between 7 a.m. and 3 p.m.
TSA Customer Service Center: (866) 289-9673
For any other lost item, please visit our Lost & Found Custodian page."

As I wrote in April's Newark to Los Angeles trip report on United: "We landed so late and our kids were out cold so my wife and I had to carry them and I totally spaced on grabbing my backpack, in which we just carry a change of clothes for everyone in case they get dirty or someone spills a drink or throws up in-flight." I didn't even realize I'd left it until the following day when I received an email from United saying that they'd found my bag and, like David Cone's experience, gave me the option to either come and get it or pay for the shipping. See screenshot below.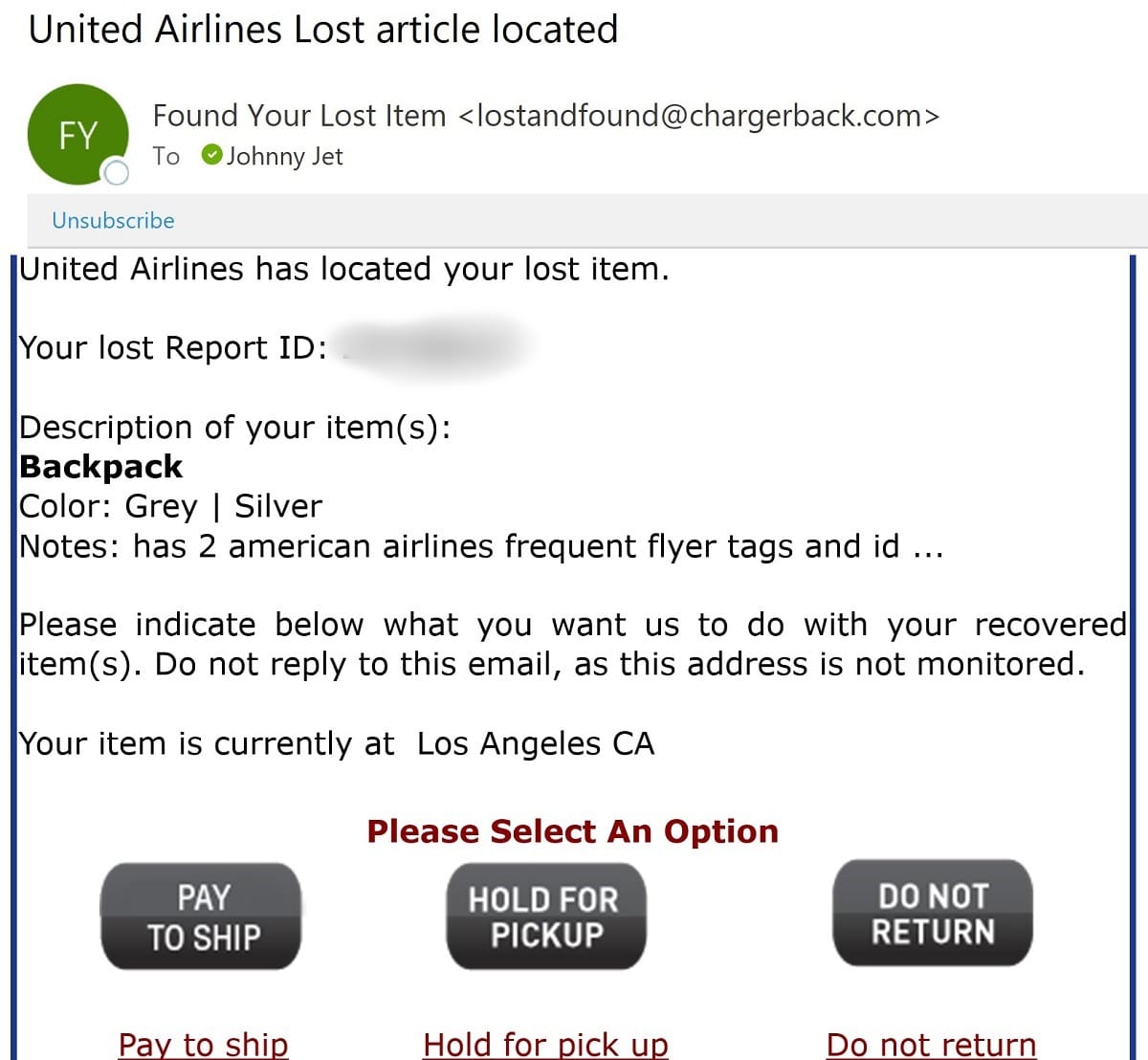 We live near LAX so I went and picked it up myself. But the takeaway here is to make sure you have identifying information on the outside and inside of your bag, just in case the outer one gets ripped off. There's no need to put your full home address and alert would-be thieves of where you live and that your house is most-likely empty. Just include your name, phone number and email address. RELATED: American Airlines Flight Attendant Warns: Doing This With Your Luggage Tag Could Put You at Risk
The same applies to labeling your electronics (phone, tablet, laptop, etc). If David had done that, he most likely would have gotten his iPad back before his plane took off so he wouldn't have been away from it for so long and wouldn't have had to go pick it up or have it shipped. It's also smart to pop an AirTag in your bags and download the "Find My" app so you know where the location of your goods are. Here's a recent example of an airline employee getting busted for stealing someone's lost AirPods.
Lastly, if you lose your device and need to provide the serial number like David did, here are some tips from Apple to help you find it. However, it might not be a bad idea to go and photograph or write down the serial numbers of all your devices now and keep that information somewhere safe, just in case you ever need to provide the number in a hurry. KEEP READING: Airline Lost Your Luggage? Do This If You Want to Get Compensated.
Want more travel news, tips and deals? Sign up to Johnny Jet's free newsletter and check out these popular posts: The Travel Gadget Flight Attendants Never Leave Home Without and 12 Ways to Save Money on Baggage Fees. Follow Johnny Jet on MSN, Facebook, Instagram, Pinterest, and YouTube for all of my travel posts.