This post contains references to products from one or more of our advertisers. We may receive compensation when you click on links to those products. For an explanation of our Advertising Disclosure, visit this page.
Recently on my personal Facebook page, I asked my friends, "If you have a 12-hour overnight (9pm-9am) layover with kids at MIA, which airport hotel do you recommend? Have you stayed at the Miami International Airport Hotel?" FYI: Many of my friends are world travelers, many are travel writers or work in public relations or are locals I've met during my own travels so I value all of their opinions. 
I received multiple comments that warned, "Do NOT do the terminal hotel. It's just so awful." My friend Brian said:  "I have colleagues who stayed there recently and informed me it is awful."
I replied to the latter comment saying, "I was afraid of that. It's so convenient which makes it a shame." Brian responded, "We were saying the same thing … it's so convenient and so many of us have passed it countless times, so we were all curious. But a reliable journo friend told us it's dated and bad in other ways as well."
I knew right there that I had to stay at the Miami International Airport Hotel because, like Brian, I've passed the hotel countless times and I too was curious. I guess this makes me an 'askhole', a funny word I learned from another friend's Facebook post. The definition? "A person that constantly asks for your advice, yet always does the complete opposite of what you told them to do."
For a little background, we live in Los Angeles and I've been to Florida over 50 times. Even before my sister moved there 20 years ago, I would still go regularly but once she moved there and then my dad did, too, I visited, on average, every three weeks. Normally, I would drive an hour north to see them in Delray Beach but I've also stayed in dozens of hotels in the Miami area for work, including at the grand opening of the Miami Marriott Airport Hotel Complex with Mr. Marriott back in 2009.
This time, I had to trust my gut because if we got on the flight I wanted (it's a long story), we wouldn't arrive in Miami until 9pm and would need to leave the hotel by 8:30am to catch a 10:35am flight. I knew I didn't want to deal with waiting for airport shuttles or overpriced and agitated rideshare drivers for a two- or three-mile drive with two tired little kids.
Since I wasn't sure if I was going to be able to get on the flight I wanted, I just kept monitoring the hotel price each day. It was shockingly cheap at $109 until the morning of my travel, when it went up to $260. What worried me is that other airport hotels were showing sold out and when I looked at the weather forecast, my jaw dropped: A major storm was lashing southeast Florida overnight with heavy to extreme rainfall, as forecasters warned the highly urbanized I-95 corridor was under threat from significant, life-threatening flash flooding.
I knew I had to jump on it before we were sleeping on the airport floor (like a dozen or so passengers I later saw). BTW: I booked the hotel using Hotels.com since I had a credit and I'm a OneKey member (it's free to join), which gave me a 10% discount. A standard room with 2 queen beds cost me $227.67.
Once we got on the plane, I called the hotel directly to let them know we would be checking in late, around 9:30pm, and to not give our room away. They confirmed with me they wouldn't.
To give you an idea how hard the rain was coming down, when we finally landed (we had to circle multiple times), the airport had leaks and two hours prior to landing, South Florida-based passengers' emergency alerts kept going off around me, which made everyone jump.
We landed in MIA's D Terminal, which is beautifully designed but by that time, most restaurants had stopped serving food. Fortunately, the one place I wanted to eat at was open so we stopped at La Caretta for some Cuban food. I was one of the last people to go through their cafeteria-like line before they closed at 10pm. They did keep their takeout café open for another hour but you can't get hot food.
I knew the hotel was in the E Terminal so we followed the sign towards the E Gates. There aren't any hotel signs until you're really close but the two people I asked all knew where it was and assured us we were walking in the right direction.
The Miami International Airport Hotel check-in is on the same level (2) as ticketing.
It's easy to find and there was a line to check-in but they had three agents working so we didn't have to wait more than two minutes, which was a nice surprise.
The kids were, understandably, getting cranky so I was in a hurry and forgot to ask for a room without a connecting door. Fortunately, our neighbor wasn't loud but I did hear his iPhone alarm go off at 6am (I was up working). RELATED: The 5 Questions You Should Always Ask Hotel Front Desk Agents
The elevators are redesigned and were fairly quick. We were on the fifth floor, room 504, which was towards the end of the hallway which is key when staying at an airport hotel as guests are usually coming and going all night long.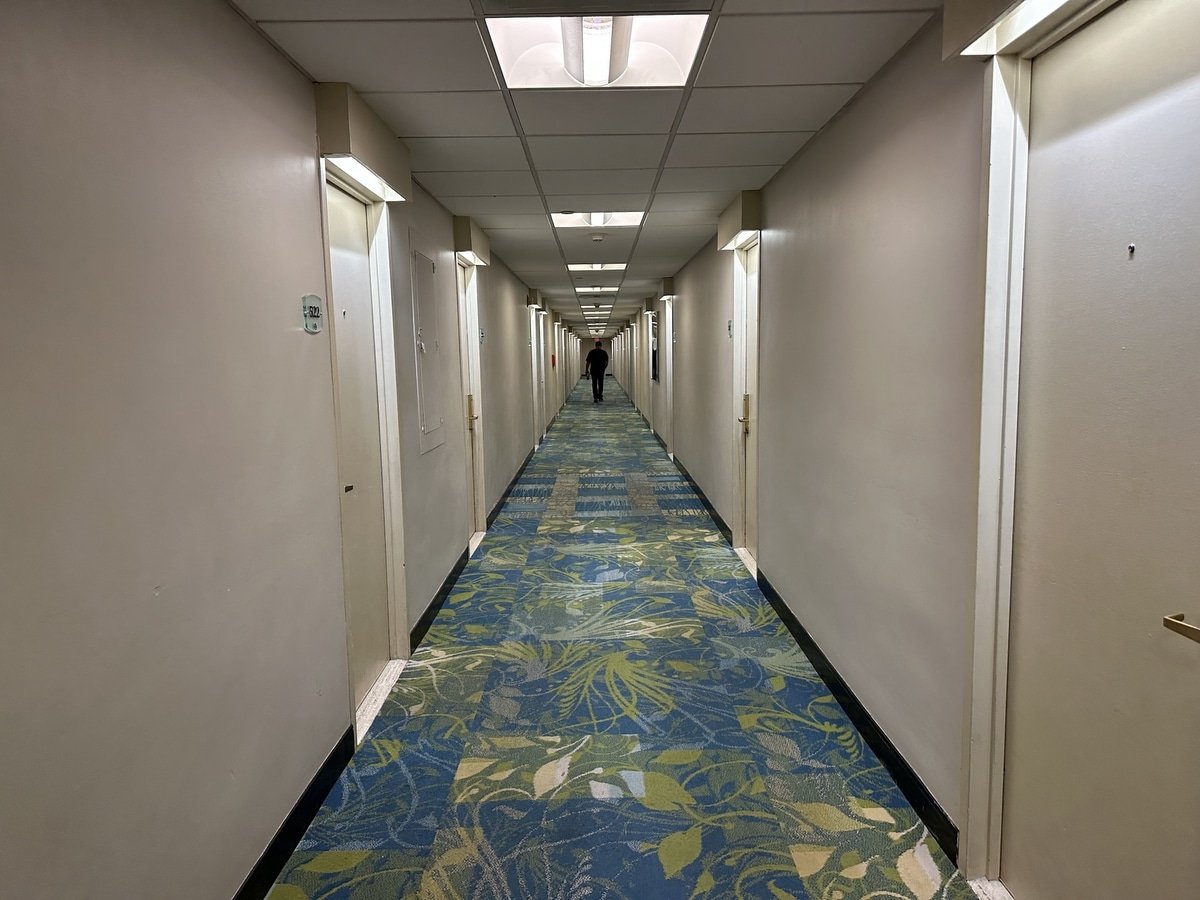 The hotel room hallways don't give you a great first impression. Truthfully, they're like a scene from a horror movie with bad lighting, stained walls, splotchy doors and an overpowering musty smell.
Once I opened up the door to our room, the first thing I noticed (besides the neon green wall) was the wall-to-wall shutters, making it look like there are a lot of windows.

Sadly, there's just one small window. It's double-paned so it does do a good job keeping the sound out but it was filthy on both sides.
Here's what the view actually is; I took this photo in the morning from the hotel restaurant two floors above.
The bathroom sink and tub were dated but clean. The water pressure in the shower was solid but fluctuated in pressure and temperature when someone nearby uses theirs.
By far the best part of the room was the beds, which were very comfortable and for us, that was the most important thing. They had three pillows each, two flat (which I love) and one bulky, which is good to work in bed with. 
There was a working desk but I didn't have time to use it. There was also a wall-mounted iron and ironing board, which my wife appreciated though she also did not use it.
The TV was small and standard, not a Smart TV but then I wouldn't have expected one.
I could hear some hallway noise but not a lot so either our neighbors were considerate or the door and walls do a good job blocking out noise.
There's a coffee maker in the room.
They have their own monogrammed pens so be sure to grab one to fill out any customs form like we needed to for our connecting flight in the morning.
Use the Do Not Disturb sign because housekeeping knocks on the door at 8am to clean.
I thought I had read they offer free breakfast but when I called down to the front desk in the morning, they said they don't. They have a restaurant on the seventh floor but it doesn't open until 12pm. I had to go check it out and it is a surprisingly good-looking restaurant with clean windows and fantastic views of the airport.
FYI: There's no pool or gym but there is a vending machine on each floor near the ice machines and elevators. Bottled water and soda go for $3.50.
Overall, the hotel was exactly what we needed. A comfortable, if unattractive, place to sleep without having to deal with shuttles or cars. Security for the E & D gates was less than 100 yards away and it had a CLEAR station so we went from the hotel to post-security in under five minutes.
Bottom line: The hallways and rooms are ugly and dated but I would definitely book it again under the same circumstances. When we got off our cross-country flight late at night, all we wanted was the most convenient place to put our sleepy children to bed so that they were well-rested for our connecting flight in the morning. Even my wife, who is big into design, agreed that it served that purpose. We were able to get the kids straight to the hotel without having to go outside in the torrential rain and even further delay bedtime.
When I went to tell my friends on Facebook about our experience, I noticed I had two new comments. One was from a travel writer who said, "I stayed at the MIA hotel. Great runway views, very quiet and convenient. Plus I got room 747!!!" The other comment, from an airline executive, said: "I have stayed at the Miami Airport hotel as recently as a week ago. It's It's the only hotel within the airport . It is overpriced but location wise it can't be beat. Service is fair."
KEEP READING
–Trip Report: LAX-JFK in American Airlines Flagship First Class with Conan O'Brien
–American Airlines Flight Attendant Warns: Doing This With Your Luggage Tag Could Put You at Risk
–American Airlines Flight Attendant Shares Her Top 3 Pet Peeves
–Trip Report: Los Angeles to Philadelphia on American Airlines
–Grab a Tissue: Southwest Airlines Pilot Delivers Emotional Tribute to Veteran's German Shepherd Service Dog on Her Last Flight
Want more travel news, tips and deals? Sign up to Johnny Jet's free newsletter and check out these popular posts: The Travel Gadget Flight Attendants Never Leave Home Without and 12 Ways to Save Money on Baggage Fees. Follow Johnny Jet on MSN, Facebook, Instagram, Pinterest, and YouTube for all of my travel posts.