Woo-hoo! You've got to love when you get a chance to fly first class, especially when it's in a lie-flat seat between L.A. and New York since you're pretty much guaranteed to get some good food, sleep, entertainment and sit next to a celebrity. All of that happened on my flight this past Monday. RELATED: Want to Sit Next to A Celebrity On Your Next Flight? Sit Here!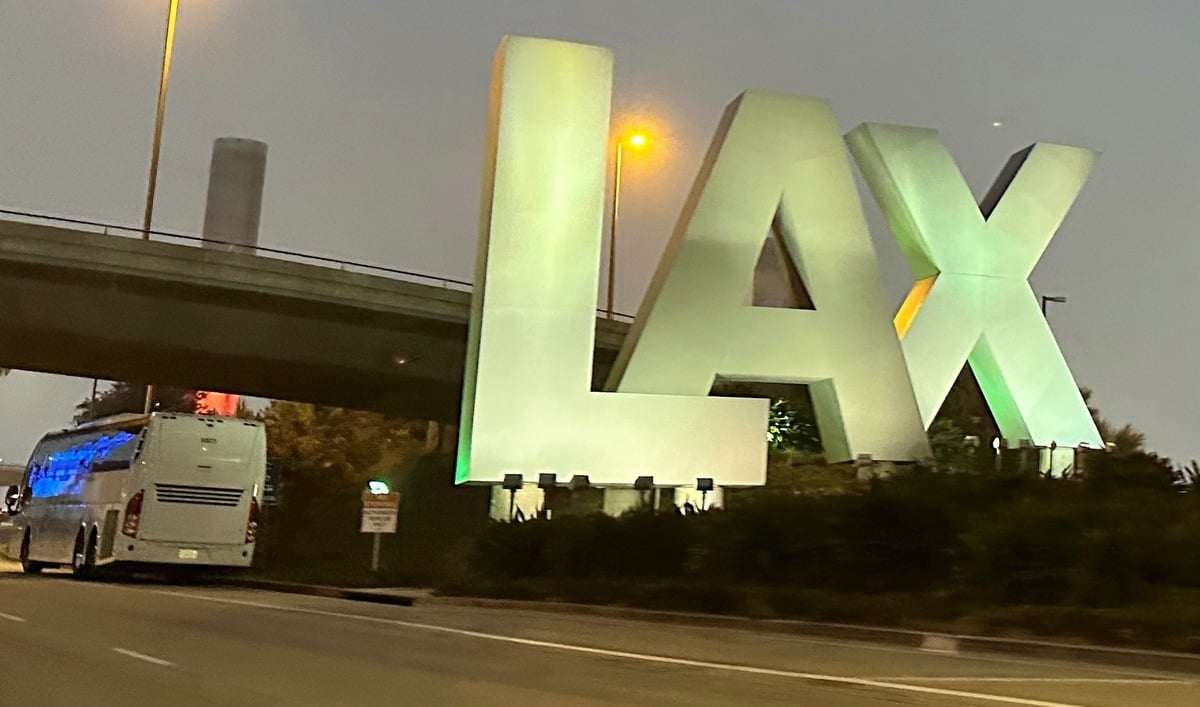 LAX Drop Off
I got dropped off at LAX by an Uber Black at 6am for my 7am flight. I had him drop me off at arrivals since departures is usually jam packed with traffic. He confirmed that departures is usually busy until 10am and arrivals is empty, then vice versa. He also said that Saturday is the least crowded day, followed by Tuesday and Wednesday. That's what I've been telling readers for a long time but I think it's in the reverse order in terms of airline passengers. I think Saturday is slow for Uber drivers because there aren't many business travelers. TIP: Follow LAX Stats on X (formerly, Twitter) to find the latest traffic and parking conditions.
LAX Construction Workers Helping an Elderly Lady
There weren't any escalators nearby so I took the ridiculously slow elevator up to departures. What warmed my heart is that it appeared two construction workers were helping an elderly lady in a wheelchair to get to check-in. Photo above.
American Airlines LAX's Flagship Check-In
Passengers flying American Airlines (AA) First Class Flagship have their own private check-in. They moved it about 200 yards up from where it used to be. I was close to the elevator so I didn't need to walk far. Agents, one acting like a bouncer with a clipboard, verify your name on the list before letting you in.
Once cleared, I was admitted in. There was just a small, rather dark and depressing check-in area with an agent at the counter. She said it was only temporary. I asked how long and she said she didn't know. "Probably two years and they will have us move one more time before the new one is finished," she said. You know what that means? The new one is going to be plush.
What's nice about Flagship First Class Check-In is that they have an agent escort you to the front of the security line so there's no need to even use CLEAR.

Flagship First Class Lounge
Security didn't take long and then I made my way to the Flagship First Class Lounge. It was pretty quiet and when I went to grab some food from the buffet, I saw Conan O'Brien standing there. I said, "Conan!" like I knew him. He looked at me with a smile, trying to figure out if he knew me. I said, "I'm just a fan," and I fist bumped him. He sat at the end with Shawn Wayans and one of his friends. Unsurprisingly, he had them both rolling with laughter as I ate some French toast nearby.
I have another trip coming up so I asked one of the agents if she had any pull to change a future flight but she said no, I'd have to call. She can only do wonders on same-day tickets. The agent in New York's LGA lounge said the same thing to me the following day. Times have changed.
Conan!
I went for a walk through the terminal to check things out and when it was time to board, I walked on with Conan. We chatted a bit in line and I did make him laugh. He also made me laugh. When I asked if we could take a selfie, I said, "Don't worry, I won't tell anyone where you're going." He said, "I'm not the Pope!"
American's First Class on their A321T is configured 1×1 with 10 seats. I sat in 5F (last seat in First). Shawn was in 4A and Conan 2F. The person in front of me wasn't too happy when the flight attendant said they'd forgotten to brew coffee. But they did offer a pre-departure drink.
We pushed back from the gate nine minutes early at 6:51am. We took off at 7:07am and the seat belt sign went off at 7:20am, which is the fastest I've ever experienced on a U.S. carrier. Many international carriers turn it off six minutes after takeoff but U.S. carriers seem to keep it on for a good 40 minutes.

AA has previews on their entertainment systems and highlight what movies and shows are on but it's super annoying and I don't think anyone paid attention. It's kind of like the flight attendant credit card push they do about 40 minutes prior to landing. I'm not sure why they don't just do it 20 minutes before so people can sleep or enjoy their movie. BTW: It looks like AA has cut back dramatically on the number of movies offered.
The flight attendants were just okay. One was solid, the other pretty bad. Here's how the service went: (All times Pacific):
7:30am: Hot towels
7:40am: They brought warm mixed nuts, two mini biscottis and the drink order. I had water, no ice. Later I had a Pressed Greens with Ginger, which was super tasty.


7:55am: Breakfast was served. I pre-ordered but none of the pre-orders were recorded. However everything on the menu was still available. A lot of passengers slept. I chose the American breakfast and the eggs were delicious.

9:36am: A cheese plate with grapes was served.

10:06am: Hot chocolate chip cookies

11:18am: We flew directly over the island of Manhattan.

We then circled a long while before touching down at 2:35pm local time, almost an hour early and arrived at the gate 10 minutes later.
The drive to Manhattan at 3pm was no fun. It took 80 minutes to get to my hotel (Arlo SoHo). Next time, I travel solo, I need to check out the Blade helicopter service between JFK and Manhattan as it only takes seven minutes.
KEEP READING:
–Trip Report: LAX-JFK on American Airlines Flagship Business
–Don't Fall Victim To Fake Uber Drivers At Airports
–Is This Airline Lounge New York's Hottest Club? Judging By the Lines, I Think So
–12 Things in Travel You Need to Know Today
–Warning: Travelers Using Twitter Need to Know About This New Scam
Want more travel news, tips and deals? Sign up to Johnny Jet's free newsletter and check out these popular posts: The Travel Gadget Flight Attendants Never Leave Home Without and 12 Ways to Save Money on Baggage Fees. Follow Johnny Jet on MSN, Facebook, Instagram, Pinterest, and YouTube for all of my travel posts.