Last Friday, I went to Denver to speak at the Travel & Adventure Show. Here's how my trip went…
Uber tips
I took uberX from my house to LAX and after my driver asked me where I was going, he told me that he was originally from Denver. Small world!
Good to know: Here are my 10 Uber tips that will totally improve your next experience.
AA in LAX's T5
To our surprise, there was no traffic at LAX and no lines at TSA PreCheck in Terminal 5. It was my first time flying American Airlines (AA) out of Terminal 5 since the airline made the switch in late January. Speaking of switches…LAX is going to be a mess in mid-May when 70 (SEVENTY) airlines at the airport switch terminals. Here's more info.
AA's Eagles Nest at LAX
I wasn't in Terminal 5 long since American only flies regional jets (Embraer 170s) to Denver. This meant that I had to hop on a shuttle bus for seven minutes (felt like 30) and head to its remote terminal nicknamed the Eagle's Nest. If there was direct access to the street and it didn't require taking a shuttle, I would actually like this terminal. But that's not the case. The shuttle makes it really inconvenient.
Surprisingly, there's an Admirals Club in the Eagle's Nest. It's small but it doesn't ever seem that crowded since people don't lounge around in there all day long like in the other lounges.
What sucks is that AA has finally taken all control away from its agents with its new computer systems. I used to be able to get agents to put my dad or mother-in-law in a Main Cabin Extra seat without paying the fee, but the agents said the new systems have eliminated that option. However, they did say that they could still do favors like this for frequent flyers for same-day tickets.
L.A. to Denver
Flight time to Denver is exactly two hours. I was seated in 2A. I have Executive Platinum status (100,000+ miles a year) so I can get free upgrades when space is available. On the E170, seat configuration is 1×2 in first class and 2×2 in economy. These planes don't have power ports but they do have Gogo Wi-Fi (buy it in advance for cheaper rates). It didn't really matter since my devices were all fully charged and it's a short flight. Besides, the scenery on this flight is amazing.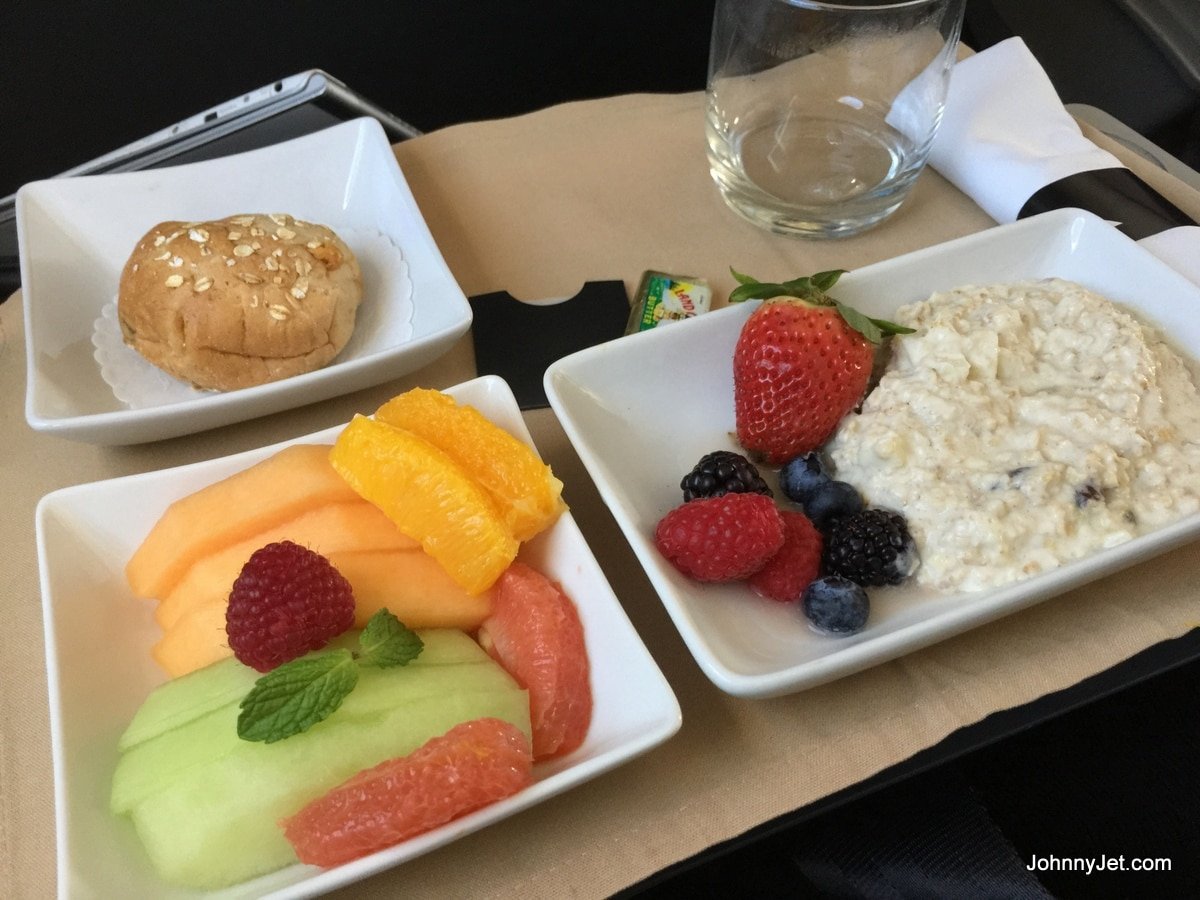 To my surprise, they served breakfast. Choices were cereal or muesli (the flight attendant didn't know the name so she called the latter yogurt with granola already in it). I guess that's one way to describe it. The only other notable thing is that one of the two FAs kept saying "ax" over the PA instead of "ask" and I could see my Australian seatmates looking around trying to figure out what the heck she meant.
T-Mobile in Denver
As soon as we landed I remembered that T-Mobile sucks here. My phone's service didn't kick in until we approached the gate and I had weak service the whole trip.
DEN to downtown
I ordered an uberX as soon as I got off of the tram and went to departures where they pick up (just like at LAX). My young Turkish driver was already there so he must've just dropped off a passenger. He had a nice BMW but he was visibly sick so I kept the window down the whole time. Fortunately, there wasn't any traffic and the 25-mile ride took 35 minutes and cost $40.
Beautiful weather
When he made the wrong turn (he thought I was going to the Grand Hyatt instead of the Hyatt Regency), I told him it was okay and that I'd get out and walk. It was such an unseasonably warm day (70ºF) that I preferred it.
FYI: The following day was 82ºF. Here's Denver's five-day forecast.
St. Patrick's Day in Denver
It was St. Patrick's Day and Denver has some real characters and party people. My favorite costume was this guy's above.
Slice of pizza
I was hungry and thought I was having a late dinner, so I stopped by a hole-in-the-wall, NY-style pizza place and had a decent slice ($2.85) a block or two away from my hotel.
Hyatt Regency Denver
The Hyatt Regency Denver has 1,100 newly refreshed guestrooms and is located across the street from the Colorado Convention Center. It has two banks of elevators. One only goes up to the 21st floor and the other goes to the 35th, so even though the hotel was crowded I never really had to wait too long. The hotel offers free Wi-Fi but it's fairly slow. If you want the good stuff it's an extra $4.95.
The good news is that I had spectacular views of the Rocky Mountain Front Range and the Denver skyline. The bad news is that I had a connecting room door and it was unlocked. It motivated me to create this video tip. I slept only okay, which I'll blame it on the high altitude (5,280-feet above sea level) because I kept waking up and my mouth was so dry I couldn't open its. Next time I will ask for one of these.
Interesting: My Hyatt Regency Denver room had a sign saying that they have a nurse on call 24 hours a day. First time I've seen that.
Dinner at the Kitchen
For dinner I met my cousin Bea and some of my friends at The Kitchen, which I've been to before. It's a popular place about 10 blocks from the Hyatt. Believe it or not, we ate outside, which is kind of remarkable for March 17 in Denver, don't you think? Since it was St. Patrick's Day I had their special corned beef and cabbage ($19). I don't normally like corned beef but it was really good.
Sam's #3 on Curtis
The next morning I had breakfast at Sam's #3 on Curtis with my buddy Lee Abbamonte. He's the youngest American man to travel to every country in the world (a Connecticut woman named Cassie de Pecol just took his title and became the fastest person ever to reach that goal). The line looked long but it moved fast, so don't be intimated. We walked right up to the counter and there were plenty of empty seats. The menu is extensive but since I was in Denver I ordered the Denver Skillet ($10.99). It was good but really filling. I paid for the meal and received an email a couple days later from American Airlines AAdvantage stating that since I used a credit card I had registered with them, I earned 92 miles for it. Cha-ching. Just kidding. AA miles these days are getting lamer and lamer.
Denver Travel & Adventure Show
I gave my one-hour presentation at the Denver Travel & Adventure Show. I think it went well, though it was my smallest crowd yet. I was told by locals that it was probably because it was 82ºF out and no one wanted to be inside on their warmest day of the year. I can't really blame them.
Denver to LAX
My flight home wasn't until 7:50pm but I was jonesing to see my boy (and wife) so I flew standby. AA made me sweat it out but I was able to get on the 5:08pm flight, which got me home before my original flight took off.
I thought I was the first to board the plane but there was a woman already seated in the seat next to me. It turns out her husband was the pilot so I learned all kinds of insider info.
Flight time was two hours and they served a meal. Choice of salad with roast beef or a Thai veggie wrap. Both came with a slice of cheesecake that I wish wasn't so darn good.
Use the Capital One Venture or Sapphire Preferred for great travel. View from Hyatt Regency Denver. Photo by Johnny Jet " />