Travel planning these days is a bit like hopping into a game of double Dutch jump rope. One rope the pandemic, the other climate change. We managed to hit it about right from the pandemic standpoint, fully vaccinated and before the Delta and Omicron surges. We'd planned to escape Austin's notoriously sweltering hot and humid July but were met with hotter than usual temperatures in Colorado, though without the humidity of Austin. At least it cools down at night in Colorado and the mountain scenery ignites the happy place in my soul.
With recent CDC guidelines dropping the indoor mask mandate for 75% of Americans, many are eager to come out of sheltering in place and start mapping out some fun summer plans. Included in this story are some of our favorite mountain spots to consider in Colorado along with some helpful tips woven in to make the most of your trip.
BOULDER
We moved from Colorado to Austin a little over three years ago and were longing to visit dear friends and beloved old stomping grounds on our two-week adventure. We started in Boulder staying at the most quintessentially Boulder-esque place of all, The Boulderado.
Steeped in history, the Boulderado opened in 1909 as the first luxury hotel in Boulder. To reach our suite on the third floor with luggage in tow, a bellwoman led us to Boulderado's original Otis elevator, the only model of its kind still in (hand) operation west of the Mississippi. Our traditional Victorian decorated suite offered generous space, with a separate bedroom, bath, living area and views of the nearby Flatiron Mountains.
It's well worth scheduling a complimentary, guided tour in advance when you book your room. If traveling with kids, be sure to download this scavenger hunt check list to make learning about the hotel (and Boulder's) history even more fun. The tour brought to life the iconic property's past including famous guests who had visited like Helen Keller, Ethel Barrymore, Douglass Fairbanks, Louis Armstrong and Bennie Goodman. I learned on the tour that Boulder, which I'd always thought of as a happening hippy town, remained dry after prohibition until 1967. The hotel's underground speakeasy-style bar is called License Number One in homage to obtaining the first liquor license once prohibition ended.
The jewel box stained-glass ceiling was impeccably restored in recent decades to its original look and an extensive restoration of the hotel's lobby and mezzanine spaces took place in 2018.
The Boulderado's restaurant, Spruce Farm & Fish, isn't just convenient if staying at the hotel but a destination spot sought out by locals as well.
The Prince Edward Island Black mussels were delectable and even lured my somewhat finnicky teenage son to help polish them off. We ate at the restaurant several times during our stay and with its farm-to-fork and fishnet-to plate menu, you really can't go wrong with anything you order.
Pearl Street is the main artery of Boulder, located just a block from the hotel, and is flanked with an assortment of cafes, shops and street performers. We were delighted to see all the restaurants that had brought dining outdoors with ample picnic tables in front, and twinkly lights strung above for evening dining. We started each morning with a walk down Pearl to sample some coffee shops. Boulder-based OZO (about a six-minute walk from the hotel) brews a lovely bold bean and Spruce Confections (another four minutes further west on Pearl) is known for their out of this world pastries. We enjoyed a croissant, breakfast burrito and interesting people watching to kick off our day.
Chautauqua Park is the place to go if you want to hike the Flatiron Mountains.  You can pick up a trail map in the Ranger Cottage at the foot of the hiking trails. Staying in Boulder (5318') a few nights before heading up to the mountain towns allowed us to slowly acclimate to higher altitude. Slow and steady, along with plenty of water, is the smartest approach to warding off altitude sickness.

CRESTED BUTTE

We'd spent time skiing Crested Butte but had never been during the summer and were eager to get there before dusk to catch the 4th of July fireworks show scheduled for that evening. The drive from Boulder to Crested Butte takes about five-hours, with pretty much every mile of it scenic, if you drive south through Salida then over to Gunnison and up. We arrived late afternoon to our hotel, Grand Lodge Crested Butte, situated at the base of Crested Butte resort.
Our one-bedroom suite offered all the comforts of home with a full kitchen, living room, dining room, separate bedroom and en suite bath. It's well worth splurging for a room with a full kitchen as we found many restaurants in town short-staffed and a stop at the grocery store allowed us to have breakfast in our room and make sandwiches to pack for lunch. This more than offsets the cost and added to our convenience to spend more time seeing the area sights.
After a dip in the hotel's indoor/outdoor pool, we cleaned up and headed over to find a spot to lay our blanket down and watch the fireworks. The sun dipped behind the majestic Mt. Crested Butte peak for a stunning sunset, and we welcomed in the crisp air. The red, white, and blue fireworks display earned well-deserved oohs and ahhs, each one outdoing the previous, culminating to the big finale spectacular display.
We woke early to catch the (free) Mountain Express bus into the town of Crested Butte to stake out a spot for what's billed as "The biggest small-town parade" for the 4th on Main Street. Snagging a viewing area in the shade was fortunate as our visit happened to time with continued much toastier than usual temperatures. In fact, as luck would have it, for the next week, the Colorado mountain temperatures were higher than those back home in Austin, which was experiencing freakishly cooler weather!
A tip the hotel receptionist offered was to keep our drapes pulled during the day so when we returned back in the evening, our room wasn't as toasty and then to place the hotel-provided fan in the window to pull in the cool air from outside. It worked almost as well as the whole-house fan I had in our old home in Colorado. Few hotels in the mountain towns have AC so we implemented this tip throughout our trip in other places as well.
We waved and cheered each float, cluster of bicyclists or performers, as they rode past us and threw out candy for the kids. The spectators and their dogs were all decked out in patriotic red, white and blue for the festivities.
The 10-3@CB Disc golf course is ranked as one of the top ten courses in the nation. It's named after its altitude, which you access by chairlift halfway up the mountain. We'd never played frisbee golf but figured our routine monkey-in-the-middle frisbee game back home with our labradoodle would offer us a leg up. The 18-hole course is shaded, meandering through the forest. If you've never played frisbee golf, it's easy enough for first timers and we had so much fun, we played it again another day too.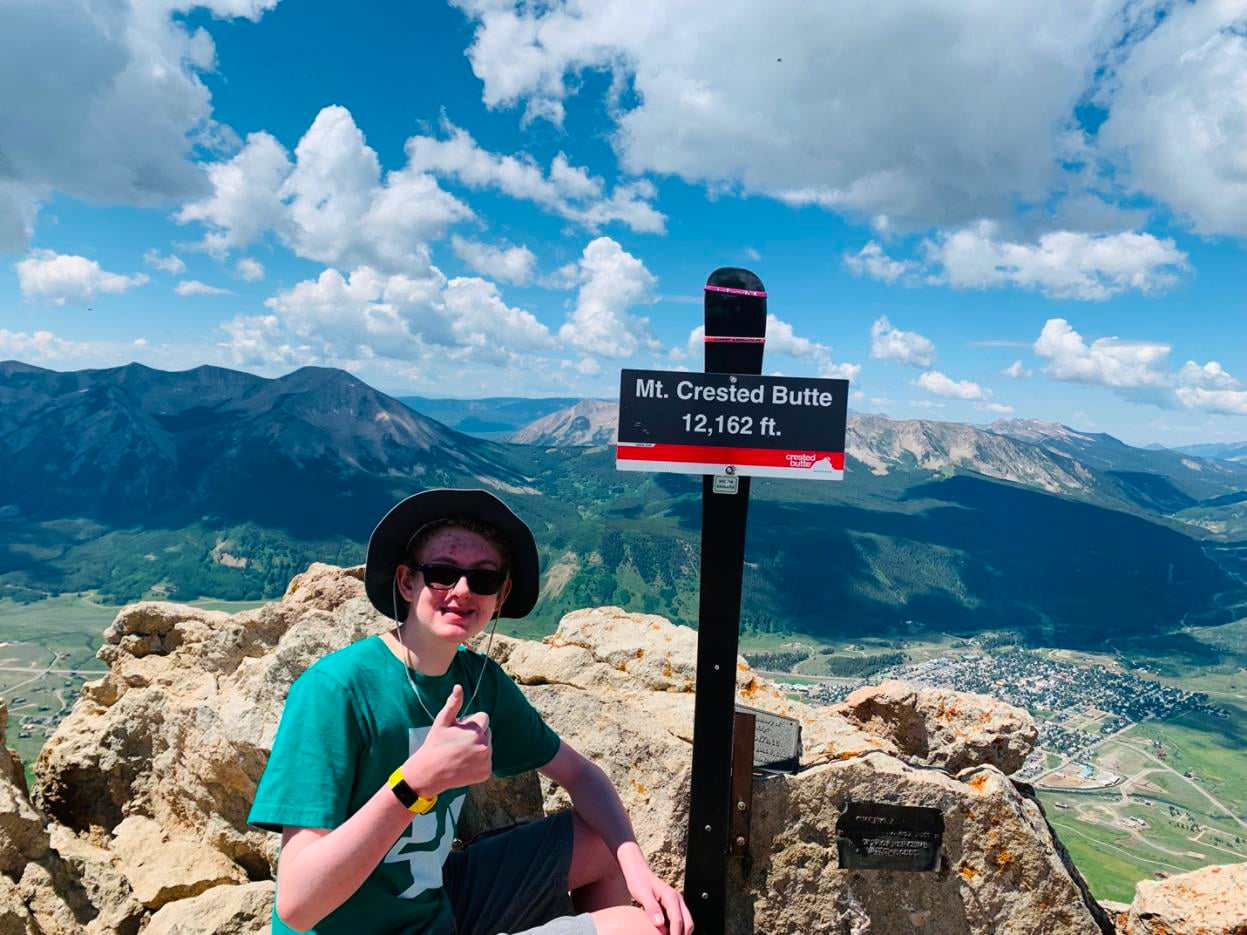 For the ultimate view of the area, we got up early the next day to ride a chairlift up to climb Mt. Crested Butte (12,162') which is well above tree line. It's not only cooler to hike early morning but you'll also avoid late afternoon rain (and lightning) that frequently roll in. We quickly discovered why Crested Butte is known as the wildflower capital of Colorado as we walked past every color of flower imaginable, from the signature state flower, the Columbine, to the tiny but tremendously bold yellow Alpine Avens and purple Alpine Bitterroots. Our visit was just before the annual Wildflower festival, so just about everything was in bloom.
Sturdy shoes are a must for the last section of the climb and be prepared to scramble on all fours and do some crab walking back down the wiggly boulders. Ames took a tumble by going too fast and not heeding my warning to slow down. Fortunately, it was nothing antiseptic spray and some bandages in my first-aid kit I always hike with couldn't handle. Something I also always keep in my kit are moleskin strips, pre-cut to place on hot spots on toes or heels. Bring a wide brim hat and of course sunscreen as the rays are even more intense at altitude. If you have a teenager on Acutane (for acne) a breathable long sleeve SPF shirt or pants would have been a smart idea to have packed as I had to take my son off his medication a week into our trip.
Even though we'd been at altitude a few days now, Ames started feeling queasy after our hike. The receptionist at the hotel offered me a packet of Acli-mate (an altitude drink mix made locally) and I picked up some bottled oxygen at the nearby convenience store, just steps from the hotel. Then we drove to Gunnison for dinner, located at 7703' altitude where we hung out on the patio and played a few card games of gin rummy until Ames began to slowly feel better. I picked up a dozen packets of the Acli-mate at a grocery store in Gunnison to keep on hand.
BRECKENRIDGE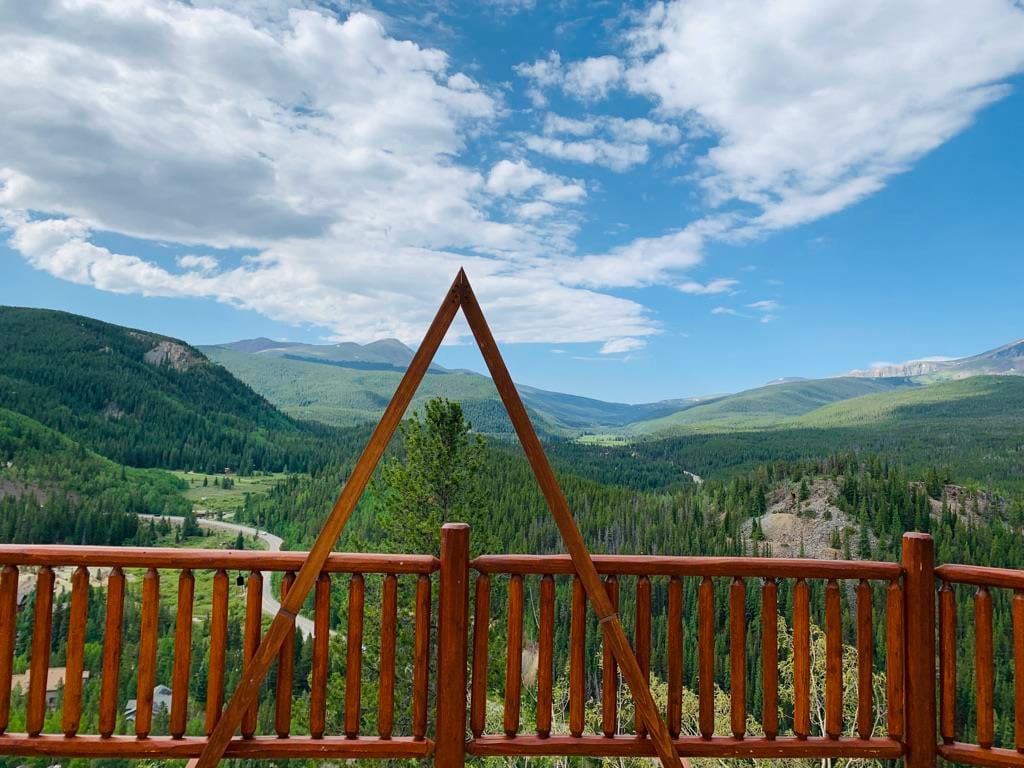 Next, we headed to Breck, as locals call it, just a three-hour drive north from CB.  Our hotel, The Lodge at Breckenridge, was perched above the ski resort and rated the world's highest altitude hotel. Lovely, from a scenic standpoint, but I feared Ames might suffer with the altitude again. As a preventative measure, I would pour a packet of Acli-mate into our water bottles each day and night (and drank a LOT of water) for the remainder of our trip just to ward off anymore issues with the altitude.  It worked like a charm!
The rooms at the lodge feature rustic wood beam accents. Be sure to book a room with a mountain view to capture the true glory of the property's spectacular view. When you walk along the outside deck on the mountain side, you'll understand why so many choose this place as a wedding destination—Mother Nature's cathedral is hard to top there.
Breckenridge's summer adventure park, Epic Discovery at the base of the ski resort, was already one of the most fun parks of its kind and it continues to expand, offering even more for adrenaline junkies. The GoldRunner coaster is always a favorite because you control your speed as your car whips around the rails, jetting through the trees at dizzying speeds of 25 mph. You can control your speed as well on the Alpine Coaster, but there you need to exercise more caution, as you can actually skin your knee or flip your car off the cement track if you aren't careful. The park offers a wide assortment of activities for little kids, big kids, and adults like me who are kids at heart.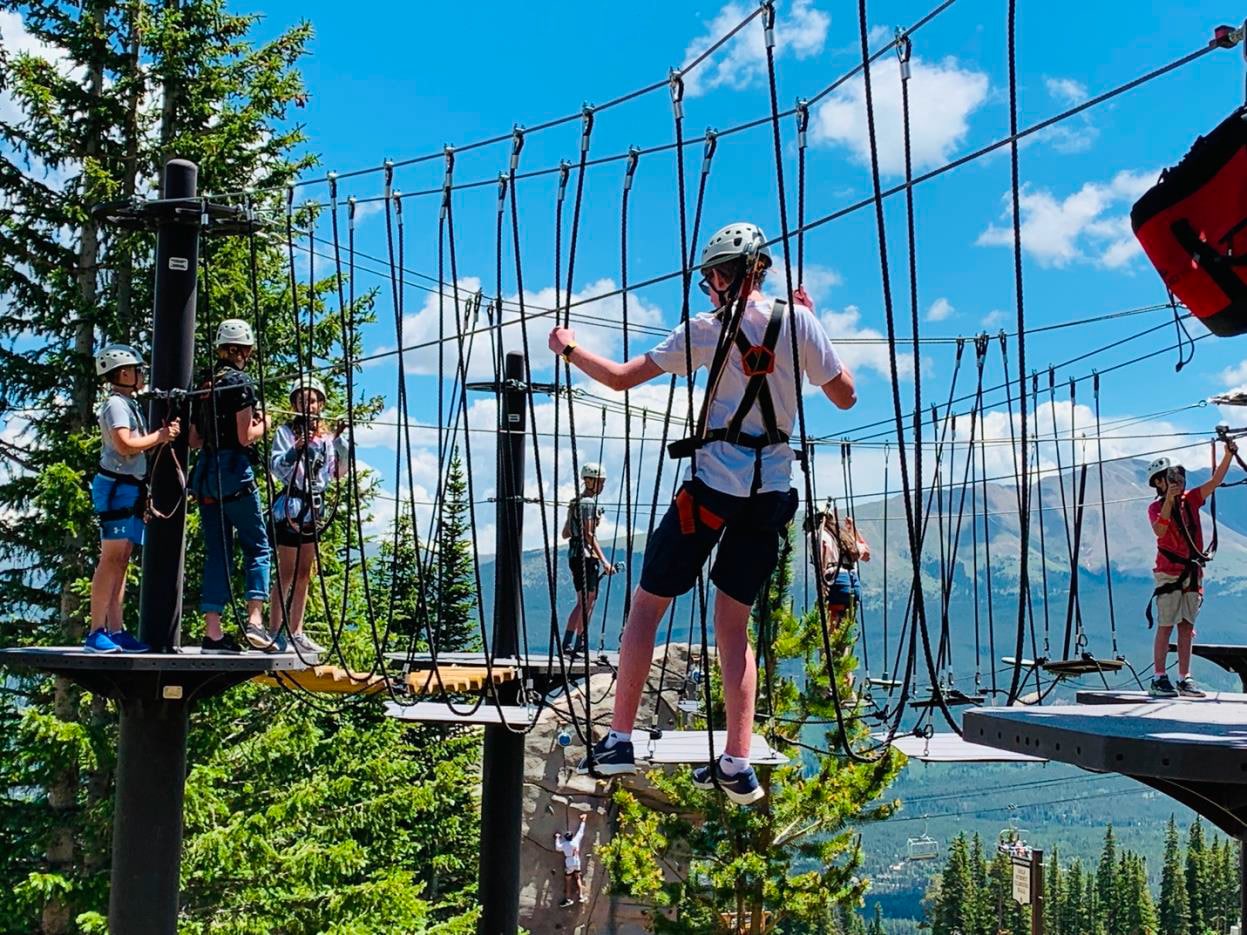 New since we'd last visited was an entirely new section called Alpine Camp, a chairlift ride further up the mountain. There we found a massive 40-foot climbing wall (with top ropes) and a spectacular ropes course with 15 features including rope swings and a log walk. Head there when the park first opens in the morning to avoid a long wait and they're serious about the close toed shoes rule. The ropes course is a lot harder than it looks and quite the workout as I learned trying to balance my way across pommel lift frisbee-sized discs attached, to wobbly poles, suspended from a rope.
Ever wonder what Siberian Huskey dogsled packs do in the summer? You can find out when you visit Good Times Adventures. Howls of excitement greeted us by the sound of 150 dogs at the kennel. We got to learn their names, see where they sleep, what they eat, how they train and of course were smothered in lots of doggie kisses when we pet them!
Best of all, we got to go on our very own trail ride (in a golf cart) on an exercise run where we mushed past stunning wildflowers in the Swan River Valley. The dogs ran hard then cooled down when we stopped to offer them a drink in a stream along the trail. With their thick coats in the unseasonable heat, some of the dogs didn't just wet their whistle but submerged themselves entirely, lying down in the cold stream. Wear pants when you go because you'll return dusty (and covered in dog hair) but it's well worth it.
STEAMBOAT

Steamboat is the northern most ski town of Colorado and about two hours north of Breck. We've spent lots of time in both winter and summer here and never tire of returning to one of our favorite mountain towns.
We booked a spacious two-bedroom, two-bath mountainside place at the Bronze Tree Condos through Mountain Resorts, which offers a wide selection of superb lodging (at varying price points) and they're super helpful in planning other aspects of your vacation through their booking office.
Ames hadn't been old enough on previous visits to-go tubing and after the toasty temps, we were eager to float along the cool rapids. We were bummed to learn when I called the go-to shop in town to rent tubes, Backdoor Sports. The shop owner, Peter, explained that the low waters and higher temperatures had closed all water activity on the Yampa River in Steamboat, making for an already tough year due to the pandemic. Peter added, "Be sure to contact your representatives in congress to implement legislation to address climate change." And he cautioned about the forest fires not terribly far away which might impact air quality in the coming days.
Friends of ours from our old neighborhood met us in town and we ventured out on a hike to the lower half of Fish Creek Falls. It's easy enough for my friend, Christina's toddler, Dagmar and 6-year-old in tow, Sawyer to get to the base of the waterfall. And It was refreshing to scramble down the rocks and put my feet in the ice cold water (though we made sure the little ones stayed far from the water's edge as the water was moving swiftly). If you're feeling more adventurous, you can continue on to the Upper Falls which Ames and I have done on a previous trip and you'll be rewarded for your climb up to another gorgeous waterfall.
Another great activity for a group of all ages is to rent bicycles at Steamboat Ski & Bike Kare at the Downtown location. Christina was outfitted in an electric bike with a carriage in which to haul Dagmar. I got an 18-speed cruiser bike with a tag-along where Sawyer pedaled along behind me. And Ames got his own cruiser bike. Bike rentals included helmets and locks and the shop was conveniently located just a block off the bike path alongside the Yampa River.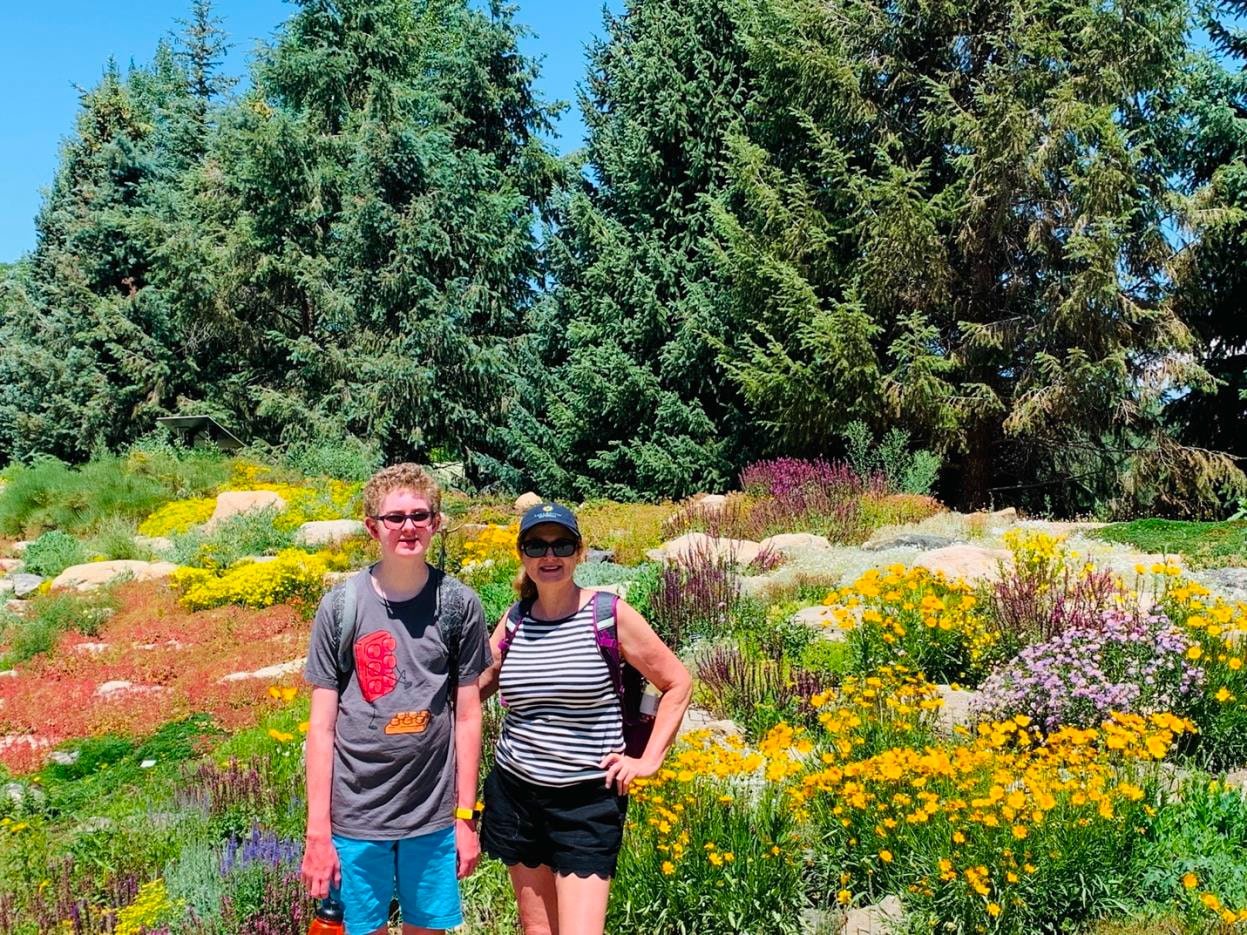 We made our way to the Yampa River Botanic Park which is free (though donations are greatly appreciated). 60 spectacular gardens fill 6 acres along with reflective ponds, trees, shrubs, annuals and perennials, as well as many statues throughout. Ames and I had discovered this hidden gem by accident on a previous visit, having never heard about it, so it feels all the more special to us and we were delighted to share the discovery with our friends. While the bike ride was fairly flat, Christina was glad she had the optional electric mode on the way back, especially when she realized Dagmar had left her hat on a park bench and she had to ride all the back to the park to retrieve it.
Our visit happened to time with the annual Hot Air Balloon Rodeo and I was incredibly fortunate to get to ride along in one of the balloons with the Unchained Balloon Team out of Albuquerque, NM. The festival kicks off in the pre-dawn morning when the winds are typically calmer. The festival is well worth attending even as a spectator to see the sky fill with a giant bouquet of colorful balloons. There are a number of hot air balloon companies to schedule a recreational flight. (We'd been on one in a previous winter, and it was amazing.) The difference in the two are that the balloon baskets for recreation are larger to accommodate more people and the envelope is also larger. Most at the festival have smaller baskets and more narrow envelopes to be able to pilot with more precision.
We arrived to an open field with dozens of hot air balloons being unpacked and an opera singer belting out the Star Spangled Banner. There was only room for one extra in the balloon basket, so Ames stayed on the ground to be my photographer. A massive fan hooked up to a generator filled the envelope of the balloon, then the roar of the gas tank flame to heat the air inside lit up like a giant Bic lighter. One by one, two dozen balloon launched and then it was our turn.
We lifted off and began to float towards Bald Eagle Lake where our pilot executed a precision "Splash and Go" dipping the basket into the water and lifting right back up again. I'd been told to wear shoes than can get wet as this doesn't always go as smoothly as our pilot Thom Wright mastered. Not a drop of water entered our basket; we just barely kissed the water's surface and gently lifted back up. The reflection on the water lit up with bright colorful balloon colors. We soared over the valley of Steamboat as the sun was peaking up from the horizon.
Unlike any other aircraft I've been in, it's the quietness that seems most surprising when you're up there, except for the occasional blast of the gas tank to keep afloat. There was a bit of haze off in the distance from the forest fires we'd been hearing about on the news, but we were lucky to have clear skies and breathable air quality for the day. Our pilot radioed down to the car chaser (the part of the crew that follows the balloon) to give a target of where we would land. They met us just a minute before we gently touched down. It was the perfect way to end our last day in Steamboat.
AURORA
An ideal place to stay before flying home, especially if you have an early flight, is the Gaylord of the Rockies Resort and Convention Center, located almost at the doorstep of Denver International Airport. Staying a night here meant we didn't have to stress about hitting possible mountain traffic had we left directly from Steamboat.
Our room décor had a hip, contemporary vibe. I got my Fitbit steps in just walking around the resort as there are 1500 rooms in the hotel and feels like a world unto its own. The Gaylord opened in December of 2018, after we'd moved from Colorado and the shiny newness still feels fresh. The place is ginormous and includes a lazy river and water slide area along with an assortment of restaurants all under one roof. It was a relaxing place to unwind from our two-week adventure.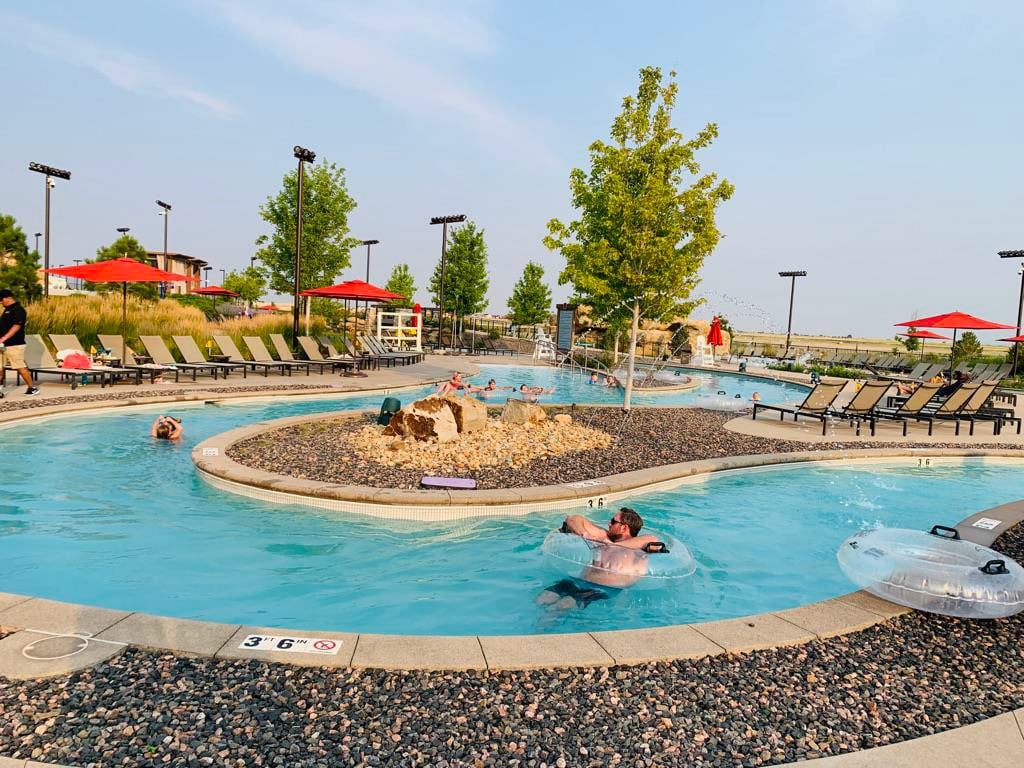 While the resort offers five sit-down dining choices, we opted to the most convenient route. You can order food poolside at the Arapahoe Springs Bar & Grill (which serves wraps, salads and burgers) and we enjoyed a wrap (for me) and quesadilla (for Ames) from our lounge chairs.
There's an assortment of activities for kids of all ages. Our plan was to do an Escape Room but after Ames hit the water slides, we floated in the lazy river, and got a bite to eat by the pool, a late afternoon nap was more enticing.
We got cleaned up and headed out to roast marshmallows over the outdoor firepits (kits are an add-on you can sign up for at the front desk) and played a round of frisbee golf before the sun set. Flying out of DIA couldn't have been more seamless, thanks to the resort's proximity. We ordered breakfast and snacks to go from the resort's Marketplace Grill which serves grab n' go food (breakfast, lunch, and dinner) before heading to the airport.
The fires were dominating the local news and the haze from the smoke thickened the morning sky towards the mountains. Fortunately, the visibility didn't delay our flight and we counted ourselves lucky to have dodged the fires more directly and the Omicron variant which would hit a month later.  We'd packed in a mountain of memories in just two weeks to savor for a lifetime.