This post contains references to products from one or more of our advertisers. We may receive compensation when you click on links to those products. For an explanation of our Advertising Disclosure, visit this page.
One of the most universally hated aspects of traveling is having to pay baggage fees. Airlines made a whopping $2.8 billion in baggage fees in 2020, regardless of the pandemic. Travelers are more focused than ever on carrying their luggage so they don't have to give the airlines any more money than they have to. But there is a better way! Here's how to avoid baggage fees with credit cards.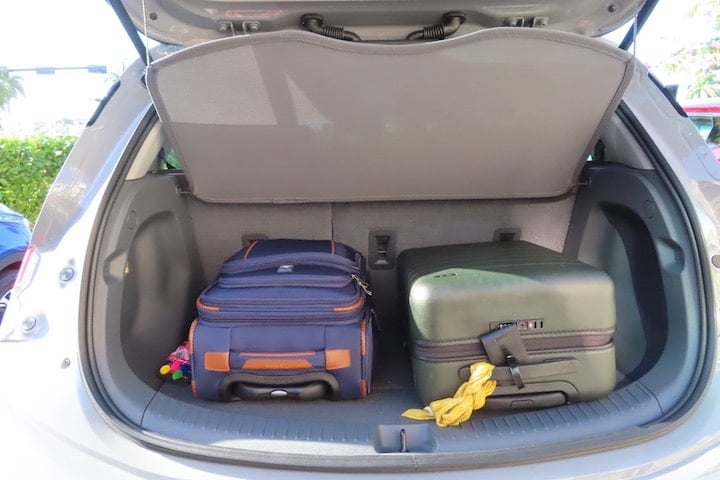 Terms apply to American Express benefits and offers. Enrollment may be required for select American Express benefits and offers. Visit americanexpress.com to learn more.
How To Avoid Baggage Fees With Credit Cards
Many travelers pick credit cards for their generous sign-up bonuses, but you only receive the bonus the first year. Additionally, banks have continued to tighten their policies to make it harder to jump from card to card to card.
When you factor in benefits like free checked bags and priority boarding, it can make a lot of financial sense to keep a co-branded airline credit card to save hundreds of dollars each year by avoiding checked bag fees. However, if you aren't loyal to one brand, you may want a flexible card instead, though you won't get airline-specific perks.
Airline Credit Cards That Offer Free Checked Bags
One of the best perks of an airline co-branded credit card is that you can usually check your bags for free. However not all co-branded credit cards are created equally. As you might've guessed, the cards that come with more perks are also going to come with higher annual fees.
Let's take a look at what's available to avoid baggage fees so we can compare.
How to Avoid Baggage Fees on American Airlines
American Airlines offers credit cards from two banks: Barclays and Citibank (here are the best Citi credit cards).
Barclays currently offers only one American credit card, the AAdvantage® Aviator® Red World Elite Mastercard®. The benefits include one free checked bag for the cardholder on domestic American Airlines itineraries for the primary cardmember and up to 4 companions traveling with you on the same reservation.
Citibank offers multiple American Airlines co-branded consumer credit cards, plus an option for business owners. You can check out our post on the best credit cards for American Airlines fliers.
The Citi® / AAdvantage® Platinum Select® World Elite Mastercard® and the CitiBusiness® / AAdvantage® Platinum Select® Mastercard® also offer a free checked bag for the cardholder and up to 4 additional passengers.
If you upgrade to the Citi® / AAdvantage® Executive World Elite Mastercard®, the benefit increases to up to 8 additional passengers traveling on the same domestic American Airlines itinerary.
No annual fee credit cards are nice but don't come with as many perks. For instance, the no-fee American Airlines AAdvantage® MileUp® doesn't offer free checked bags. If you travel at least once a year and like to check your bags, you're better off paying the $95 annual fee for the AAdvantage Platinum Select World Elite Mastercard.
How to Avoid Baggage Fees on Delta Air Lines
American Express partners with Delta to offer the best Delta credit cards—four consumer and one business credit card. The Gold, Platinum, and Reserve Delta SkyMiles credit cards allow checked bag waivers. Delta also has the Delta SkyMiles® Blue American Express Card, but you will not receive a checked bag for free with this card.
How to Avoid Baggage Fees on JetBlue Airlines
As a JetBlue credit cardholder, you'll get one free bag every time you fly JetBlue. When you fly JetBlue with others, up to three companions will also get one free bag, as well. For comparison: With a standard "Blue" JetBlue fare (here's their new baggage price structure), the first bag for non-cardholders is $20 in advance or $25 at check-in, so $40 or $50 per roundtrip.
Southwest Airlines
Southwest prides itself on not charging for checked bags. In fact, every customer with a ticket can check two bags for each flight for free. Because Southwest Airlines doesn't charge checked bag fees, there's no need to include this as a benefit in their credit cards. However, the best Southwest credit cards still come with plenty of perks that may be beneficial to Southwest travelers.
How to Avoid Baggage Fees on United Airlines
The best United Airlines credit cards from Chase also offer free checked bags, but the benefit is less generous than what American and Delta provide. With the United consumer and business credit cards, free checked bags are only available for the cardholder and one companion. But, you get two free checked bags per person with some cards. So, if you're a family of four traveling together, this is the same as everyone getting one checked bag for free.
Credit Cards That Offer An Annual Travel Credit
Although these credit cards are not aligned with specific airlines, they offer travel credits each year that you can use for checked bag fees, upgrades, food & drinks, and other airline charges.
The Platinum Card® from American Express (both personal and business) offers up to a $200 annual reimbursement of airline expenses (in the form of a statement credit). The Chase Sapphire Reserve® offers $300 in annual travel credits.
To use these travel credits, charge the checked bag fees to your credit card, then call customer service and request to use your travel credits to pay the fee.
Keep in mind that the annual fees of these premium credit cards range from $550 to $695. You wouldn't want to apply just for the annual travel credit. Each premium credit card offers a wide array of benefits that make it a worthy investment for the frequent traveler.
Flexible Travel Dollar Credit Cards
There are also credit card options where the points earned from the card can be used to pay for travel expenses. The Capital One Venture Rewards Credit Card is a popular choice with its "What's in your wallet?" campaign.
The information for the Barclays Arrival Plus World Elite Mastercard has been collected independently by Johnny Jet. The card details on this page have not been reviewed or provided by the card issuer.
Free Checked Bag Exceptions
As with everything else in the travel world, there are exceptions to the free checked bag benefits included in your credit card. If your bag is oversized or weighs too much, there will likely be a fee. When flying internationally, your free checked bag benefit may not apply. It's a good idea to check ahead of time.
Avoid Baggage Fees By Getting The Right Credit Card
The bottom line is that you shouldn't have to pay to check your bag when you fly. There are multiple credit card options available that can save you money. Most of these credit cards charge an annual fee, but you can be positive after just one or two flights with the money you'll save. Avoid baggage fees and fly safely.
Related Articles: