Over the years, I've been fortunate to have randomly experienced a couple retirement flights and have also walked past gates tastefully decorated for long-time employees which some airlines do for their employees. RELATED: A Feel-Good Story Aboard Southwest Airlines When Pilot Surprises Passenger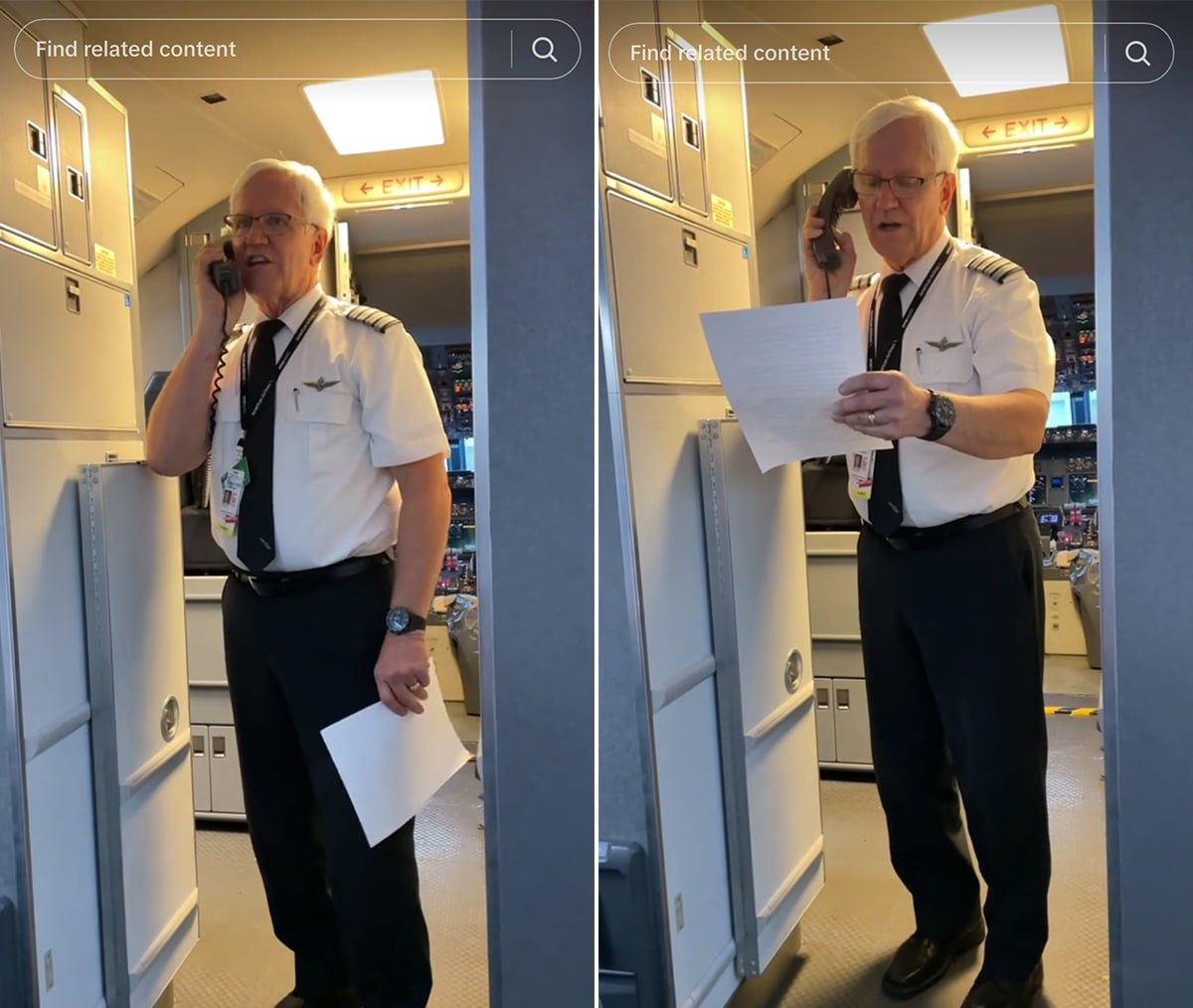 These flights are always special, including for the passengers who had no idea what was about to take place.  Justin Harrison is a passenger who captured the American Airlines veteran pilot making his farewell public address announcement. Justin appropriately captioned his now-viral TikTok video, which at the time of this publication, had garnered over three million views, "privileged to have been there for this 🫡 #americanairlines #retirement #fypシ"
Here's the transcript, "Good evening, ladies and gentlemen. Welcome aboard Americans Flight 2561 to the Chicago O'Hare International Airport. My name is Jeff Fell. I'm the captain on the flight going to Chicago tonight. And our flying time up to Chicago is 2 hours and 43 minutes from takeoff to touchdown."
Captain Fell then nervously read from a prepared speech and said, "I normally don't stand up in front of everybody like this. I usually just stay in the cockpit and talk on the PA. And if I get a little emotional, please forgive me for that. But first of all, I'd like to take just a few moments of your time before we take off to Chicago tonight. And I'd like to acknowledge a group of very important people to me on board the flight. Most of them are in the back of the airplane, and they're the majority of my family."
"And they have come along with me for my retirement flight after 32 years with American. Thank you all for coming along with me tonight and celebrating, uh, this very memorable time in my life. I love all of you. And also, I didn't want to get emotional, but goodness gracious. Anyways, finally, For my wonderful wife, Julie, who has been at my side for the majority of my 32 years at American. She has been the rock, the solid rock in our foundation, in our lives and our marriage. Her faith in the Lord, wisdom, strength and love has guided our marriage and family throughout these years. I love you and look forward to the next chapter in our lives. And welcome aboard, everybody."
As you can hear, everyone clapped as Captain Fell hung the phone up and hugged the gate agent as he made his way to the cockpit one last time.
Justin's video has received over 7,000 comments and below are some of the most liked.
SMflight wrote, "As a flight attendant I'm bawling..god speed sir and enjoy your retirement."
Sara Harrison commented: "How awesome! I hope he got the cannon salute!"
Captain Fell did get the water cannon salute, which Justin also captured and I've embedded below.
Other notable and relatable comments:
Hannah: "As a pilot's daughter this made me cry😭I'll lose it when it's my dad's retirement flight"
Demi Clark: "As soon as he said retirement flight my tears came 😢😢😩😩"
Kudos to Captain Fell, his family, American Airlines and ORD for making this retirement flight a memorable one.
KEEP READING
–Trip Report: LAX-JFK in American Airlines Flagship First Class with Conan O'Brien
–American Airlines Flight Attendant Warns: Doing This With Your Luggage Tag Could Put You at Risk
–American Airlines Flight Attendant Shares Her Top 3 Pet Peeves
–Trip Report: Los Angeles to Philadelphia on American Airlines
–Grab a Tissue: Southwest Airlines Pilot Delivers Emotional Tribute to Veteran's German Shepherd Service Dog on Her Last Flight
Want more travel news, tips and deals? Sign up to Johnny Jet's free newsletter and check out these popular posts: The Travel Gadget Flight Attendants Never Leave Home Without and 12 Ways to Save Money on Baggage Fees. Follow Johnny Jet on MSN, Facebook, Instagram, Pinterest, and YouTube for all of my travel posts.