Big times in small towns.
Nebraska has more miles of rivers than any other state in the U.S. and it's definitely not just what you see off of Interstate 80. Nebraska means three electoral votes, 93 counties, and two million relaxed and cordial folks. America's Serengeti is where farm-to-table can also mean popcorn (yes, they grow a lot of corn). And get this: It's the birthplace of the reuben sandwich. On a summer Nebraska road trip, I discovered six of Nebraska's small towns and four mind-blowing attractions there: a paleontology phenom, two epic state parks, and a star party. I discovered that this is a state of second glances, as you have to re-do first glances.
From that trip, here are nine Nebraska road trip stops to see: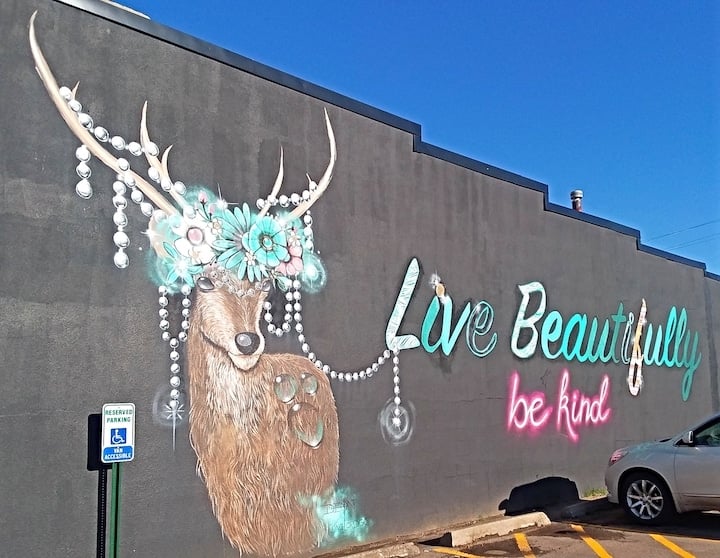 1. Fremont
Fremont, Nebraska, is a popular place to launch air-boats on the Platte River where bald eagles soar above evolving sandbars and cliffs. It has a classic, olden and roomy downtown. The Woodcliff is a lakeside log-cabin restaurant that resembles a basic chicken-fried steak joint, but it serves flown-in Faroe Islands salmon (served with avocado puree, quinoa, balsamic-marinated tomatoes, and asparagus). Vegetarians are also accommodated in the land of Omaha Steaks.
2. Columbus
An hour east along the Platte River is Columbus, a train-whistling town on the Lincoln Highway where 13th Street is the main drag and setting for Dusters & Gottberg Brew Pub, a former car garage. You can't help but notice that tomato-based Dorothy Lynch dressing is a big deal here.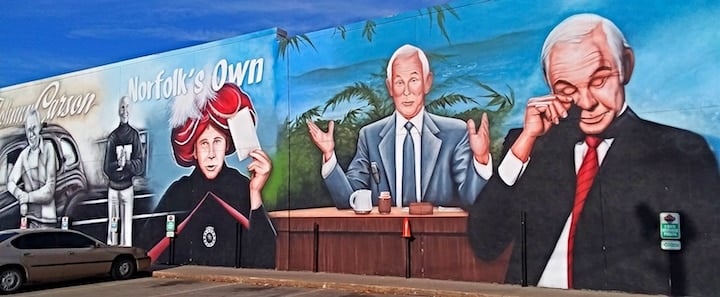 3. Norfolk
Norfolk (pronounced "Nor-Fork") is Johnny Carson's hometown, hence the Johnny Carson Gallery at the Elkhorn Valley Museum. Settled by German Lutherans who thought Wisconsin was too crowded, Norfolk also hosts the Cornhusker State's biggest Oktoberfest celebration. I kayaked through the heart of town with mayor Josh Moenning on the North Fork River and then cycled along Norfolk's offering of the Cowboy Trail, which runs 195 miles across northern Nebraska following the old Chicago & North Western rail route from Norfolk in the east to Valentine in the west. The railroad called this the "Cowboy Line."
The ever-spacious Norfolk Lodge & Suites (from $108/night), meanwhile, is home to Divots Brewery, which crafts a Hazy Cosmic Jive, a New England IPA hopped with amarillo, mosaic, el dorado, and azaca. The jambalaya moved the Earth, and the slow-roasted prime rib seems to be a local fave. Divots on the whole is a resort. The sprawling hotel/conference center campus has 138 spacious guestrooms with 21 suites, several fireside gathering areas, the rooftop SandBar & Grill, a spa, an indoor atrium-style pool, a whirlpool, an exercise room, an 18-hole miniature golf, and two sand volleyball courts. Downtown Norfolk also has a variety of unique shops and locally owned restaurants.
4. Wayne
As flat farmlands gave way to rolling hills, I discovered that Wayne's nifty Johnnie Byrd Brewing Company is a revived firetruck parking bed. Wayne is also home to Wayne State College (awesome bean-bag chair planetarium) and the annual Wayne Chicken Show, which celebrates the "World's Largest Chicken Dance" (an accordion-fueled, avian oom-pah jig) and the National Cluck-off (best imitation of chicken sounds and actions), whose winners appear on late-night talk shows. On the edge of town, the Birch Room Chophouse has garage-door-style windows overlooking the front nine of Wayne's golf course and crafts a coconut-rum "Honey Don't."
5. Ashfall Fossil Beds
It was incredible discovering the ultimate mind-blowing paleontology phenom in rural Nebraska. The Ashfall Fossil Beds are an instant graveyard frozen in time 12 million years ago when a Yellowstone hotspot blew. The resulting volcanic ash drifted and covered a waterhole that was thriving with ancestral three-toed horses and hippo-like, barrel-bodied rhinos. All died instantly of lung failure before ash covered the waterhole. Today, the ongoing excavation reveals a massive time capsule with dozens of complete and intertwined skeletons. On my Nebraska road trip stop it was truly unfathomable. Yet, right there before my eyes was an in-place 12-million-year-old ecological snapshot of who once reigned in North America. Move over NYC's T-Rex, you've been upstaged!
6. Niobrara State Park
As my Nebraska road trip progressed, the rolling hills grew higher, added more trees, and then climaxed at Niobrara State Park. Here, it's more adventurous terrain and less farm economy. Located at the confluence of the Niobrara River and the Delta-like Missouri River, this lofty bluff/park looks across the sandbar and island-rich Missouri River at South Dakota. It has 19 modern cabins plus RV and tent camping that together maintain a pleasant country-club campus feel. Nearby is a visit-worthy outpost of Nebraska's Ponca tribe.
7. Monowi
The scenery on Highway 12 (the Outlaw Trail) heading west evolves from the fresh-water marsh deltas surrounding the Missouri River to green hills with trees to sand hills with grass. En route, I passed through Monowi (population: one), where Elsie Eiler runs the tavern and library. Monowi's population was two until her husband passed. She's also the town's clerk, mayor (landslide victory), secretary, and treasurer. Oh yeah: Elsie (85) is the default mediator if any tiffs rattle the Monowi Tavern.
8. Valentine
My small-town Nebraska road trip wound down in Valentine (population 2,800), where you can't beat the Old Mill Bakery for sandwiches. Also there, brewery Bolo Beer Co is a repurposed diesel repair shop showcasing a picture of Americus Liberator, a Nebraskan who has had multiple runs as a presidential candidate. Bolo brews 10-14 beers in an enclosed space with an open-air feel. I had two with Valentine's Mayor.
One of the most vital ingredients in beer is water. Nebraska has more underground water reserves than any other state in the continental U.S. This part of the state sits atop the Ogallala Aquifer, America's largest. If spread across the U.S. the aquifer would cover all 50 states with 1.5 feet of water. This A+ underground lake-water makes superb beer and anything else that uses water. Nearby, spring-fed Smith Falls State Park has no electric hookups, which keeps this outdoor-lovers hub pure.
9. Merritt Reservoir State Recreation Area
Thirty miles outside Valentine is the Merritt Reservoir State Recreation Area, which is the darkest place (at night) in the lower 48 states and thus the best place in America for a star party. Indeed, I attended the Nebraska Star Party (July 19-24 in 2020), an astronomical heaven for astro-tourists. A genuine dark sky means no Wi-Fi or cell service and the simple life as it was meant to be. And that pretty much sums up Nebraska as a guaranteed escape from the rat race.
---
For more on Nebraska travel or to plan your own Nebraska road trip, visit visitnebraska.com.