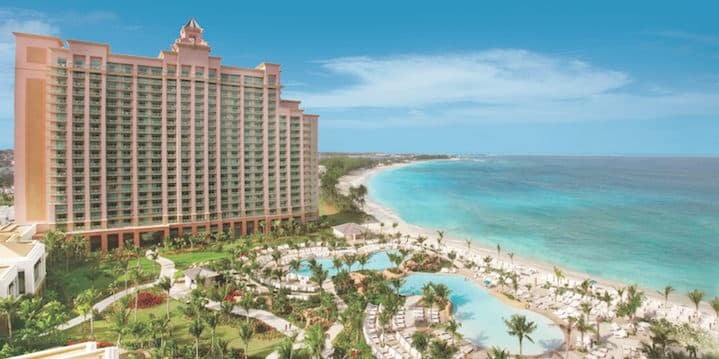 I visited the Bahamas with my daughter two weeks before Hurricane Dorian devastated its northern islands. While it's important that Nassau and Paradise Island in the southern Bahamas were spared impact and continue to welcome guests, it's vital to note that every Bahamian tourism partner is working together to support their neighbors to the north. Many people don't realize that the Bahamas, like the U.S., is made up of many diverse and distinctive destinations spread over more than 5,000 square miles—and they stand united as one to support each other. I'm debuting my dad-daughter adventure among the 700 islands, cays and islets that make up the Bahamas by directing those wishing to donate to Hurricane Dorian relief here.
Ever wonder where rock star Lenny Kravitz gets his cool? I did too, until discovering that his mom was of Bahamian descent. Poise runs deep here. Once your equally cool daughter (Bella) hits 14, your choice of vacation locales become even more vital. The beachy Bahamas—being a lighthouse of kindness—made half of that equation a cinch. The other half was bringing one of Bella's best friends along.
Eat: Oh Andros, Nassau
Soon after landing on New Providence Island, the three of us made a beeline for a Bahama-style fish fry at Nassau's Oh Andros, a local Creole comfort-food joint a world away from the tourist hangouts. Bella and Harley dug the real deal, although they did have to adjust their Manhattan-clock settings, as everything moves quite a bit slower down here. Bella is a picky eater, but devours all seafood, so this was a casual dinner layup (bring on the conch fritters). At dinner, Bella kept commenting on the overuse of my hands while I talked, so I asked if her if she was being controlling. She replied, "Dad, I'm not controlling you, I'm guiding you." And we were off!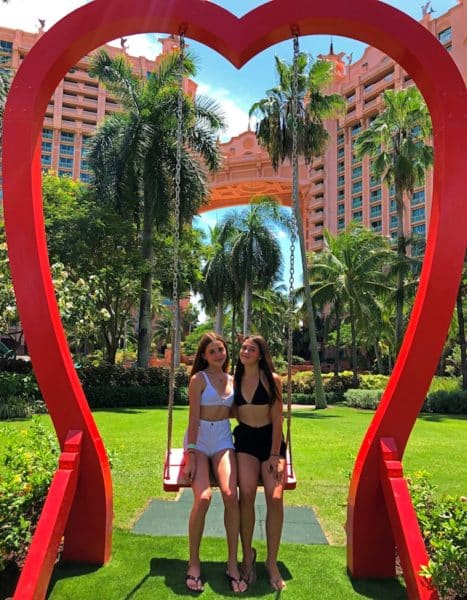 Stay: The Reef at Atlantis, Paradise Island
The Reef at Atlantis (from $408/night) gave Bella and Harley ultimate freedom and access to CRUSH, a teen nightclub that is off limits to adults. Six hotels and a hundred beguiling attractions on a 170-acre campus might seem intimidating, and at first it is. But the young ladies spent two full days frolicking through an amazing array of waterslides and aquariums, all the while wearing bathing suits and barefoot. They were thrilled and free, and thus, so was I. The resort also retains massive grounds surrounding an animal hospital for wildlife rescues including dolphins, sea lions, sea dogs, and birds. This is a kid's Make-A-Wish kind of place, and there's no shortage of testimonials from children who did just that.
Tip: The Reef's in-room kitchens allow for a homey experience, including the chance to heat up leftovers.
Eat: FISH by José Andrés, Paradise Island
Also on this mega oceanside-entertainment campus, which employs 7,500, is an incredible Bahamas seafood experience, the Michelin-starred FISH by José Andrés. The girls were all smiles, and I went silent for the grouper and shrimp with garlic (black garlic mojo, poblano peppers, shallots). When you step inside a food paradise, you know it, even at 14.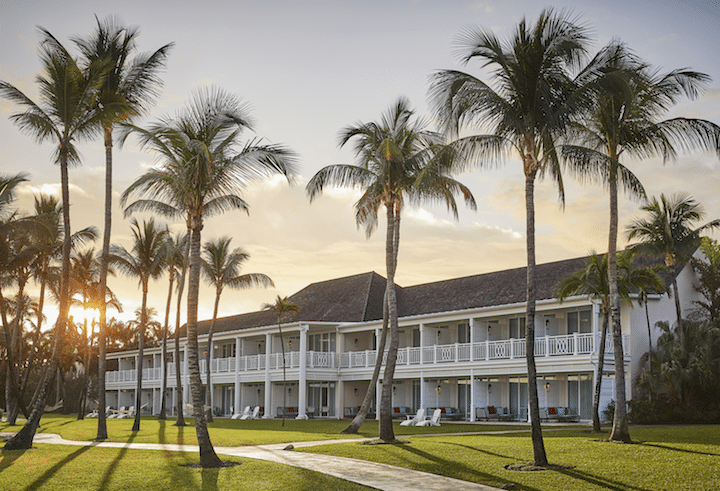 Stay: The Ocean Club, Paradise Island
The next day, we left the towering waterslides behind and glided one mile away to The Ocean Club (from $560/night), a Four Seasons Resort and the ultimate stage for laid-back beachfront glory. The two-story sprawling hotel is surrounded by French-inspired gardens and a personal butler is always close at hand.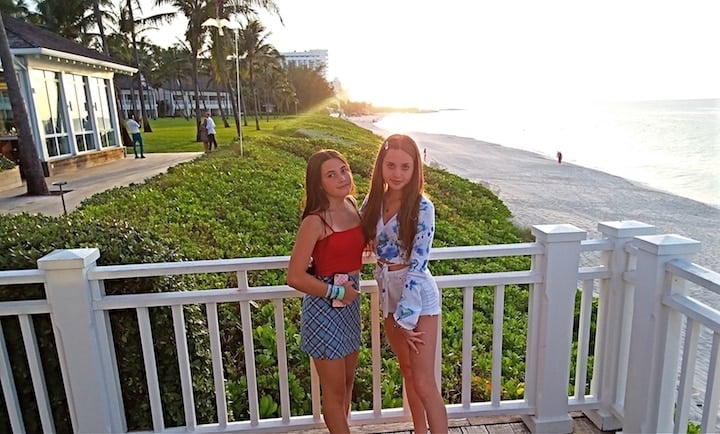 Eat: Dune, Paradise Island
A centerpiece of the storied resort—Hemingway stayed here—sits atop a stunning white-sand bluff. The Michelin-starred chef Jean-Georges Vongerichten's Dune serves French-Asian cuisine with a Bahamian twist. Bella and Harley managed the ultra-luxury downshift, but I did not. The simple-but-exotic menu made my head spin until the Australian lamb chops arrived. The wine list, however, was not simple. This landmark getaway combines elevated service and Bahamian-infused mellow swank. It's one of the most sought-after Caribbean resort experiences. Throughout dinner and beyond, a live singer soothed the guests while an ocean breeze kept everyone cool.
Eat: Nassau food tour, Nassau
Another one of our off-campus forays in the southern Bahamas was a terrific food tasting and cultural walking tour called "Bites of Nassau" through Tru Bahamian Food Tours. This culinary journey through downtown Nassau included more than six tastings, bites, and sips, including classic conch fritters, baked macaroni and cheese, and rum cake. Along with checking out historic landmarks, charming flora and local art, our expert guide introduced us to on-site chefs, artisans and business owners. It's not easy keeping two 14-year-olds off their phones for three hours, but this did the trick.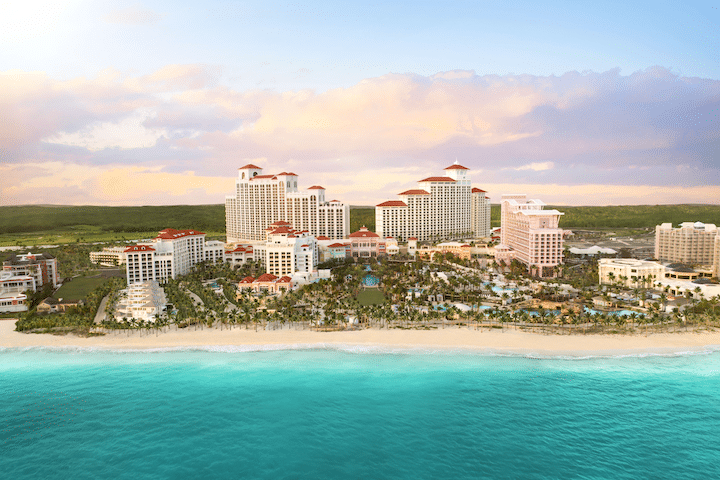 Stay: Grand Hyatt Baha Mar, Nassau
We switched accommodation gears again by crossing a bridge to arrive at Grand Hyatt Baha Mar (from $234/night), a buzzing resort on the New Providence Island shoreline. This vacationland has a wildlife sanctuary, complimentary water activities (floating lounges!), an art gallery, dozens of restaurants (add: seaside airstream-trailer food trucks), and live-music lounges that truly rock. Again, the young ladies were free to roam. I always casually interview a few hotel security guards off-the-record wherever I travel. While the girls were getting ready for dinner, I was happy to hear that Bella still occasionally breaks into spontaneous song. Happiness just is.
Eat: Graycliff Restaurant, Nassau
Baha Mar is not far from the ultra-Carib-classic Graycliff Restaurant, which is both a landmark hotel listed in the National Register of Historic Places and the Caribbean's first five-star restaurant. The midst-of-town legend was built in 1740 by Captain John Howard Graysmith, a famous pirate of the Caribbean. The comfy English Colonial mansion is a wonderful throwback with several big period-appointed rooms, one with a piano featuring a live singer. They also have wine blending classes at Bahamas Barrels, the Caribbean's first winery, and a chocolate factory on site. I used to wait tables, and these elder waiters define smooth operators. Oh yeah: We heard that song there, too. Perfect.
Getting to the southern Bahamas
There's lots to do here on this white-sand-beach and turquoise-blue-water island nation that's bigger than Greece. Stop by Nassau-Paradise Island in the southern Bahamas where there are several non-stop flights from most major U.S. cities. It's less than three hours by air from NYC.
---
For more on travel to Nassau and Paradise Island, visit nassauparadiseisland.com.