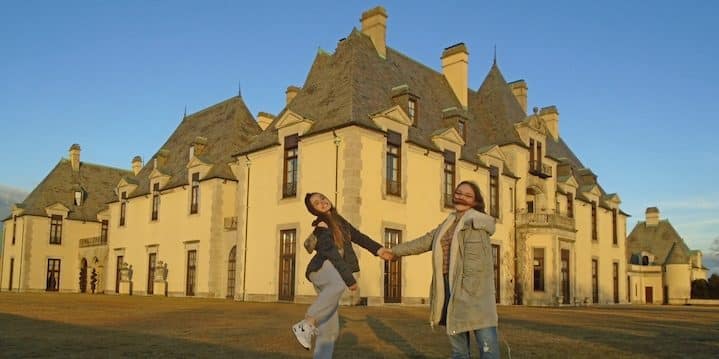 As opposed to venturing afar on Presidents Day (week) to ski or tan, I skipped the inescapable crowds and took two eighth-graders—my daughter Bella and her pal—on what we coined "The Long Island Extravaganza." Turns out, yes, you can sleep in a family-run castle, and the Hamptons rock year-round.
As we veered off a typical Long Island turnpike—less than an hour from Manhattan—we bent into Oheka Castle's palatial otherworld, a wonderful roaring-twenties time warp and a distinctive place to stay. Of a thousand Long Island Gold Coast mansions built in the early 20th century, 300 remain and only a handful are open to the public. You can have the run of this one and spend the night.
Long Island's 23-acre version of Jefferson's Monticello was built in 1919 and is surrounded by formal gardens. Elegant, uniquely decorated rooms feature antiques, Italian linens and original artwork. This luxe, chateau-style estate is four miles from I-495 and 35 miles from New York City. It's no wonder it's frequently booked for star weddings and as a big-budget film and photo location. The entirety of Taylor Swift's "Blank Space" video was shot here and serves as a worthy infomercial.
This city-girl duo celebrated Long Island opulence in the enormous Carnegie Suite, where the bedroom had a high-peaking ceiling, antique chairs, a fireplace, and a bathtub big enough to wash a baby elephant. Cameron Diaz recently stayed in the same suite. Some rooms (including ours) have full kitchens and living and dining rooms with multiple fireplaces and chandeliers. Our digs were more like an apartment doubling as half of a house. The living room had 35-pound bound volumes of The London Times from the early 30s lining an out-of-the-way shelf. Likely unnoticed by most guests, they were as big as Roman-stone building blocks. Period lamps provided soft light while a dozen windows showcased pastoral views that hijacked suburbia—for spacious quietude in overtaxed-king Nassau County.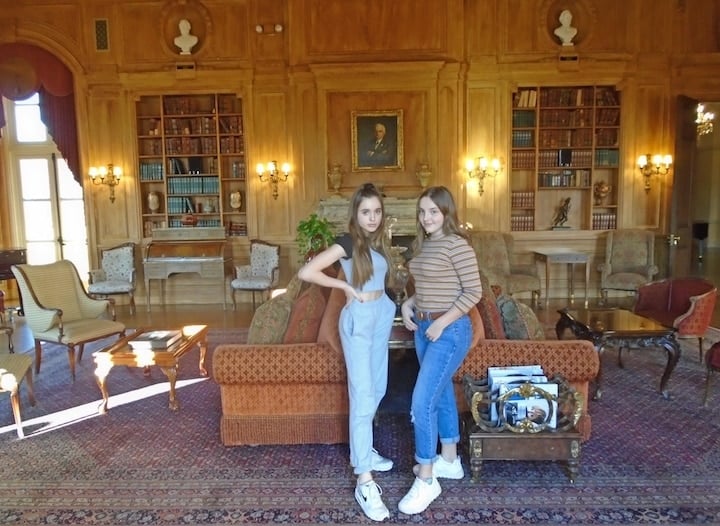 Throughout its 115,000 square feet, this living museum revives the roaring twenties with hundreds of telling period photos and media clips that line the walls along with dozens of pictures portraying the structure in ruins. The circus of memorabilia also honors onsite film shoots ranging from Citizen Kane (Orson Welles) to USA Network's Royal Pains. In the Chaplin Room, one of nearly 100 of the actor's photos and movie ads announces the advent of talking movies: "He Talks." I seemed to be chasing Chaplin myself, as two weeks later I stayed in Hanoi's Metropole Hotel, where Chaplin was also a guest.
One of many Oheka Castle moments was dining on site at the casual-yet-upscale OHK Bar & Restaurant, where owner Gary Melius frequently greets customers, including us. The restaurant's mood is set by deep-red-brick walls, a dark-stained wood ceiling, and soundtracks provided by Sinatra-era swing jazz. The continental menu includes a lobster BLT salad, wasabi swordfish, and (drumroll for the kids) profiteroles (French creampuffs) and a French country apple tart. A long-time lieutenant to all-things gourmet ice cream, Bella doubled up on that, too.
This hilltop of stillness, grandeur, and peace amid two-million pushy LI overachievers was founded by Otto Kahn in 1919, who surrounded the castle with a golf course where he could play, as he was denied access to other Long Island courses due to his religion. "OHEKA CASTLE" is typically in capital letters because OHEKA is an acronym for Otto HErmann KAhn. In less glorious times beginning in the late 1930s, the property transitioned from an NYC sanitation workers retirement home (the dustman's dream) into a military academy until it was later completely abandoned and fell into ruin. Current owner Melius bought it in 1984 and gradually restored it to its former glory.
Oheka Castle has 127 rooms and 32 guest rooms, and i hosts 200 weddings a year—but only one a day. This "Isle de Long" treasure cum timepiece is a queen of Long Island charm. Each room is uniquely decorated and many feature views of the private estate. Freebies include a continental breakfast, Wi-Fi, snack baskets, a 24-hour fitness center, and gorgeous gardens. In-room spa services are available.
Our step back into Oheka Castle-time preserves Long Island's past, and surely reinforces the future of girl power.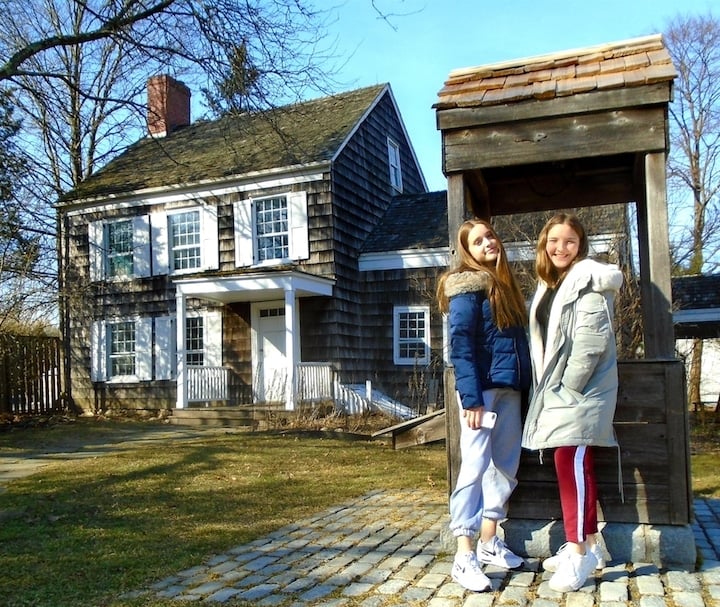 Around Oheka Castle
Walt Whitman Birthplace Association
A mere 10 minutes from the castle, our trio managed to look back while forging ahead at the Walt Whitman Birthplace Association, where the namesaked cabin was built in 1819 by Whitman's father. As a twenty-something Hofstra University grad student, my dad—a sworn Whitman (1819-92) devotee—became a founding trustee who saved the cabin from bulldozing by raising money door-to-door throughout Long Island. As a result of my dad's lobbying, Whitman's birthplace stands and the sprawling Walt Whitman shopping mall is instead less than a mile away.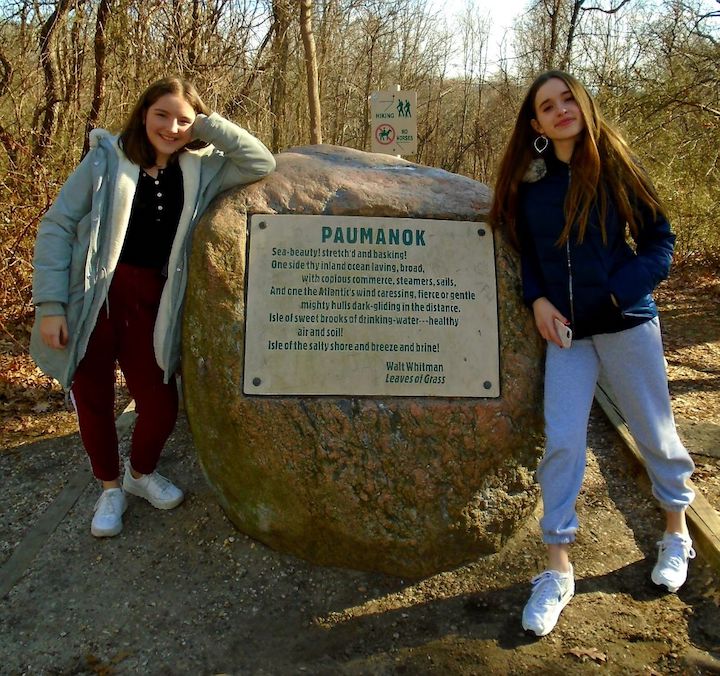 Jayne's Hill
Minutes-by-foot away is Jayne's Hill (Long Island's highest point and one of Whitman's favorite places) where dad commissioned the relocation of a huge and still-standing boulder and inserted a commemorative plaque honoring Whitman and Paumanok, the Native American word for Long Island. Jayne's Hill is also where my parents got engaged. Resurrecting these memories with Bella truly brought our familial history full circle. It's never a bad thing to feel the rhythms of your DNA.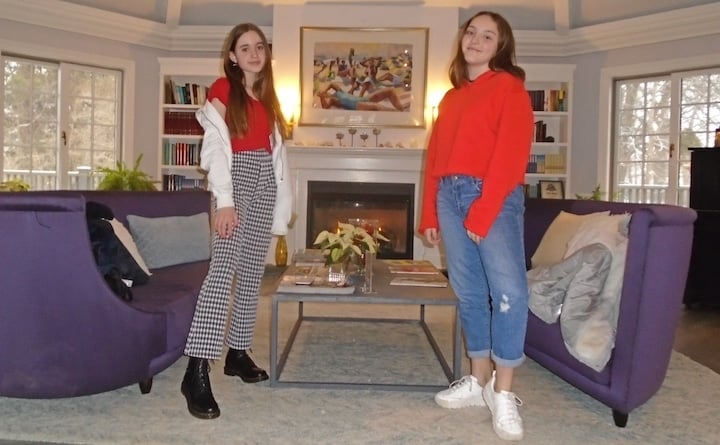 On to Southhampton…
The Southampton Inn
Another hour east of Oheka Castle in Suffolk is the Southampton Inn, a comfy, low-key resort despite being in the midst of one of America's swankiest beach villages. Board games join books, a fireplace, and a Steinway in the lobby's library. There's a ground-floor kid-hangout game room, seasonal indoor/outdoor ping pong, tennis, shuffleboard, horseshoes, bocce, croquet, and a pool flanked by al fresco dining and a bar. At this very user-friendly compound, it's easy to ditch the car and enjoy a restful mom-and-pop three-star inn with four-star staffing in a five-star location.
The Southampton Inn really is a dandy place for families at ease. The summer regulars are often in "three generations" mode. The something-for-everyone vibe includes book signings, in-lobby classical piano concerts, poetry readings, and free passage to Southampton History Museum events like cookie baking, bead-stringing, knitting, jewelry-making, and antique car shows.
Downstairs, top-rated Claude's Restaurant features another top-notch piano and showcases crispy shrimp and calamari, grilled hanger steak, locally sourced seafood and vegetables, and diverse wine and cocktail options. Claude's chefs get the culinary dazzle going early with several classic American breakfasts, save the Irish oatmeal and avocado toast. The restaurant is also known for its Sunday brunch, with live entertainment, and $30 prix fixe dinner.
Once checked out, you still have full-day use of the inn's facilities, which include the pool, the free 1.5-miles-to-the-beach shuttle, and a place to shower and change before you move on. On the same block, an old-timey movie theater has matinees and evening showtimes. A bit further afar but still in ritzy Southampton, the Union Cantina is a Mexican-American chill-out zone. This saloon-style restaurant-bar has a top-notch Mexican menu—blackened mahi mahi tacos, corn & chorizo chowder—and a fireplace adding ambiance. It's a local hangout where families chow alongside couples watching a variety of sporting events.
The Southampton Cultural Center & Parrish Art Museum
Switch culture gears? Stroll across the street to the Southampton Cultural Center for a play or a concert. Also nearby, the Parrish Art Museum is inspired by its serene natural setting and works of artists from Long Island's East End—from Warhol posing with Brillo boxes to native painters like Fairfield Porter, de Kooning, William Merritt Chase, and other artists still in their prime.
---
For more on travel to Long Island, visit discoverlongisland.com.