Hotel Saranac—Saranac Lake's hilltop hospitality palace
The evergreen Adirondack Park Region is comprised of 12 counties encompassing 92 towns. Three neighboring communities—the Tri-Lakes—in the High Peaks region have worldly reputations but remain a world away.
Some small towns enjoy big outlooks. Lake Placid beams with American Olympic history—with a piney twist. Its version of a walk in the park means either meandering around Mirror Lake, or atop it in iced mode. The sidewalk that circles the lake is an hour-long foray that leaves charming Main Street behind and blends into rural suburbs before circling back into town. The frozen lake brims with skaters and hockey players and also presents opportunities to dog sled. Every winter, the lake becomes a snow-white platform for wellness and epic people-watching.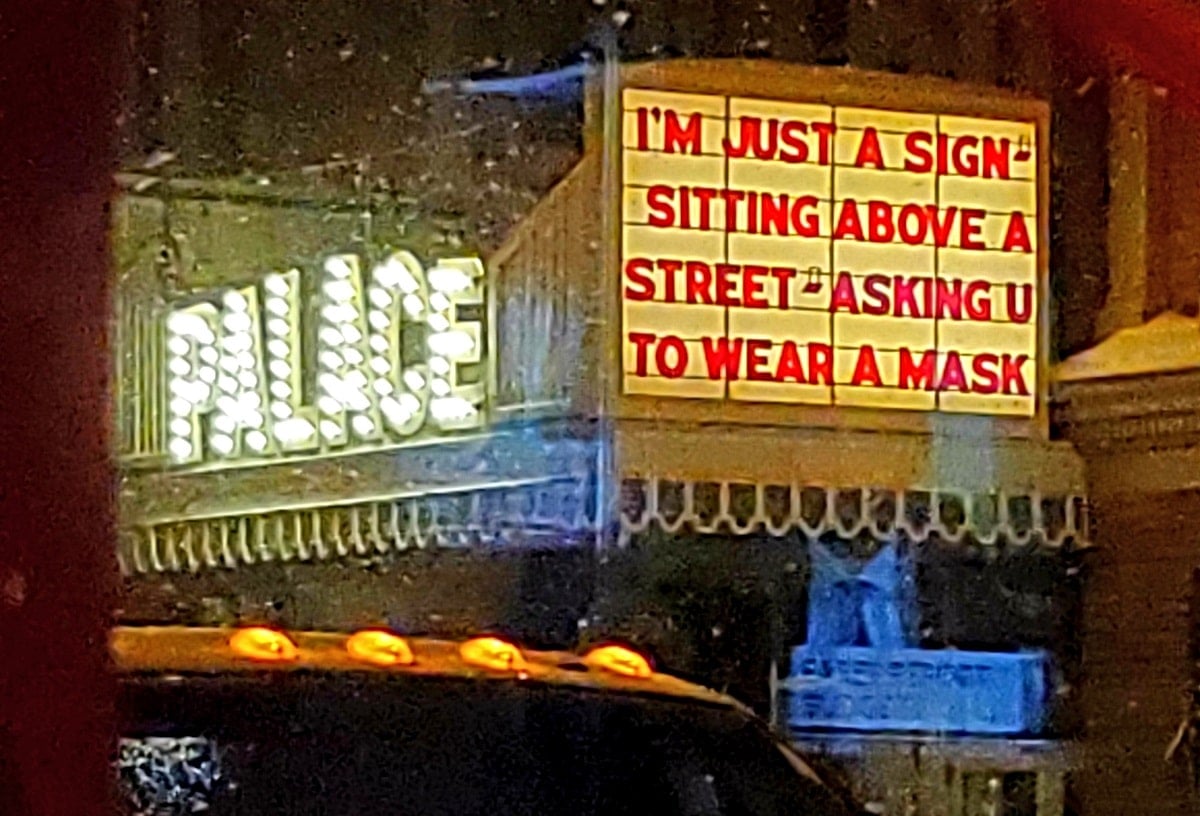 Lake Placid's Palace Theatre (from inside Jimmy's 21 Italian restaurant)
Ultra-Covid-cautious and courteous, Lake Placid promotes its mask mandate via the marquee at the 1926 Palace Theatre. It once featured pre-show pipe-organ recitals culminating with the National Anthem.
Wellness expert Heather Mikesell enjoying Lake Placid's Olympic Speed Skating Oval
The Olympic games were hosted here in 1932 and 1980, and the legends live on. Simply referred to by locals as "the oval," the iconic Olympic Speed Skating Oval is one of many of Lake Placid's Olympic sites that are open year-round. It sits adjacent to the handsome Lake Placid High School, both being an easy walk from any hotel in town. The oval seems to double as the town hall and a place to catch up on local gossip while in motion.
Lake Placid's High Peaks Resort
Lake Placid's inviting High Peaks Resort is a lofty perch overlooking Mirror Lake. This place with million-dollar views is where a real fire burns and eclectic Adirondack period-paintings hang. The huge lobby gives way to a dozen multihued living-room-style couch groupings that invite guests to hang out. Down under the High Peaks Resort on Main Street is The Dancing Bears family-friendly restaurant, which opened more than 40 years ago just before Lake Placid hosted its second Winter Olympics in 1980. Choice American pub food with a modern twist includes crispy Brussels sprouts (topped with spicy aioli, teardrop peppers), Angus strip steak (garlic mashed potatoes, haricot vert, peppercorn gravy), or a craft beer at the u-shaped bar.
Main Street's Jimmy's 21 authentic Italian restaurant is owned and run by a fun couple from Montenegro who've also been raising their family here for more than 30 years. This memorable experience can be enjoyed either at the bar, on one of four floors, or (when it's warm) on one of three lakeside decks. Check out their handpicked wines from Montenegro. The everything-homemade menu includes fried calamari (for two, tender, lightly dusted and flash fried, served with house-made marinara sauce). The seafood medley and braised short ribs are also both knockouts.
Need to work off some of this food? Hit the Cascade Cross-Country Ski Center, Lake Placid's full-service Nordic know-and-do-it all. Everything else you need to know about Lake Placid is here.
Recently renovated Hotel Saranac
Ten miles away, Saranac Lake awaits with its own legendary set of charms. Historic Hotel Saranac, the town's 100-room hospitality palace on the hill, is a comfy basecamp for all-season Adirondack escapes—add classic no-rush plush and roomy walk-in closets. Built in 1927, during World War II, a locally staffed observation post was constructed atop the Gilded Age hotel to assist the Civil Defense Committee in spotting unidentified foreign aircraft. Mark Twain loved this town, as did my partner Heather, a health and wellness expert, who also enjoyed the all-day free green tea in the lobby, their spa (post-Covid), and choice amenities. I first stayed here in 1997 after giving a travel lecture at nearby Paul Smith's College. This hospitality-focused school once owned and used this hotel as its training model.
Hotel Saranac's Great Hall Bar
Hotel Saranac's second-floor fourteenth-century, palazzo-inspired Great Hall Bar is both an awesome fireplace-warmed room, and a bar. The high ceiling and medley of intimate couch configurations are perfect retreats for a read, chat, snack, or crafted cocktail. The enormous, storied space also offers a piano and shuffleboard table.
Adjacent to the stunning lobby is the hotel's signature restaurant, the spacious Campfire Adirondack Grill + Bar, where breakfast, lunch, and dinner take a fun, innovative spin on Adirondack comfort food. Like the fabled Adirondack Great Camps of old, this warm, sophisticated setting is a divine place to enjoy its premium, locally sourced menu that includes butternut squash soup (pepitas, crème, fraiche, sage) and slow poached diver scallops (barigoule braised artichokes, pearl onions, baby carrots). Oh yeah, add a Mezcal Negroni (mezcal, Campari, sweet vermouth).
While dining in this ultra-inviting open-kitchen restaurant, we struck up a conversation with our waiter, a mom with ski-loving kids. What she said is something I've been hearing for decades, and that is how Olympic-level skiers and snowboarders raised in the Northeast U.S. have an immediate advantage over snow-loving athletes who grew up skiing in Europe or the Western U.S. because snow conditions in the east can sometimes be, shall we say, challenging.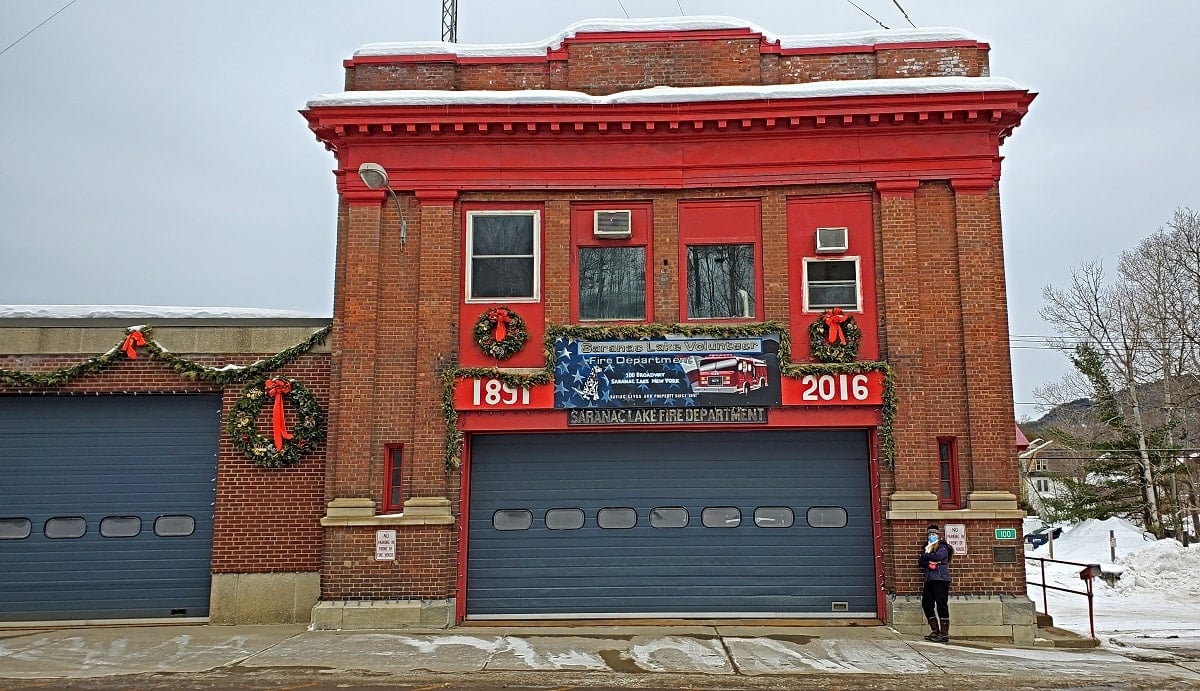 Saranac Lake Volunteer Fire Department (1891)
Forest Bathing, aka mindful hiking, is available at the nearby Dewey Mountain Recreation Center. Inquire about this incarnation of nature therapy via the hotel's concierge.
Hotel Saranac, which has redefined the regions' dining and hospitality offerings, can help you arrange the perfect Saranac Lake vacation with things to do in town and the surrounding area—it's not just an alternative hotel because everything in nearby Lake Placid is full! This place makes Saranac Lake hip and trendy in its own rustic way, but you're still a long, long way from unnecessary flash and glitz.
More about Saranac Lake here, where there's always more to explore.
* A diversion to nearby Tupper Lake—the third of the Tri-Lakes—is also recommended where The Wild Center awaits. This 115-acre hands-on getaway offers innovative perspectives on the wild world of the Adirondacks. Activities include the only treetop walk in the Adirondacks, live animals, guided walks, a cutting-edge green network of buildings, and a wide-screen theater. Afterwards, hit nearby Raquette River Brewing for a wood-fired pizza and a small-batch specialty ale.
PS All of this happens in the Adirondacks' High Peaks region, where the skiing endures into April.