Kon'nichiwa! I just returned from a short but memorable trip to Japan. I was there checking out some of Marriott Hotels' new hotels and resorts. They are beginning to market themselves in Asia as a leisure hotel brand not just a business one and it seems to be working.
Tokyo to Shuzenji
After breakfast at the Tokyo Marriott (here's my post on my one night in Tokyo), I jumped on a bus with other travel journalists and headed south. If you're going straight from Tokyo to Shuzenji, the best option would probably be to take the train. That's what I did on the way back and it's super easy and a pleasant throwback experience.


The trains depart every three hours or so between Tokyo and Shuzenji and the Shuzenji train station is a 15-minute (or less) drive from the Izu Marriott Hotel Shuzenji. The train costs around $50 and takes just under two hours. The old school trains stop roughly seven times and have no power outlets or food onboard so go prepared.
The coolest thing the train has is a baby holder in the bathroom so mom or dad can use the facilities and not have to juggle a squirmy baby.
10 Reasons to Stay at Izu Marriott Hotel Shuzenji
Shuzenji is a town located in Tagata District, Shizuoka Prefecture and is known for its hot springs (the Japanese word is 'onsen'). The Izu Marriott Hotel Shuzenji is located 95 miles from Tokyo's Haneda Airport and 137 miles from Tokyo's Narita Airport. So why would you want to come here? Well, here are 10 reasons to stay at Izu Marriott Hotel Shuzenji.
1. The hot springs
Japan is famous for its hot springs and Shuzenji is one of the most famous places in the country to experience them. The hotel has a communal one on the ground floor but 30% of the hotel rooms have a private one on their balcony!
FYI: There's a whole custom to going to a Japanese onsen so be sure to read up before going in. About 10 years ago, I had one of my most embarrassing travel moments take place in a Japanese onsen. Here's that story.
2. It's affordable
Room rates begin at just $100 a night! Those with private onsens usually go for $250 a night.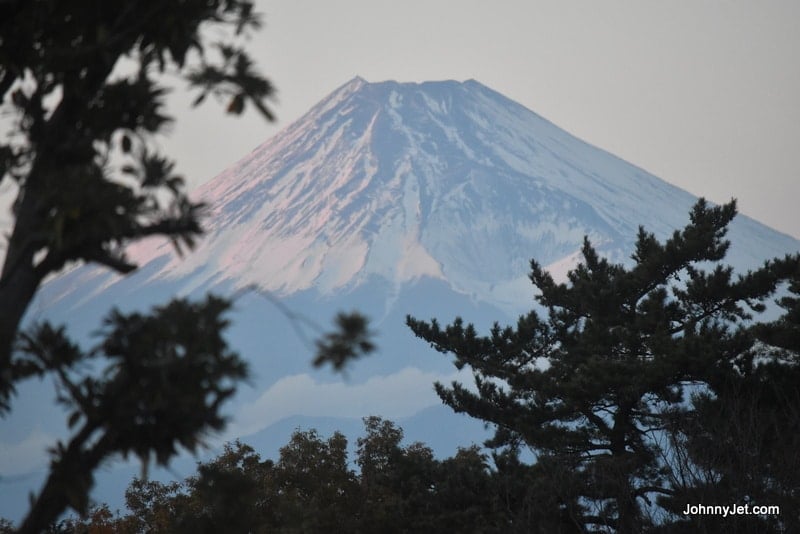 3. The views of Mount Fuji
When you drive in and see Mount Fuji looming in the distance, you will realize why you made the long trip. Mt. Fuji has to be one of the most famous and beautiful mountains in the world. And it's still an active volcano though it hasn't erupted in over 200 years. Climbing the 12,000-foot mountain is a popular bucket list thing to do and it's usually done between July and mid-September. The average hike takes six hours and most climbers depart in the middle of the night to witness sunrise. If you've done it, please leave a comment below and tell us about your experience!
4. There are no Americans
Don't get me wrong: I love my fellow Americans but when I travel, I want to get an authentic feel for a place and it doesn't feel like the same kind of cultural immersion if the hotel is filled with my people. What's nice about the Izu Marriott Hotel Shuzenji is that 90% of their customers are Japanese. The majority of the rest are Chinese and Korean. I didn't see one other westerner while I was there. Good to know: The front of the house hotel workers all speak English.
5. Rooms are clean and comfortable
Obviously it's important to most travelers to have a comfortable and clean room and this hotel certainly has both. It also comes with free WiFi.
6. Toto toilets
Without getting too personal, if you haven't sat on a Toto toilet before, then you haven't experienced the best toilet in the world. If these toilets didn't cost $5,000, I would have one in my house. When you walk within its vicinity, including in the middle of the night in a dark room, the lid pops up and a night light turns on. The seat is heated and it has all the bidet functions you could ever imagine, including a dryer. If that's not good enough, it flushes by itself when you walk away. Oh,  and it's also in a private room so one person can be in the bathroom getting ready while the other is just enjoying the simple pleasure of a heated toilet seat.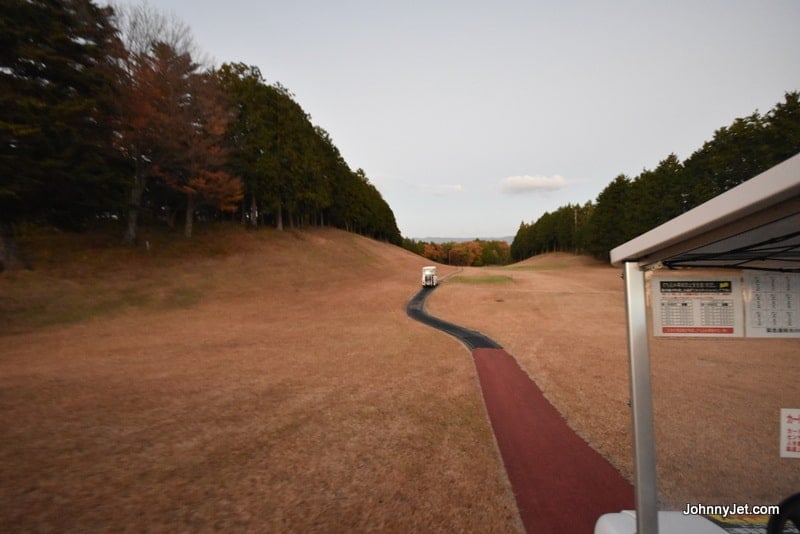 7. Driverless golf carts
The hotel is part of a resort that's associated with the Laforet Shuzenji & Country Club. I didn't get a chance to play golf but I took a tour of it in one of their driverless golf carts. That's right, the golf course (and I heard the same about many others in Japan) have driverless golf carts. No wonder their courses are so impeccable; they don't have crazy drivers taking the carts off the cart path and ruining the fairways or even greens. Riders don't touch anything. Not the wheel, brake or gas. Just hit the stop button when you want to get out and the green button for it to start again. It stays on the path the whole time and goes up and down hills, though sometimes it's a little jerky.
8. The hotel has washing machines
You have to love a hotel that has self-service laundry machines so travelers don't have to bring a ton of clothes or pay for expensive hotel dry cleaning. The washing machines cost 200 JPY ($1.78 USD) and to buy laundry detergent, it's 50 JPY ($0.45 USD).
9. American and Asian style breakfasts
Although the hotel caters to an Asian clientele it still offers western food, including a large breakfast buffet for 3,500.00 JPY ($31 USD) with eggs made to order or waffles, pastries, bacon, sausage … you name it.
10. It's kid-friendly
Now that my wife and I have welcomed our first child, it's important to me to know that a hotel is kid-friendly. And this one is. They have a kid's room right off of the main lobby. It's nothing too special but at least it's a quiet, enclosed space that provides children with a safe place to play with toys and run around.
Overall, the Izu Marriott Hotel Shuzenji is a great experience and value. A few things I found that some Americans probably won't like about the hotel include:
-There was only one English TV channel.
-The three-story hotel is numbered funny. I was on the third floor but my room was 718.
-The rooms have tip envelopes for the maid, which Marriott does at all of their hotels but I don't think they should do it in Japan since tipping is considered rude.
Notable nearby attractions:
Mishima Sky Walk
About a 25-minute drive from the hotel is the Mishima Sky Walk. It's 1,312 feet long, making it Japan's longest suspension bridge. It's not that scary; I have a fear of heights and I walked halfway across. It takes about 10 minutes to walk across and the highest point is 231 feet off the ground.


On a clear day, the views of Mount Fuji are spectacular. Tickets cost 1,000 JPY ($8.92 USD) and customers get a coupon for a 50 JPY ($0.45 USD) ice cream, which is normally 380 JPY ($3.39 USD). Obviously, it's a real touristy place and they have a couple restaurants, shops and food stands out front. I couldn't help but buy a 500 JPY  ($4.46 USD ) Candy Fuji Apple. Cash only.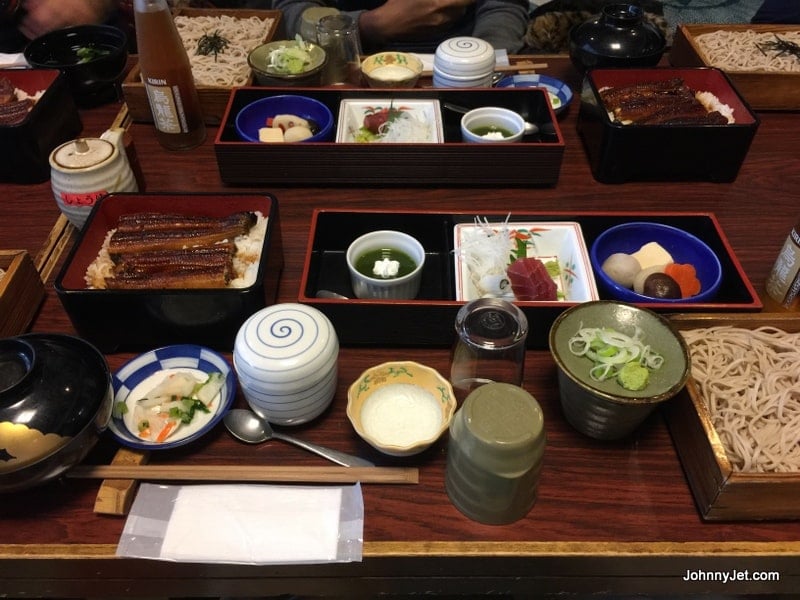 Daikan Yashiki Restaurant
For lunch, we went to a popular and traditional Japanese restaurant called Daikan Yashiki. It's about 15 minutes from the Izu Marriott Hotel Shuzenji and it's famous for its eel and soba noodles. I don't eat eel so they substituted the eel for beef.
The set lunch cost 4,000 JPY ($35 USD) and you will need to take your shoes off and sit on a mat. I told you it was a traditional Japanese restaurant!
Don't Leave Japan Without Getting
If you like French fries, be sure to get Potato Farm Jaga Pokkuru Snacks. You can find them in the airport and in Haneda International, they only sell them by gate 109. For a box of 10 small individual packets, the cost is 820 JPY ($7.31 USD). Their parent company recently began selling them in America as a snack called Whole Cuts but the Japanese version is better.