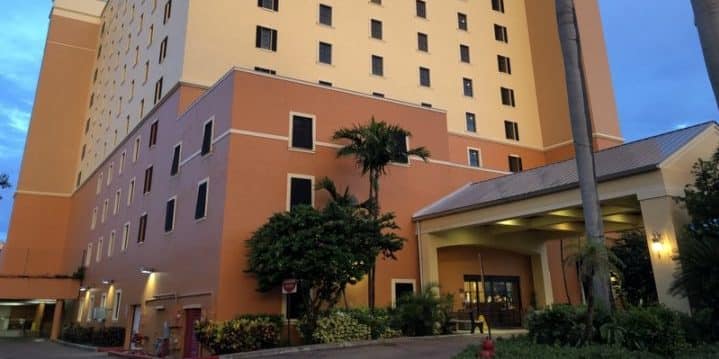 Ever since my sister moved there 12 years ago, I've been going to Delray Beach, Florida, regularly. Then my dad moved there and I've probably been 50 times since then. So…I know Delray Beach well. And it's the place I met my wife so it will always hold a special place in my heart.
Normally, I stay with my sister, but when she has a full house, I stay at a nearby hotel. The Delray Beach Marriott is my first choice since it's the closest to the beach but it's not always available and it can be pricey. In April, when the Marriott was sold out, my wife, son (1.5-years old) and I tried the 11-floor, 131-suite Residence Inn Delray Beach. Natalie was a little skeptical about staying there but we were both pleasantly surprised.
Here are 10 reasons why we love the Residence Inn Delray Beach: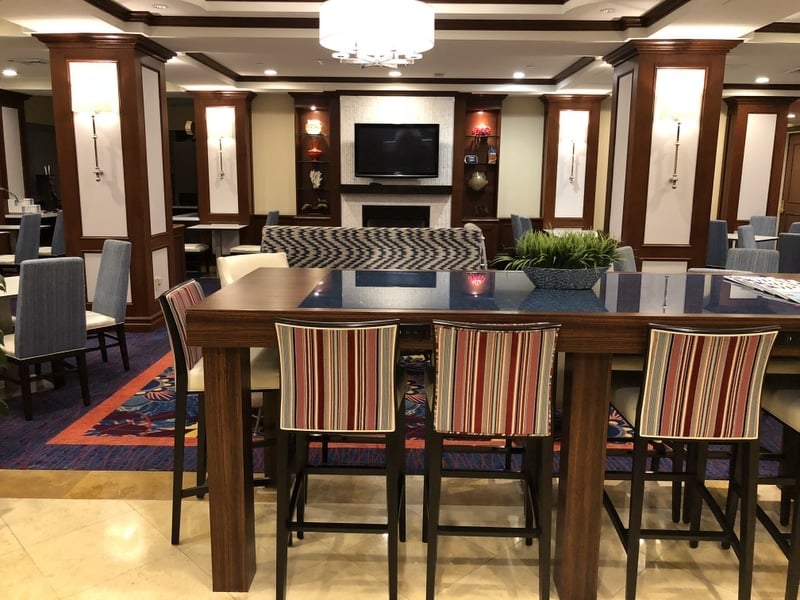 1. It's newly renovated
From the outside, the Residence Inn Delray Beach looks like a typical Residence Inn but the moment you walk through the doors, you realize that the hotel has recently had a multi-million dollar renovation. So even though the building is old, almost everything feels new and clean.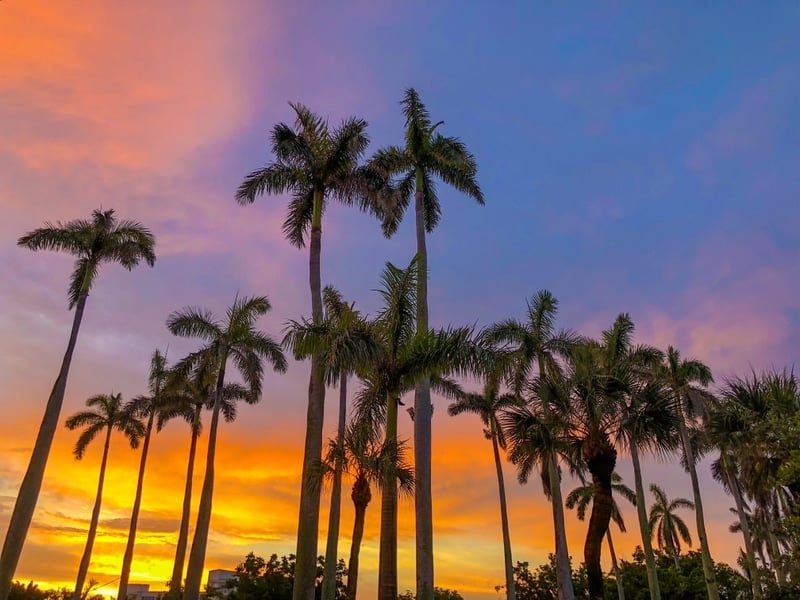 2. Great location
Since the Delray Beach Marriott is the hotel closest to the beach in Delray and the Residence Inn is just two blocks away, it's the second closest (I believe). The hotel is located on the city's famous Atlantic Avenue, which is like a mini South Beach. It has dozens of restaurants and cuisines to choose from, at all price points. If you don't feel like walking anywhere, there's the free Delray Downtowner (download the app) or you can order takeout from Delivery Dudes like we did.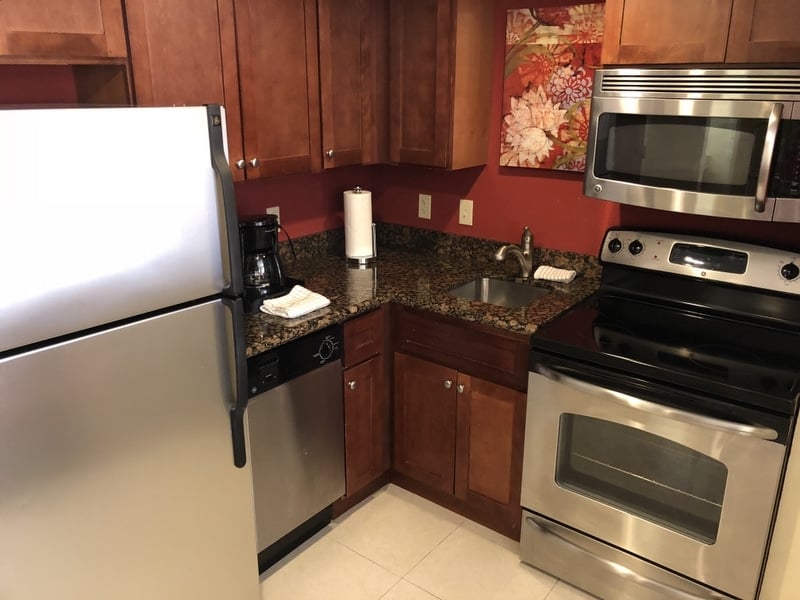 3. The suites are modern with full kitchens
The hotel has modern suites that include comfortable bedding, pullout sofas, flat-panel TVs, complimentary Wi-Fi, ergonomic workstations, private balconies, and fully equipped kitchens. The kitchens include: a conventional oven, microwave, toaster, full size refrigerator, dishwasher, pots, pans, serving dishes, silverware, stove, table, and chairs. This is key especially when traveling with a toddler.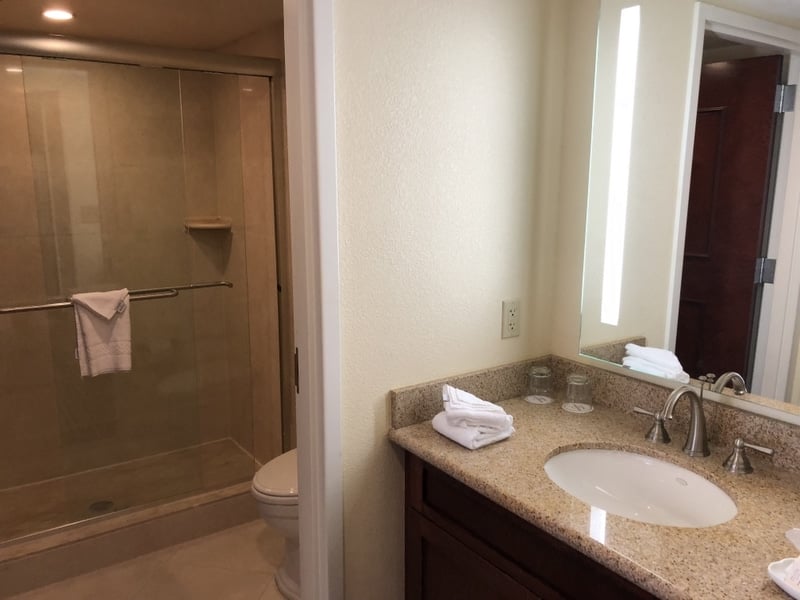 4. Water pressure
I love hotels that have strong water pressure and these days, that's difficult to find. But the Residence Inn Delray Beach is definitely in the top 10 hotels that I've visited in terms of strongest water pressure.
5. Free parking
Like everyone, I hate it when hotels gouge you for parking so I was pleasantly surprised when I found out the hotel offers free parking. Just be sure to put the parking pass the front desk gives you on your dashboard so your car doesn't get ticketed or towed.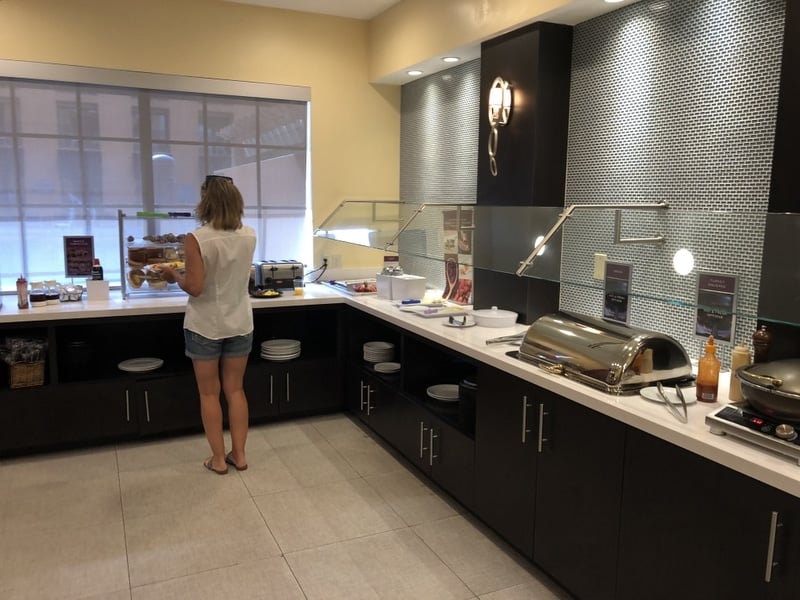 6. Free breakfast
Another pleasant surprise, which I think all Residence Inns offer, is a free breakfast buffet with everything from eggs and waffles to cereal and fruit. I also loved that they have a basket full of mini Tabasco sauces so you don't have to share a communal bottle.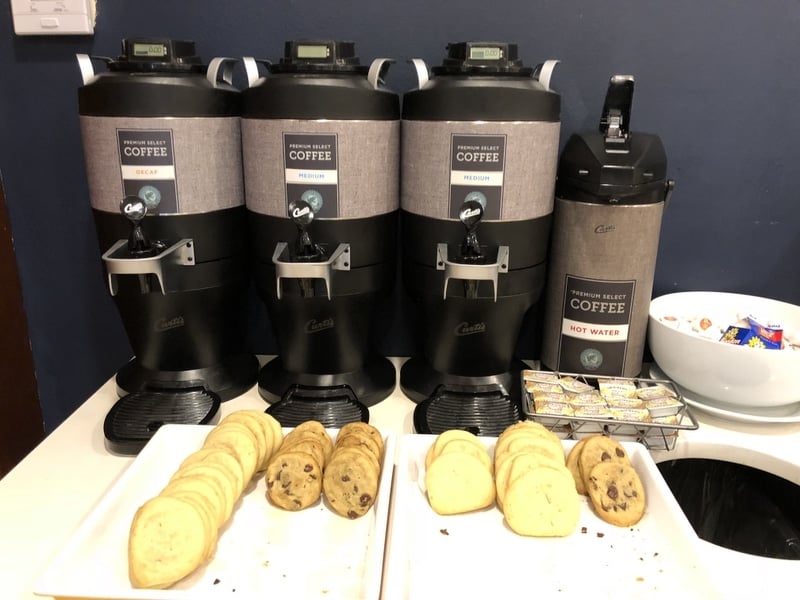 7. Cookies and coffee
Throughout the day, the hotel offers free coffee and tea in the lobby. In the evening, they bring out cookies, which is a nice touch.
8. Pool and gym
The hotel has an outdoor pool and indoor gym so if you want to stay in shape or take a dip, it's there for the taking.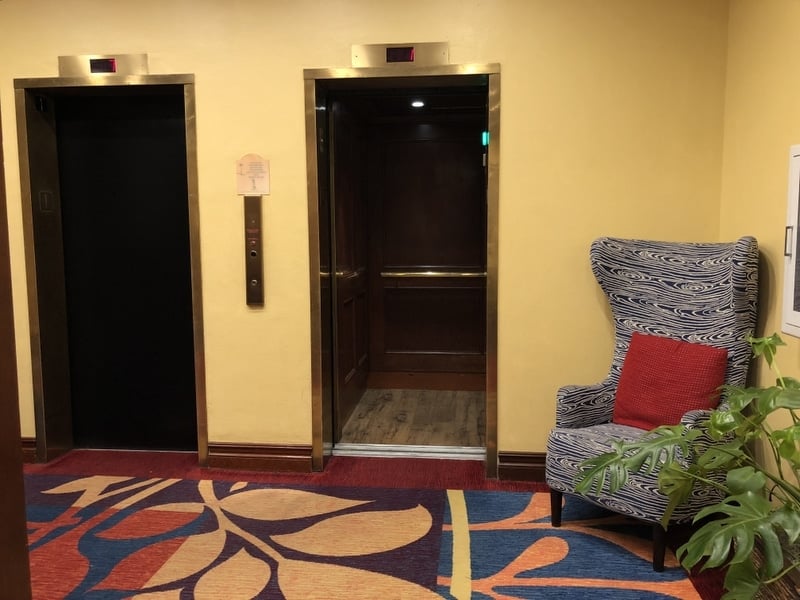 9. Elevator door is open
Call me crazy but I really love the fact that when one of the two elevators is on the lobby floor, the door stays open until you press a floor. That means there's no stopping and waiting, even if it's just a few seconds for the door to open.
10. There's a convenience store
When guests find out they have a full kitchen in their room, the first thing they'll want to do is go out and get some food. If you don't feel like driving to Target or Trader Joe's or one of the grocery stores all about two miles away, you'll be happy to see the hotel has a little convenience store in the lobby next to the front desk. It's small so there aren't a lot of choices but you can get stuff for the microwave or even Ben & Jerry's to stash in the freezer.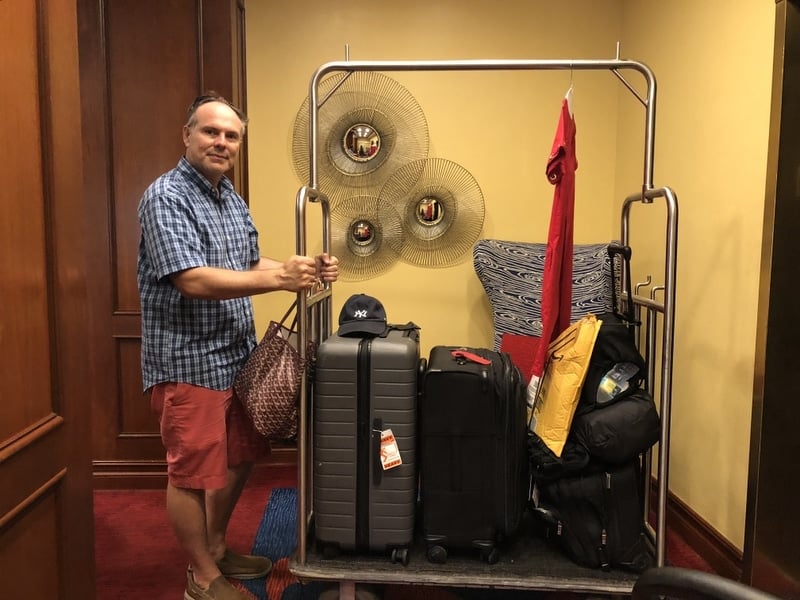 Note: Since Residence Inns aren't full service, there's no bellman, but they do have luggage carts so you can be your own bellman, which was actually kind of fun to do since I've never had the opportunity. (It's not that easy to steer the carts so I have new respect for bellmen!)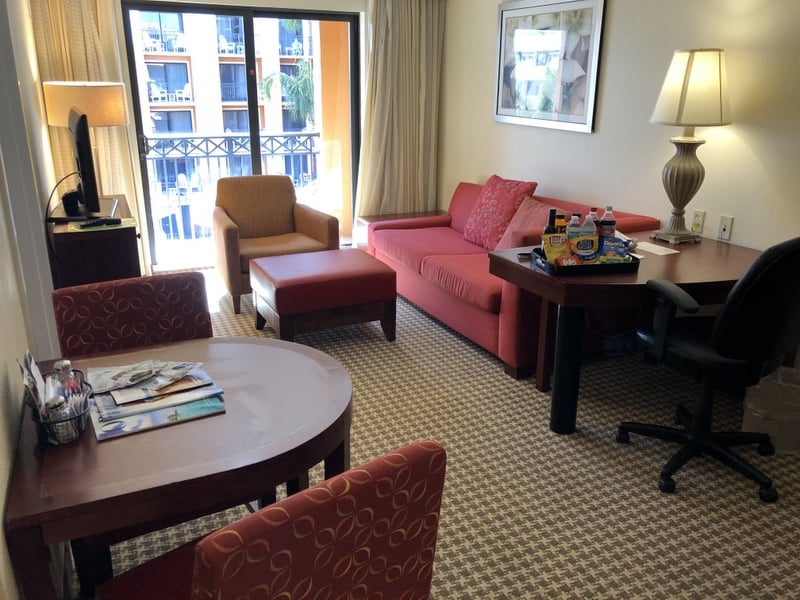 As you can see from the photos above, we enjoyed our stay so much that I went back solo last month and was equally impressed. The first time, we had a two-bedroom suite, which is perfect for families, and on my second stay, I was in a regular room, which was perfect for business travelers. There are also two meeting rooms with 1,200 square feet of total meeting space.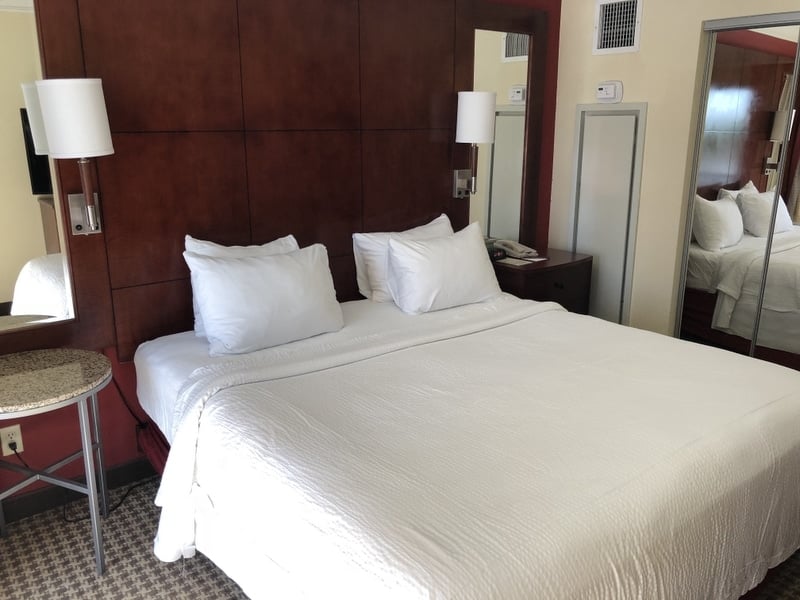 Room rates begin at $134/night (they go up in high season). Florida residents can sometimes get 20% off using promo code FR6. Seniors (62 years or older) can save at least 15%.
---
For more on the Residence Inn Delray Beach, visit the hotel homepage here.