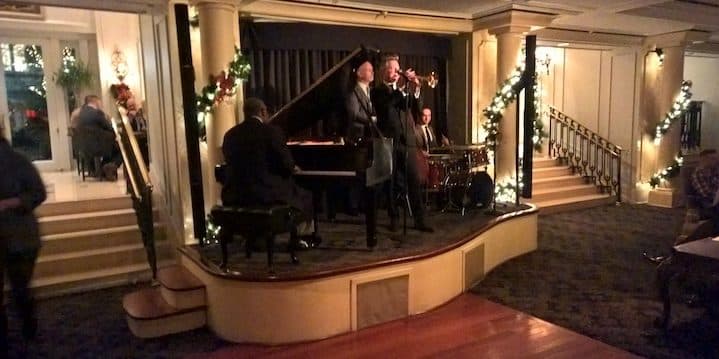 This is the third post in Dave Zuchowski's three-part series on New Orleans. Part 1 is here, and Part 2 is here.
---
As the birthplace of jazz, New Orleans continues to be a mecca for the musical genre unique to America, a place where many cultures intermingled and contributed to its birth and growth. African-American drum rhythms and dance coupled with European horns and elements of other cultures gave birth to a musical style that soon swept the world.
Still going strong today, jazz is to contemporary New Orleans what country music is to Nashville, a magnet that draws musicians as well as listeners. The city's jazz clubs offer musical entertainment from traditional to acid jazz, seven nights a week. If you'd like to explore the Crescent City's jazz riches and learn more about this unique, ever-changing musical form, here are ten places to do it:
1. The Howlin Wolf
If you're in New Orleans on a Sunday evening, stop in at The Howlin Wolf to catch a rousing concert by the Grammy-nominated Hot 8 Brass Band. On the evening of my visit, this exciting group assembled on stage in a rather small square space in back of the bar/restaurant and played an intoxicating mix of music.
Located at 907 South Peters Street in the Warehouse District in the former New Orleans Music Hall, The Howlin Wolf is named after legendary bluesman Chester Burnett. It offers no-frills jazz almost every night of the week. Past performers include Harry Connick, Jr., Foo Fighters, Alison Krauss, and Jimmy Buffet. The establishment's food is reputed to be great, but the real draw is the live music.
2. Davenport Lounge at the Ritz-Carlton
On the other end of the experiential spectrum, Davenport Lounge on the third floor at the Ritz-Carlton showcases the Jeremy Davenport Band. Jam sessions are held from 5:30pm to 9:30pm every Wednesday and Thursday evening and from 9pm to 1am every Friday and Saturday. A jazz trumpeter and vocalist, Davenport played with Harry Connick, Jr.'s Big Band for six years and has also welcomed stars Paul McCartney and Sting to his stage. The trumpeter/crooner and his ensemble play a sophisticated mix of classics from the Great American Songbook and his own compositions.
Spacious, posh and romantically lit, the lounge is manned by attentive waiters ready to serve your favorite cocktail, flavorful wines and light fare. For those overnighting at the hotel, located at 912 Canal Street, Davenport CDs are stocked in the honor bar in each guest room.
3. Fritzel's European Jazz Pub
Fritzel's European Jazz Pub, located at 733 Bourbon Street, is the city's oldest operating jazz club. This small but popular bar got its start in October 1969 in a building that dates back to 1831. It's not known for its stylish decor, but that doesn't stop some talented musicians from coming in and wowing the crowd night after night.
While there's no cover charge, patrons are expected to buy one drink per set (drinks are considered inexpensive by New Orleans standards). Basically, Fritzel's is a fun, enlivening place to hear some great heart-and-soul jazz music.
4. Preservation Hall
An iconic institution that dates back to 1961 with a mission to preserve, perpetuate and protect traditional New Orleans jazz, Preservation Hall is popular, endearing and quaint, and tickets come in two forms. To purchase general admission tickets (cash only), you get in line outside the doors about 30 minutes before the show you'd like to see. Show times are generally at 5pm, 6pm, 8pm, 9pm, and 10pm.
Alternatively, you can reserve "Big Shot" seats that give you an up-front view of the stage and the ability to skip the line. The venue showcases live, acoustic concerts in an intimate setting featuring various ensembles drawn from a pool of more than 100 plus local musicians. Not to be missed if you can help it.
5) The Jazz Playhouse at the Royal Sonesta
Swank, colorful, comfortable, and chic, The Jazz Playhouse at the Royal Sonesta is ensconced on the lobby level of the hotel at 300 Bourbon Street in the French Quarter. The band and performers change nightly with shows that start at 8pm and feature some great jazz talent along with food and your favorite beverages.
There's no cover charge, which is quite a deal, but there is a one-drink minimum per person per set. Walk-ins are welcomed on a first-come, first-served basis. Though the venue is in the midst of the hoopla of Bourbon Street, the audience is never aware of the melee outside, which feels far removed from the buzz of the revelers just outside the door.
6. Mid-City Lanes Rock'n Bowl
While not considered jazz as such, zydeco is rooted in the city's music scene though native to Acadiana, the area around Lafayette. There's usually zydeco playing every night somewhere in town, but one of the best places is also one of the least likely. The Rock'n Bowl is a combination of dining, bowling and live music of various sorts. Zydeco or Cajun is featured most often on Thursdays and sometimes also on weekends. What makes the venue distinctive is that the bands that perform on stage are some of the most distinguished and biggest names around. You'll need a car or taxi to get there, but the experience is worth it, especially on zydeco night.
7. Frenchman Street cluster of clubs
Like a string of pearls on the fringe of the French Quarter, this eclectic mix of clubs lines both sides of the street creating a cacophony of live sound. The Maison, Snug Harbor, d.b.a., The Spotted Cat, Blue Nile—these clubs offer a variety of decors as diverse as their musical styles.
Lively and fun, the street is almost as busy as Bourbon come evening. If you want an interesting experience, follow Bourbon Street past the bars and clubs then stroll through the quite residential section before making a slight jog onto Frenchman. It's a long but adventurous walk. To make the evening even more enchanting, hop on a pedicab after clubbing and take it back to your hotel.
8. Carousel Bar & Lounge at Hotel Monteleone
The Hotel Monteleone boasts the Carousel Bar & Lounge, the city's only revolving bar, where jazz is performed most nights of the week. Dating back to 1949, the 25-seat merry-go-round rotates once every 15 minutes. Seats are at a premium so get there as early as you can. Past Carousel performers have included Liberace and Louis Prima, but today's headliners are some of the city's best contemporary jazz musicians.
9. New Orleans Jazz Museum
Housed in the Old U. S. Mint at 400 Esplanade Avenue, where the French Quarter meets Frenchman Street, the New Orleans Jazz Museum is for anyone with an interest in jazz. The building houses one of the world's foremost jazz collections with Louis Armstrong's first cornet, Dr. John's piano, George Lewis's clarinet, and Warren "Baby" Dodds's drum set—just some of the world's largest collection of instruments owned or played by jazz giants. Photos of Pete Fountain, dressed in Mardi Gras garb, are among the collection's 12,000 photos, some of which date back to the early days of jazz. You'll also find old reel-to-reel tapes, a 1917 disc of the first jazz recording ever made, old sheet music, paintings and posters on display.
Pick up a headphone and listen to old recordings, then move on to a room devoted to New Orleans women of jazz like the Boswell Sisters, Sweet Emma Barrett and Sadie Goodson. Live jazz performances are staged periodically in the museum's third floor theater.
10. The New Orleans Jazz & Heritage Festival
When the New Orleans Jazz & Heritage Festival first began in 1970 with stars like Mahalia Jackson and Duke Ellington, only 350 people showed up. Today, the festival has grown to 12 stages with a spectrum of music that includes jazz, gospel, Cajun, zydeco, blues, R&B, folk, Caribbean, and more, and attendance has swollen decidedly. During the Louis Armstrong Centennial in 2001, for example, a record 650,000-plus attendees shattered the previous attendance watermark and included the single-day high of 160,000. If you'd like to go, the 2018 Festival is just around the corner: April 27-29 and May 3-6. More information and the musical lineup is available online at nojazzfest.com.
And for a place to stay…
The Ritz-Carlton New Orleans is centrally located just two blocks from Bourbon Street at 921 Canal Street. The luxury, four-star hotel features antebellum mansion-inspired decor, a grand spa and unique culinary options.
---
For more information on New Orleans, visit neworleans.com or phone 800-672-6124.