This is the second post in Dave Zuchowski's three-part series on New Orleans. Part 1 is here.
---
New Orleans is rightfully regarded as one of the United States's culinary capitals, and sampling its gastronomic riches is one of the major delights of any visit to the Crescent City. You may not know that the foundation of its unique cuisine is multinational and cross-continental (see Part 1 here). As the CVB explained to me, the city's eclectic cuisine is "built on a tradition that stretches from Paris to Port au Prince and from Cadiz to the Congo."
With more than 1,400 eateries to choose from, picking the right ones can be a challenge. Here are ten leads to get you started:
1. Venerable institutions
Francophiles might want to start with the older, tried-and-true fine dining establishments that feature classic French and French Creole food. All are conveniently located in the French Quarter.
With roots that date back to 1840, Antoine's is the oldest of the lot, and over the years countless celebrities have sat at one of its tables, including three presidents, Pope John Paul II, Whoopi Goldberg, Bob Hope, and Bing Crosby. The second-oldest, Tujague's, has the oldest stand-up bar in New Orleans, which came over from Paris with the Tujague family. It's also the home of the Grasshopper cocktail. The restaurant's most popular dish, the boiled beef brisket, is a Tujague original recipe served with Creole horseradish sauce. For 158 years, the restaurant only served a prix fixe five-course menu. Recently, however, it began serving off an a la carte menu but with the five-course option still available. Other historic restaurants worth considering include Muriel's, Broussard's and Arnaud's.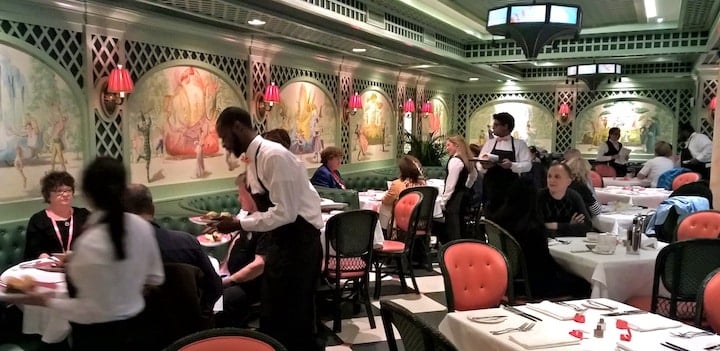 2. For a true and cozy classic
For a lesson in decorative nuance, a meal at Brennan's is a must. Somehow the restaurant's combination of pinks, lime greens and whites, which even extend outdoors onto the patio, merge to not only soothe the senses but also invigorate the palate. Noted for its breakfasts (though its lunch and dinner menus are equally enticing), the restaurant—a landmark since 1946—manages to maintain tradition while at the same time innovate and adapt to the times. From the classic side, there's "Turtle Soup with Sherry," "Eggs Hussard"—a Brennan's original—and "Steak Diane." For something more contemporary, how about "Smoked and Roasted Duck Breast" or "Rabbit Schnitzel"?
On Netflix: For a very fascinating look at a most remarkable woman and her tumultuous career in the restaurant industry, a Netflix streaming documentary titled Ella Brennan: Commanding the Table will have you sitting on the edge of your seat.
3. For po' boys
Po' boys, those classic New Orleans sandwiches, are made not only with French bread and filled with hot roast beef with gravy (usually) but also with fried seafood, hot or smoked sausage, ham and cheese, or hamburger. The fixins and add-ons that go with it are as varied as people's tastes.
A reliable source at the Southern Food & Beverage Museum suggested Killer Poboys at 219 Dauphine Street (try the roasted seafood Po Boy), Domilise's Po-Boys and Bar at 5240 Annunciation Street in the Uptown section (go for the meatball or Italian sausage), and Crabby Jack's, 428 Jefferson Highway (go shredded duck, or half fried shrimp, half fried oyster).
4. For oysters
If you don't mind standing in line to get in (no reservations accepted), a wait at the Acme Oyster House at 724 Iberville Street in the French Quarter will eventually earn you bragging rights for dining in this very popular oyster mecca. At the Acme, you can have your bivalves raw, chargrilled or as shooters. The eatery also serves a variety of other dishes including seafood and more.
At 630 Carondelet Street, Seaworthy offers a variety of oysters that hail from local waters and cocktails with fun names like Kumbaya, billed as a "flavor bomb." For a real bargain, The Blind Pelican at 1628 St. Charles Avenue in the Garden District offers an oyster happy hour from 4pm to 8 pm, seven days a week. The price is 25 cents each—with the purchase of 12 and a beverage. As part of your dining adventures, you might also try a plate of oysters Rockefeller at Antoine's (see above), made from an old and secret family recipe, or oysters Bienville, named for an early Louisiana governor and baked with shrimp, mushrooms, bell pepper, sherry, bread crumbs, and a luscious sauce.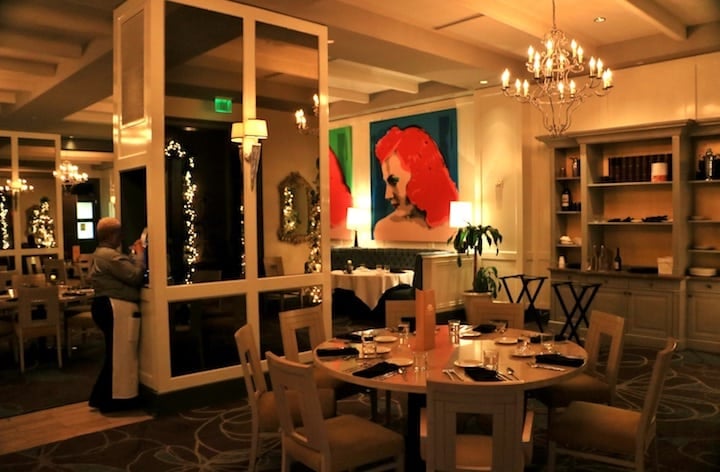 5. For modern Creole
Step into the creative side of culinary experiences at Café Adelaide, named for the striking red-haired sister of famed restaurateur Ella Brennan, winner of the James Beard Foundation Lifetime Achievement Award. Located in the Loews Hotel at 300 Poydras Street, the Adelaide is headed by chef Meg Bickford, the first female executive chef for the Commander's Palace family of restaurants. As an alternative to ordering a la carte off the menu, you might want to try Adelaide's Wine & Dine option ($39 for a glass of Commander's Palace wine, filet mignon and dessert) or the Napoleon prix fixe dinner (choices of appetizer, entree and dessert for $38).
The adjacent Swizzle Stick Bar offers 25-cent martinis at lunchtime, a cocktail of the week, and craft cocktails at happy hour from 3pm to 6pm daily. Swizzle Stick original cocktails include the Freudian Sip, a blend of Basil Hayden's, Herbsaint, pear, honey, basil and lemon.
6. For soul food
New Orleans's African-American community has made impressive contributions to the city's food scene. One stand-out eatery that ventures into the subgenre of Creole Soul is Dooky Chase, in business for more than half a century and located at 2301 Orleans Avenue. Still run by Leah Chase, now in her 90s, this classy restaurant sports linen tablecloths, African-American art on the walls and a lunch buffet that changes daily. Dinner is served only on Friday evenings and features dishes such as shrimp Clemenceau, chicken Creole and stuffed shrimp. Celebrity diners include Presidents George W. Bush, Barack Obama, Hank Aaron, and Quincy Jones.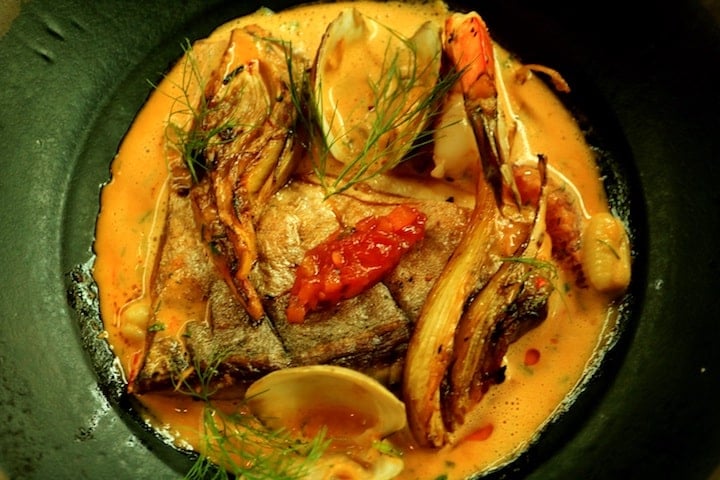 7. For Asian-Creole fusion
Setting the tone at Maypop, 611 O'Keefe in the Warehouse District. The huge wall mural that's a pictorial of the Mississippi Delta of Louisiana when seen from one angle then transforms into the Mekong Delta of Vietnam from another. Chef Michael Gulotta delights in adding cross-cultural elements to traditional Southern cuisine. The results are as remarkable as they are tasty and exciting. How about "Blue Crab Gumbo With Crispy Sticky Rice and Fermented Black Beanss? Or "Roasted Apple and Citrus Ravioli With Crispy Smoked Boudin"? Like fired chicken? Gulotta takes his to new heights with chile heat and vindaloo curry. As a nod to homemade, the pastas and cured meats are fashioned in-house.
8. For barbecued shrimp
Located uptown at 1838 Napoleon Avenue, Pascal's Manale has been around for more than 100 years. But it wasn't until 1953 that the restaurant's renown grew nationally, then internationally, when a frequent diner from Chicago told the owner about a favored dish he tried in his hometown. When the owner duplicated it with a New Orleans spin, it became a sensation and is now the restaurant's lasting contribution to the local cuisine. It's also the most-often-copied dish of the Crescent City worldwide: barbecued shrimp.
Don't expect to see it served on skewers after sitting over a grill of hot coals. This version is a spicy mix of heads-on shrimp and one of the tastiest sauces ever devised.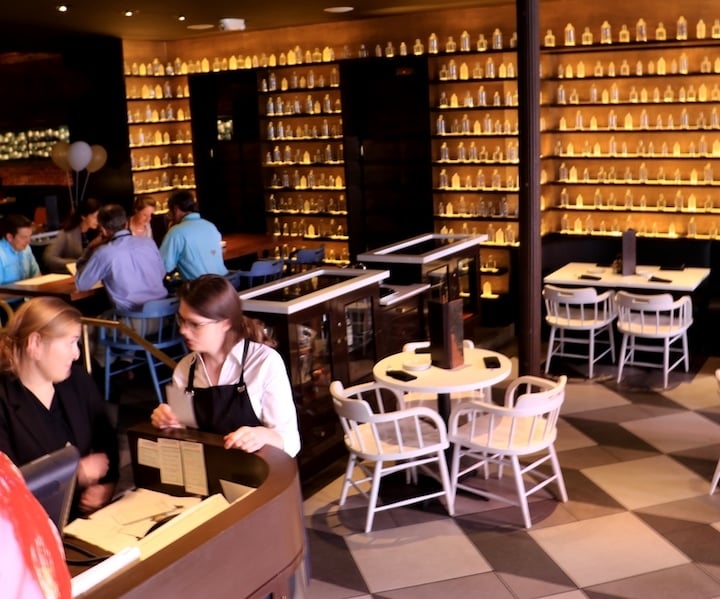 9. For youthful fun and innovation
At SoBou, short for South of Bourbon, you can expect the unexpected. The restaurant, located at 310 Rue Chartres, goes by the motto "Life is meant to be lived, not endured" and you'd have to be a dour sort not to pick up the vibe.
In something new to me, some beers are actually on tap at some tables, and, if you're into wine, you can buy a prepaid card and insert it into the slot in the wine dispensers for a sip, taste or glass of your varietal. (You'll be charged accordingly much in the manner of a debit card.) And how can you miss the stylish decor, especially the rows of apothecary bottles, one on top the other and gorgeously backlit, that dress up one of the walls? Dishes that underscore the creative cuisine include their "Foie Gras Burger with Sunny-Side up Egg, Pear and Pickled Grape Salad," "Crispy Oyster Tacos," "Fire Roasted Rabbit Rilette," and "Sweet Potato Beignets." On Sunday, Sobou offers a Burlesque Brunch with performer Bella Blue and a jazz band, the Dapper Dandies, between 11:30am and 1:30pm.
10. For the celebrity chef experience
Just a one-word clue should suffice here: Bam! That's right: Emeril Lagasse, whose restaurant in the Warehouse District (800 Tchoupitoulis Street) features Contemporary Louisiana cuisine kicked up several notches. Expect great service from the moment you enter the front door, where you're promptly greeted as a valued diner, then regaled at table by a very attentive wait staff that caters to every (reasonable) whim.
Diners at the food bar can actually watch busy-as-bees chefs work their magic in the open kitchen. The decor is upscale chic, modern, cozy, and comfortable. My own meal started off in spectacular fashion with a platter of escargots nestled in the cut tops of small red potatoes. What made the dish even more impressive was the unexpected shards of sweetbreads. From there I moved on to an entree of "General Tso's Duck," again a unique presentation with fried rice, boiled peanuts and cilantro.
I eyed my dinner companion's char-grilled hangar steak that rested alongside a Wagyu pot pie and roasted cauliflower and wondered how we'd have room for dessert. We did: Emeril's famous "Banana Cream Pie" and a to-die-for chocolate souffle.
And for a place to stay…
Loews Hotel (from $143/night) is urbane, modern, attractive, and conveniently located at 300 Poydras Street to the casino, French Quarter and the Warehouse District.
In Part 3: 10 Places to Enjoy Jazz in New Orleans
---
For more information on New Orleans, visit neworleans.com or phone 800-672-6124.