We receive compensation from our advertising partners for links on the blog. Here's our full Advertiser Policy.
Recently IHG made some changes to one of the free hotel night certificates offered on their Chase co-branded cards. Now for $89 a year, owning the IHG Premier Credit Card gives you a free hotel night each year at any property that costs 40,000 points or less.
This list of places below can give you an idea of where to travel domestically or abroad.
How to Redeem Your IHG Rewards Card Free Night Certificate
Your free IHG night is valid at almost any IHG property that costs 40,000 points per night or less. You will receive the free night each anniversary year after you pay the $89 annual fee. As most IHG nights cost at least $100 when you pay with cash, it's really easy to pay the annual fee and get a free night even if this credit card sits in your wallet the rest of the year.
Because you also get complimentary Global Entry or TSA Precheck status and IHG Platinum Elite Status, there's more to like about this card than the free night, but it's a great starting place.
There are no blackout dates with your free IHG night, but hotels only offer limited quantities so you'll need to reserve your free night quickly if you are planning on using it on a holiday weekend or a popular travel spot.
Some of the Best IHG Properties in North America
Let's start in the United States, where most of the IHG portfolio is located. You will most likely have to use your IHG Rewards Card free night at one of the "lower tier" properties like a Holiday Inn Express, Crowne Plaza, or Candlewood Suites, but these rooms can still cost close to $200 per night on the weekends.
Holiday Inn Express and Suites Boston Garden
Located in the heart of Boston, the Holiday Inn Express and Suites Boston Garden puts you right next to the arena when you're in town to catch a Celtics or Bruins game. This hotel is literally right across the street from TD Garden. Nightly rates can start at $343, so you should check here first before you pay with cash or points.
Holiday Inn Miami-Oceanfront

There's no guarantee you'll see Don Johnson, but how many hotels let you get oceanfront access for free? The Holiday Inn Miami-Oceanfront is right on Miami Beach so you don't have to drive or catch a bus to get to the beach. You can also follow the walking trail to visit the South Beach shops or you can also relax at the on-site pool, palm trees and all, when you need a break from the sand and salt.
Holiday Inn Frisco-Breckenridge
Five ski resorts are located within 12 miles of the Holiday Inn Frisco-Breckenridge including Breckenridge and Copper Mountain. Staying in the winter is ideal, but you'll still find plenty to do in the summertime if you like to hike or mountain bike. You're also 80 miles away from Denver, so you can always take a trip to the Mile High City for a change of scenery too.
Holiday Inn Vancouver-Downtown

Vancouver is an awesome Canadian destination. The Holiday Inn Hotel and Suites Vancouver Downtown is located in downtown Vancouver so you can walk to almost anywhere you need to go. You're also three blocks from the closest metro station for convenient mass transit access too.
Europe
Going abroad can help you stay at the top tier brands are now out of reach in the U.S. These wonderful destinations can be experienced thanks to your IHG Rewards Card.
InterContinental Madrid
The InterContinental Madrid is known for its spiral staircase and marble-lined lobby. You'll also enjoy upscale rooms that you won't find at most IHG properties. You can enjoy an exquisite Sunday brunch, on-site restaurants, and 24/7 gym access at this Madrid beauty.
InterContinental Athenaeum Athens
Located in the heart of Athens, you can view the ancient sites while staying at the modern, upscale InterContinental Athenaeum Athens. When you're not sightseeing or using the area shuttle, you can dine at an on-site restaurant or take a dip in the pool. There's also a rooftop bar that overlooks Athens that is worth the purchase of a cocktail too.
Crowne Plaza Geneva
The Crowne Plaza Geneva offers on-site restaurants and convenient access to the historical sites of Geneva. You can also enjoy complimentary airport shuttle service too.
Asia
Asia is another treasure chest of hidden IHG gems if you're planning to cross the Pacific. You can use your IHG Rewards Card to experience a beautiful culture.
InterContinental Bangkok
The InterContinental Bangkok is located in central Bangkok next to the BTS Skytrain. You're also within walking distance of the largest shopping malls in Thailand.
There are other Thai InterContinental properties you might enjoy if you want to visit the countryside. This includes the Pattaya Resort and Hua Hin Resort for 35,000 points per night if you prefer beachfront access and a more relaxed environment.
InterContinental Shanghai Jing'An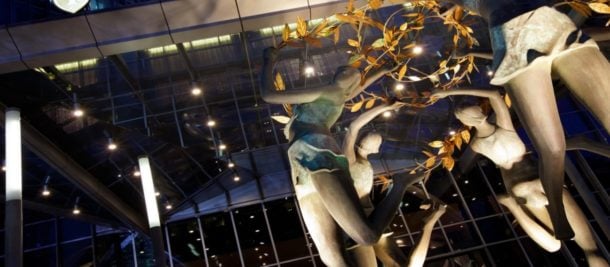 China is creeping to the top of many world traveler's bucket lists. A trip to Shanghai isn't complete without a stay at the InterContinental Shanghai Jing'An in downtown Shanghai. You're within walking distance of the train stations and approximately 30 to 60 minutes away from the two nearby airports. Whether you stay for business or pleasure, you'll enjoy this InterContinental property.
Holiday Inn Resort Batam
The Holiday Inn Resort Batam is the only internationally-branded Holiday Inn Resort. To get there, you'll need to take a 45-minute ferry ride from Singapore. Or you can always fly into Hang Nadim International Airport (BTH), which is 30 minutes away.
There are two indoor and one outdoor pool you and the family can enjoy. Plus, you can say that you visited Indonesia. The beach is a one hour drive north of the Batam resort. You may also visit the Maha Vihara Duha Maitreya Buddhist Temple, one of the largest Buddhist temples in Southeast Asia. Of course, don't forget a day trip to Singapore at some point during your stay.
Summary For Your Free Night From The IHG Rewards Card
Although there are many lucrative ways to redeem your free IHG night, these options are some of the most valuable. There might be a few excluded places, but for the most part, any property that costs 40,000 points or less is fair game.