A few weeks back, I was invited by the charming Melanie Gravdal of Monograms to experience the company's guided travel tour expertise on a four-day trip to Spain. The proposition was that I spend the first two days in Madrid, on my own, and then spend the next two days in Barcelona with the full services of the Monogram team of hosts and guides with their planned itineraries.
Arriving in Madrid—a relief
I took an overnight flight from JFK for an arrival in Madrid at about 9:30 am and took a taxi to the Hotel Princesa, where I was happy to find that my room was available for early check-in. This is one of the greatest things that can happen to you on a trip from the states to Europe. As Spain is six hours ahead of EST, my 9:30 am arrival in Spain felt like 3:30 in the morning, and instead of leaving my bags at reception and wandering around until check-in (and since hotels usually have a 2 or 3 pm check-in) in a sleep-deprived daze wearing the clothes from the day before. I was able to grab a refreshing shower, change my clothes and hit the town totally rejuvenated. Again I cannot understate what a difference an early check-in makes—and I'm sure that since Monogram chose the hotel, they had something to do with it.
Madrid: The Hotel Princesa
The Hotel Princesa was a delightfully modern and clean hotel located close to the Plaza de Espña, a nice park with fountains and an outdoor market of local artisans selling their wares and surrounded by tall modern buildings. I grabbed a map from the concierge and began walking, unsure of whether or not I was headed in the right direction. Luckily I chose a nice street with lots of really spectacular architecture unique to Spain. Lots of amazing brick and stonework, especially those buildings built around the turn of the 20th century. I enjoyed my aimless wandering and found many cool shops, cafes and tapas bars in the narrow streets. I stayed away from the large, wide streets as they are busy and have the same stores and fast food chains found in any large metropolitan city.
Madrid: Sneaker heaven
I'm a total sneaker freak, and I was amazed at how many sneaker boutiques there were in Madrid! I found some Europe-only Adidas releases and some limited-edition Vans, plus a US brand (Clae) that I had never heard of, at a really cool shop called Duke located at 18 Conde Duke. They told me about some other similar stores and put Xs on my map to help me out. Super guys. So the rest of my day became a treasure hunt. Here's the bounty, some of the best sneaker shops in Madrid, and actually in the world:
Urban Jungle, Calle Fuencarral 5
Forbucks, 5 Calle de Carranza
La Tienda de las Gorras, 30 Corredera alta de san Pablo
Street Dreams, 2 Calle San Mateo
Duke, 18 Conde Duke
I really enjoyed my walk through Madrid. I had never been there before and did not speak Spanish, but I had no idea that the best was yet to come.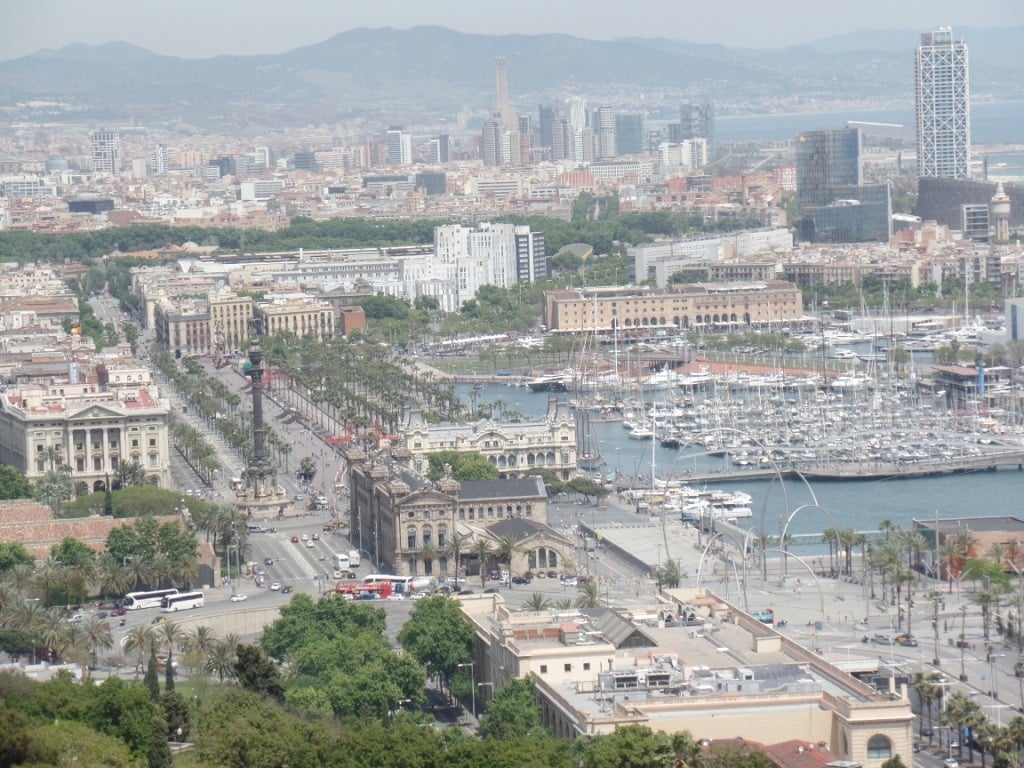 To Barcelona by rail
On Sunday morning at 9:30 am, I boarded a First Class high-speed train for a three-hour glide to Barcelona—with the Monograms part of the trip set to begin. I was greeted by a host at the station and presented with an itinerary covering the days ahead on the way to check in at the Hotel Catalonia Ramblas, again with the ability to check in early and drop off bags and freshen up.
Barcelona: Picasso Museum with our guide
My first Monograms afternoon began with a visit to the Picasso Museum. I was part of a small group led by a Monograms guide who had pre-arranged our entrance to the museum. Normally there's a long wait for tickets, but we went directly in, the museum being a short walk from the hotel. We were given earpieces that enabled us to hear the guide very well over her wireless transmitter and it was a really good way to be able to observe all the early works of Picasso without having to stay in close proximity of the guide. The guide was well-versed in the museum's content and the backstories of Picasso's life as a child prodigy and his progression through his teens and early twenties before leaving Spain for Paris in 1904.
After the museum visit, our group toured the streets of the old city and again, it was great to have a knowledgeable guide pointing out interesting sights, and with our wireless communication with her we enjoyed a pleasant stroll through the tight streets instead of packing closely together to hear what was being said.
Barcelona: Tapas tour
After a few hours' rest we went on a tapas tour of Barcelona. We had a lot of tasty bites called pinxto, which are small snacks speared with a toothpick served at bars and really delicious. There was a wide selection of the local prosciutto hams, sardines, croquettes, and other delights. We drank sangria and a local drink of red wine mixed with lemonade. When you're done, the waiter counts the empty toothpicks and calculates your charge.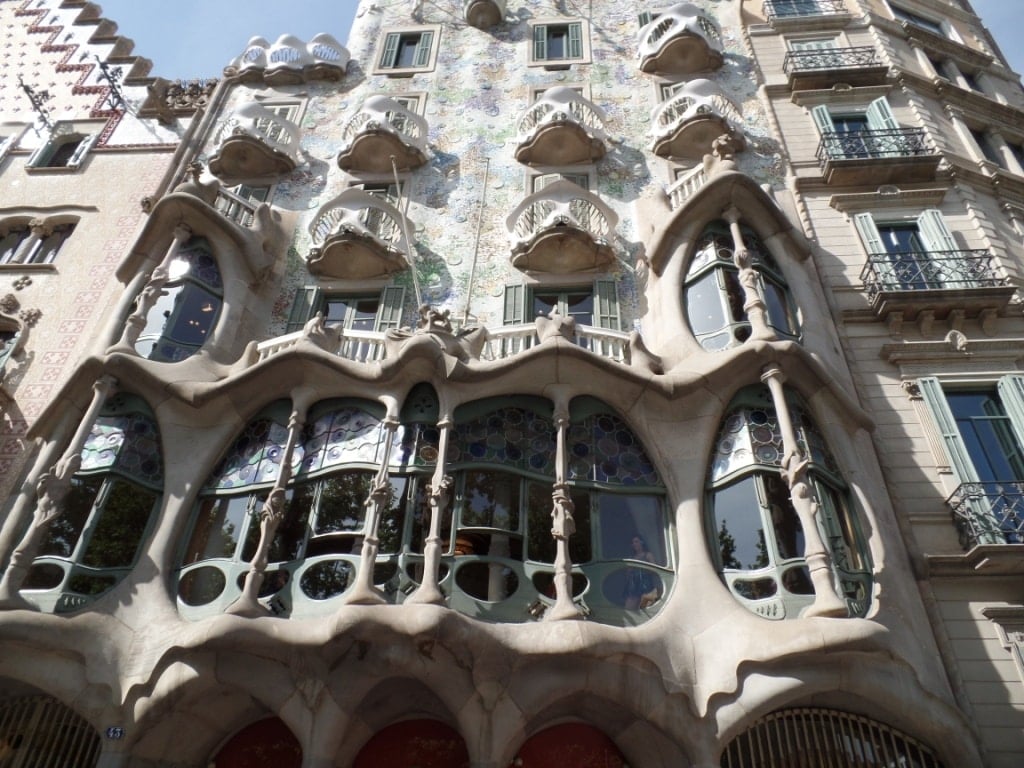 Barcelona: Casa Batlló
Monday began with a visit to Casa Batlló, a house originally built in 1877 but totally and radically redesigned for the new owner by the architect Gaudí over from 1905-1907. Once again the Monograms hosts had prearranged our visit, and we went right in, avoiding the four-hour wait that most visitors had to endure. This house is jaw-dropping! The design is based on the forms of nature and filled with curves and colors, and the façade is an undulating mosaic of colored tiles. Words cannot describe how radical this building is. Gaudí paid so much attention to every detail of the outside and interior.
Barcelona: La Sagrada Família
There is nothing like it—except perhaps in some ways our next stop, the Sagrada Família, which is still unfinished, scheduled to be completed in 2020.
La Sagrada Família is a church of incredible design and detail with soaring columns that branch out like trees to support the ceiling. The colors of light flowing through the stain glass windows are magical. Of course Monograms whisked us past the long queue and our host explained the history of the building and many of the details within the church and the sculptured façades at the entrances. This is Barcelona's #1 destination, and rightly so. There is no other church that can compare with Gaudí's masterpiece. It is absolutely awesome.
Barcelona: Montjüic
The afternoon tour was in an extremely comfortable coach up to the hills of Montjüic, the site of the 1992 Olympic Summer games. The view from the top is magnificent and you can see all of the city of Barcelona, as well as the both the old and new ports, from it.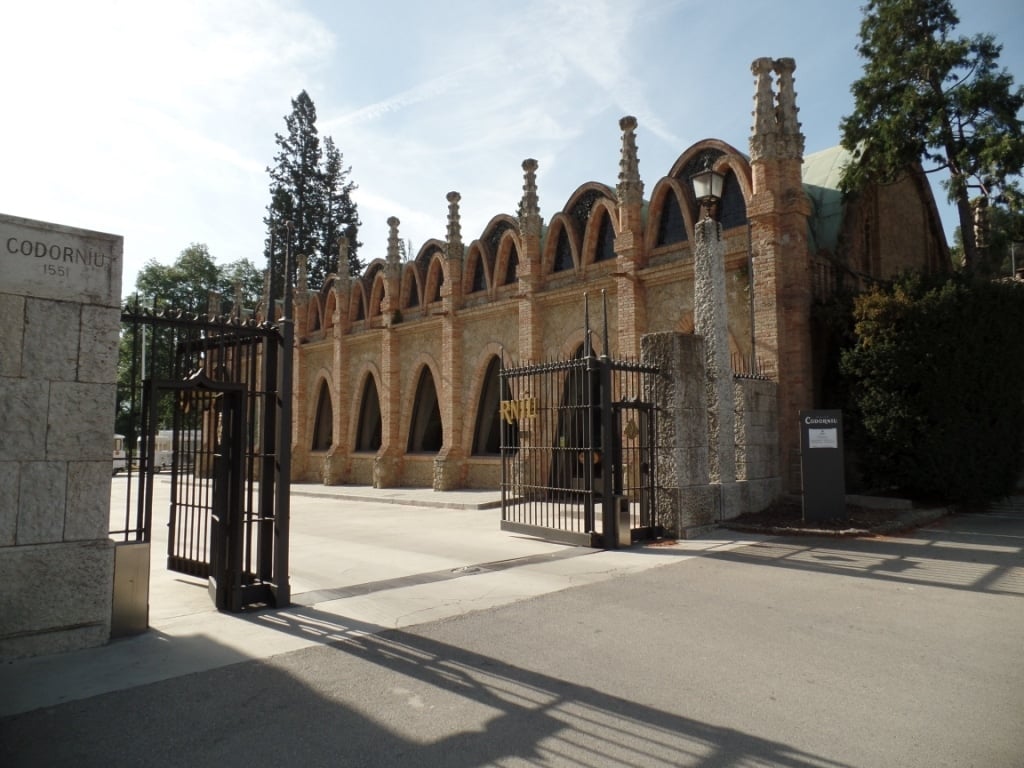 Barcelona: Cava (like champagne)!
Afterwards we were on our own to explore the city at our leisure, or just relax around the hotel's splendid pool. Monograms certainly appreciates th face that travelers don't want to have every minute of their trip completely planned and so it crafts a perfect balance of excitement and relaxation in its itineraries—like this one.
Our final day began with a visit to the Codorníu factory, home to the oldest family business in Spain that traces its origins in winemaking back to 1551. The buildings are splendid examples of Art Nouveau, and the family has been very careful to preserve the original structures and equipment used in making its earliest cavas. In 1872, Josep Raventos, the current descendant of the founder, created Spain's first cava, a sparkling wine much like champagne. In 1885 Manuel Raventos heavily promoted the Codorníu cava around the world and put it on its way to becoming the huge global brand it is today.
We had a wonderful tour of the oldest parts of the winery, including a tram ride through the depths of the aging cellars far underground. Here, thousands of bottles were fermenting their way into cava. Of course, no visit to a winery is complete without a tasting, and although it was not yet noon I was obliged to sample the various cavas. Delicious!
Barcelona: Montserrat
We hopped on our motorcoach for our final destination, Montserrat, where there's a Benedictine abbey and basilica. It's a very unusual place to find a church, especially one whose origins date back too 1025. The basilica itself is quite beautiful, but its place on a very high and unusual mountain formation makes it that really special. Along the walk up to the site there are local producers of honeys, cheeses and other regional specialties.
Barcelona: La Rambla and home
After returning to the hotel and taking a brief rest, I headed back out down a wide street called La Rambla, a famous, mostly pedestrian street that runs straight trough the old city to the old port. There was a really colorful covered market with all kinds of treats including smoothies made from fresh fruits.
I wandered through the narrow side streets that run off La Rambla and came upon a square with some kids playing soccer. I noticed the old buildings still had bullet holes in the stone from the battles fought there in the Spanish Civil War in 1936. I really enjoyed meandering through the old city as tiny streets would lead to small squares with something great to see at every turn. There was a wide range of shops, bars, bakeries, and galleries.
The best part of my trip was how much I was able to take in during my brief two-and-a-half days in Barcelona thanks to the planning done by Monograms. Their local hosts and guides are a great resource for making the most of your time spent exploring new frontiers, and I highly recommend them for a trip to any place you may be traveling to for the first time.