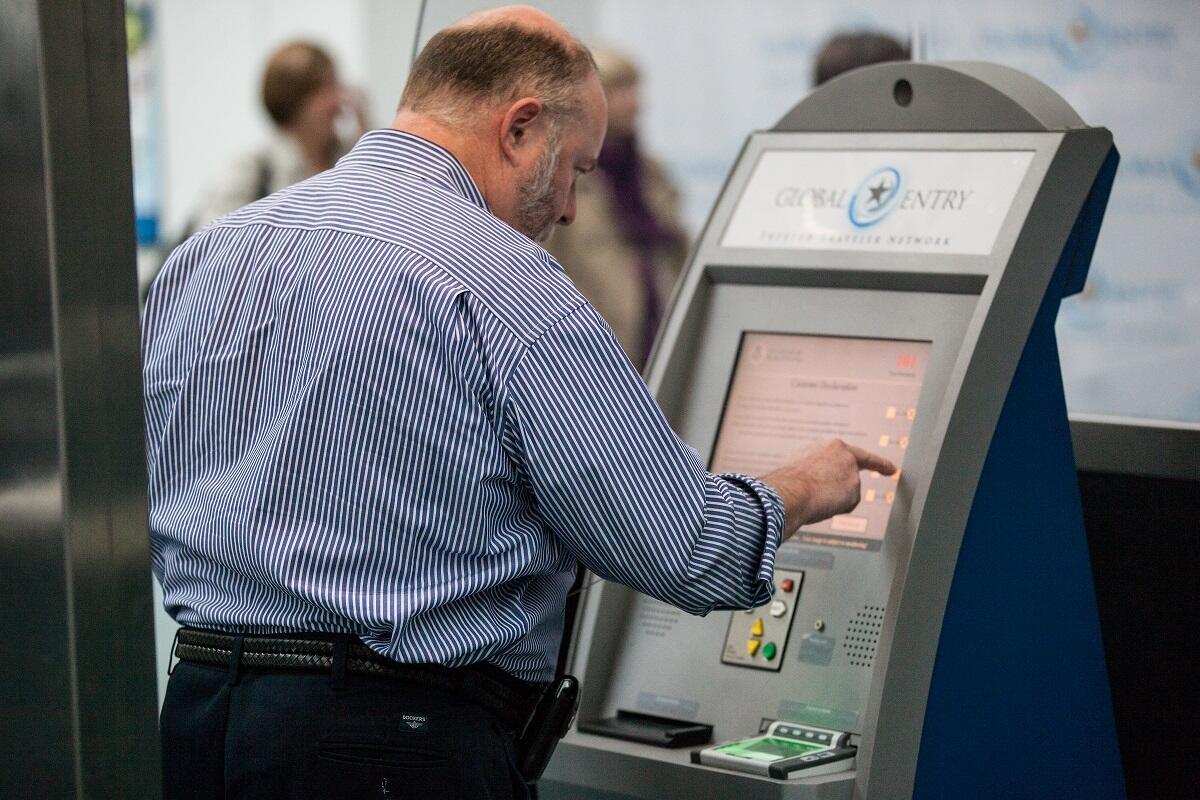 If you ask any American frequent international traveler, they will no doubt tell you that one of the best things to happen to the travel industry was the introduction of Global Entry in 2008. The expedited customs clearance program is for pre-approved low-risk air travelers entering the United States. It's available to U.S. citizens, U.S. lawful permanent residents and eligible citizens from the following countries: Argentina, Brazil, Colombia, India, Germany, Panama, Singapore and the United Kingdom.
What's great about the program is that participants don't have to wait in long immigration and customs line when they enter the U.S. Global Entry allows them to bypass the regular passport control queues and avoid routine CBP questioning by using automated kiosks at designated airports.
It's currently available at 59 U.S. airports and 16 Preclearance locations in 6 countries: Dublin and Shannon in Ireland; Aruba; Freeport and Nassau in The Bahamas; Bermuda; Abu Dhabi, United Arab Emirates; and Calgary, Toronto, Edmonton, Halifax, Montreal, Ottawa, Vancouver, Victoria, and Winnipeg in Canada.
Global Entry costs $100 for five years and includes TSA PreCheck, which allows for expedited U.S. airport security screening.
TIP: Here's How to Get TSA PreCheck & Global Entry Access for Free
The only thing better than Global Entry is NEXUS, which is for American and Canadian travelers who frequent both countries. This expedited travel program is for air, land and sea border crossings along the northern border through a partnership between the Canadian and U.S. governments and enforced through the Canada Border Services Agency (CBSA) and U.S. Customs and Border Protection (CBP).
What makes it better than Global Entry is that it only costs $50 for five years and includes Global Entry and TSA PreCheck. The only downside is that once you've been conditionally approved for NEXUS, you have to make an appointment at one of the CBSA and CBP joint locations, which are along the U.S. / Canadian border, unlike Global Entry, which is available at most major U.S. airports.
In the U.S., NEXUS interviews are available in eight states:
MAINE
-Calais (Calais Enrollment Center)
MICHIGAN
-Detroit (Detroit Enrollment Center)
-Port Huron (Port Huron Enrollment Center)
-Sault Ste. Marie (Sault Ste Marie EC)
MINNESOTA
-International Falls (International Falls EC)
-Warroad
MONTANA
-Sweetgrass (Sweetgrass NEXUS and FAST)
NEW YORK
-Champlain (Champlain Enrollment Center)
-NIAGARA FALLS (Niagara Falls EC)
NORTH DAKOTA
-Pembina (Pembina Enrollment Center)
VERMONT
-Derby Line (Derby Line Enrollment Center)
WASHINGTON
-BLAINE (Blaine NEXUS and FAST Enrollment Center )
In Canada they're available in seven provinces:
ALBERTA
-Calgary (Calgary Enrollment Center)
-Edmonton (Edmonton Enrollment Center)
BRITISH COLUMBIA
-Richmond (Vancouver Enrollment Center)
-VANCOUVER (Vancouver Urban Enrollment Center)
MANITOBA
-Winnipeg (Winnipeg Enrollment Center)
NEW BRUNSWICK
-Belleville (Houlton Enrollment Center)
NOVA SCOTIA
-Goffs (Halifax Enrollment Center)
ONTARIO
-FORT ERIE (Buffalo-Ft. Erie Enrollment Center)
-Lansdowne (Lansdowne, ON )
-Mississauga (Toronto Enrollment Center)
-Ottawa (Ottawa Enrollment Center)
QUEBEC
-Montreal (Montreal Enrollment Center)
But here's the problem: Because of the pandemic, NEXUS interviews were shut down. They only started opening five days ago in the U.S. and they're still closed in Canada with no open date in sight. Since my wife is Canadian and we travel frequently (or did before the pandemic) between our home in Los Angeles and her mother's home in Toronto, we use NEXUS to make arriving in Canada and the U.S. a breeze. It can seriously save you hours each time.
To access the Global Entry and NEXUS lanes, every person in your party has to be a member, including babies. My son Jack got NEXUS before he turned one and my daughter Olivia would have had hers a couple of months earlier than Jack as she was conditionally approved in February of 2020. Then the pandemic hit. NEXUS gave a one-year extension to make an appointment but I kept checking and nothing was open in Canada and we don't live anywhere close to a U.S. location.
Then I received a letter from the CBP exactly two years to the day that she was conditionally approved stating: "Thank you for your interest in the NEXUS program. This is to inform you that we have received a request to cancel your NEXUS program application because of the following reason(s): The applicant did not finalize program enrollment within the required time frame."
Is that bogus or what? But I learned the hard way that I should have at least made an appointment at a U.S. location as far ahead in the future as possible and then canceled it when the Canadian locations opened up. So my advice to you is if you're applying for NEXUS, make sure you make an appointment before your deadline because they will cancel it.
The letter did state: "If at a later time you decide you would like to apply for the NEXUS program again, you must complete a new application and submit any required fees." I did reapply immediately and because she's under 18, it's free. It's been a couple of weeks and I haven't heard back but the first time around took a couple of months.
If you're curious how the interviews work, here's contributor Micah Engber's play-by-play story: My Trusted Traveler Program Interview.