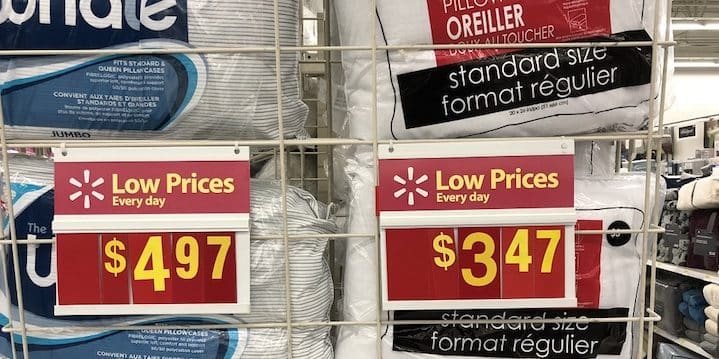 My biggest beefs with sleeping in hotels are: the pillows are too bulky or the bedspreads are too heavy. For the latter, I usually call down to the front desk and ask for light blanket, and that does the trick.
However, for the pillow situation, not all hotels offer a variety of pillow shapes and styles (especially the budget hotels). I don't travel with a pillow from home since I never have enough room in my bag, but a solution dawned on me the other day while walking through Walmart (pictured above). As long as you're traveling where there are major stores like Walmart, Target and Costco, you can simply buy a pillow for cheap. I'm talking under $5, so makes sense to buy one you like and use only for your stay. You can then bring the new pillow home, leave it at the hotel or donate to a local shelter.
Have you tried this? Would you?
Related:
____________________________________________________________
Have your own tip? Email it to whitney@johnnyjet.com!
Want to see more tips? Click here for all 1,225!
Want even more travel tips? Sign up here for the Daily Travel Tip newsletter! Just fill in your email address and check the Daily Travel Tip box—and you'll have Johnny's best tips, straight to your inbox each day!
If you already subscribe to our weekly newsletter, you can sign up on the same page. Just fill in your email and check the Daily Travel Tip box on the same page and you'll receive an email with a link to update your JohnnyJet.com preferences. On that page, just click the Daily Travel Tip box and Update Profile.