Disclaimer: This trip and post was sponsored by the Starwood Preferred Guest ® Card from American Express. I received compensation for my participation but all opinions are my own.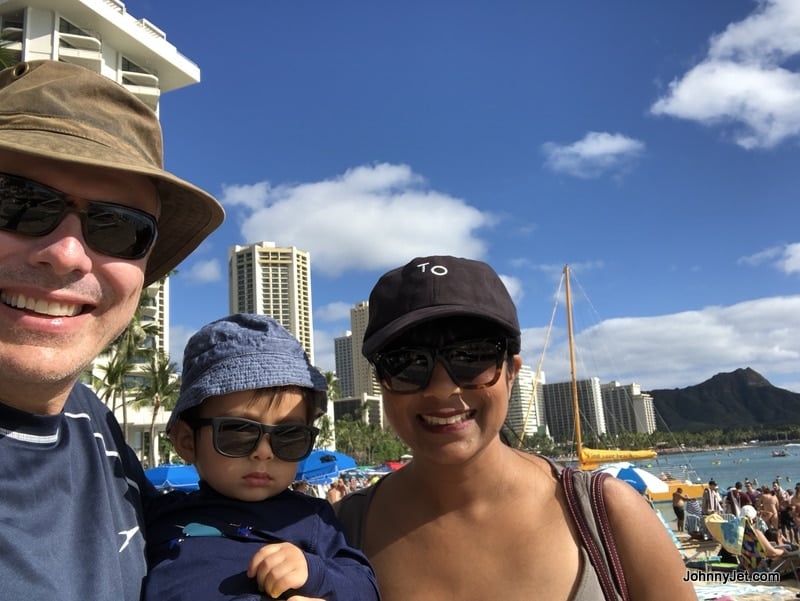 Aloha! I hope you had a Happy New Year! My family and I were fortunate to escape Toronto (where my wife's family lives) and the Arctic cold that had descended on the city. We flew to Hawaii where we thawed off! We had a great time and I was able to combine work with pleasure to help offset the costs.
First Class Tickets for Cheap
Believe it or not, I ended up buying our plane tickets over the Labor Day weekend when I noticed that the price was so low. First class tickets to fly from YYZ to HNL with an 18-hour layover in L.A. (where we live) was just $800.That was just a few hundred dollars more than coach and one of the legs was on a 777-200 with lie-flat seats.I put the flights on hold for 24 hours and when I went back to check prices the next day, the fare had jumped to $3,200 per person, so I immediately bought the tickets.  Good thing I'd put the tickets on hold to reserve the $800 fare.
No Blackout Dates with Starpoints
While the flights were still on hold, I looked into hotel prices. They were crazy expensive; the week between Christmas and New Year's is Oahu's busiest week of the year. So I logged in to my SPG account since  starpoints redemptions at SPG participating hotels don't have blackout dates. That means that if a room at one of SPG's 1,500 hotels worldwide is for sale, you can use your points to book it.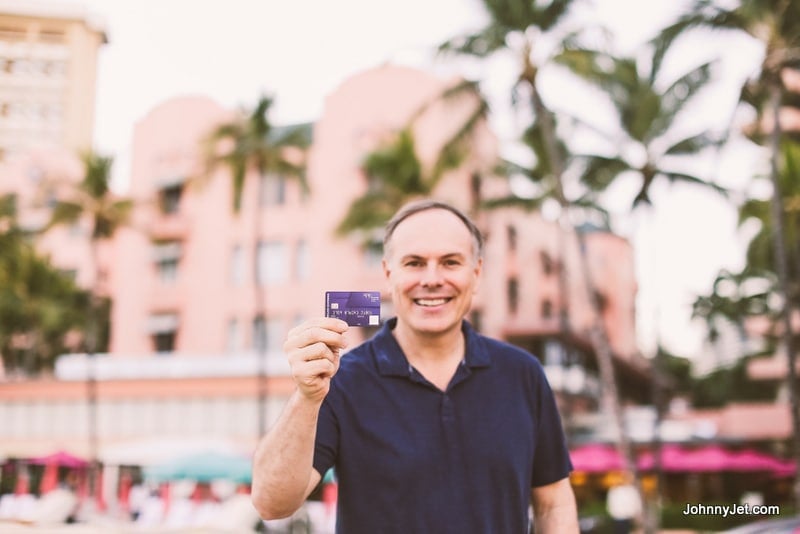 SPG American Express
Full Disclosure: For the past five years, I've been part of the SPG Amex Stars program but I wasn't part of their program when I booked this trip. I was going to go on vacation but when the SPG PR team contacted me in November (after I'd booked everything) asking if I was interested in taking part in their holiday challenge, I couldn't turn it down. They gave me 70,000 Starpoints and in return, I had to write a post within a week of my stay and do some social media.

Booking the Royal Hawaiian with Starpoints
We usually stay at the Westin Moana Surfrider since it's Waikiki's oldest and most centrally located hotel but it was sold out for using points or cash. It's just as well because The Royal Hawaiian, which is right next door, is the island's second oldest hotel and is even nicer than the Surfrider. FYI The Royal, as locals call it, is part of SPG's Luxury Collection; Marriott bought Starwood in 2016.
Room rates were starting at $900 a night including all taxes and fees (yes, like most Hawaii hotels, they charge the dreaded daily resort fee of $35 a night). However, to book with Starpoints, it was 25,000 points a night (plus the resort fee). One of the ways to really take advantage of your Starpoints is to book four consecutive nights so you get the fifth night complimentary. So it was really 20,000 points a night, which make it an even better deal. It's not that difficult to get Starpoints too. If you get the Starwood Preferred Guest Credit Card from American Express you can earn 25,000 bonus Starpoints after spending $3,000 in 3 months. Then cardholders earn 2 points per dollar spent at participating Marriott Rewards/SPG hotels and 1 point per dollar spent on all other purchases. Terms apply.
Note: Another thing I don't like about many Hawaiian hotels, besides the resort fee, is that they don't allow you to cancel last-minute without a penalty, whether you pay with cash or points. To cancel a reservation for New Year's without penalty, you need to do it by October 30th. Otherwise, they charge you.  I can understand not letting you wait until the last minute to cancel, but a deadline of November 30 would be a lot fairer.
YYZ-LAX-HNL on American Airlines
I was really looking forward to this trip and it didn't disappoint. First of all, flying first class makes the long trip so much easier and Jack was a champ. We really didn't need three seats because Jack just sleeps in his mother's arms and on American's 777-200, with their 1-2-1 configuration, it's impossible for a toddler to have their own seat. A better choice for young families would be to fly in their Premium Economy since it's got more legroom and seats are configured 2-4-2.

Good to know: When I heard the gate agent announce that the plane was full and they were looking for volunteers to go on a later flight in return for flight vouchers, I asked if they were interested in buying Jack's seat back. The agent looked at me like I was from Mars and then said, "we don't do that." So instead, I told the flight attendant to give his seat (1A) to a military person or someone who was going through chemo or had mobility issues. The flight attendants were super friendly (and young because no one wants to work over the holidays) and gave it to a young man in the Navy who seemed to be very appreciative.
Arrival at The Royal Hawaiian
We arrived at the Royal Hawaiian at 8pm and there was no line at check-in. We were given a historic room (208) with a garden view. Obviously, we would have preferred an ocean view but it wasn't an option and when I inquired about an upgrade, the clerk said they were sold out. Like a tired traveling fool, I forgot to request a room without a connecting door because it doesn't feel much like vacation when you can hear your neighbors talking or coughing. But it was quiet when we arrived and I didn't notice the disturbance until they returned from dinner and by then, we were unpacked and Jack was sleeping so I didn't bother.
About the Starwood Preferred Guest Card From American Express
$0 intro annual fee for the first year, then $95/year
A favorite among frequent travelers and points junkies, The Starwood Preferred Guest Credit Card from American Express includes perks like no F/X fees and free premium Wi-Fi at hotels in the SPG program
Earns Card Members up to 5 Starpoints per dollar spent at participating SPG hotels, 2 Starpoints per dollar at Marriott Rewards properties, and 1 Starpoint per dollar on all other purchases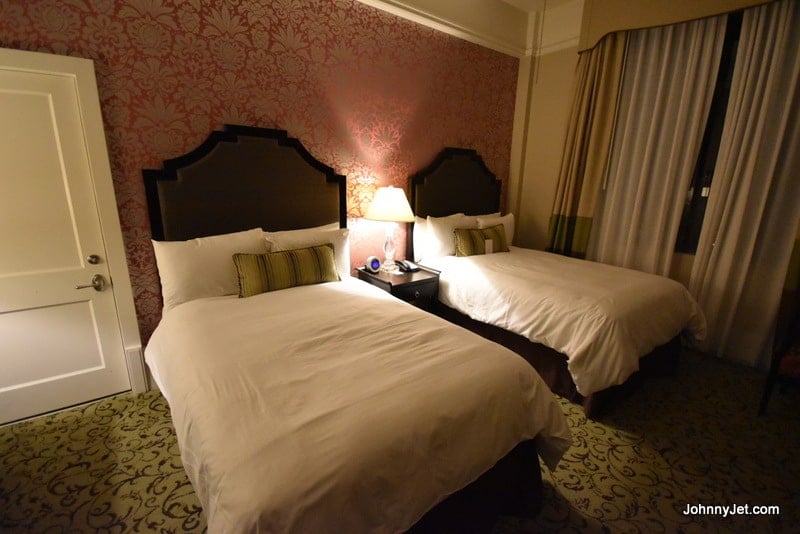 The Good
The good news is that the staff, especially housekeeping, are all super friendly.
– Housekeeping respects the 'Do Not Disturb' sign. I had requested a roll away bed and I heard them outside the door while we had the 'Do Not Disturb' sign on. I expected them to call anyway but they didn't, which we appreciated because Jack was sleeping.
-The beds are comfortable
-I asked one of the friendly pool attendants if they had a toy shovel or bucket for kids in the lost and found and sure enough, they did. He said we could keep it, which was nice, but I returned it on the last day.
-The elevator is top notch. We never had to wait more than 30 seconds and it's programmed to always have one on the lobby floor with the doors open so you don't even have to press the call button.
-Their Azure Restaurant and Mai Tai Bar have amazing views of Diamond Head and Mai Tai's live music and hula dancer are are mesmerizing.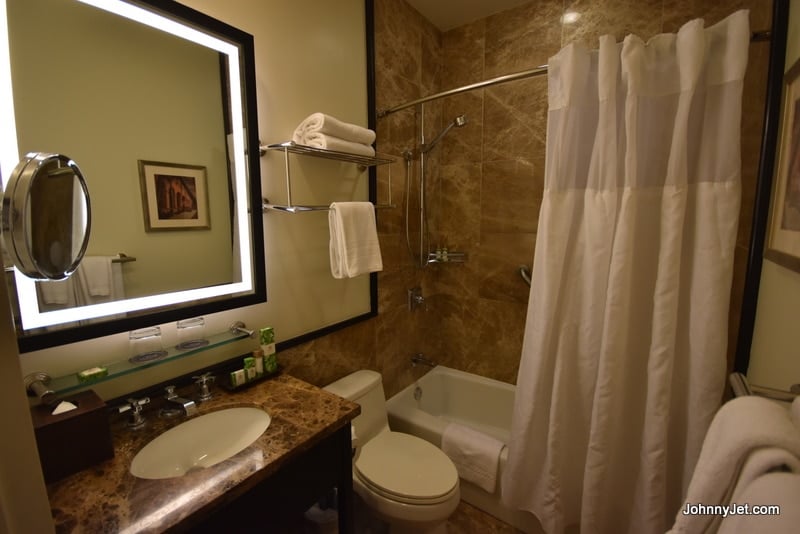 The Not So Good
Around 5am, I heard my wife scream in the bathroom and ran in to find a bug scampering away on the bathroom counter. I found a few more and although they didn't bother me, my wife just wasn't having it. So I called down and asked to move rooms. They agreed and moved us to another historic garden view room (696) around 11am. This one didn't have a connecting door or bugs so it was much better. FYI: You can still hear hallway traffic but sadly that seems to be the case at most hotels these days. Tip: The air conditioning units are loud so to offset the hallways noise, turn it on and switch it to low (not auto otherwise it will keep going on and off) and it should create some white noise to drown out the sounds in the hallway.
Included in the resort fee are:
-Free WiFi (Your SPG Amex allows you to get complimentary in-room fast WiFi at all SPG participating hotels)
-A MiFi (WiFi hotspot) so you can have internet when exploring the island
-Free rentals of GoPro cameras between 9am-7pm.
-2 bottles of water
-Fitness classes
-A 30-minute photo shoot around the resort. A 4×8 photo is free and to purchase the others costs around $40 per pic. We did a photo shoot but used Flytographer.
Breakfast Tip:
Every morning, I would get up early and walk to the Royal Hawaiian Mall, which is right next door. If you go out the back of the hotel, you can be at Island Vintage within 3 minutes and there you get a tasty and filling acai bowl ($10.99). They open at 6am and I was usually there at 6am.The worst part is that the staff is not friendly.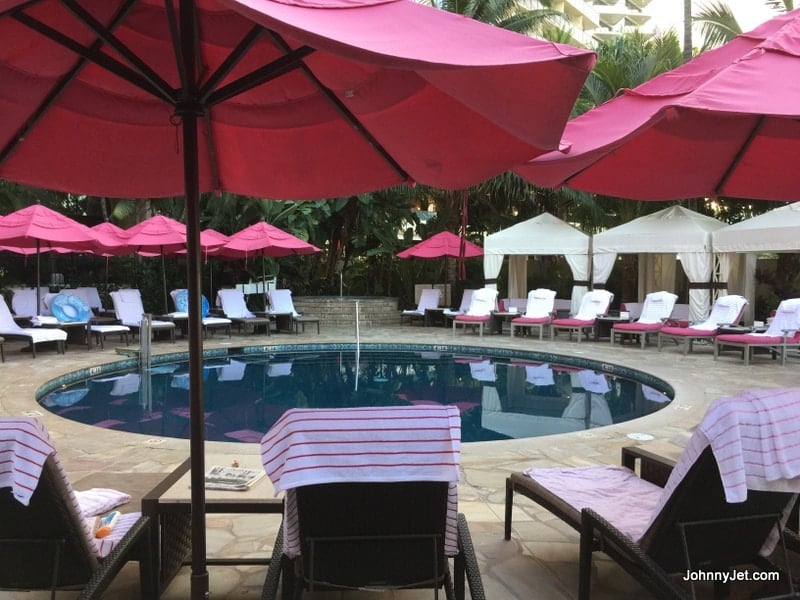 The Early Bird Gets the Worm .. and the Pool Chairs
One of the problems going to hotels during the busy season is that it's over crowded. When I went to reserve two beach chairs and an umbrella ($40 for the day, $20 for a half-day) the friendly staff said there was nothing available until Tuesday (Jan 2). It was Sunday morning (December 31st). When I asked about a pool chair, since they all had towels on them, they said the chairs are available on a first come, first serve basis. It was 7:30am and all the chairs were reserved, yet no one was sitting on them. Guests must set their alarms so they can run down to get a chair and then go back to bed or breakfast. Meanwhile, guests like us who just wanted to relax for an hour or two, had nowhere to sit so the chairs went unused. It was the same scenario for the beach chairs except there, you have to pay and do it several days in advance. It's a ridiculous policy and one I hope they change as it definitely doesn't feel like a luxury experience. I know the Ritz-Carlton Waikiki doesn't allow guests to do this. Guests there can only hold chairs for 15 minutes then the pool crew makes them available to other guests.
The Bottom Line
Overall, it was a fantastic stay and you just can't beat the Royal Hawaiian's location or Hawaii's weather for New Year's. In fact, if was such a great trip that I just booked next year's trip to make sure we don't miss out on the Royal Hawaiian and run the risk of it selling out. To take advantage of the fifth free night, I booked – you guessed it – five nights and it cost 19,000 Starpoints and $37.70 (the dreaded resort fee) per night. I know it's way in advance but I have until October 30th to cancel. However, when I booked online, it wouldn't give me an option to choose an ocean view room so it looks like those rooms aren't offered using points. Just before I clicked 'complete this reservation', it warned me that, "If you cancel after 6:00 PM hotel time on Tue, 30 Oct 2018, the forfeiture amount will be USD 3,680.00. There may be additional applicable charges and taxes." Gulp. Let's hope I don't have to cancel. One thing is for sure I just set a reminder to for October 29th to decide if we need to cancel or not and for a few days before our stay so I can reserve a beach chair.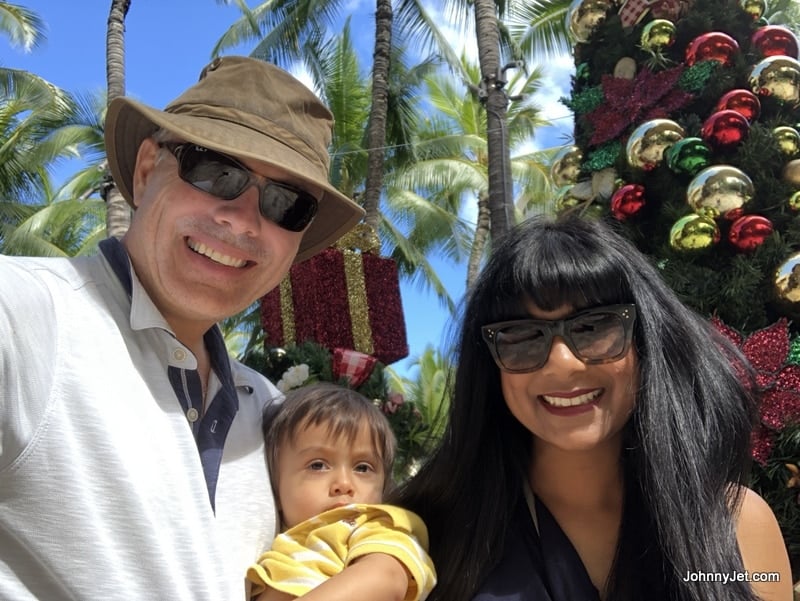 If you want to go to Hawaii or any other popular destination and stay in a luxury hotel during one of the busiest weeks of the year and not spend a crazy amount of money then use your Starpoints. If you don't have any you can quickly earn 28,000 by getting the Starwood Preferred Guest Card from American Express (25,000 points to sign up and 3,000 after you spend $3,000 in the first three months).
SaveSave