My sister from Toronto came to visit us in California recently and we spent a fair bit of time at the beach, relaxing and watching the cousins play together. When I head to the beach, I feel like I'm always loaded down with so much stuff, which of course, I am. It's the beach towels that take up so much room in our bag. But my niece Aria had an extremely light and compact towel in her bag that took up no room at all. TIP: The original Bogg bag is the ultimate beach-slash-pool bag you'll use all summer long.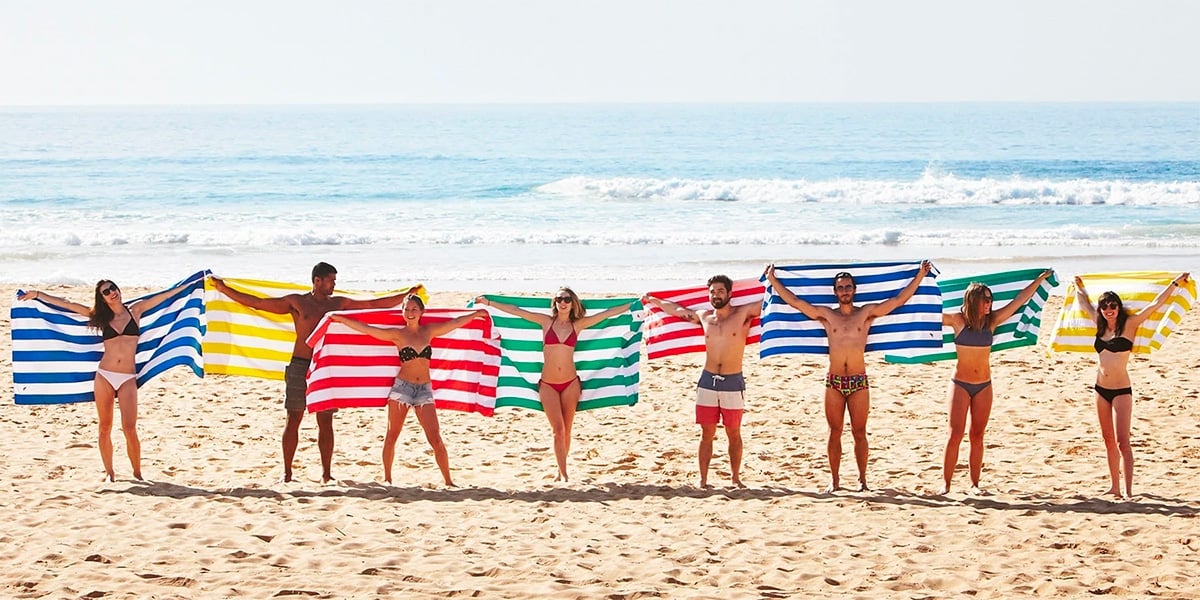 This post contains references to products from one or more of our advertisers. We may receive compensation when you click on links to those products. For an explanation of our Advertising Disclosure, visit this page.
My sister gave me all the details about the quick-dry Dock & Bay beach towels and I picked up a couple for my kids. They're a huge improvement over the big, bulky beach towels I normally pack. First of all, they're made from 100% recycled material and they're extremely quick-drying. According to their website, these towels dry three times faster than standard cotton towels and keep free of unpleasant damp smells.
These towels first made their appearance on BBC's Dragon's Den and they're designed to repel sand. Just give them a quick shake and all the sand will fall off, not getting trapped in threads like a regular towel. But my favorite feature is that they fold up pretty small so it's easy to take two to the beach without overstuffing your bag. They come in two sizes: large (63×35″/160x190cm) and extra large (78×35″/200x90cm). I got both towels in extra large. RELATED: Hands Down the Best Beach Toy for Kids
And last, but definitely not least, they're really stylish. I love the striped cabana design and they come in an array of beautiful, vibrant colors. Can't decide? Choose a few colors, one for everyone in the family and then you'll always have your own towel ready to go for beach or pool days. I also shove them in my bag when we head to a park or a theme park – they come in handy for a multitude of uses. I used it to cover up a hot bench. I laid it down on the grass for an impromptu picnic. When my niece got cold at the beach, it was a handy wrap to keep her warm. I even used it as a change pad to change my daughter's diaper one day.
Bottom line, they're stylish, quick-drying, sand repellant and compact, making them perfect for travel. They're great quality – I don't think you'll regret having these beach towels around. Buy the Dock & Bay quick dry beach towels here on Amazon.
KEEP READING:
–The Most Comfortable High Heels You Will Ever Wear … Seriously, They Are a Game-Changer
–An Easy Way to Get Healthy Right Now
–Why Packable Jackets Should Top Your List of Winter Travel Must-Haves
–Add These 8 Items to Your Toiletry Bag When You Travel
–Why Packing Cubes Are a Travel Essential
Want more travel news, tips and deals? Sign up to Johnny Jet's free newsletter and check out these popular posts: The Travel Gadget Flight Attendants Never Leave Home Without and 12 Ways to Save Money on Baggage Fees. Follow Johnny Jet on MSN, Facebook, Instagram, Pinterest, and YouTube for all of my travel posts.