Here's to another crazy week in the travel industry and the USA. I can't believe it's already been seven days since I checked out of the Lido House in Newport Beach. BTW: My four-year-old son won't stop talking about it and keeps telling family on FaceTime that he wants to move there.
JUST IN: "TSA officers screened 936,915 individuals at airport checkpoints on Thursday, Oct. 8. It was the fourth time sine the pandemic hit that checkpoint volume has topped 900,000 and the first Thursday that it has done so." I'm surprised by this number and with Hawaii opening up next week, I think it will break the million mark soon. That's good news for the travel industry but keep in mind a year ago on that same weekday the number was 2,605,291.
6-Day Sailing Trip in Maine on the Schooner Stephen Taber 
I wasn't the only one in my family to travel last week. My sister Georgette went on one of the few cruises operating out of the USA right now. Here's what it was like sailing in Maine during COVID-19 on 68-foot schooner.
How Travelers Can Get Free COVID-19 Testing
If you get my Daily Travel Tip newsletter (you can sign up here) then you know that almost every airline, airport, cruise line and destination is scrambling to partner with health agencies to provide rapid COVID-19 testing. Well, starting next week (just in time for when Hawaii opens up), this airport will do it for free, which could save a family of four $1,000!
A Slice of Hawaii With This Amazing Tool for Slicing Pineapple 
If you're not comfortable traveling yet or can't make it to Hawaii for health or financial reasons (It will be interesting to see how the first month goes once they reopen), here's a way to enjoy a slice of Hawaii. You just need this amazing and cheap ($7.99) tool for slicing pineapple. A friend turned me on to it and it's so good that I had to tell you about it, even though it's not directly related to travel. Find out more about it here and watch the short video I made demonstrating how to use it.
7 Dirtiest Things on an Airplane According to a Flight Attendant
If you are flying this fall or anytime (BTW: here are 10 Ways to Find Cheap Thanksgiving Flights), then you will definitely want to read this post on the 7 dirtiest things on an airplane according to a flight attendant. Most of them are common sense but it never hurts to be reminded so that we can all stay healthier when we travel. And one of her tips is something I'd never thought of … but then again, I'm not a woman.
How to Have a Fun Virtual Thanksgiving
In my family, we celebrate two Thanksgivings, since I married a Canadian. We used to travel for both holidays but not this year, which means we'll be celebrating at home this weekend; Canada's Thanksgiving Day is this Monday. According to the airlines, not a lot of people are flying this holiday due to the CDC's recommendation last week that Americans celebrate Thanksgiving virtually. This is why the airlines are cutting flights and fares, and grocery stores are predicting demand for much smaller birds since there won't be large family gatherings. Here are some tips to help you and your family have a fun virtual Thanksgiving.
Great Travel Deals From the Amazon Prime Pre-Sale
Next week is Amazon Prime Day (October 13 & 14). Amazon almost always has great savings on everything from toasters and suitcases to tech and travel gadgets. Assuming the deals will be great, we will most likely send out a special deals newsletter so you can jump on them before they're gone. The good news is that Amazon has released some pre-sale items and there are already some good travel deals. Here's our selection. BTW: If you buy anything from Amazon next week, please use my affiliate link since they pay a small (and I mean small) referral fee.
Related: How to earn the most points and miles on Amazon Prime Day
How to Design Your Own Luggage and Get $50 Off
No doubt Amazon will be selling a lot of suitcases next week but one brand you can't buy there is ROAM. What makes these suitcases unique is that customers can design their very own piece of luggage that's totally unique and personal. There are plenty of color options to choose from and the result is a beautiful suitcase all your own. My wife recently designed one; check out how her suitcase turned out PLUS get $50 off your own ROAM suitcase.
The Health Tool You Need at Home and On the Road
Last week, we shared a tip about adding a finger pulse oximeter to your travel health kit. An oximeter can be used to monitor changes in your respiratory condition and can potentially provide early warning signs about COVID. Since that tip was so well-received, this week, we're sharing a tip about another tool I've added to my toiletry bag.
Antigua and Barbuda Has a New Two-Year Residency Program
A couple of weeks ago, I wrote about all the places that are welcoming foreigners, including Americans, for remote work and school opportunities. This week, the dual-island nation of Antigua and Barbuda launched a new "Nomad Digital Residence Programme" for those whose employers are based outside the islands. Here are the details.
Limited Time Offer!
Earn a 140,000 point bonus, annual reward night, up to 25x points on purchases, Global Entry, & more with this hotel credit card.
Travel News
Keep scrolling: There's a ton more travel news to cover including an American Airlines pilot was docked pay after insisting his co-pilot wear a mask; the cruise industry has committed to test all passengers for COVID-19 worldwide and Broadway is extending the shutdown through May 2021. See below for more!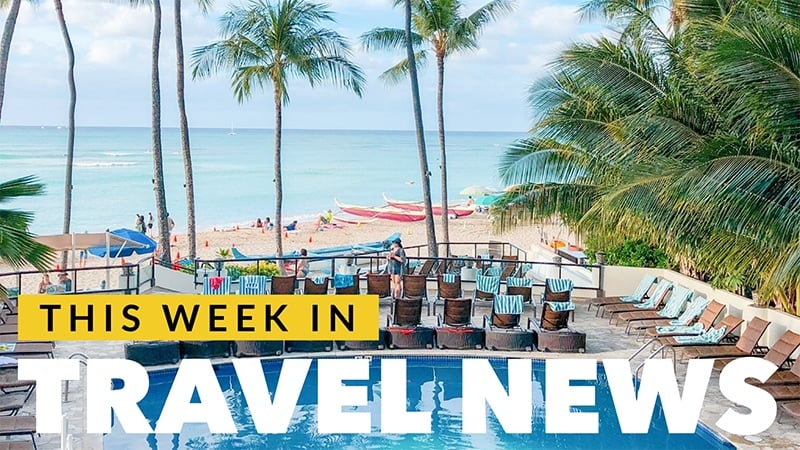 Airline and Airport News:
Cruise News:
Domestic News:
International Travel News:
Hotel and Lodging Travel News:
Miscellaneous Travel News: