Breast Cancer Awareness Month
If I seem to be in a good mood this week, it's because I am. We got the best news last week as my wife went for her first mammogram two weeks ago and they spotted something in her left breast. We had to wait a week for her to go back and get a second screening and more tests. Fortunately, the doctor said that the mass they found was benign. It was a long, nerve-racking week since so many things popped into my head like, why didn't she get a checkup sooner? So, I thought I would share this PSA I saw on Twitter, since October is Breast Cancer Awareness Month. Breast cancer doesn't always present as a lump. Get to know the warning signs which can be found here.
This Week's TSA Numbers
Last week, I wrote about the TSA crossing over the one million mark on Sunday, October 18 as they screened 1,031,505 people at security checkpoints nationwide that day. It was the first time volume has topped 1 million since the pandemic's low point of April 14, when only 87,534 people were screened. I thought they were going to break the million mark again last weekend but they didn't. The numbers seem to be about 20,000 less each day from last week but you can do your own comparison using this link. Below are the Total Traveler Throughput numbers from this week (on the left) and the number on the right is Total Traveler Throughput (1 Year Ago – Same Weekday). Keep in mind that those numbers are not just for passengers but also account for everyone who goes through security, including airport workers and airline crew.
10/28/2020     666,957           2,066,516
10/27/2020     648,517           1,910,506
10/26/2020     898,735           2,347,017
10/25/2020     983,745           2,478,287
10/24/2020     755,287           1,931,971
10/23/2020     958,437           2,594,337
10/22/2020     934,386           2,541,581
10/21/2020     694,150           2,245,199
Are the numbers going down because COVID-19 cases are going up in the U.S. and most of the world? I think so. That's why I haven't flown yet. Ireland, France, Germany have all implemented strict lockdowns. I personally don't think there should be lockdowns but if people aren't going to practice basic safety measures and the healthcare systems are being stretched to the limit, then I can totally understand why.
Health Items I Always Travel With
Travel is different these days. These are some of the health items I've added to my packing lineup:
-A pair of goggles: Read the post | Buy it on Amazon
-A finger pulse oximeter: Read the post | Buy it on Amazon
-A non-contact infrared thermometer: Read the post | Buy it on Amazon
-The best (and most-incredible smelling) hand sanitizer: Read the post | Buy it on Amazon
-Safe+Mate x Case-Mate Reusable Mask 3-Pack: Read the post | Buy it on Amazon
-A face shield: Read the post | Buy it on Amazon
Mayor De Blasio to New Yorkers: Avoid Out-of-State Travel
New York City mayor Bill De Blasio is recommending "to all New Yorkers, it's not business as usual. I hate to say it, but I have to urge all New Yorkers, do not travel out of state for the holidays." He doesn't even want them to go across the border to nearby states including Connecticut! I can understand since health officials are blaming the increase in spikes on small house gatherings. We're staying home this Thanksgiving and wrote a post on How to Have a Fun Virtual Thanksgiving. BTW: If you are traveling, here are 10 Ways to Find Cheap Thanksgiving Flights.
Thanksgiving 2020 Train Travel Tips
If you're planning to travel via Amtrak this Thanksgiving, you better make reservations so you're guaranteed a seat. This is the first year they're warning passengers to make reservations in advance (even multi-ride ticket holders) since they are limiting the number of tickets they're selling. Get all the details here.

Harvard Study Suggests Flying is Safer Than Grocery Shopping
Last week, I wrote about a study funded by the Department of Defense (DOD) showing that airplane air is cleaner than the air inside your house. This week, Harvard University released their own 187-page study that, according to CNN, "used computer models to review airflow in airliner cabins, and it says the specialized onboard ventilation systems filter out 99% of airborne viruses. It was funded by airlines, airplane manufacturers and airports, but the Harvard researchers insist this did not impact their findings. Researchers at the university's T.H. Chan School of Public Health found that even though air is recirculated back into the cabin, it goes through high-quality filters first. And virus droplets from one passenger are unlikely to infect another because of a "downward direction" of airflow, they said." USA Today also reports, that air travel "is as safe as or substantially safer than the routine activities people undertake during these times."

Researchers Link 59 COVID Cases to Inbound Long-Haul Flight
Then I read a post about a single plane with just 43 passengers that was responsible for 59 COVID19 infections in Ireland over the summer. That's according to Paxex.aero and the country's Department of Public Health. And that was even with masks and social distancing on board.
JetBlue Sees Rapid COVID Tests as Key to Near-Term Recovery
You decide who you want to believe. One thing I do believe is that the only way the travel industry will recover, besides a reliable and effective vaccine, is offering widespread, rapid, accurate COVID-19 testing. JetBlue seems to agree. Skift reports, "JetBlue isn't pinning its hopes on a Covid-19 vaccine. Instead, it says a cheap and accurate rapid-response test could be what makes governments lift onerous quarantines and convinces people to fly again.
RELATED: Airlines That Are Offering COVID-19 Testing
At-Home COVID-19 Testing is Now Available at a Major Store
Airlines and airports know that this is their golden ticket, which is why they've been scrambling to partner with health companies to offer testing, especially when it comes to flights to Hawaii since the islands and many other destinations require proof of a negative reading within 72 hours prior to the final leg of departure. Otherwise, they have a strict 14-day quarantine, which most travelers don't want to do or can't afford to do, either financially or time-wise. It's just not feasible. The good news is that personal, at-home COVID-19 testing is now available at a major store. Find out where and how it works here.

How to Save Big on Prescription Drugs At Home and on the Road
While on the subject of healthcare … Getting sick while you're traveling is no fun. This website and app have been around for a while and I wrote about it in 2015 but it's worth revisiting again during these difficult times when health is on everyone's mind. I'm surprised how many people don't know about or use it, including my own family members. But it can save you a considerable amount of money on prescription drugs at home and on the road. Read about the website/app and how it works here.

The Face Mask Tech Guru Leo Laporte Wears
This past Saturday, I was on Leo Laporte's nationally syndicated radio show/podcast The Tech Guy for my weekly travel segment (I go on every Saturday at 12:30pm PT). We were talking about the latest studies regarding air quality on airplanes and about how one doctor recommends wearing either a face shield or goggles during boarding and deplaning (in addition to wearing a face mask the entire duration of your flight). Leo said he always wears a face shield when he goes to the store and this specific face mask. If you watch the interview, you can see me writing down the name of the mask because I wanted to check it out since Leo knows what he's talking about! Here's the mask, the interview and more.
Why I Will Wear This Item the Next Time I Fly
Dr. Carlos Del Rio from Emory University made an interesting point about face coverings. He said that a face mask is sufficient while seated on the airplane but when boarding and deplaning, he recommends wearing one of these two items.
Best Face Masks For Flying During COVID-19
There's a new travel essential you will want to tuck between your wallet and your phone. It's your face mask. The best face masks for flying are airline-compliant while providing optimal safety and comfort. If you're planning on flying, check out these options.
Delta, United and Alaska Airlines have banned more than 900
It shocks me that so many people refuse to wear a mask yet still try to fly. This week Delta, United and Alaska Airlines have reported they've banned more than 900 passengers for not wearing masks (here's the Washington Post story but there's a paywall). Per ABC News, Delta Air Lines alone "has added the names of 460 people to its no-fly lists for refusing to comply with a requirement to wear masks during flights, according to a memo to employees from the company's CEO."
All this mask talk, it's no wonder I had a dream a few days ago that I was on a plane with a mask on. I woke up, only to find the sheet wrapped tightly around my face. I need to get away!
Hawaii Will Allow Travelers From Japan to Avoid Quarantine
I know Canadians are hoping Hawaii will accept their healthcare provider's PCR tests after the islands have agreed to allow U.S. mainlanders to avoid the strict mandatory 14-day quarantine by providing a negative COVID-19 test. They will have to wait unless they go through a U.S. airport. However, this week Hawaii announced that on November 6, travelers from Japan can avoid quarantine with a negative COVID-19 test. There are only 10 Japan to Hawaii flights scheduled for the entire month according to CNN and "if there are no unexpected problems, Hawaiian Airlines, Japan Airlines and All Nippon Airways intend to significantly increase the number of flights from Japan to Hawaii in December."
RELATED: Hawaiian Airlines to Offer Passengers Drive-Through Pre-Travel COVID-19 Tests
Kind of Related: Have A Slice of Hawaii
If you can't make it to Hawaii, then check out this cheap and amazing tool for slicing and coring pineapples. It's really just so good and easy I had to tell you guys about it even though it's not directly related to travel. Find out more about it here, watch my video showing you how to use it and get one for yourself for just $7.99 on Amazon.
Qatar Airways Forced Airport Examinations
The most outrageous thing that happened this week in travel is that Qatar Airways (one of my favorite airlines) forcibly examined female passengers from a Doha to Australia flight to try to identify who might have given birth to a newborn baby found abandoned at the airport. Per USA Today, "Australia's Seven Network News reported the women were examined in an ambulance on the tarmac. A male passenger said the women were taken from the plane regardless of their age and no explanation was given afterward." There are no words.
JetBlue Bans Passenger Goes on Racist Tirade
A close second for the most outrageous thing that went on this week was this racist on a Jamaica to NY flight. This is one of the reasons I haven't flown yet, because of idiots like this guy. Anyone with a Burger King hat and a face tattoo should have raised red flags.

United Redesigns Mobile App to be More Accessible
Good news for those who are visually impaired. United Airlines redesigned their mobile app to be more accessible. The app now has increased color contrast, they added more space between graphics, reordered how information is displayed and announced to better integrate with the screen reader technologies like VoiceOver and TalkBack that are built into most handheld devices and read aloud on-screen messages and notifications.  "By restructuring the way the information is organized and coded on the app, screen readers are better able to convert text to audio in the proper, logical sequence, allowing customers to better understand and navigate the app. Ray Campbell, a member of United's digital team who's visually impaired and sits on the board of the American Council of the Blind, played a key role in helping redesign the app, and walks through how these changes make flying easier for him in this video.  United also made a number of enhancements to the navigation and look and feel of the app, as well as added features for both MileagePlus and guest app members."
JUST FOR FUN: The Google App That Kids Will Go Bananas Over
I've been meaning to write about this cool new Google feature that lets users place a dinosaur just about anywhere, using augmented reality. It came out in July but I totally spaced. But fortunately, I was reminded about it today when I was searching on Google using my phone and a little box came up and read "Summon up a 3D ghost" with the same box it had for the dinosaur, and the words, "View in 3D." Of course, I dropped what I was doing and summoned a ghost. I was worried it might be a little too scary for my four-year-old but it's a happy looking ghost and he loved it. I think he was more afraid of the dinosaur because you can really get up close with them and even see the scales of their skin. Another cool feature is that it allows you to take a picture so here's one with Jack checking out the ghost. FYI: To get the dinosaur (or ghost) just search Google on your phone for either Dinosaur or Halloween.  H/T: I learned about from KTLA's Rich DeMuro.
Best Credit Cards for Groceries 2020? Up to 6% Cash Back
Did you know that you can get up to 6% back on grocery purchases? Use these credit cards on your next visit to the supermarket: http://bit.ly/2NdoCDo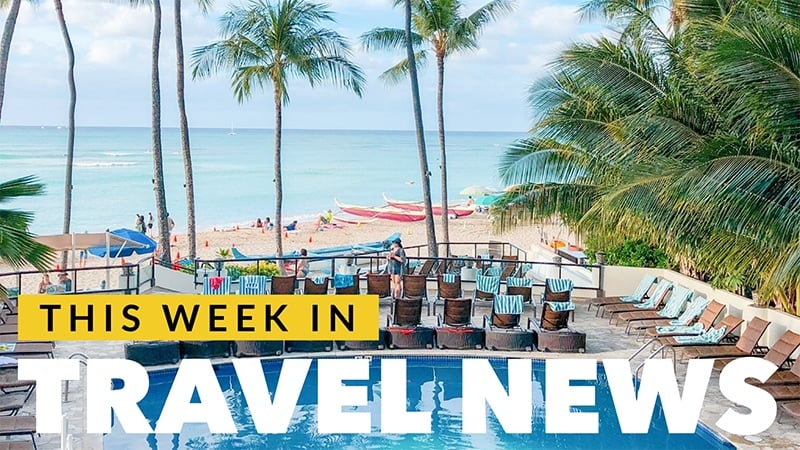 Airline and Airport News:
Cruise News:
Domestic News:
International Travel News:
Hotel and Lodging Travel News:
Miscellaneous Travel News: